In 1987, following a viewing of Mad Max: Beyond Thunderdome, Dusty Rhodes came up with the basic idea for the War Games match. Two teams, two rings, one cage. The idea turned into a match that has endured for decades. Now, for the first time since WCW shut its doors, the War Games match returns to the big stage at NXT Takeover. In the years since WCW closed, several wrestling companies have stepped in to keep the legacy alive. Over the next several days, Voices of Wrestling will take a look back at War Games and the many matches it inspired.
War Games Week: The Matches Beyond
PART SEVEN: LETHAL LOCKDOWN
All reviews written by Garrett Kidney (@GarrettKidney)
WEDNESDAY BLOODY WEDNESDAY
SEPTEMBER 3, 2003

CHRISTOPHER DANIELS, AJ STYLES, JOHNNY SWINGER, SIMON DIAMOND AND SHANE DOUGLAS
VS.
CHRIS HARRIS, JAMES STORM, D'LO BROWN, JEFF JARRETT AND RAVEN
Before there was Lethal Lockdown, there was Wednesday Bloody Wednesday. TNA's first attempt at War Games, it followed the eventual Lethal Lockdown trend of weapons being attached to the side of the cage. This match was a part of the extended dispute between special referee of this match Erik Watts and guest commentator Don Callis. As if that wasn't enough window dressing, Vince Russo and Dusty Rhodes (whom this match was also built around) were at ringside. Russo also chipped in on commentary. At least Dusty invented War Games so he had a case for being there. 3 Live Kru showed up as well.
There was a match too.
Interesting to note Styles and Daniels were on the same team here, breaking out some double team goodness at the expense of Jeff Jarrett that would telegraph their future tag team. As War Games' teams these are some of the more random you'd get. Representing the best TNA had to offer in 2003, this main evented the original Super X-Cup show – because of course the X-Division lads couldn't headline.
This followed your prototypical Lethal Lockdown format: heels had the man advantage leading to a series of babyface comebacks as the odds were evened. Don West was concerned for Erik Watts' health, believing he could be caught by shrapnel of some sort – it wasn't called War Games for nothing folks.
Raven and Shane Douglas, deep in a bitter rivalry, go straight after each other but for the most part this feels like War Games for the sake of War Games. It's predominantly bland brawling before a middle rope Stroke followed by a Lo Down and top rope legdrop combo by Brown and Harris put Styles away.
Every then brawled. Because this is TNA, the company is built on brawling. Seriously go back and watch old Asylum Era TNA or early Impact's and take note of how often these shows end in a brawl. It's a lot.
STAR RATING: **3/4
LETHAL LOCKDOWN
LOCKDOWN 2005

BG JAMES, DIAMOND DALLAS PAGE AND SEAN WALTMAN
VS.
JEFF JARRETT, MONTY BROWN AND THE OUTLAW
Fun fact: Within TNA continuity it was Dusty Rhodes who first introduced Lethal Lockdown, gave it the name and outlined the rules (he was also booking the company at the time so he was likely the creative driving force behind it too) so Lethal Lockdown was Dusty approved – the inventor gave his seal of approval. This was before the era of Lethal Lockdown when they lowered the roof, that wouldn't come for another year. Rather this was your straightforward staggered entrances cage match with weapons and no pinfalls or submission until everybody entered.
Kevin Nash was supposed to take the place of BG James in this match, but he was ruled out due to a staph infection. Nash would miss another PPV for TNA in 2005 as well, he was hospitalised prior to his Bound For Glory 2005 main event vs. Jeff Jarrett too and would be replaced by Rhino.
The match starts with the Jeff Jarrett specialty – crowd brawling. The opening period of Lethal Lockdown would always be the longest, in this instance five minutes before everybody would then enter every two minutes, so Jarrett and Sean Waltman spent the first three minutes of this steel cage match on the floor.
Don West called a Kendo stick a surgical weapon at one stage, which made me question what kind of surgeries he's had. Billy Gunn was called The Outlaw after he debuted with no name and WWE vetoed him being called The New Age Outlaw. WWE eventually vetoed The Outlaw too and TNA had to redub this match for DVD release to include his eventual new Kip James match. The version on the Global Wrestling Network is the original master copy though so he's in his full Outlaw glory there. BG James and The Outlaw had a brief face off before they were interrupted in the beginning on an angle that would literally go on for a whole year as 3LK broke up leading into the formation of LAX (and the once off appearance of 4LK).
This match isn't the best to be honest, it's a fair amount of generic brawling (bar Monty hurling ). The cameraman was taken out by a BG James trash can shot but there was one thing this match should be forever infamous for.
The Monty Brown DOUBLE POUNCE!
I present to you one of the greatest moments in TNA history.

THE DOUBLE POUNCE!

PERIOD! PERIOD! #TNA pic.twitter.com/Uh2TBU079Z

— Garrett Kidney (@garrettkidney) November 7, 2017
LETHAL LOCKDOWN
LOCKDOWN 2006
Sting's Warriors (Sting, AJ Styles, Ron Killings and Rhino) 
vs. 
Jarrett's Army (Jeff Jarrett, Chris Harris, James Storm and Scott Steiner)
You know how this was a better built match? Team names! That's why.
Sting returned to TNA at Final Resolution in January 2006 teaming with Christian Cage to defeat Monty Brown and Jeff Jarrett. Sting was so pleased with that match and how it went that he decided it was a perfect way to ride into the sunset. Sting delivered an amazing promo about how much that moment meant to him before leaving his bat in the middle of the ring and walking away.
One problem: Jeff Jarrett didn't believe him.
Jeff Jarrett sent Paparazzi Productions leader Alex Shelley on a mission to prove Sting was a fraud, to prove that he wasn't really leaving wrestling. Sting did not take kindly to this. Apparently stalking a man and his family around their home doesn't sit well with them. This lit a fire under Steve Borden, not Sting, who returned at Destination X to take it to Jarrett. Jarrett was one step ahead however as Scott Steiner debuted to take out Steve Borden.
Borden revived the Stinger and assembled a team to battle Planet Jarrett. And thus we had this match.
This was the first Lethal Lockdown with a roof so of course AJ Styles saw that as an opportunity, climbing the roof to the very top, hanging off the scaffold and dropping from the literal ceiling of the Impact Zone onto James Storm through a table. It is still one of the most awe inspiring stunts in TNA history to this day.
Hall of Fame official Earl Hebner was so on top of things that he forgot the rules. Lethal Lockdown rules state that you can win by pinfall or submission but only after everybody was entered. So of course he starts randomly counting pinfalls that aren't even really pin attempts.
This felt a notch above the previous Lethal Lockdown matches. The intensity was raised a level as there felt like real stakes. For example when Jeff Jarrett entered Rhino met him at the entrance in attempt to negate the numbers game. They understood the rules and attempted to overcome the man advantage from the jump. Not to mention a bunch of people bled which helped drive home this as more bitter grudge than annual rote tradition.
Somebody in the crowd shouting that Steiner sucked as he was suplexing everybody to death to which he responded "No your mother sucks!" because he is Scott Steiner and of course he did. Sometimes these matches can feel like killing time until everybody enters but not here. Sting clearing house was energetic and included a Stinger Spash to four men at once. There was a crazy Tower of Doom spot and Tower of Doom spots always rule. Plus Steiner threw like fifteen suplexes. The match beyond if you will was strong as well as weapons were introduced and you had what became the yearly AJ Styles cage top spot. Sting's Warriors eventually won as Chris Harris (who actually played Fake Sting in both WCW and TNA) submitted to the Scorpion Deathlock.
STAR RATING: ****
LETHAL LOCKDOWN
LOCKDOWN 2007
TEAM CAGE (CHRISTIAN CAGE, TOMKO, ABYSS, AJ STYLES AND SCOTT STEINER) 
VS. 
TEAM ANGLE (KURT ANGLE, SAMOA JOE, RHINO, STING AND JEFF JARRETT)
The story of this match was simple: everybody hated Christian and Kurt Angle. I'm not even joking. Kurt Angle couldn't form a team. Joe, Sting and Rhino were pissed at him because he couldn't find a fifth guy. Apparently not a single person liked Angle enough to join him in main eventing Lockdown. Or maybe Kurt felt nobody met his standards. Who truly knows? He would have to resort to bringing back Jeff Jarrett, who had stepped off television six months prior after losing to Sting at Bound For Glory, to round out his war partners.
Jim Cornette, in an attempt to one up Christian who offered all his partners title shots so they'd team with him, added the stipulation that whoever scored the pin would get the NWA World title shot the following months at Sacrifice.
This event was held in St. Louis so Harley Race was brought in as the keeper of the cage. He decked James Mitchell with a frankly dreadful looking punch.
The first thing you'll probably notice is the super weird looking cage. This was the show where TNA held the now infamous Electrified Steel Cage match between LAX and Team 3D where the cage was less electric than the lights malfunctioned every time somebody touched it and they started convulsing unconvincingly. For some reason TNA couldn't use their regular cage as a fake electric cage so they had a weird chicken wire one instead.
Kurt Angle pandered to the crowd coming out in a St. Louis Cardinals shirt. The crowd seemed remarkably bored here and you can't really blame them. Then Scott Steiner broke out a freaking Frankensteiner. That was the first time he hit it in TNA and surely the first time in general since WCW. The crowd went nuts for that and came to life in general.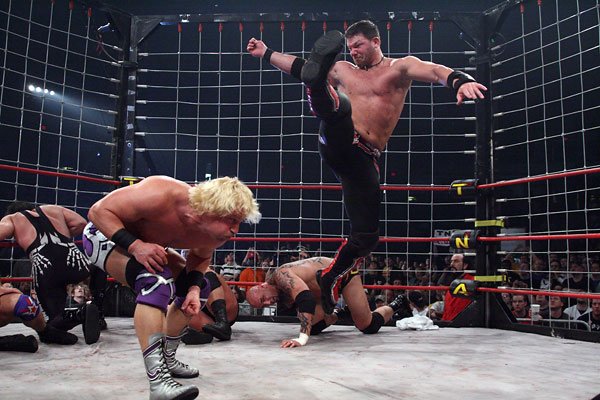 We had our entry in the "AJ Styles does dumb things on top of cages" genre here too. AJ fled the cage (I do love how people immediately escaped the cage through the roof the first two years they introduced the roof, thus negating the meaning of the roof though I will take wacky AJ Styles cage stunts over logic to be honest) but Kurt Angle followed him. Kurt then punched AJ so hard he went flying off the cage onto a pile of people below.
The match was built around whether or not Team Angle could really trust Jeff Jarrett. Jarrett teased hitting Sting with a guitar for a brief moment before hitting Abyss instead and allowing Sting take the win to prove his selflessness. That guitar was actually filled with thumbtacks by Abyss (so yes Abyss' thumbtacks did in fact backfire) which I don't think actually makes it any more effective but it did make for an awesome visual. Everything after the Frankensteiner in this match was great.
STAR RATING: ***1/2
LETHAL LOCKDOWN
LOCKDOWN 2008
AJ STYLES, TOMKO, BROTHER DEVON, BROTHER RAY AND JAMES STORM 
VS. 
CHRISTIAN CAGE, STING, KEVIN NASH, ABYSS AND MATT MORGAN
You'll notice that last year AJ Styles and Tomko were part of Team Cage and yet a year later they appear on opposite teams. The Christian Coalition crumbled before Captain Charisma's eyes as they sided with Angle to assemble the Angle Alliance instead. That betrayal was the impetus for this match as part of a singles push for Tomko that disappeared shortly after. Tomko, crafty fellow that he is, pretended to be the one to face Christian first but AJ Styles attacked Christian from behind instead with a Flying Forearm Smash.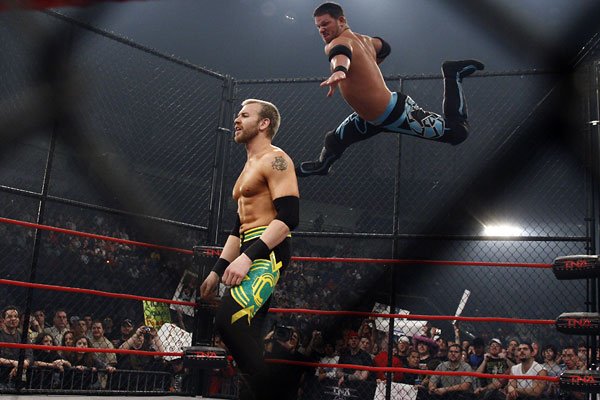 The crowd (in Lowell, MA) was absolutely electric for the opening Styles/Christian exchange. Listen to the prolonged "Let's Go Christian/Let's Go AJ!" dueling chant over the first five minutes of this match. It's insane. Brother Ray stole Kurt Angle's idea from the year before for evil, this time wearing a New York Yankees shirt to get a rise out of the Boston crowd.
Kevin Nash got a huge reaction when he came out as Boston loves themselves some Big Sexy. Christian hit a giant crossbody off the cage (after taking a pretty nasty looking spill to the floor) as the crowd are really elevating the energy of this one. They were going absolutely bonkers for everything – just as Sting was about to enter a huge "We want Sting!" chant broke out. It was cool.
You know AJ was in a Lethal Lockdown match and he didn't do something crazy. He had a perfectly quiet year where he just…….of course he didn't. Christian, Styles and Storm all made their way to the top of the cage. There just so happened to be a table and a ladder up there. How convenient. Styles and Christian battled atop the ladder before Storm pushed them both off the ladder through a table, all while on top of a fifteen foot tall steel cage. That is a silly thing to do.
Anywho, as I said it was the crowd heat that really made this work. Compared to the timid crowd the year before this building was rocking for absolutely everything and that helped raise this match tenfold. Rhino pinned Storm with a Gore, that seemed like it came out of nowhere as a finish. Otherwise this match was a tonne of fun and there really hasn't been a better Lethal Lockdown since.
STAR RATING: ****
LETHAL LOCKDOWN
LOCKDOWN 2009
DANIELS, AJ STYLES, SAMOA JOE AND JEFF JARRETT 
VS. 
KURT ANGLE, KEVIN NASH, BOOKER T AND SCOTT STEINER
Kevin Nash came in with his elbow taped up from a recent staph infection he suffered. Watching these matches back to back I can only assume it's the very same staph infection that kept him out of the Lethal Lockdown match in 2005. Pretty long recovery period.
The framing of this match was the Main Event Mafia vs. Frontline feud that consumed much of TNA toward the end of 2008 and start of 2009. You would think that they simply had these two teams wrestle in War Games because makes sense. You would think wrong. This is TNA pal! The two captain of the 2009 Lethal Lockdown match were decided by a 20 Man Steel Cage Gauntlet match held on Impact. Tetsuya Naito and Shane Sewell could've emerged from that match as Lethal Lockdown captains. It's one thing for annualised matches, it's another entirely to arbitrarily assign who's going to be in them. But that wasn't the end of it. Samoa Joe won that match and declined the captains role, deferring it to Jeff Jarrett instead. But Joe was still on the team anyway. That whole set was incredibly dumb.
Samoa Joe took this match so nonchalantly that he waited a couple of minutes to talk to his mystery advisor (who turned out to be Taz who inexplicably took Don West's job despite being a considerably worse announcer, this is the last Lethal Lockdown match to feature the glorious commentary stylings of Don West and every other Lethal Lockdown match is worse off for it) leaving his partners high and dry being beaten up three on two when they didn't have to be.
Side note: Billy Corgan and the Smashing Pumpkins' Bullet With Butterfly Wings was the theme song to this PPV (and played as the roof of the cage was lowered). Foreshadowing.
AJ Styles wacky stunt alert: AJ once again climbed to the top of the cage and then dived through the top of the cage (which seemed not to give way for just a moment but thankfully did) onto the Main Event Mafia, who then proceeded to not catch him at all as he went spat on the mat below.
At one stage they cut to six separate camera angles of the match at once all of which were contained in tiny little boxes that were impossible to see, which you can sort of see the idea of in theory but in practice should have been immediately dismissed out of hand.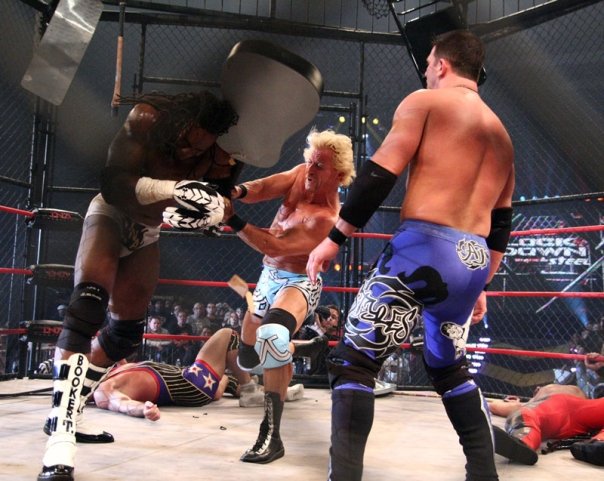 For the second time a Lethal Lockdown match was built around whether or not Jarrett's team could actually trust him as Jarrett accidentally hit AJ Styles with a chair, then later teased hitting AJ with a guitar before striking Booker T instead allowing AJ get the pin. If that reads as familiar that's because that was the exact same finish as the 2007 Lethal Lockdown. This wasn't a bad match, there was more than enough talent in it to keep things afloat and there was a lot of action but for the big feuding stable war the whole thing felt a little flat.
But wait, there's more! Bobby Lashley emerged from the entranceway afterwards and pointed dramatically at the ring. Kurt Angle seemed very pleased by this development. It was obviously a very long tease for Angle facing Lashley in his last TNA match.
STAR RATING: ***1/4
LETHAL LOCKDOWN
NO SURRENDER 2009
DOUG WILLIAMS, BRUTUS MAGNUS, SCOTT STEINER AND BOOKER T 
VS.
JAMES STORM, BOBBY ROODE, BROTHER DEVON AND BROTHER RAY
There was some confusion at the time regarding this match; it seemed at first that it would be a four way tag team Lethal Lockdown match but they probably figured that'd be chaos and decided against it. In the summer of 2009 Eric Young's World Elite (of which The British Invasion were members) joined forces with the Main Event Mafia to form an uneasy alliance. A bunch of people opposed them, a riot or two broke out that was the framing for this match. Basically it was most of the tag team division at the time lumped into Lethal Lockdown.
A small touch but a nice one – Doug Williams was out first for his team, Magnus was out second. Storm was out first for his followed by Roode. It makes perfect sense that you'd want to get established teams out there as fast as possible. It'd make no sense to send Magnus and Steiner out together.
This was the third Lethal Lockdown in out of four Scott Steiner broke out a Frankensteiner and I'm okay with that. Steiner ran to the the ring during his entrance and I really hope nobody ever needs to rely on Scott getting somewhere in a hurry because they'll be waiting for a while.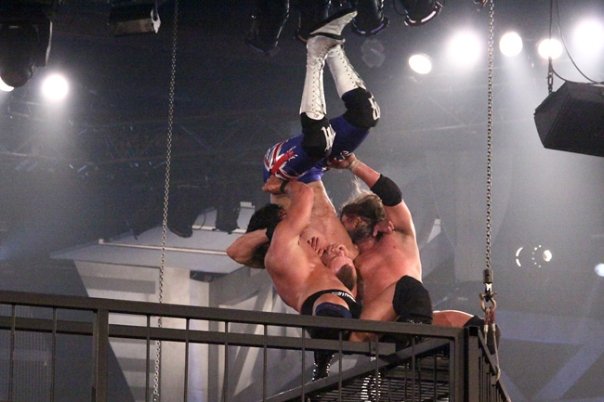 The only other thing this match is really notable for (aside from a nifty Beer Money suplex on top of the cage) is a string of just uncomfortable unprotected chair shots by Brother Ray, the worst of which was just a disgusting blow to the head of Rob Terry at ringside. I would say I'm glad there's less of that in wrestling now but there was just one recently at Bound For Glory so…
Roode and Storm put Williams away with Drinking While Investing.
STAR RATING: **3/4
LETHAL LOCKDOWN
LOCKDOWN 2010
TEAM HOGAN (ABYSS, ROB VAN DAM, JEFF HARDY, AND JEFF JARRETT) 
VS. 
TEAM FLAIR (STING, DESMOND WOLFE, BOBBY ROODE AND JAMES STORM)
There is generally one constant in all Lockdown/War Games matches – the heels have the man advantage. That establishes the core structure, the babyfaces constantly fighting back creates the drama. Well TNA in their infinite wisdom decided to fix something that wasn't broken by giving Team Hogan the man advantage. Thereby screwing with the structure of the match and necessitating them having somebody taking out Jeff Hardy backstage to fix a problem they openly created themselves. A great deal of this match was the heels fighting off Team Hogan fair and square before being overwhelmed by the numbers game. That is poor messaging.
Abyss (inhabited by the essence of Hulk Hogan from wearing the hall of fame ring) came into this match with a worked hairline hip fracture after Desmond Wolfe ran him over with a car. Beer Money also attempted to set Jeff Hardy on fire in the buildup to this so they tried their damndest to raise the stakes of this Hulk Hogan/Ric Flair vanity show.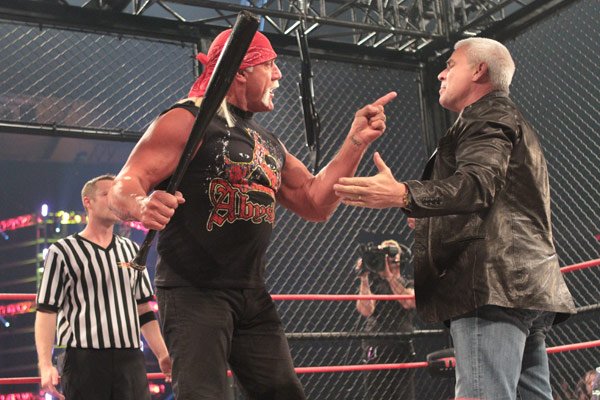 Not much happened here to be honest, I always thought Lethal Lockdown worked better in a six sided ring. There was more room, more nooks and crannies for people to disappear into to clear the ring. In a four sided ring (particularly TNA's smaller 18 x 18 four sided ring) it felt like everybody was on top of each other.
AJ had two Lethal Lockdowns in a row so who better than Jeff Hardy to take on the mantle of doing something dumb on top of the cage. He did a splash off the top of a ladder through a table that looked terrifying because he sort of slipped. Taz mixed up Jeff Hardy and Jeff Jarrett throughout the match because Don West is much better than him. Sting took a thumbtack bump too which was a novelty at least.
Anyway, none of this really mattered. What truly mattered was that the weeks leading to this match were built around whether Hulk Hogan could trust Eric Bischoff or whether Bischoff was secretly siding with Flair. Flair interfered, Hogan made the save. Bischoff came out and they teased some dissension before Hogan took out Flair so he and Hogan could close the show as best of pals. The crowd seemed to like this but Bischoff came out and prevented Hogan from decking Flair with a bat only to hand Hogan brass knucks instead so it was dumb contrived drama. Who cares. This sorta sucked. Abyss pinned Desmond Wolfe after a Black Hole Slam.
STAR RATING: **1/2
---
---
LETHAL LOCKDOWN
BOUND FOR GLORY 2010
EV 2.0 (TOMMY DREAMER, RHINO, STEVIE RICHARDS, SABU AND RAVEN W/ MICK FOLEY) 
VS. 
FORTUNE (AJ STYLES, KAZARIAN, JAMES STORM, BOBBY ROODE AND MATT MORGAN W/ RIC FLAIR)
TNA, desperate for attention after being thoroughly embarrassed during the Monday Night "Wars" of 2010 and thumped back to Thursdays, decided to revive ECW. Except they couldn't call it ECW. So thus EV 2.0 was born in the wake of the Hardcore Justice reunion show. Fortune, a stable led by Ric Flair, took umbrage to the returning nostalgia acts and decided to attempt to murder them after the Whole F'N Show television show (on the same show where we were to assume Abyss had literally massacred Rob Van Dam with his new nail bat friend).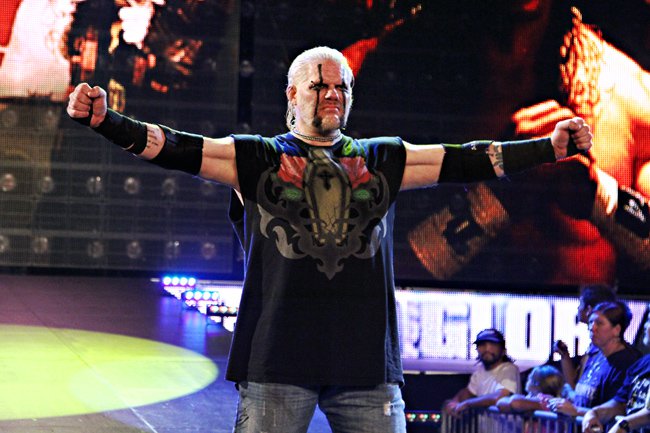 One of my favourite things about these matches are the entrances every two minutes. It creates a nice bit of momentum for the match and changes things up constantly. Impact opted to have everybody stand around ringside instead of staying backstage and that sort of stripped each interval of some oomph.
Ric Flair and Mick Foley weren't participants in this match (though they did brawl at ringside). Rather they had a shockingly enjoyable Last Man Standing match on the Impact prior, built to with an utterly compelling exchange where each man drew their own blood hardway. It was tense, uncomfortable and captivating even if I would question the wisdom of punching yourself in the head until you bled. Foley inadvertently buried TNA in the build up though, saying he wanted the match to happen on Impact where the most people would see it – implying nobody actually bought TNA PPV's. It was true but you don't go saying that on your own show. Their exclusion from this match made it seem secondary considering they were at the forefront of the dispute.
If there is any way to get a clear feel for how AJ Styles had matured as a wrestler, he was in a Lethal Lockdown match and didn't throw himself off the cage in any way. That honour was left to somebody not even in the match. Brian Kendrick, who would be EV 2.0's biggest fan, hid atop the cage for the duration of the match (and surely a great deal of the show considering the cage roof was lowered at no point before this) in what appeared to be a body bag before emerging to push Kazarian off a ladder through a table. So yes, he had to place himself there for ages under the vague assumption that somebody will go up there (though I guess there's considerable precedent that people are fond of the top of Lethal Lockdown). Kendrick botched the table spot and had to backdrop Kazarian through a table instead.
I was at this show and remembered this as being a solid forgettable Lethal Lockdown. Watching it seven years later and it's still a solid forgettable Lethal Lockdown. The worst (or least noteworthy I suppose) of these matches descended into bland brawling and aimless weapons shots. The better matches tended to have a number of strong set pieces, a greater sense of urgency and built around the babyface comeback format in satisfying ways. This was more the former than the latter. Dreamer pinned AJ after a Death Valley Driver off the top onto a chair.
STAR RATING: **3/4
LETHAL LOCKDOWN
LOCKDOWN 2011
IMMORTAL (ABYSS, BULLY RAY, MATT HARDY AND RIC FLAIR) 
VS. 
FORTUNE (DANIELS, KAZARIAN, JAMES STORM AND BOBBY ROODE)
You know looking back on it, maybe TNA constantly created stables just to make sure they had natural teams for Lethal Lockdown every year. Maybe they just put together Planet Jarrett, Main Event Mafia and Aces and 8s just so they'd have groups for this match. Ric Flair was promoted from team leader in the prior two Lethal Lockdown matches to participant this time. Daniels returned right before Lethal Lockdown for a second time, just like in 2009, to become a member of Fortune in the absence of AJ Styles (who was powerbombed off the stage by Bully Ray prior to this match).
Fortune were members of Immortal until they replaced a planned Main Event Mafia reunion (that was dropped when Nash and Booker opted to return to WWE instead) as the primary protagonists of the show. Scott Steiner returned too but he mostly spent his time wandering the halls of the Impact Zone convinced the Main Event Mafia were still together.
Daniels dived off the cage and that was cool but otherwise this match was boring as hell. It was entirely generic brawling and aimless weapon shots. Nothing else happened. It was really, really bad. Bully was going to maim Daniels before AJ Styles returned and saved him pals. I think this match was a reflection of just how flat Immortal was a stable. Nobody cared. People like Flair but that's it, otherwise it was indifference until Daniels jumped off the cage and AJ came out. This is why Impact should never have stables.
STAR RATING: **
LETHAL LOCKDOWN
LOCKDOWN 2012
TEAM GARETT (GARETT BISCHOFF, AJ STYLES, AUSTIN ARIES, ROB VAN DAM AND MR ANDERSON)
VS. 
TEAM ERIC (ERIC BISCHOFF, BULLY RAY, GUNNER, DANIELS, AND KAZARIAN)
Welcome to 2012 TNA. It was a good year, but for the most part nepotism was running rampant. Garett Bischoff had a push that dramatically exceeded his ability (he'd later form a brief midcard team with Devon that was perfectly acceptable as his level). He turned on his father at Bound For Glory 2011, failing to obey his role as crooked referee Jackson James and siding with Hulk Hogan (who suddenly found his conscience that night) and Sting. Poor Gunner was also sucked into orbit and had the unenviable task of having to carry Garett Bischoff on PPV (and lose to him now and again).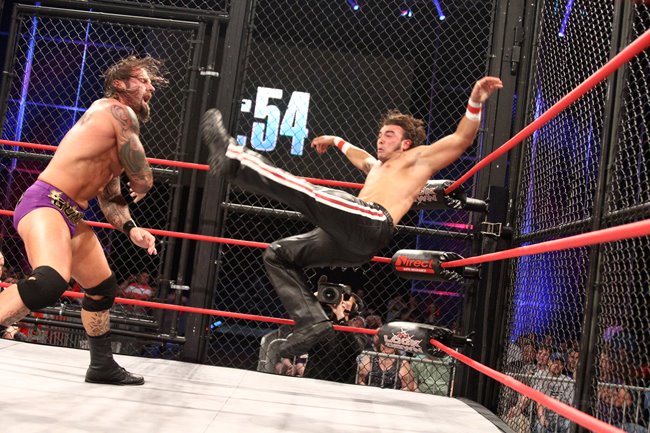 The stakes were high here. Not only would the losing team's captain lose but they would no longer have the right to use the Bischoff name ever again. I have filed an injunction against Eric Bischoff for continuing to use his name after this. He clearly has no respect for rules. This was also the first time Lethal Lockdown opened the PPV – usually it was either the main or semi-main event.
The crowd were so sympathetic for Garett being beaten up two on one that they chanted for Austin Aries (who people actually liked). Later Gunner would hurl Bischoff into the cage and the crowd chanted one more time (Bischoff took a good bump that time at least). This was the first show after Kazarian shaved his head and he was kindly greeted with "You look stupid!" chants. The core structure of this match, the plucky valiant Garett fighting against his tyrannical father, didn't really work because the crowd enjoyed Garett being beaten up too much.
AJ's wacky stunt was relatively tame this year – as he simply dropped an elbow while dangling from the the roof of the cage. The first portion of the match as everybody was making their entrance was relatively by the numbers but the closing stretch once everybody was out there was a lot more fun. At the end of the day this was about Bischoff and son. Eric whipped Garett over and over with a Kendo stick as everybody else in the match was suddenly incapacitated for a good five minutes. Garett eventually hit Eric with a guitar to score the win. There was a better match in here without the Bischoff family drama. Eric Bischoff was thrown into a portable toilet by Jeremy Borash and Garett on the following Impact and was never seen again.
STAR RATING: ***
LETHAL LOCKDOWN
LOCKDOWN 2013
ACES AND 8S (MR ANDERSON, KNUX, GARETT BISCHOFF, DOC GALLOWS, AND DEVON) 
VS. 
MAGNUS, STING, JAMES STORM, SAMOA JOE AND ERIC YOUNG
Aces and 8s were a terrible group of wrestlers who rode around on their little motorbikes and ruined all of Impact for a good year with their Sons of Anarchy knockoff act. Aces and 8s had a pretty good theme song with lyrics and a terrible instrumental one. The format of this match meant I had to hear the terrible one four times. That is just cruel.
Magnus, Sting and Joe would form the centerpieces of the new Main Event Mafia alongside Kurt Angle and Rampage Jackson of all people. Joe was the best wrestler in this match as no matter how badly he was booked crowds still loved him. Joe and Magnus broke out some of their great tag team chemistry here, it's a shame that team never went further as they only scratched the surface of their potential. There's evidence that Magnus is a super tag team wrestler and only a solid singles act – he should think more about that.
If you ever wondered why Aces and 8s failed, just look at that team. DOC Gallows (when he wants to be) and Knux are good workers, Devon used to be great but was on the decline, Garett Bischoff was no good and Anderson could veer between acceptable and outright awful. Add a washed up D'Lo Brown, Tito Ortiz of all people and a terrible Wes Brisco and you have a stable where the sole highlight, the only thing they had going for them was Bully Ray. A stable is only ever as good as it's members.
There was no roof on Lethal Lockdown here, as a malfunction earlier in the night meant it had to be scraped. Sting, who entered last had to carry the weapons to the ring himself. Team TNA just repeatedly wailing on Aces and 8s was pretty satisfying, there was cool Tower of Doom (which is always appreciated) and Eric Young dropped an huge elbow off the cage to round proceedings out. This was harmlessly forgettable for the most part, enjoyable but the lack of stakes hurt this. It's interesting despite the number of stables Impact has had, they've never done a losing team disbands match in Lethal Lockdown.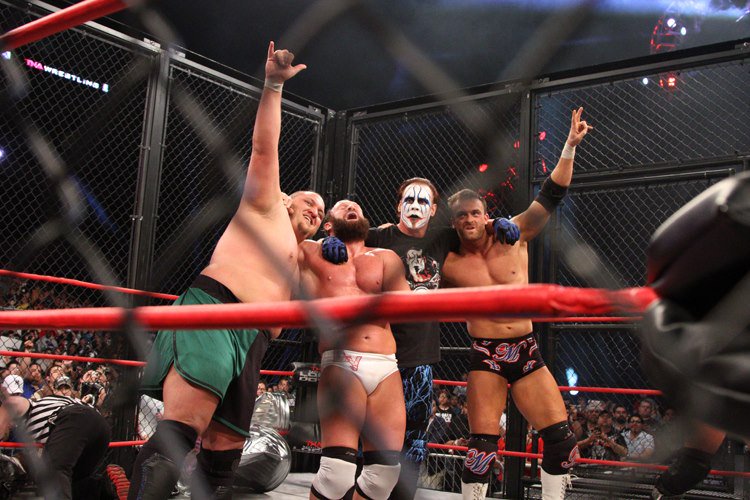 STAR RATING: ***
---
---
LETHAL LOCKDOWN
ONE NIGHT ONLY: HARDCORE JUSTICE 2014
KURT ANGLE, JAMES STORM, ABYSS AND SAMOA JOE 
VS. 
MAGNUS, BOBBY ROODE, JESSIE GODDERZ AND ROBBIE E
Yes, folks. A Lethal Lockdown match once happened on a One Night Only show. What was the story behind it? None. They needed a match for a One Night Only. Why were these the teams? Literally no other reason than they were a collection of faces and heels on the roster. The first half of this match was very dull. As by the numbers killing time One Night Only as you get. The second half was actually pretty fun. Abyss pinned Robbie E after a Black Hole Slam into barbed wire.
STAR RATING: **3/4
LETHAL LOCKDOWN
LOCKDOWN 2014
TEAM DIXIE (AUSTIN ARIES, BOBBY ROODE, ROBBIE E, AND JESSIE GODDERZ) 
VS. 
TEAM MVP (MVP, EDDIE EDWARDS, DAVEY RICHARDS AND WILLOW)
If there is one single narrative you can place across TNA's fifteen year track record of storytelling, it's that power corrupts. Hulk Hogan arrived as Impact's nice guy saviour only to betray Dixie Carter and steal the company for her. Mick Foley arrived as TNA's nice guy executive shareholder only to go mad with power and book himself in a match vs. a cardboard cutout of Rocky Balboa. Dixie Carter was the sweet talking face of TNA until she decided to rule with an iron fist. Jeff Jarrett returned as the cool guy founder in 2015 only to betray Dixie and try to steal the company. They have told that same story over and over again.
This was yet another incarnation of that story. MVP debuted as a check against Dixie's power and the winner of this match gained the role of Director of Wrestling Operations. Take one guess what happened after MVP's team won this match? If you said MVP was a fair and just ruler of the TNA kingdom then you didn't read the previous paragraph.
So going in Dixie Carter was in control. MVP was a shareholder. Bobby Roode would win 10% if Team Dixie won. Mick Foley was also Executive Shareholder from 2008 and there was no clear evidence that he sold those shares. TNA's on air ownership structure in 2014 was just as complicated as it really was between Dixie, Billy, Anthem and Aroluxe in 2016.
Dixie Carter had attempted to gain an advantage by banning Jeff Hardy from the building but she failed to anticipate Willow, who has absolutely nothing to do with Jeff Hardy of course, taking his place. Dixie also appointed Bully Ray as the special referee to represent her interests but Bully betrayed her. Nobody ever gets along in this company. One guess who was writing the show at this point?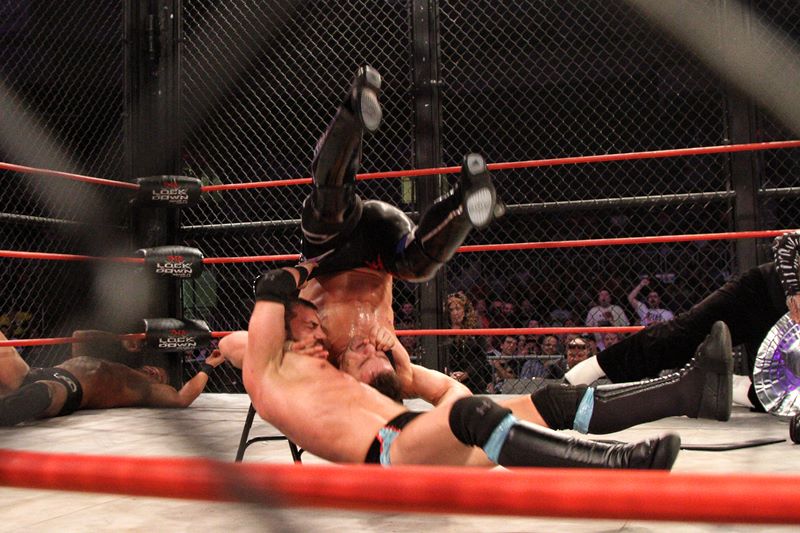 Willow made strange bird like noises every time somebody attacked him. The Wolves worked hard (including double coast to coast dropkicks), Aries worked hard (including a 450 Splash on a trash can and brainbustering Richards onto a chair) but the shadow of Dixie Carter loomed large over this match – not to mention the Miami crowd couldn't have cared less. They weren't invested in this match whatsoever.
STAR RATING: **3/4
LETHAL LOCKDOWN
LOCKDOWN ON IMPACT WRESTLING
TEAM ANGLE (KURT ANGLE, AUSTIN ARIES, GUNNER AND BOBBY LASHLEY) 
VS. 
THE BEAT DOWN CLAN (MVP, SAMOA JOE, LOW KI AND KENNY KING)
Another year, another stable. TNA's big idea after being dumped off Spike TV, their big idea to draw viewers to the obscure Destination America (a television channel best known for ghost hunts and BBQ cook offs – I am always disappointed TNA got dropped by Destination America before I had a chance to write a feature reviewing all of their other shows) was to kick things off with an annoying, overbearing stable that took over the entire show. Samoa Joe and Low Ki joined MVP's preexisting group along with Bobby Lashley and Kenny King. On paper that looked like a pretty good stable, in practice considerably less so.
Much had changed for this match. The six sided ring had returned from its four year Hulk Hogan and Eric Bischoff induced absence, there was no roof again here though as this match emanated from the Manhattan Center in New York (and was upsettingly poorly lit compared to the New York tapings from 2014). Josh Mathews (who sounded lost and intimidated on commentary, I get the sense he and Taz didn't get along) replaced Mike Tenay in an utter travesty. First the wonderful Don West was replaced by the constantly distracted Taz and then Mike Tenay was replaced by the actively destructive Josh Mathews. TNA had the perfect announce team and inexplicably ripped it apart.
This was the first Lethal Lockdown to air on free TV. Lockdown became an episode of Impact as TNA scaled further and further back on PPV events. The big hook here was that Angle and company were outnumbered and relied on Lashley as their fourth man. Lashley, a member of the Beat Down Clan prior to this but with some issues with MVP, came out at the end and pretended to rejoin the BDC. It was a swerve of course as Lashley fought off the BDC instead.
That moment landed pretty lamely though as Lashley proceeded to get beaten up for five minutes before he hit MVP with a Spear out of nowhere to win. That was a bafflingly structured match. Lashley was sent out in the big hero spot but rather than pulling the trigger on that they had him get his ass kicked for a while before picking up the win. It's like whoever laid this match out actively decided it should achieve the opposite of what the booking was designed to do.
STAR RATING: **1/2
LETHAL LOCKDOWN
IMPACT SEPTEMBER 16, 2015
TEAM GFW (SONJAY DUTT, JEFF JARRETT, ERIC YOUNG, BRIAN MYERS AND CHRIS MORDETZKY) 
VS. 
TEAM TNA (DAVEY RICHARDS, EDDIE EDWARDS, DREW GALLOWAY, BOBBY LASHLEY AND BRAM)
Welcome to the summer of 2015. Jeff Jarrett, who had been ousted from TNA three years prior, returned to TNA cap in hand for publicity for his floundering GFW brand (while selling his small stake in TNA back to Dixie and accepting a Hall of Fame induction in the process). Jarrett tried and failed to launch a new company before deciding he needed the old ones help. Jarrett arrived on television as a pal before revealing his true colours and attempting a hostile takeover. A shocker I know.
So TNA threw it's summer plans out the window and booked an invasion angle as well as Team GFW (which included people like PJ Black, Lei'D Tapa and Trevor Lee as well as the people in this match) tried to take over. It was all sort of lame but it did culminate in this Lethal Lockdown match that took place on Impact rather than Bound For Glory because the whole storyline had to be done in a single week of TV tapings.
Lashley was the star of the match because Bobby Lashley spearing and suplexing nerds is never anything short of wonderful. Eric Young had betrayed TNA and sided with GFW only to continue on the TNA roster for another six months after GFW lost. There was some doubt around whether Team TNA would even have a fifth man (it turned out to rather underwhelmingly be Bram). That kind of undercut the very point of this match. The TNA roster cared so little about the company that they threatened to put together a team of five wrestlers across the entire roster. Nobody was bothered to fight against a hostile takeover. I wonder was it just that everybody hated Dixie that much.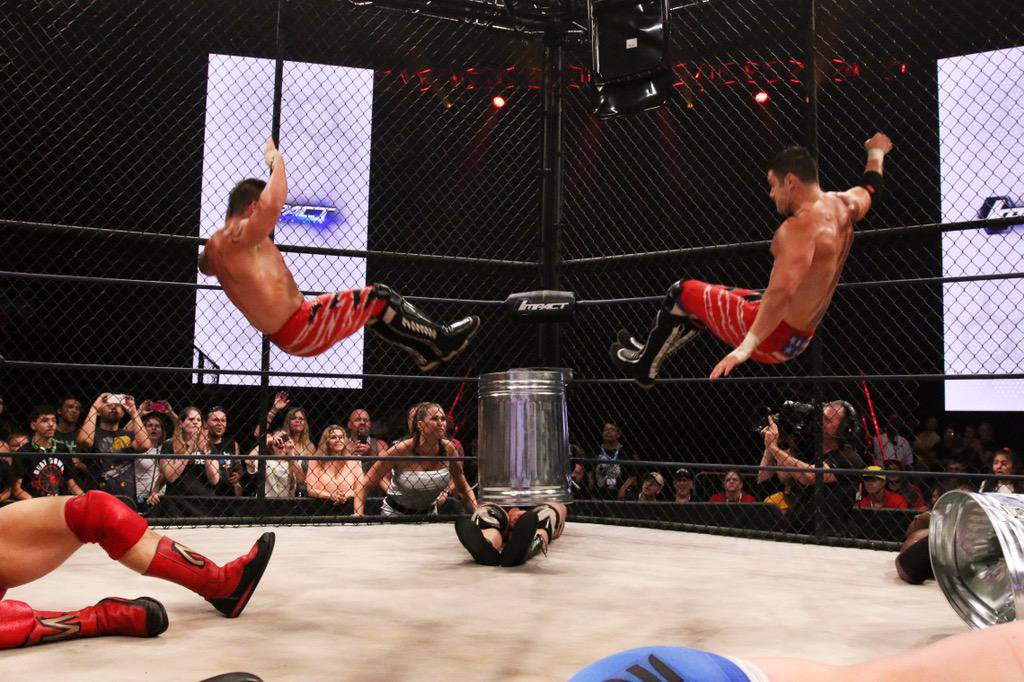 The Wolves broke out the double coast to coast on Jeff Jarrett with a garbage can placed over him as Pope called Jeff Jarrett literal trash. Brian Myers had to face the facts as Drew Galloway smashed him with the Future Shock to boot GFW out of Impact. Every single member of Team GFW here returned to TNA within the two years that followed. The crowd bought the rivalry even if the match wasn't hugely interested even if it was energetic at least.
Ironically planet Jarrett lost here but Jarrett won in the end. Jarrett would be brought in by Anthem to take over behind the scenes instead of in front of the camera two years later. Jarrett would then reshape Impact in GFW's image before being booted from the company once more and having all of his work undone. At least that run of GFW on Impact TV lasted longer than this one. GFW simply is not meant to be.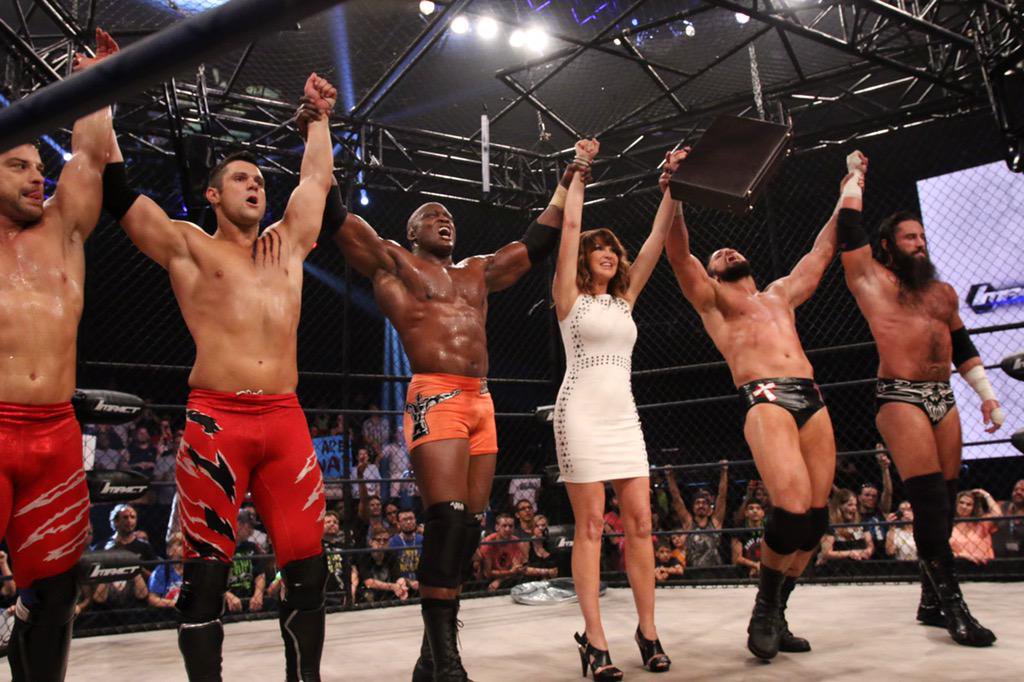 The best thing to come of the whole GFW invasion angle was the introduction of Trevor Lee to TNA television.
As it stands, this is Jeff Jarrett's final match in the company he founded.
STAR RATING: ***
LETHAL LOCKDOWN
IMPACT FEBRUARY 23, 2016
GAIL KIM, VELVET SKY AND MARIA KANELLIS-BENNETT 
VS. 
THE DOLLHOUSE (JADE, MARTI BELLE AND REBEL)
After 13 years of Lethal Lockdown style matches Impact finally opted to give the women a chance, and thus we had the first ever Knockouts Lethal Lockdown. The Dollhouse were Taryn Terrell's weird, creepy stable but at this stage Terrell had left. Awesome Kong took over as leader of The Dollhouse but got sent home from the UK Tour on which this match took place due to an altercation with Reby Hardy.
So you can add The Dollhouse to the list of underwhelming stables that took part in Lethal Lockdown.
The story of this match may sound familiar. Gail Kim's team couldn't find a third entrant because Madison Rayne was taken out backstage by The Dollhouse so Kim asked Maria to take that spot. There was a will she, won't she spot as she teased doing the right thing but ultimately swerved on Gail and left her three on two.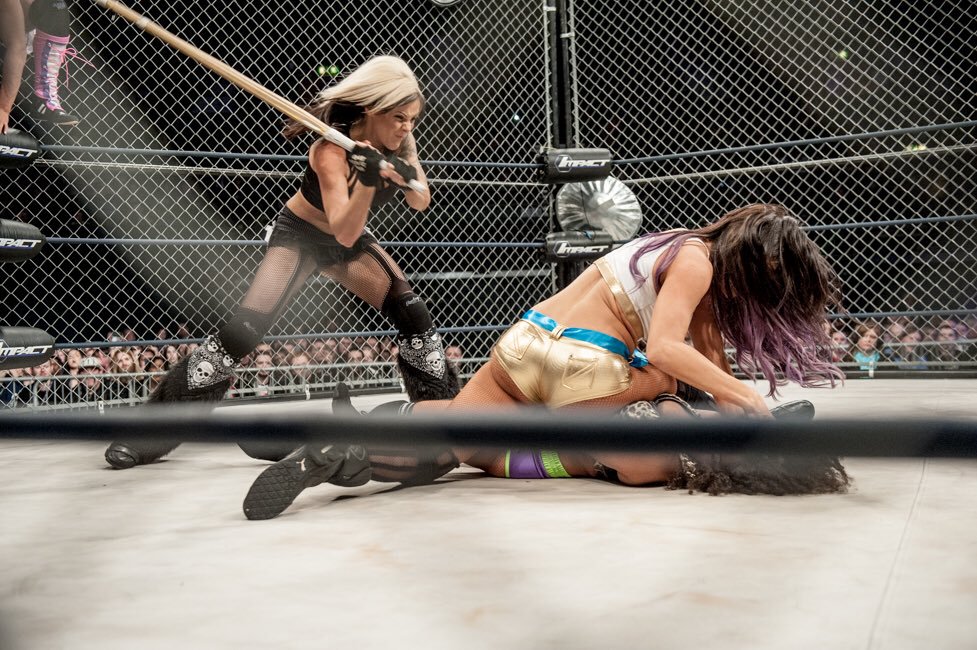 In fairness to Velvet Sky, this may have been one of her best performances as she was tasked with carrying a decent portion of this match and, buoyed by a UK crowd that always loved her. This was a solid but ultimately underwhelming match. The Dollhouse weren't really the right act to help carry a match like this.
This match is however notable for one thing. In the sixteen Lethal Lockdown matches prior to this, every single time the babyface team won. This is the first time the heels won.
STAR RATING: **3/4
---
---
LETHAL LOCKDOWN
IMPACT SEPTEMBER 29, 2016
TEAM LASHLEY (BOBBY LASHLEY, MIKE BENNETT, MARIA KANELLIS-BENNETT, DREW GALLOWAY)
VS. 
TEAM EC3 (ETHAN CARTER III, MOOSE, GAIL KIM AND ARON REX)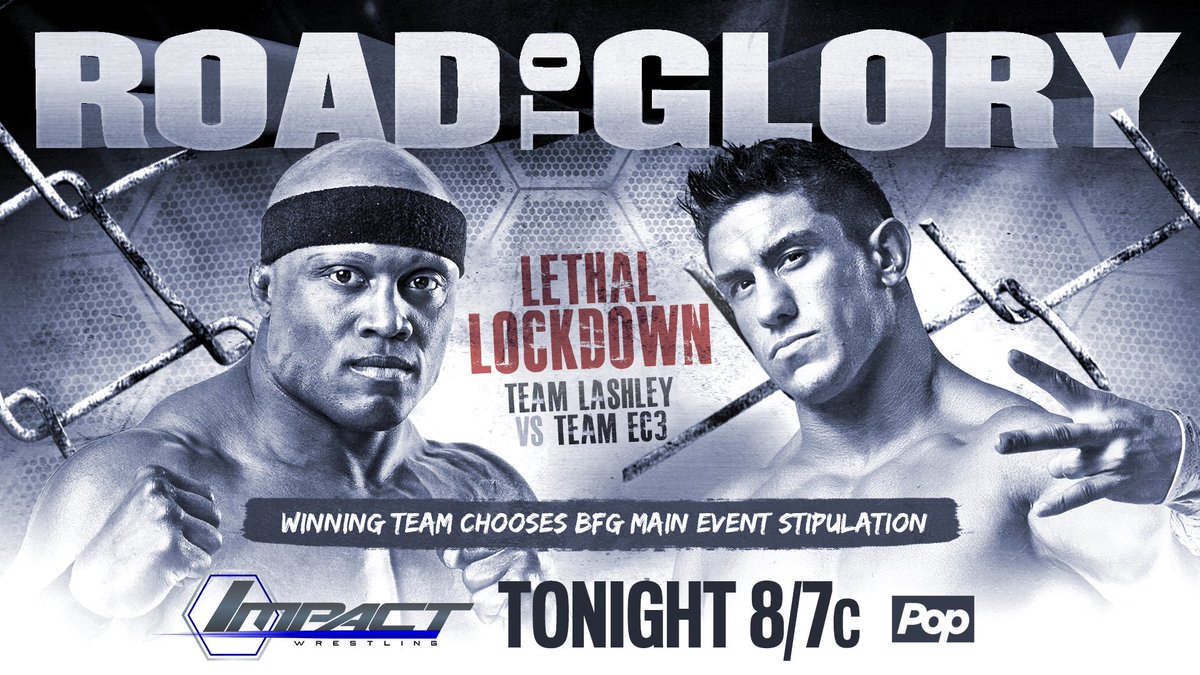 And so we have the most recent Lethal Lockdown match. In the lead up to Bound For Glory it was revealed that they'd have to put together teams on the go home show, compete in a roofless Lethal Lockdown and the winner would get to choose the stipulation going into Bound For Glory. Gail Kim and Maria were barely in the match as Kim chased Maria around the ring and to the back.
The opening entrances period of this match were nothing to write home about but the closing stretch was fun at least (and you'd really forget Aron Rex ever existed) before Lashley made EC3 pass out in a head and arm choke. I'm kinda glad they have done a Lethal Lockdown in the year since. The match needed a rest.
Watching all these matches one after another it should be pretty clear that they got steadily worse in quality. Those star ratings generally trended downwards. There were a couple of reasons for that. The talent level would vary match to match and that obviously translated to varied match quality. That's not to say there weren't some loaded Lethal Lockdown matches in recent years that simply failed to deliver though.
Diminishing returns kicked in over time no doubt as the more of these matches there were they less they felt special and a sort of sameness kicked in. The matches started to blend together. But one of the biggest matches is simply unimaginative layout. The babyface comeback spots essential to the energy of the early stages of the match simply fell flat (some of that also reflects how the company got colder and colder over the history of this match with crowds that are less and less engaged) and too much of the matches descended to mindless weapon shots and bland, thoughtless brawling. The best matches avoided that and strung together some really enjoyable sequences rather than just trite time filling.
STAR RATING: **3/4