Bound For Glory 2017
Aberdeen Pavilion
Ottawa, Ontario
Canada
November 5, 2017
Watch: Fite TV/PPV – Ordering via Fite TV comes with three free months of GWN
So what kind of year has it been?
I wrote a more detailed full look at that very question but the answer is a pretty uneven one. Much has changed. The roster is borderline unrecognisable vs. last year, 16 of the wrestlers wrestling on this card weren't with the company last year. There was only one real report of the company going under this year, as SI reported Anthem were looking to offload the company during the summer. So its been a more stable year, especially compared to last year where there was considerable doubt over whether Bound For Glory would even go ahead in the days prior to the show (much to the chagrin of this writer who happened to be attending last year).
Much however has remained the same. Impact has managed to pick itself off the floor but only just. Forward momentum has been an alien concept this year as the company stumbled from reboot to crisis and back again. And yet PPVs have been moments of solace for Impact in recent years – opportunities for the strife and turmoil and difficulties surrounding the company to fade into the background and for the company's extraordinarily talented group of performers to take center stage. Slammiversary 2016 and 2017 as well as Bound For Glory last year all felt like the brightest spots of the last two years for the company – hopefully that'll continue on Sunday as a strong card on paper invades Impact's new homeland of Canada.
Team AAA vs. Team Impact
El Hijo Del Fantasma, Pagano and Texano vs. Ethan Carter III, Eddie Edwards and James Storm

El Hijo Del Fantasma (King Cuerno of Lucha Undergorund fame), Pagano and Texano have all debuted on Impact this year as part of Impact's working relationship with AAA. They haven't entirely gotten along, forming a strange bedfellows team in defense of AAA.
Storm and EC3 spent much of the start of the year at odds resulting in a match at Slammiversary back in July – championing the honour of Impact Wrestling vs. the invading AAA group has brought them together. Eddie Edwards started the year as World champion before losing the belt to Bobby Lashley and transitioning to a rivalry with Davey Richards, who has since departed the company. He defeated Katsuhiko Nakajima for the GHC championship in NOAH back in August.
This should be a fun match – there's enough moving parts, strong personalities and good wrestlers to make a match like this work. They haven't really entirely captured the sense of tribal warfare that would have helped carry this feud to something more than a fun novelty but its really neat to see people like Fantasma, Texano and Pagano on Impact every week. They add a different flavour and something fresh to the show. Despite AAA's tendency to win team battles in TNA history (they repeatedly retained the America's X-Cup back in 2004), the amount of star power (as well as title belts) on Team Impact make them the most likely winners. An Edwards vs. El Hijo Del Fantasma GHC title match has already been announced for the subsequent Impact tapings so this feud may continue. Prediction: Team Impact
Impact World Tag Team Championships – 5150 Street Fight
The Latin American Xchange (Ortiz and Santana w/ Konnan and Diamante) vs. oVe (Jake and Dave Christ)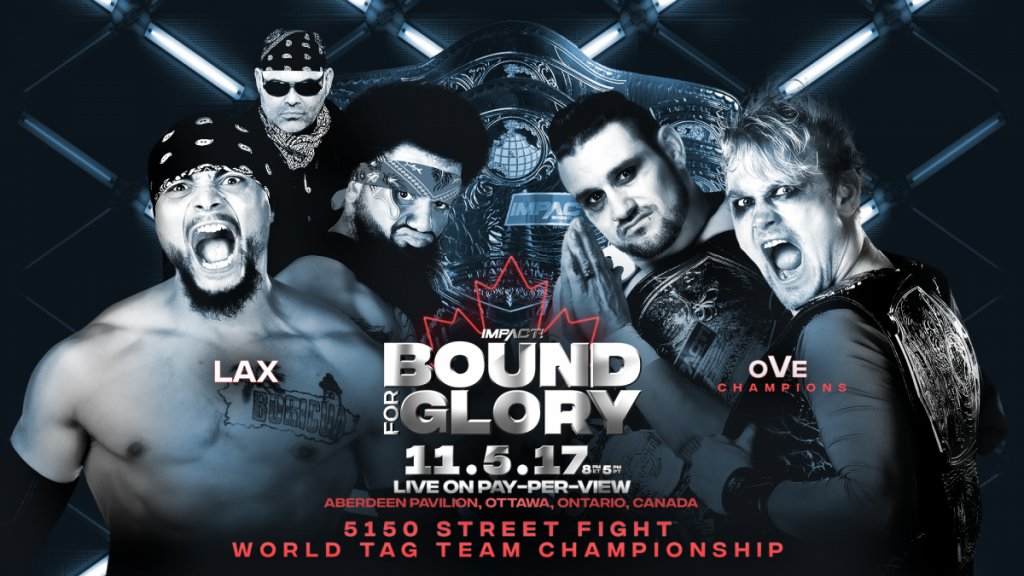 The new LAX, led by former LAX stalwarts Konnan and Homicide, have been a true highlight of Impact in 2017. A stunningly inventive team, they have been the most essential part of Impact since arriving in March – quickly claiming the tag team titles and anchoring that division. They have become a cornerstone act in the company.
oVe have had a similarly rapid ascent. Winning all five of their televised tag team matches so far (four of which have been fast squashes and the fifth dethroning champions LAX) plus winning some matches aired on Impact that emanated from The Crash and Border City Wrestling they are clearly a team Impact has put a great deal of stock in. They seem to have a strong sense of their characters even if their squash matches have left a little to be desired so far.
The build to this match has been fairly straightforward. oVe have been the only ones able to stand up to LAX's mob mentality through a combination of sheer force of will and seemingly not caring for their own well being, they are just two guys from Ohio who will fight all comers. This is an important match for the brothers Crist. A full on plunder brawl with a team as wacky as LAX should be their coming out party – there is no reason this shouldn't be a wild and crazy brawl. oVe only just won the belts and them losing here would be silly – expect Sami Callihan to make his Impact debut here with his Ohio buddies. Predictions: oVe
Red Wedding
Taya Valkyrie vs. Rosemary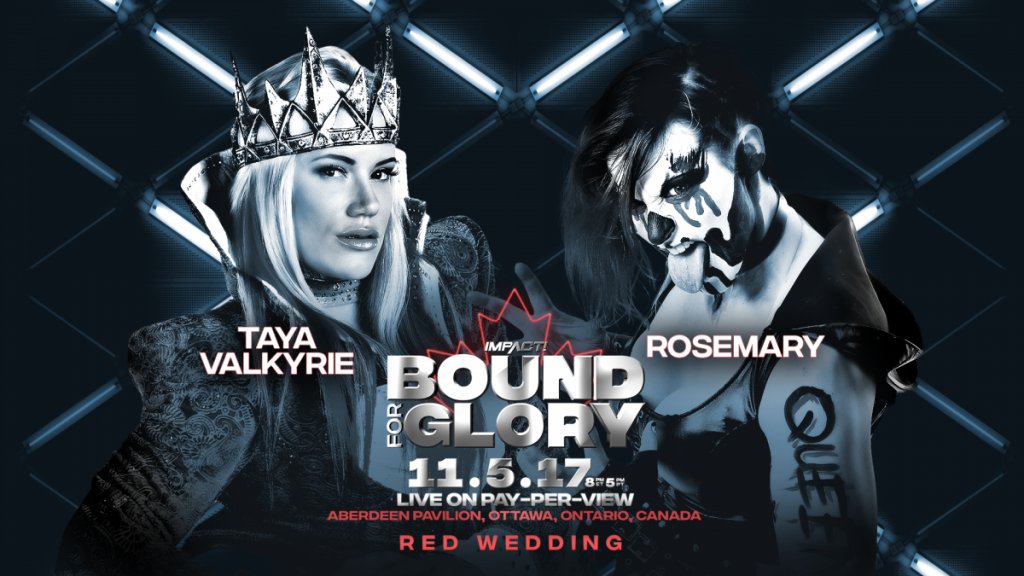 Editor's Note: Minutes before we were to post this preview, Impact announced that Taya would be unable to make it to Bound for Glory or the tapings taking place this week:
I'll post a video this afternoon and chat w all of you. 2 say I'm disappointed is an understatement. I'm devastated, but I'll be back in Jan https://t.co/n8HCEueKHW

— Lucha Royalty (@TheTayaValkyrie) November 4, 2017
So as to not waste Garrett's work, here's the preview in its entirety anyway but of course the match previewed will not happen.
Taya Valkyrie, another Lucha Underground import, debuted in September as one of the most TV ready acts in a long old while. She looks and carries herself like a star. It still remains to be seen whether her work matches that wonderful aura, a TV match with Rosemary showed promise but still left some questions, but there is absolutely no doubt Taya commands the screen.
Rosemary, who spent the first seven months of the year as Knockouts champion, carried on her form from 2016 as one of the best things going on Impact. She has such a strong sense of character and presence that it's translated into one of the most consistently strong performances of the show. She faded into the background a little as her momentum stalled after losing the title to Sienna in July.
What is Red Wedding? It would appear to be a first blood match but that hasn't been made 100% clear yet. The first match in this rivalry was enjoyable and with some added shortcuts here they should be able to excel. First Blood matches are generally tricky from a drama perspective – the referee repeatedly checking for blood doesn't exactly make for the most compelling match – but hopefully these two can avoid those pitfalls. Rosemary needs a win here. Taya has gotten the better of Rosemary at nearly every stage and for Rosemary to lose in the end on top of that would do her untold damage. Prediction: Rosemary
Impact X-Division Championship
Matt Sydal vs. Garza Jr vs. Petey Williams vs. Sonjay Dutt vs. Dezmond Xavier vs. Trevor Lee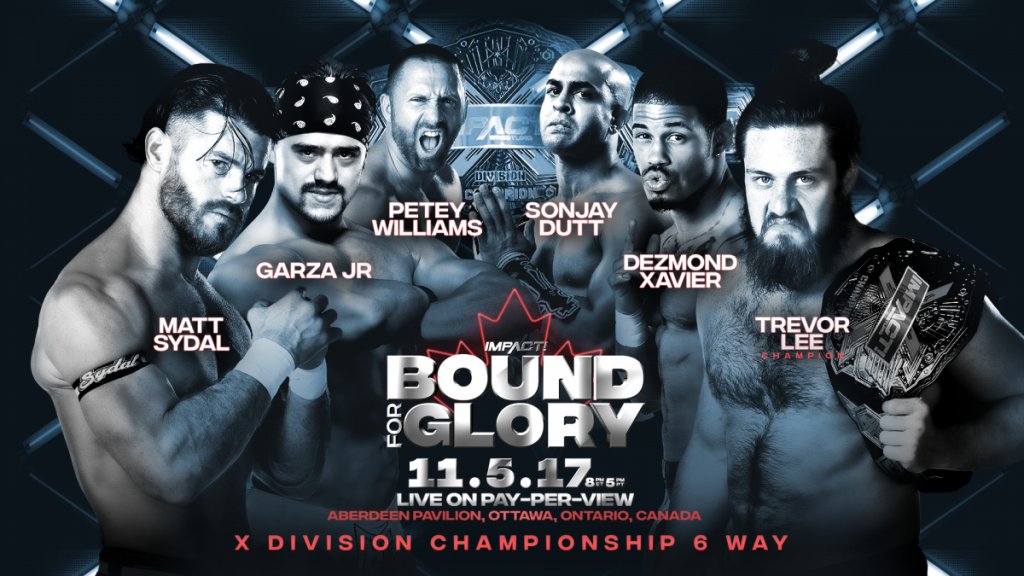 Matt Sydal returned to Impact, having made a few appearances back in 2004, in April and has sort of flirted with both the Heavyweight and X-Divisions. A lack of focus has hindered him a little as he's mostly meandered from match to match delivering good performances but largely not leaving much of an impact. A programme with Bobby Lashley could have been the highlight of the year for him but Lashley pivoted to the American Top Team dispute shortly after.
Garza Jr arrived alongside Laredo Kid back in March to form an extremely fun undercard tag team. They provided a much needed dose of energy to Impact and had some very enjoyable tag team matches with the likes of LAX. Impact seems to have seen more than that in Garza in recent weeks, elevating him to heavyweight division adjacent as he's aided Johnny IMPACT in his battle vs. Eli Drake and Chris Adonis.
A former two time X-Division champion, Petey Williams emerged from retirement in July to rejoin the active roster. A welcomed return, Petey is an experienced hand with plenty left to offer. Plus he can now officially reclaim the Canadian Destroyer from never ending overused indie purgatory.
Sonjay Dutt returned to Impact for the fourth time back in April and resulted in the most satisfying story Impact told this year. Over the prior 14 years Sonjay Dutt tried to win the X-Division championship 34 times and every single time he lost. In a division where everybody got a turn it was baffling that he never got his. Finally in June Dutt overcame X-Division pioneer Low Ki in his home country of India to finally lift the title. A moment long overdue and long since earned. The reign was relatively short lived, Dutt has since lost the belt to Trevor Lee but it was that moment that really mattered.
Dezmond Xavier is the hottest prospect in Impact right now. Young, dynamic, exciting with plenty of runway to improve he's clearly one Impact sees for the (maybe not too distant) future. Impact revived the Super X-Cup and Xavier joined Chris Sabin and Samoa Joe as winners of that tournament after dispatching Pro Wrestling NOAH's Taiji Ishimori in the final.
Trevor Lee has been the pillar of the X-Division for the last two years. Now on his third reign as champion, having beaten both DJZ (who sadly disappeared from television) and Sonjay Dutt for the title this year, Lee is already the fourth longest reigning champion in combined reigns. On paper he is probably the best wrestler in the company, if only he'd be given a platform to show it a little more often.
This is a tough match to predict because realistically you can make a reasonable case for everybody but Dutt to win. Petey in his home country after coming out of retirement. Xavier coming off the Super X-Cup win with momentum. Garza Jr to reinforce his newly found push. Sydal because he has the most name recognition in the division. And Lee because this current reign has barely gotten started. Prior to Xavier winning the same match on Impact this week I'd have picked him, but pro wrestling logic has me pivoting to choosing Lee to retain instead. Might as well try and build some momentum for this title run before moving to somebody else. Regardless there should be nothing stopping this from being the best match on the show. Prediction: Trevor Lee
Monsters Ball
Abyss w/ James Mitchell vs. Grado

Abyss has had an interesting year. Beginning the year continuing his team with Crazzy Steve, Abyss was left with nothing to do after Steve left. Thus the delightful Joseph Park character reemerged to assist Jeremy Borash in legal proceedings with Josh Mathews before he participated in the wonderful, goofy Final Deletion-esque tag team match with JB vs. Josh Mathews and Scott Steiner at Slammiversary. Since then he's been sponsoring Grado's visa and/or exploiting him for financial gain.
Grado had art imitate life after missing the first half of the year due to visa woes, turning that into an angle where he was to be deported if he couldn't secure a bride. He courted Laurel Van Ness but balked when he discovered she was actually Canadian (ironically that'd have worked just fine now with Impact seemingly being based out of Canada now) and being sponsored by the fine folks at Park, Park and Park instead.
Monsters Ball is Abyss' specialty match. It originally meant the wrestlers had to be held in a dark room without food or water, resulting in the wrestlers having to pretend to be blinded by the light and sleep deprived when they came out for the match. I miss those days. Now its your usual synonym for a No DQ match. Abyss has been doing these matches less lately, plus the fact that this story has actually been one of the better executed stories on the show coupled with Grado's inherent root-ability means I have strangely high hopes for this. There will be tacks, Janice, maybe glass, stunts and James Mitchell. They may also veer down the Final Deletion style route too. Prediction: Grado after Abyss is inevitably slain by his own thumbtacks
Impact Knockouts Championship
Allie vs. Gail Kim vs. Sienna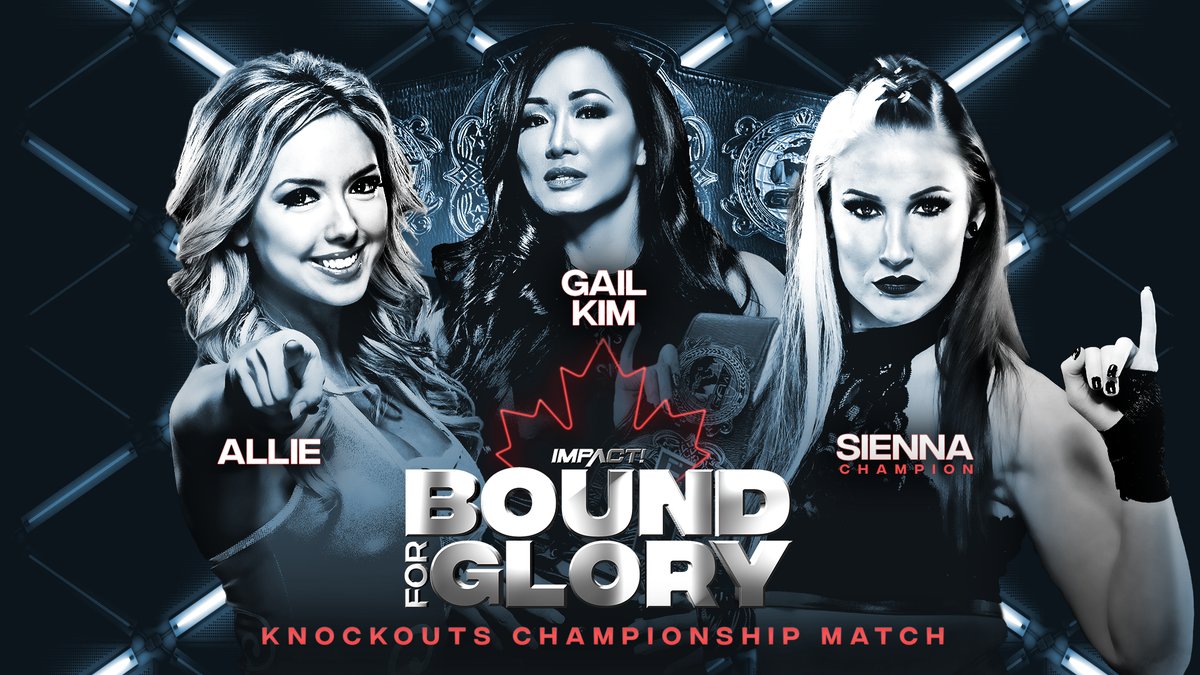 Gail Kim is the Knockouts division. More than anybody else over the last ten years she's carried the division on her back, sometimes to the detriment of others in the company as she was their constant fall back plan. There is absolutely no denying however that she's been the standard bearer of quality for the Knockouts. This is her final Bound For Glory as she retires at the end of the calendar year.
Allie is one of the most easily likable characters in wrestling. Fully embracing her charmingly naive character, she connected with the audience in a big way last year culminating in an utterly delightful foiled wedding earlier this year that resulted in the nervous breakdown of Maria Kanellis. Allie lost some of the specificity of her characters voice in recent months but she has shone as one of the better acts in the company.
Sienna is a superb primary antagonist for the Knockouts division. Carrying herself with class and poise befitting of the title she unified with Rosemary's Knockouts title in July. She doesn't always blow you away bell to bell but she is as consistent as you get.
There was a superb story to be told here with the retiring Kim returning to Bound For Glory once again to try and capture the belt that she was the very first to win a decade ago. Kim has after all won the Knockouts title three times at Bound For Glory in the past. The next best thing is for Kim to win the belt and build toward crowning an official successor as Kim retires at the end of the year. Allie or Rosemary are the best bets for that mantel but giving Kim one last run makes the most sense. With two Canadians in the match it'll be interesting to see who the hometown crown side with. Prediction: Gail Kim
Six Sides of Steel
Moose and Stephan Bonnar vs. Bobby Lashley and King Mo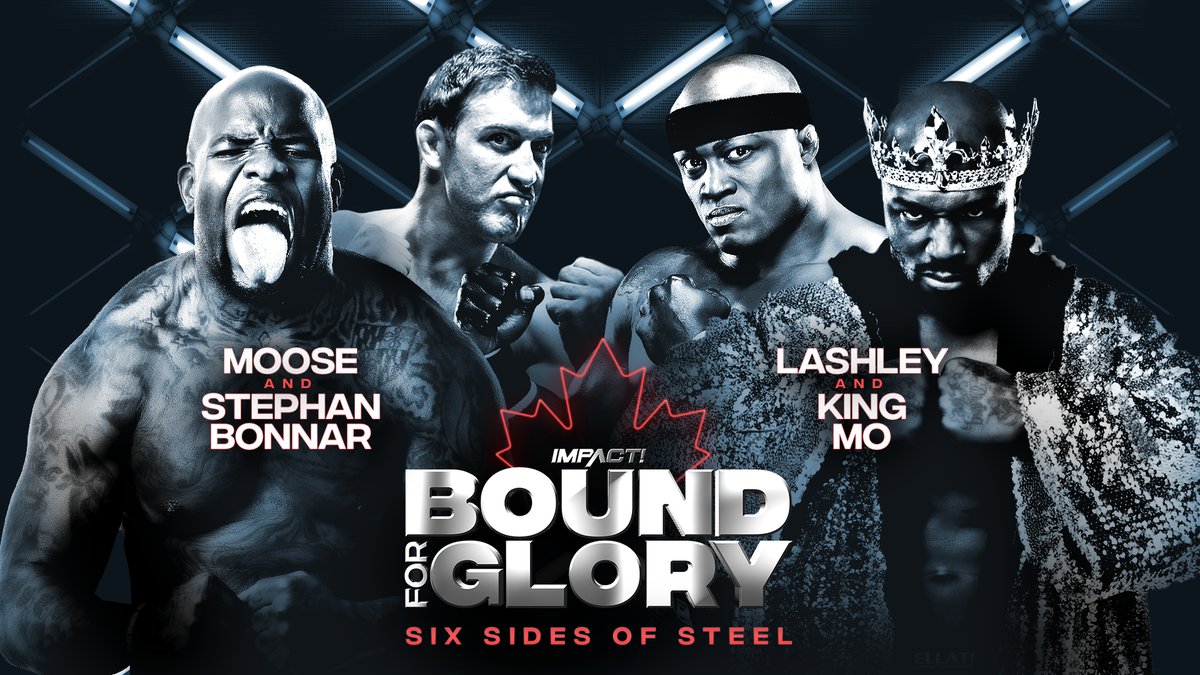 A debut five years in the making. King Mo debuted as part of Impact's Spike TV mandated co-promotion with Bellator with the idea that he'd be a big two sport athlete. Mo would special enforce the Bobby Roode vs. James Storm match at Bound For Glory 2012. He began training in Ohio Valley Wrestling (working a number of matches) and filled some bit parts on TNA television (most notably as Dixie Carter's bodyguard before she was powerbombed through a table in 2014) but it wasn't to be. King Mo never wrestled in the end. Until now. King Mo will finally make his in ring Impact debut, the recurring character role finally coming good!
Lashley started the year regaining the World title that seems to boomerang back to him rather frequently from Eddie Edwards before dropping it to Alberto El Patron at Slammiversary. Lashley then fully embraced his MMA roots as Dan Lambert and company flooded onto Impact to set up this match.
Moose has spent much of the year chasing and defending the Grand Championship. He traded the belt with Drew Galloway before Galloway left for NXT. Moose then engaged in a short lived dispute with Cody (Rhodes) which nobody on earth probably remembers before having his first outside celebrity driven dispute teaming with NFL player DeAngelo Williams vs. Eli Drake and Chris Adonis in a stunningly good match at Slammiversary. MMA fighters then crossed Moose's crosshairs after he lost the Grand Championship to EC3.
Keen observers of Impact will have noted Bobby Lashley wearing American Top Team apparel on the show since his return in 2014. Consider that a long tease as this year his MMA team and their frankly quite brilliant leader Dan Lambert invaded Impact this year. The whole thing started pretty slow with some limp confrontations and mediocre segments but then Dan Lambert opened his mouth. Lambert brought life to this programme with his passionate, bitter rants about how pro wrestling fans suck and how Impact was leeching the potential of Lashley as a fighter. Lambert has been a revelation, delivering some of the best pro wrestling promos anywhere this year.
I have no idea how good this match will be. I have no gauge for how King Mo and UFC Hall of Famer Stephan Bonnar will perform, especially in a cage match but Lashley and Moose are total pros and should be able to help carry proceedings. Given Lambert's promo on Impact this week about how Moose losing would be the utter embarrassment and end of pro wrestling, he and Bonnar sort of have to win. Prediction: Moose and Stephan Bonnar
Impact Global Championship
Johnny IMPACT vs. Eli Drake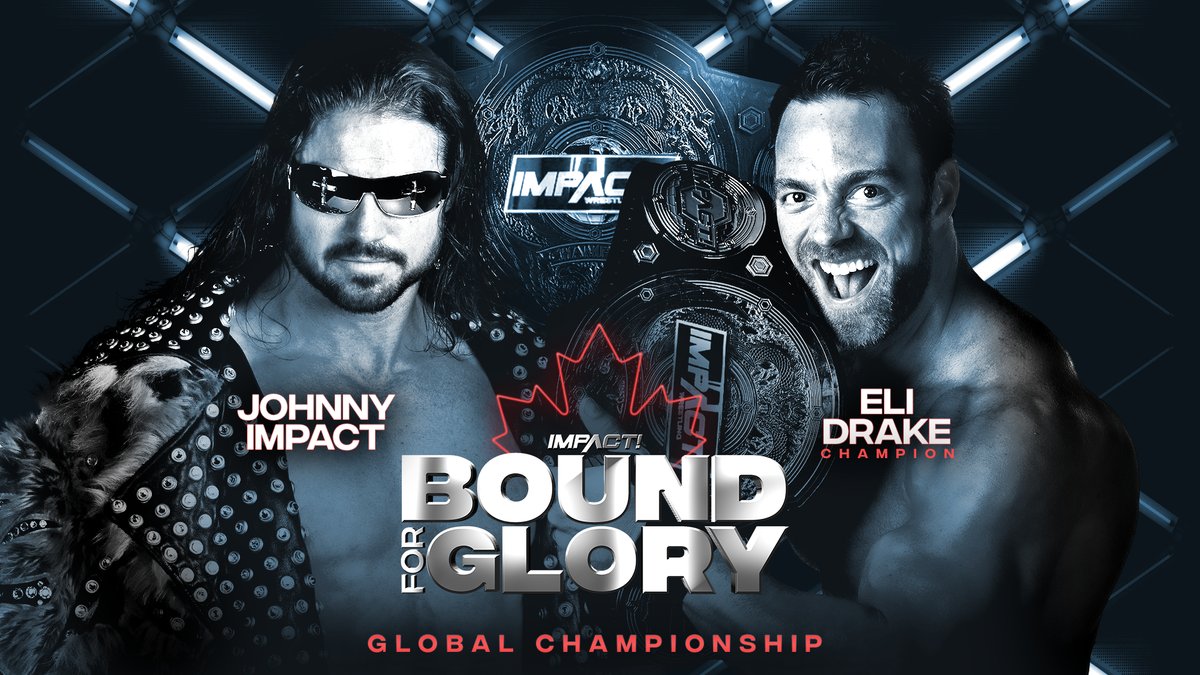 Johnny IMPACT (the former Johnny Nitro/John Morrison/Johnny Mundo) debuted in Impact this August as a like for like star power replacement for the suspended Alberto El Patron. He's looked solid for the most part since his debut but has yet to have a standout match. He was immediately catapulted into the main event as the primary protagonist on the show.
Eli Drake has had a strange year. Looking on the verge of breaking out toward the end of 2016, he fell off the map entirely for the first half of 2017. A victim of regime change he became a background player, demoted to a novelty tag team match at Slammiversary. Fortune favours the conveniently placed though as he was thrust into the role of Global champion after El Patron was stripped of the title. That is a role he is firmly equipped for but certainly not one he was prepared for in any way. He was promoted from random undercard guy to main eventer in the blink of an eye. He's acquitted himself well as champion, it's a role he was made for but he's struggled against many of the deeply entrenched Impact booking tropes for heel champions.
It's somewhat fitting that the shadow of Alberto El Patron hangs over this match given both of these men are likely only in this match headlining the biggest show of the year due to El Patron's mid-year suspension. Inserting Patron into this match in any way would be a mistake. These two have a strong main event in them if trusted to deliver without any sort of handicap. El Patron would only get in the way. If he was inserted as a competitor it waters down the issue. If he's added as a referee he overshadows the participants. If he influences the outcome he undercuts the winner. Simply have him challenge the champion after the match to begin driving toward the next set of tapings. There is no need to overthink this.
Eli Drake absolutely has to win. If he loses here there is likely no coming back for him. He joins the trash heap of champions scattered through Impact history who had no credibility and nobody cared about as champion. Nobody wants another Magnus. This is an opportunity to begin to turn him around. Moving the title onto IMPACT reinforces some of Impact's worst tendencies – that its people who made their name elsewhere that truly matter. Have faith in Drake and IMPACT to deliver a compelling main event and have faith in Drake to continue to carry the brand into 2018. Prediction: Eli Drake