ROH Death Before Dishonor XV
Friday, September 22nd, 2017
9:00 PM EST
Sam's Town Casino
Las Vegas, Nevada
Watch: Traditional PPV, rohwrestling.com, FITE.tv & FITE app, PlayStation 4 (Live Events Viewer)

ROH World Title
"The American Nightmare" Cody vs. Minoru Suzuki
This is easily the most anticipated match on the entire card.
Minoru Suzuki is making his debut in ROH, and his first appearance in the United States in well over two decades. On such a momentous occasion, who does ROH put him up against? Cody.
To say that this is a strange matchup would be a massive understatement. We have a huge clash of styles here, in what is arguably the weirdest PPV main event of 2017. Nobody really knows how this match is going to turn out. Could it be good? Absolutely. At the same time, however, we just a similar situation occur at the War Of The Worlds UK iPPV in Liverpool, when Cody wrestled SANADA. The way that match was going to go was a real mystery going into it, but when the dust settled, it ended up being pretty mediocre. Hopefully Cody takes this match a little more seriously. It definitely has the potential to be good, but it could also go off the rails very quickly. There aren't any other Suzuki-gun members on this show, so thankfully there won't be any of their shenanigans. At the same time, those could easily be replaced with Bullet Club shenanigans, and we could end up with a screwy finish anyway. I do believe that Cody will retain his title here over Suzuki, but how we get to that point is going to be very fascinating. Prediction: Cody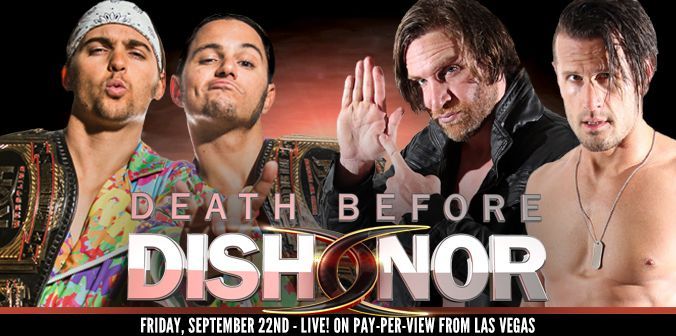 ROH World Tag Team Titles
The Young Bucks (c) vs. The Motor City Machine Guns
Several weeks ago on an episode of ROH TV, a title bout between these two teams was thrown out after The Addiction attacked both teams. Thus, a rematch has been scheduled, but in a promo recently posted on ROH's Twitter, The Addiction have promised to be involved in the PPV, and I wouldn't be shocked if they attempted to interrupt another tag team title contest.
In theory, this should be a great match. These two teams work extremely well together, even with The Motor City Machine Guns being past their prime. While this will be the second match on this PPV for The Young Bucks (and I think their ROH World Six-Man Tag Team Title defense will be earlier in the night), they'll probably be putting more effort into this match. However, I feel like there's a strong chance that The Addiction will somehow become involved, based on what I mentioned earlier. I'm not sure what that would look like, but the bottom line is that, as great as this match could be, shenanigans could end up playing a big factor. If we do get a clean finish, I expect that The Young Bucks will retain. Recently, the TV show has been pushing the fact that The Motor City Machine Guns have never won the ROH World Tag Team Titles, but I don't think they'll get the job done on this night. Prediction: The Young Bucks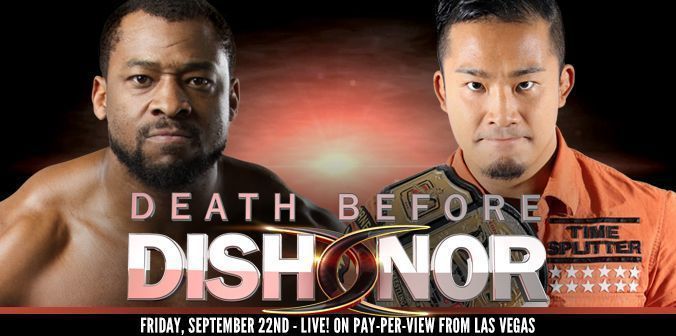 ROH World TV Title
KUSHIDA (C) vs. Kenny King
Since The Rebellion was forced to disband after Best In The World, Kenny King has been the one out the group that's received the biggest singles push. That shouldn't be a surprise to anyone, as King is coming off his time on the most recent season of ABC's "The Bachelorette". Similar to the ROH World Tag Team Title defense I just mentioned, this is actually a rematch that was set up after the original title bout, which occurred on ROH TV, was thrown out after interference (in this case, from The Bullet Club).
I'm not expecting this to be an outstanding match, but it should still be very good. KUSHIDA is fantastic, and have a great contest with almost anyone. As for King, he's in his hometown, and I believe his daughter is going to be there, so I'm sure he's going to put forth a ton of effort. As for the result, this might be the most popular opinion, since some see him as a "preliminary f*cking wrestler", but I'm picking Kenny King to capture the title here. They've been really pushing King hard as a babyface (and with the mainstream publicity he's gotten, I don't anyone can really criticize ROH for taking advantage of this in some form), and as I already mentioned, he's going to be in his hometown. KUSHIDA has been a pretty solid champion thus far, but it just seems like a title change is coming, and all the signs are pointing in that direction, at least, from my perspective. I would like to see KUSHIDA retain, but I just don't see that happening. Prediction: Kenny King
ROH World Six-Man Tag Team Titles
The Bullet Club (The Young Bucks & "The Hangman" Adam Page) vs. #1 Contender's Match Winner
There really isn't much to say about this one, since we don't know who the challengers will be until the PPV, but in either case, I think The Bullet Club retains here. If Bully Ray & The Briscoes advance into this match, it's almost a lock that they'll lose, so that their dissension storyline can continue. If The Kingdom win, I think they'll put up a good fight, before ultimately losing. The quality of the match itself should be good, regardless of which team is in here, but I don't see it being anything more than that, since the majority of the competitors involved are wrestling in a second match on the card, either before or after the fact. The placement of this one on the show will pretty much determine the effort that's put in by both sides. Of course, the big variable here is the "Where's Hangman?" story that's been playing out on Being The Elite. The Young Bucks have made it clear recently that Adam Page is still missing, and even though he'll probably be there regardless, don't be shocked if that has an impact on this match. Prediction: The Bullet Club
Last Man Standing Match
Jay Lethal vs. Silas Young (with The Beer City Bruiser)
These two have been feuding for several months, beating the crap out of each other at every opportunity, and it's gotten to the point where a Last Man Standing Match has become necessary to settle the score. What's interesting about this feud is that, while Jay Lethal has been pushed as the "franchise" of ROH over the last year, Silas Young has really had the advantage. Not only has The Beer City Bruiser assisted him in beatdowns of Lethal (most prominently at Best In The World), but Young has also picked up a number of key victories over the former ROH World Champion over the last few months. He's pinned Lethal at least three times across various TV episodes and live events, in different match types. Obviously, those results suggest that Lethal ends the rivalry with a big win (and I think that's what will happen here), but still, I think it's fair to say that this is the strongest that Silas Young has looked in a long time, and it's good to see that ROH has given a serious push in a high profile program (by ROH standards). As for the match itself, it's going to be very solid, though I'm not sure if it'll reach match of the night territory. Obviously they'll have to work hard to differentiate this bout from the Las Vegas Street Fight earlier in the night, but I'm confident that both men with put forth strong efforts in what could be the climactic match of their rivalry. Prediction: Jay Lethal
---
---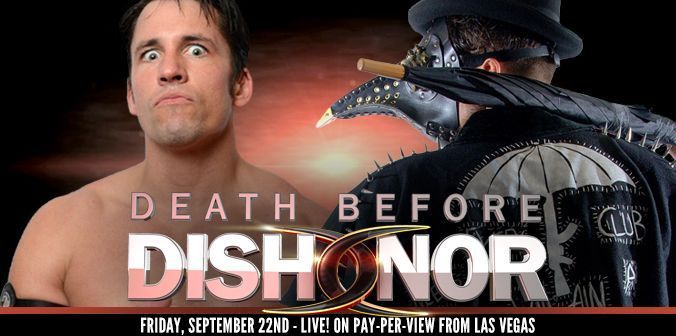 Chuck Taylor vs. "The Villain" Marty Scurll
So ROH is referring to Chuck Taylor simply as "Chuckie T". While I don't necessary have an issue with that, I'm still going to refer to him as Chuck Taylor (just because I'm used to it, I guess).
Hahaha wait is my name just Chuckie T in Ring Of Honor

— Chuck Taylor (@SexyChuckieT) September 19, 2017
There really isn't a ton of backstory to this one. Following a verbal spat on Twitter, a challenge was issued, and the match was made. Even though it feels like a match that's just here to fill out the card, it has the potential to be very good. You can always count on Scurll to deliver when he's in singles competition on a major show. Meanwhile, this is Taylor's first one-on-one bout in ROH (to my knowledge), and I'm sure he's going to be working hard to have the best match possible, especially since it's on PPV. The result on this one could go either way. I don't think Scurll would be hurt by a loss, as a big win over a former ROH World TV Champion could really help establish Taylor in ROH, but at the same time, I'm really not sure how far ROH is willing to go with "The Kentucky Gentleman", especially since it took ROH a long time to even bring him in. For the purpose of this preview, I'm going to with Scurll, but Taylor getting the win wouldn't shock me. Prediction: "The Villain" Marty Scurll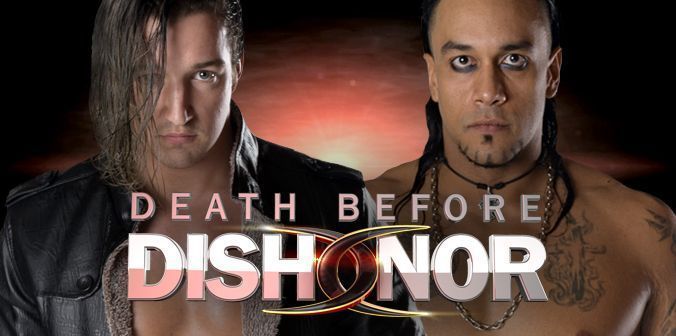 Las Vegas Street Fight
Jay White vs. Punishment Martinez
The feud between these two has been an interesting one to follow over the last several months. Punishment Martinez has been portrayed as a dominant force ever since his arrival last year, but the one person that has been a constant thorn in his side has been Jay White.
Over the past few months, White has earned two victories over Martinez. Of course, Martinez was (predictably) angered by those blemishes on his record, and in response, he's attacked White multiple times, including the last two PPVs. I could easily see this being one of the better matches on the card. Martinez has had some good performances this year, but he hasn't had that one standout bout that really takes him to the next level. For White, this is his first major singles bout (to my knowledge) since that clash with Will Ospreay at War Of The Worlds in NYC that received high praise from many people. Both guys will definitely work hard, but I'm a little unsure as far as the winner is concerned. You would think that this is where White gets revenge on Martinez after being attacked multiple times, but the fact that White is 2-0 against Martinez coming in works against him in this case. It could go either way, but I believe that Punishment Martinez will ultimately emerge victorious here. Prediction: Punishment Martinez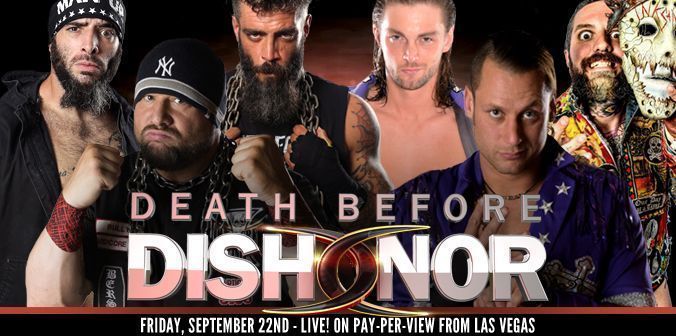 #1 Contender's Match
The Briscoes & Bully Ray vs. The Kingdom (Matt Taven, Vinny Marseglia & TK O'Ryan)
There are two different stories going into this match. First, TK O'Ryan is making his in-ring return to ROH (bringing The Kingdom back to full strength) after suffering a horrible leg injury, in this very venue at the 15th Anniversary Show in Las Vegas back in March.
Ironically enough, at the TV Tapings that followed the PPV, The Kingdom (with substitute partner Silas Young) lost the ROH World Six-Man Tag Team Titles to the team they're facing in this match. Speaking of which, the other story coming in is that this Briscoes/Bully Ray trio has been going through some hard times lately. At first, Jay Briscoe started to become more unhinged after a series of upset losses, and eventually, Mark Briscoe became frustrated as well. They've bounced backed with a win over LIJ on the recent iPPV in England, but it seems like we're getting closer to a potential heel turn, either involving one of The Briscoes, both as a team, or the entire trio. If there does end up being a heel turn at some point, it's going to come from another big loss, and this could be it. This match should be pretty solid, though I'm not expecting it to be on the upper end, as far as match quality on this card is concerned. The winner will end wrestling a second match, and it wouldn't be surprising to see some storyline stuff come into play. The Kingdom took out Jay Briscoe several weeks ago on ROH TV with what looked like a Triple Con-Chair-To, so we might a finish similar to Best In The World, where Jay's thirst for revenge ends up costing his team the match, thus furthering their storyline. In their first match back as a unit, The Kingdom getting the win would make sense, plus they could easily take advantage of dissension on the other side. Prediction: The Kingdom