For more news, notes and discussion on the world of puroresu, please visit our International Wrestling subforum on the VOW Forums. We also recommend listening to our three Puroresu-specific podcasts, Burning Spirits, Open the Voice Gate and New Japan Purocast. 

NOAH
Another quiet month for NOAH the REBORN as they unfortunately continue to lose relevancy as the year progresses.
Katsuhiko Nakajima and Brian Cage headlined Korakuen on July 27th and drew 965 which is slightly more than the July 13th junior tag league opener drew. It has not yet aired on television but it was said to be a good match with Nakajima of course retaining. Eddie Edwards stepped up to the plate as his next challenger and was granted a shot on August 26th in the same building.
Also on August 26th is Naomichi Marufuji and Maybach Taniguchi defending their tag titles, in which they retained over Nakajima and Masa Kitamiya on the 20th, against Go Shiozaki and Atsushi Kotoge and then Taiji Ishimori and Hi69 defending their junior tag titles against YO-HEY and HAYATA, who earned their shot by defeating Ishimori and Hi69 to win the tag league on the 27th. Ishimori is defending his junior title against YO-HEY on August 6th as well.
NOAH is doing a bunch of random multi-way matches in August as they try to freshen things up by doing something new. Hajime Ohara vs. Seiya Morohashi vs. Tadasuke and Daisuke Harada vs. Hitoshi Kumano vs. HAYATA are two other matches taking place on the 6th, with the two winners meeting one-on-one on the 12th to determine the next title challenger following Ishimori vs. YO-HEY. On the 12th is then a four-way between Marufuji, Taniguchi, Shiozaki and Kotoge, interestingly enough. New rookie also Jyunta Miyawaki debuts on that show.
Lastly (told you it was a quiet month), son of Tatsumi Fujinami, LEONA, and Daisuke Ikeda will likely be competing for NOAH moving forward as LEONA earned himself a spot following his match with Kenoh in ZERO1 and Ikeda made a return appearance on the 27th. Ikeda, even in his old age, is always welcome back so this was nice to see. LEONA, on the other hand…seems like a nice guy.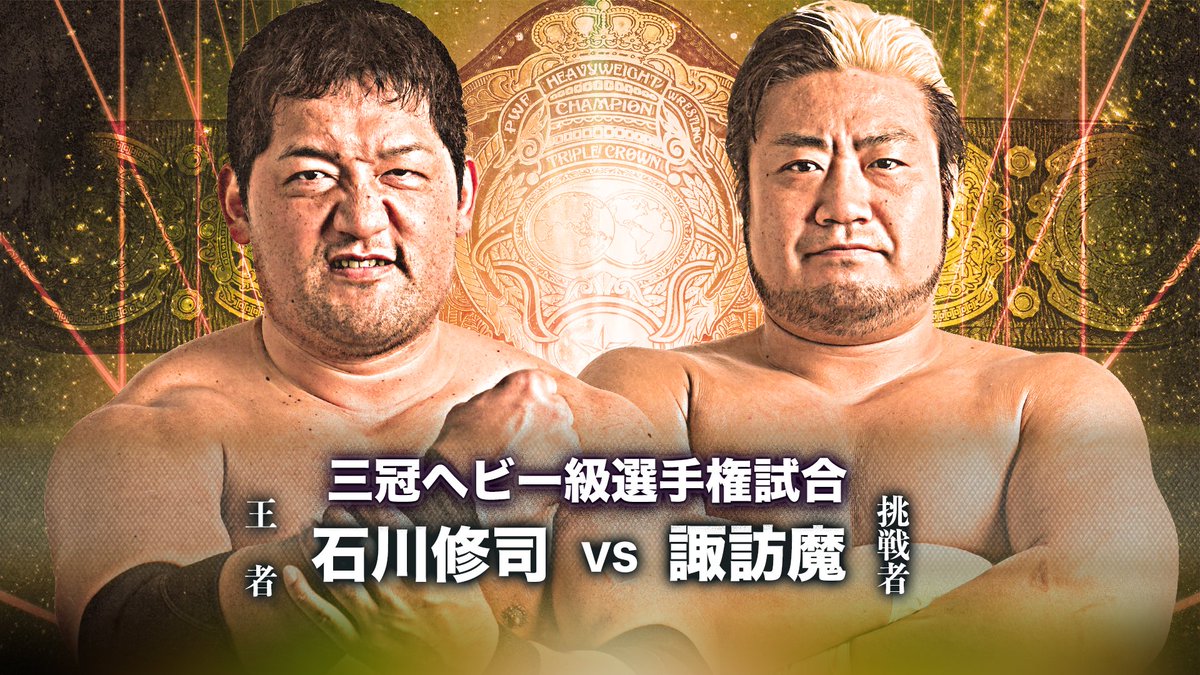 All Japan
While NOAH continues to regress from a business perspective, All Japan continues to grow.
Shuji Ishikawa and Suwama, as well as Joe Doering and Kento Miyahara, drew the biggest Korakuen number the company has drawn in years on July 17th at 1,595. Not only was it their best drawing show of the year, it was also one of, if not their best in-ring show of the year, with three great matches at the top between the two already mentioned and the Zeus and Bodyguard vs. Jake Lee and Naoya Nomura tag title bout. Lee and Nomura won the titles but had to vacate them following the rematch on the 28th due to Lee being injured. Sekimoto and Okabayashi are in line for a shot at Ryogoku, so Nomura will be teaming with someone else unless Lee recovers within the next month, which may be unlikely.
---
---
Hikaru Sato retained his junior title over Minoru Tanaka on the 17th and then lost it to TAJIRI on the 30th as TAJIRI defends against Ultimo Dragon at Ryogoku while Sato likely defends the All Asia tag titles with Atsushi Aoki. Aside from that, the rest of the Ryogoku card as announced so far sees Ishikawa defend against Miyahara, Osamu Nishimura defend the BANG TV title in a battle royal, the long-awaited rematch between Taichi and Yuma Aoyagi, a 45th anniversary tag match between the team of Dory Funk Jr. and Hiro Saito and the team of Masanobu Fuchi and Great Kabuki, a special lucha showcase between Caristico and El Diamante, and a huge singles match between Suwama and Satoshi Kojima. Announced for August 11th as well was Jun Akiyama vs. Takao Omori for the GAORA TV title. If I were All Japan I would be doing that match in Sumo Hall instead but I guess they felt it was unneeded. Perhaps they have other plans for both. Akiyama teams with Dragon and Caristico against Doering, Diamante and Sam Adonis a few days later on the Ultimo Dragon 30th anniversary show.
Following the Ryogoku show will be the return of the Oudou tournament on September 12th in Korakuen. First round matches are Zeus vs. Ryouji Sai, Shuji Ishikawa vs. Bodyguard, TAJIRI vs. Yoshitatsu, Kento Miyahara vs. KAI, Suwama vs. Naoya Nomura, Koji Iwamoto vs. Yuma Aoyagi, Jake Lee vs. Atsushi Aoki and Hikaru Sato vs. Joe Doering, with the latter four taking place on the 16th. Second round matches take place on the 18th and 19th with a winner then being crowned on the 23rd. If I had to make a prediction I would go with either Zeus or KAI, who would earn a shot regardless should he beat Miyahara.
The Stale State of Big Japan
Big Japan ran their biggest show of the year on the 17th in Sumo Hall and drew 3,179 for a main event of Masaya Takahashi and Takayuki Ueki. It was about 100 down from last year and about 1,000 down from 2015, which possibly speaks towards the quality of the card or general state of the promotion. By no means was it a bad show, it was just not what a Sumo Hall show should have been. It was not good nor bad; it simply was. Takahashi retained his Deathmatch title in the main event while Hideki Suzuki retained his Strong title over Ryuichi Kawakami and Strong BJ lost their tag titles to Abdullah Kobayashi and Ryuji Ito in what was the match of the night by a mile. Shinobu also defeated Kazuki Hashimoto to win the brand new junior title on the show. Daichi Hashimoto and Masashi Takeda are next in line for shots at the Strong and Deathmatch titles on August 19th in Nagoya, with Shinobu defending his junior title on the 11th against an opponent not yet announced.
In another relatively weak Korakuen card and weak Big Japan card in general, Masaya Takahashi and Takayuki Ueki vs. Masashi Takeda and Takumi Tsukamoto is the main event of the show on the 13th while Hideki Suzuki and Kazumi Kikuta vs. Abdullah Kobayashi and Ryuji Ito is the semi-main event. While asking for a title match on every show is a bit much, there needs to be more than what there has been on these recent Korakuens, because these cards are not too enticing. Big Japan, at least in my eyes and the eyes of similar-minded people I would assume, is going through a dry patch at the moment. I really hope it gets better because they have an extremely talented roster and could be putting on excellent shows. As it stands right now, they simply are not doing so.

DDT & DNA
1,253 for Korakuen on the 23rd with Konosuke Takeshita retaining his KO-D title over Keisuke Ishii in the main event and tag champions Kazusada Higuchi and Shigehiro Irie retaining over Shuji Ishikawa and Mad Paulie in the semi-main event. And with the conclusion of that show, the remainder of the Peter Pan card was set. As follows…
Konosuke Takeshita vs. Tetsuya Endo for the KO-D Openweight Championship

Kazusada Higuchi and Shigehiro Irie vs. HARASHIMA and Naomichi Marufuji for the KO-D Tag Team Championship

Daisuke Sasaki vs. Akito in a hair vs. hair match for the Extreme Championship

Sanshiro Takagi vs. Danshoku Dino

Toru Owashi

,

Kazuki Hirata

,

Joey Ryan

,

Akai Saki and YOSHIHIKO vs. Makoto Oishi

,

LiLiCo

,

Ladybeard

,

Super Sasadango Machine and Ken Okha for the brand new Ten-Man Tag Team Championship

Kaz Hayashi and Keisuke Ishii vs. Isami Kodaka and Yuko Miyamoto vs. Kotaro Suzuki vs. Soma Takao vs. Mike Bailey and MAO

KUDO

,

Yukio Sakaguchi and Masahiro Takanashi vs. Yasu Urano

,

Dick Togo and Antonio Honda for the Six-Man Tag Team Championship

Jiro Kuroshio vs. Shunma Katsumata

Kouki Iwasaki and Yuki Iino vs. Naomi Yoshimura and Yuki Ueno

Gota Ihashi vs. Mad Paulie

,

Gorgeous Matsuno

,

Dai Suzuki and two other mystery opponents

Cherry vs. Miyu Yamashita

,

Shoko Nakajima

,

Yuka Sakazaki and Nonoko in a Tokyo Joshi Pro feature for the Ironman Heavymetalweight Championship

Tomomitsu Matsunaga

,

Hoshitango

,

Nobuhiro Shimatani & Masato Kamino vs. Mizuki Watase

,

Rekka

,

Diego & Daiki Shimomura
Fun card by DDT as always with the top two matches especially standing out. We will have plenty of coverage on this site between myself and the Burning Spirits crew, so look out for that.
DNA drew 883 on the 4th with Shunma Katsumata vs. Yuki Ueno in the main event, which is good for a promotion like DNA considering a lot of other major promotions draw around the same or even less in some cases. August 5th marks a new beginning for them following the exodus of Higuchi as they hold a one-night tournament between Mizuki Watase, Naomi Yoshimura, MAO, Yuki Ueno, Shunma Katsumata, Dai Suzuki, Kouki Iwasaki and Diego. What the winner will receive is unknown as I type this.

WRESTLE-1
Speaking of one-night tournaments, Jiro Kuroshio won the WRESTLE-1 Grand Prix on the 12th and earned his shot at Shotaro Ashino for the big September 2nd Yokohama show. Four days later, Andy Wu defeated MAZADA for the junior title and will defend against Seiki Yoshioka in Yokohama, with the only other match announced being a six-man between the team of Keiji Mutoh, Shingo Takagi and Great Mucha and the equally stacked team of Tatsumi Fujinami, Naomichi Marufuji and Naoki Sakurajima. Takanori Ito also defeated Koji Doi for the rookie title and could possibly defend at the show. A tag title match will likely be announced following the Koji Doi and Kumagoro vs. Shuji Kondo and Masayuki Kono match in Korakuen on the 11th. Beyond that, a tag league will be taking place between September 24th and October 11th as WRESTLE-1 continues to add tournaments to their yearly schedule.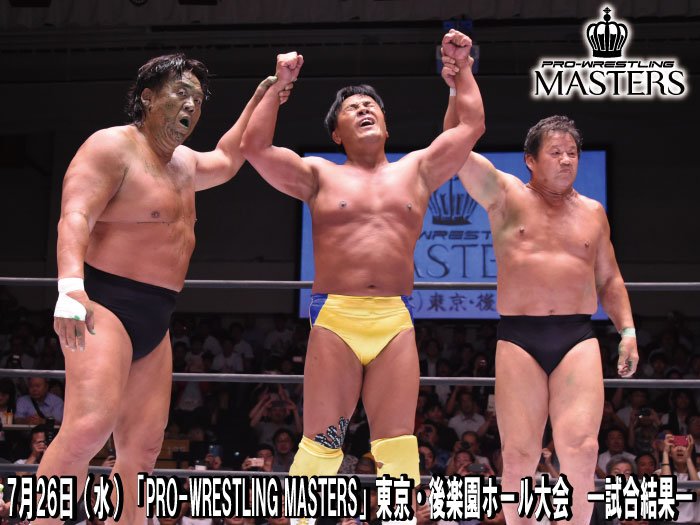 Pro Wrestling Masters, Mutoh's old man promotion, drew 1,626 fans on the 26th with him, Great Kabuki and Savio Vega vs. Hiroshi Hase, Riki Choshu and Tatsumi Fujinami in the main event. If you like watching old Japanese men roll around with each other, this was right up your alley. Hase looked great for his age judging by the photos that went around and is one of the most underrated wrestlers ever, so that should be a lot of fun to watch once it makes tape.
Joshi
I said last month that the joshi sectioned would be absorbed into the Odds & Ends section of this column unless there was a month where there was enough news, and well, there was plenty of news in the world of joshi this month. In what was one of the biggest pieces of news not only in joshi, not only in Japan, but in all of wrestling, Io Shirai was not cleared by WWE due to her neck and and made her return to Stardom. While you have to feel for her, it was a sigh of relief for Stardom and even for some of her fans since we all know WWE is weary of pushing people with medical issues and since there was always a chance that they would waste her anyway. Regardless, it sucks that she worked her up way to earning a deal and then had it stripped away. She made an appearance on the 30th and will be making her in-ring return on the 13th of August.
What this means for her moving forward, I have no idea. She held the title for over a year and lost it to the person who was intended to take her place, so I assume she slides into a secondary, Tanahashi-esque role for now. Unfortunately there's not much else she could do since she already passed the torch and was turned down by WWE. She's not even 30 years old yet so I would imagine she has some years to go before she's done, but I do wonder what else there is for her right now. Nevertheless, she's one of the best wrestlers in the world and is always welcome back so whatever it is she does will likely be great.
---
---
Mayu Iwatani retained her title over Yoko Bito and Viper on the 16th in Korakuen and the 23rd in Osaka. Her next challenger will be determined by the outcome of the 5-star Grand Prix tournament coming up in August, which Io will be competing in. Judging by her push as of late, I would peg Jungle Kyouna as a potential winner with Kagetsu being right behind her. Although Stardom was at its best with Io on top, one advantage they have with Mayu now is that there's a ton of fresh title matches. Anyone could realistically win this tournament now that there's a new champion.
Sendai Girls held a big show in Niigata on the 16th headlined by Chihiro Hashimoto vs. Hiroyo Matsumoto for the Sendai Girls title and then Cassandra Miyagi and DASH Chisako vs. Hikaru Shida and Syuri for the tag titles, with both changing hands. Miyagi decided a few days later to give up her half of the titles as she no longer wanted to be champion, therefore KAORU stepped in and will team with DASH against Alex Lee and Mika Shirahime some time in the near future. Meanwhile, Satomura stepped up as Hashimoto's next challenger and gets a shot on September 24th.
Lastly, there was an incident towards the end of the month where Ice Ribbon wrestler Tsukushi attempted to stab Stardom wrestler/freelancer Kagetsu who I mentioned earlier. No further word has come out as to why or what it could lead to for the 19-year-old Tsukushi but you could imagine it will not be good.
Odds & Ends
Kazuchika Okada and Gedo vs. Minoru Suzuki and TAKA Michinoku, though not announced, is assumed to be happening on the September 4th K-DOJO Korakuen show for TAKA's 25th anniversary.

Dicky Mayer, TAKA Michinoku, Dinosaur Takuma, GO Asakawa, Taishi Takizawa, Kunio Toshima, Marines Mask, Kotaro Yoshino, Ayumu Honda, Tank Nagai, Yoshihiro Horaguchi, Shiori Asahi, Yuma, Kyu Mogami, Daigoro Kashiwa and Kaji Tomato are competing in a one-day tournament on August 6th to perhaps determine a contender for the K-DOJO title.

DOUKI, Black Terry, Sammy Guevara and Syrus are working a special lucha event on September 18th in Shinkiba 1st RING.

Ayato Yoshida, who's made a name for himself at the last few Lion's Gate shows, will be out for a while with a broken jaw.

Masato Tanaka won the ZERO1 Fire Festival on the 30th by defeating Yusaku Obata, and as a result, because he has no other opponents, he will be defending his title against Kenoh on August 31st despite beating him in the tournament. Also on August 31st is Ikuto Hidaka and Takuya Sugawara vs. Tatsuhito Takaiwa and Keisuke Okuda for the junior tag titles and Kotaro Suzuki vs. SUGI for the junior title.

Trans Am Ryuichi vs. Yusuke Kubo for the Union MAX title was set for the August 24th BASARA show.

Kazuhiro Tamura vs. Daisuke Kanehira for the HEAT-UP Univseral title is the main event of the August 12th HEAT-UP Korakuen with Kenichiro Arai and Hide Kubota vs. Shinjiro Otani and Yoji Kondo for the tag titles being the semi.

Dick Togo and Shiryu vs. MAZADA and FUJITA and Masaaki Mochizuki vs. NOSAWA Rongai are the two matches announced so far for Tokyo Gurentai on September 27th.
Recommended Matches (****+)
Masayuki Kono & Takanori Ito vs. Koji Doi & Kumagoro – WRESTLE-1 Tour 2017 Outbreak – June 24th (****)

Hikaru Shida & Syuri vs. AKINO & Kaho Kobayashi – OZ Academy Voyager – June 25th (****)

Kotoka & Masato Yoshino vs. CIMA & Dragon Kid – Dragon Gate Rainbow Gate – July 1st (****)

Naruki Doi

,

Ben-K & Big R Shimizu vs. Takashi Yoshida

,

El Lindaman & Shingo Takagi – Dragon Gate Rainbow Gate – July 1st (****1/4)

Genki Horiguchi

,

Ryo Saito

,

Jimmy Susumu

,

K-ness & Jimmy Kanda vs. Kotoka

,

Naruki Doi

,

Ben-K

,

Masato Yoshino & Big R Shimizu – Dragon Gate Rainbow Gate – July 6th (****1/4)

Arisa Nakajima

,

Nanae Takahashi

,

Sareee & Yoshiko vs. Manami Toyota

,

Rina Yamashita

,

Takumi Iroha & Tomoko Watanabe – SEAdLINNNG This is Us – July 14th (****)

Nanae Takashi & Sareee vs. Arisa Nakajima & Tsukasa Fujimoto – SEAdLINNNG This is Us – July 14th (****)

Mika Shirahime

,

Mio Momono & Rin Kadokura vs. Meiko Satomura

,

Aja Kong & Nanae Takahashi – Sendai Girls Big Show in Niigata – July 15th (****)

Hiroyo Matsumoto vs. Chihiro Hashimoto – Sendai Girls Big Show in Niigata – July 15th (****1/4)

Mayu Iwatani vs. Yoko Bito – Stardom x Stardom – July 16th (****)

Daisuke Sekimoto & Yuji Okobayashi vs. Abdullah Kobayashi & Ryuji Ito – BJW Ryogokutan – July 17th (****)

Zeus & The Bodyguard vs. Jake Lee & Naoya Nomura – AJPW Summer Action Series – July 17th (****1/4)

Joe Doering vs. Kento Miyahara – AJPW Summer Action Series – July 17th (****)

Shuji Ishikawa vs. Suwama – AJPW Summer Action Series – July 17th (****)

Naomichi Marufuji & Maybach Taniguchi vs. Katsuhiko Nakajima & Masa Kitamiya – NOAH Global Junior Heavyweight Tag League – July 20th (****)

Kazusada Higuchi & Shigehiro Irie vs. Shuji Ishikawa & Mad Paulie – DDT Road to Ryogoku – July 23rd (****)

Konosuke Takeshita vs. Keisuke Ishii – DDT Road to Ryogoku – July 23rd (****)

Takashi Yoshida

,

El Lindaman & Shingo Takagi vs. Ryo Saito

,

Genki Horiguchi & Jimmy Susumu – Dragon Gate Kobe World – July 23rd (****1/4)

CIMA & Dragon Kid vs. Naruki Doi & Masato Yoshino – Dragon Gate Kobe World – July 23rd (****1/2)

YAMATO vs. T-Hawk – Dragon Gate Kobe World – July 23rd (****1/2)