Impact Wrestling Slammiversary XV
Impact Zone
Soundstage 21, Universal Studios
July 2, 2017
Watch: Fite TV/PPV
The trademark of the original Jarrett/D'Amore/Mantel booking regime in 2005 and 2006 consisted of solid, functional TV and incredible PPVs. The latest Jarrett led creative has certainly delivered on the simple, decent TV part of that equation, Slammiversary XV this Sunday on PPV is their first chance at delivering a killer PPV show.
The 13th iteration of this event (this is being billed as Slammiversary XV to celebrate the 15th anniversary but despite there being anniversary shows in 2003 and 2004 the Slammiversary brand didn't come into existence until 2005), this feels in many ways a return to the old TNA roots. International relationships are bolstering the roster, squash matches are back in a big way, the X-Division has retaken center stage and on paper we have a varied and interesting PPV that seems to have a little something for everybody.
TNA television has badly missed PPVs. While few may have bought them, they provided structure. PPV events were still viewed as important. Good shows still created momentum, bad ones lost it. No PPVs has caused much of Impact television to lose it's sense of urgency. It has felt aimless, devoid of logical build and peaks. The build to Slammiversary XV has allowed the whole company to focus in on a single important event, and should that event deliver it may reinforce some of the positive momentum Jarrett and his crew has managed to create over the last three months. This show is the first major test of their mission and the degree to which it's been successful. They have done a great job of promoting this show as a big deal, every single match serves a purpose and has considerable story support, and this roster is more than capable of delivering a super fun show. The only thing that could stop this show delivering is the self-destructive behavior of old. The less of that the better.
A return to the classic TNA PPVs of 2005 would take this company a very, very long way. -Garrett Kidney
Meet our previewers:
Garrett Kidney: If Impact Wrestling ever went away, Garrett would still roam the halls of the Voices of Wrestling Slack like a ghost – magically appearing every time the words TNA or Impact Wrestling are uttered to issue far more match recommendations than anybody ever asked for. That is his way, he's weird like that. Follow him on Twitter @garrettkidney for all the correct Impact Wrestling takes in real time.
Andrew Sinclair: A new addition to the Voices of Wrestling team, Andrew is a History and IR student at the University of St Andrews. Probably the only person who's enjoyed El Patron's Impact run and someone who counts Eli Drake in his Top 10 favourite wrestlers. For some lukewarm takes and general sporting ramblings, you can follow him here @AMSinclair97.
TNA World Tag Team and Global Force Wrestling Tag Team Championships
LAX (Ortiz and Santana) © vs. Naomichi Marufuji and Taiji Ishimori vs. Drago and El Hijo De Fantasma vs. Laredo Kid and Garza Jr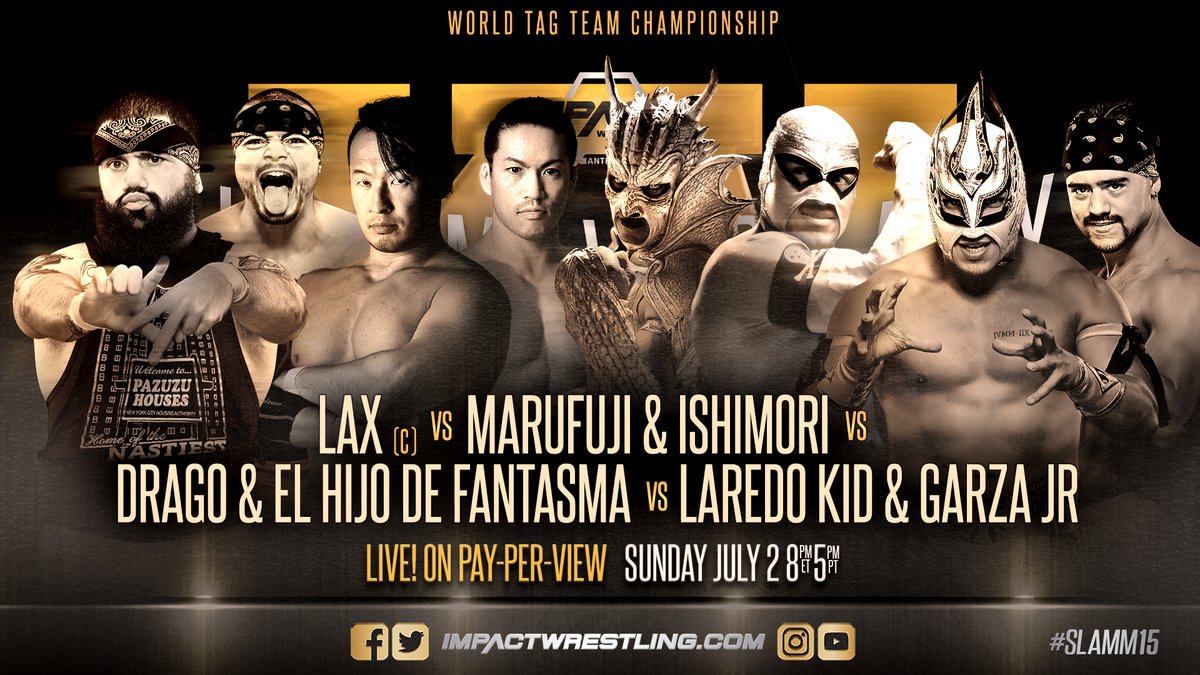 Garrett Kidney: Just look at this match. Look at it! What a match! The political intrigue here alone is fascinating. You have Garza and Laredo Kid representing The Crash while Drago and Fantasma are working on behalf of AAA, two companies currently at odds. Drago and Fantasma are also featured on Lucha Underground, a television rival of Impact. And then you just have a badass NOAH team thrown in for good measure. All that aside though, the talent level is through the roof. All four teams can go and this is truly a match that you couldn't find anywhere else – it's four companies coming together to put together a super neat match. A tag match like this is also a perfect way to introduce the likes of Marufuji, Ishimori, Drago and Fantasma. They can pick their spots and shine here. This is tailor made for an action packed awesome 12 minute sprint of an opener. LAX should retain, they're the best team in the company as well as one of the most inventive teams going right now. They should carry the tag division for months to come. Hopefully Impact gets the most out of Ishimori and Marufuji at the TV tapings following this show. I damn well want Marufuji vs. Low Ki. Prediction: LAX
Andrew Sinclair: Since LAX re-debuted in March they've been fantastic. They've looked head and shoulders above the rest of the tag team division, and whilst I don't particularly like Konnan, he's been an effective mouthpiece. I personally would have preferred a straight up tag match between LAX and Garza Jr and Laredo Kid but this match is the next best thing considering LAX weren't at the India tapings. El Hijo del Fantasma is without a doubt one of my favourite parts of Lucha Underground and if this match is given time, it could very well steal the show. My first glimpse of Naomichi Marufuji was in the G1 last year and I was blown away and the tandem of Garza Jr and Laredo Kid have been one of the best acquisitions of the new regime. I honestly can't wait for this match and it should be an outstanding way to open the show. However, given the hasty way this match was thrown together and the fact it appears to be a showcase for Impact's international partnerships, I can't see LAX dropping the belts, presumably setting them up for a programme with Reno Scum. Prediction: LAX
Unification Match – TNA Knockouts Championship and Global Force Wrestling Womens Championship
Rosemary vs. Sienna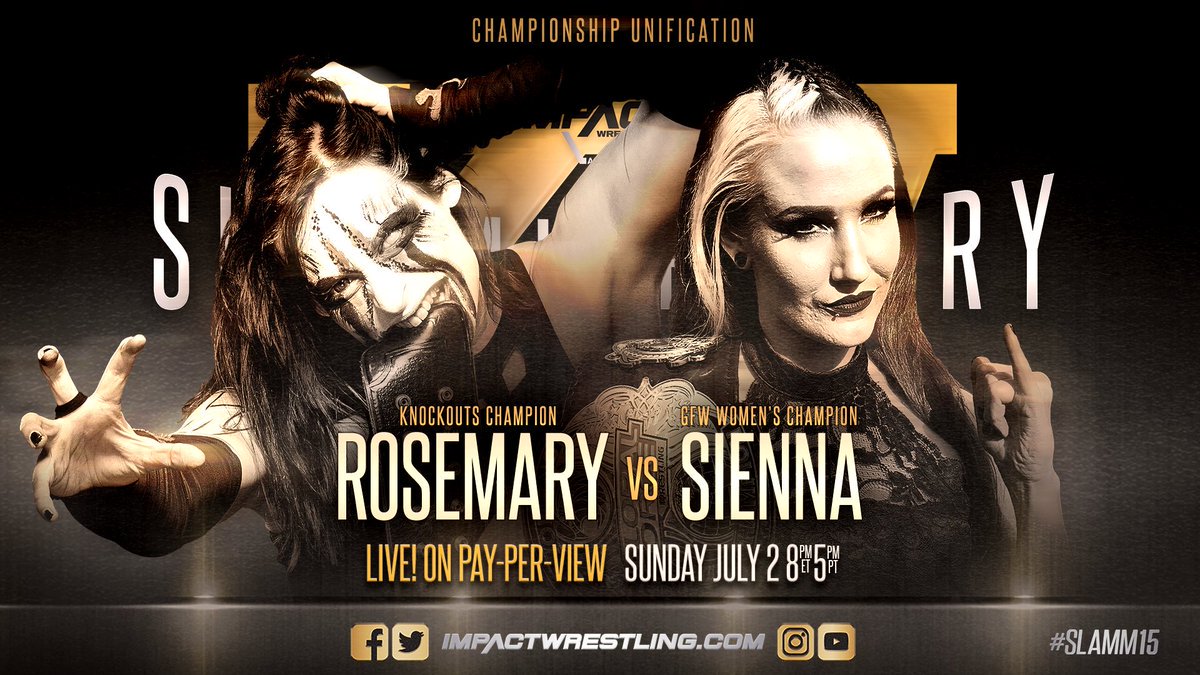 Garrett Kidney: I desperately hope this gets time. More than pretty much anything else on this show, I hope these two are given every chance possible to steal the show. They are the two best wrestlers in the division, and Rosemary is one of the most compelling acts in the company. In a week where WWE allowed all three of their womens divisions to main event Raw, Smackdown and NXT, Impact can make a statement by allowing these two as much opportunity as possible to deliver a memorable Knockouts title match. The division could badly do with one right now. I've said it before and I'll say it again – Rosemary should be a tentpole act for the whole company and they need to do everything they can to elevate her. She should become Rosemary two belts here. Rosemary vs. Gail Kim or Rosemary vs. Allie seem like the next big matches for Impact. Prediction: Rosemary
Andrew Sinclair: I'd have to share Garrett's sentiments from last week's Impact review – the Knockouts division appears to have taken a backseat since the new regime came into effect. They have the talent there to make it a success, they just need to be given something to sink their teeth into. I'm a big fan of Rosemary and I really think she's someone they could build the division around and use this match as the reset for the division. That said, she's also been champion for some time and maybe moving the belt to Sienna could be the right call. I'm really not sure who wins this one, although I'm not too sure it matters that much if they get a good amount of time and there's no shenanigans. Prediction: Sienna
2 out of 3 Falls – TNA X-Division Championship
Sonjay Dutt © vs. Low Ki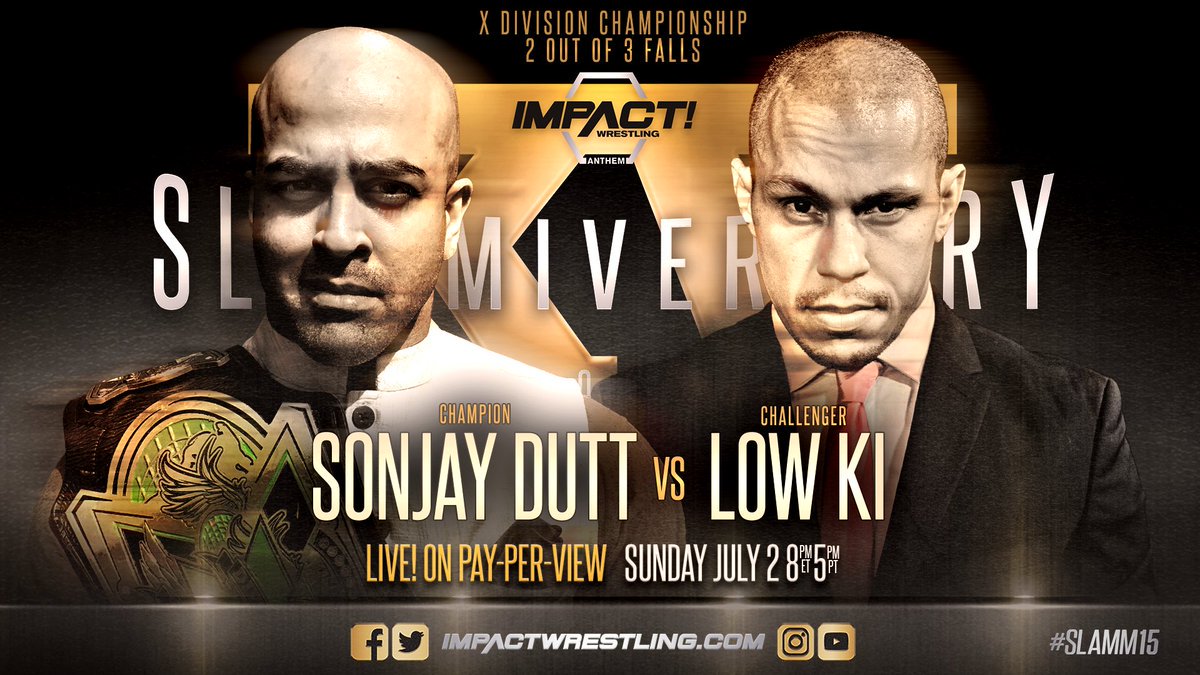 Garrett Kidney: The last 2/3 Falls X-Title match was a decade ago, Chris Sabin defeated Jerry Lynn at Destination X 2007. I think it's fairly well documented at this stage that there are two Low Ki's. There's the slow, methodical Low Ki that can honestly be a bit of a chore to watch. And then there's the explosive, dynamic Low Ki that beats the hell out everybody. You never know which you're going to get and Low Ki matches live and die by which one shows up. Their first match, where Dutt finally captured the X-Division title, was enjoyable but it certainly felt like these two had another gear. This, a Two Out of Three Falls match, is certainly ample opportunity to find that gear. The story has been tremendous with an arrogant Low Ki insisting that Dutt wasn't good enough before Dutt finally won the belt after 14 years in his home country of India. Surely Dutt can't have waited that long to capture the belt only to lose it on his first defense. Surely. The X-Division title matches of the old Jarrett regime were typically the highlight of the show and this should have every opportunity to reestablish that trend. Prediction: Sonjay Dutt
Andrew Sinclair: Garrett's excellent piece on Sonjay's title win at the India tapings more or less summed up how I feel. Unlike Jinder Mahal's title win, Sonjay defeating Low Ki didn't feel forced or contrived, it just felt right. Dutt has worked so hard for so long and he got the moment he deserved. The eye injury he suffered upon his return to Impact obviously changed their plans, but it helped build a fairly simple but compelling story between the two. Ki's heel turn was also much needed and sets the stage for this match. These two were clearly holding something back during their match in India and assuming motivated Ki shows up, this should be excellent. As for the winner, I'm backing Sonjay but given their track record with his booking I wouldn't be too sure. Prediction: Sonjay Dutt
Jeremy Borash and Joseph Park Esq. vs. Scott Steiner and Josh Mathews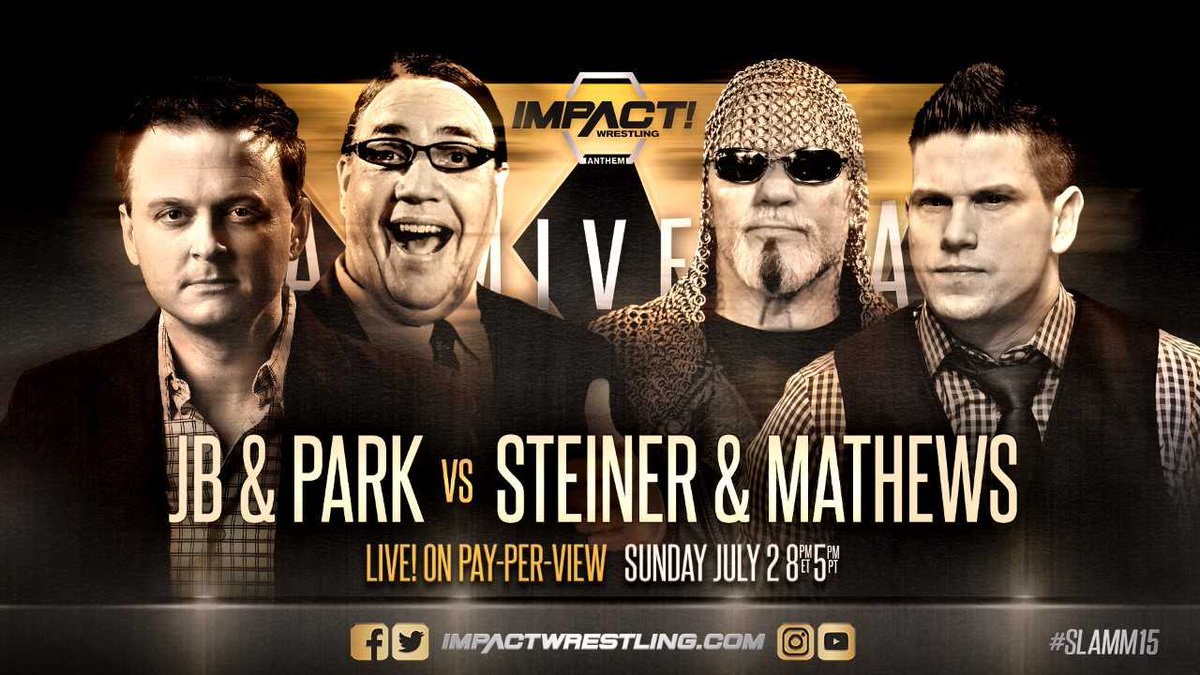 Garrett Kidney: If there is ever a role for a 54 year old Scott Steiner on a 2017 wrestling show it's in a spot like this. Scott still holds a certain place in people's hearts for being mad and even if he is nowhere near the Scott Steiner of old, he is perfect in a wacky midcard novelty match. The problem is you look at this match and you wonder what the hell it's gonna look like. Who's going to carry the bulk of the work? It's obviously not JB in spite of him telling me that's he's in the shape of his life. Steiner is very old and time has caught up with Joe Park (who is still easily one of the greatest characters in TNA history) as well. Josh Mathews, a man who retired as an in ring performer in 2002, may well be the best worker in this match. There will likely be shenanigans and shortcuts. A Monster will probably be set loose. And hopefully it charming, entertaining and blissfully short – as well as the end to this announcer feuding nightmare. At least Scott Steiner should call somebody fat and shout at some fans and it will be delightful. Prediction: JB and Joseph Park
Andrew Sinclair: So this is the big pay-off? This is the big match to culminate one of the worst feuds of the year. I really don't see the appeal of an announcer feud (I'd happily never hear or see Mathews on a wrestling broadcast again) but this has been awful. From the first episode with their incessant bickering to the endless back and forth and an 8-man tag match that achieved precisely nothing, this feud has stunk. I've somewhat enjoyed the build to this match and the segments involving JB and Joseph Park have been some of the best bits of Impact in recent weeks. However, I'm really not sure what shape 54-year-old Steiner is going to be in (he didn't look great in his return) and this could be quite ugly. Best case scenario would be 6-8 minutes, a bit of light relief and Josh getting pinned. Sadly I feel this is going to be overbooked and like the feud, will considerably overstay its welcome. Prediction: JB and Joseph Park
Moose and DeAngelo Williams vs. Eli Drake and Chris Adonis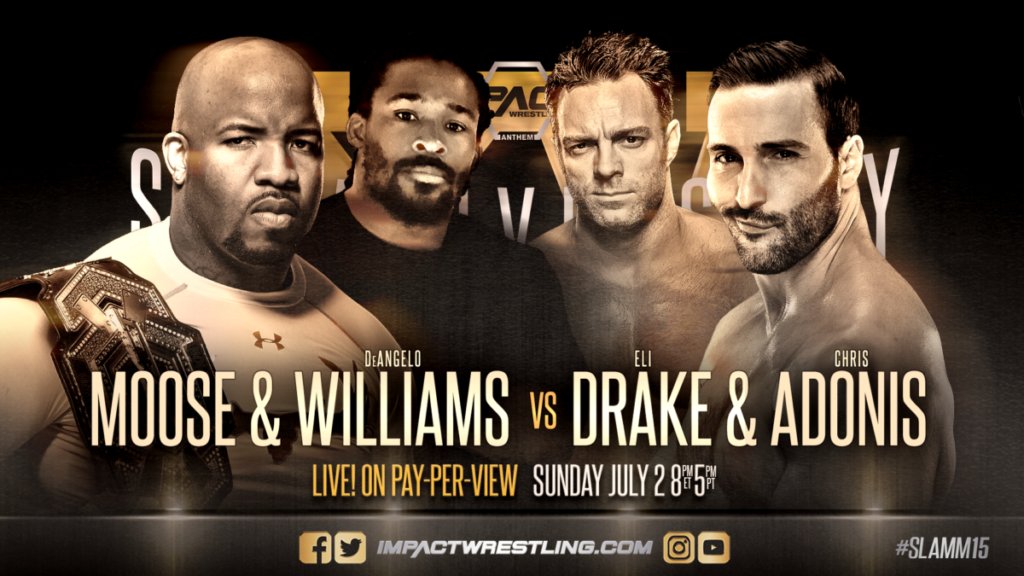 Garrett Kidney: If you're a non-American like myself, Williams is an NFL player currently without a team who played as a Wide Receiver for the Carolina Panthers and Pittsburg Steelers. He will join Frank Wycheck and Pacman Jones as famous football tag team wrestlers in Impact Wrestling. Based on extremely limited video of DeAngelo Williams training, it would appear he can do a standing moonsault so he is clearly equipped with all the skills necessary to excel in pro wrestling. Moose and Drake are very good, Adonis is okay, Williams may well be a pleasant surprise – this will likely be inoffensive at worst and surprisingly good at best. Hopefully Adonis eats the fall rather than Drake. And hopefully Impact achieves their SportsCenter dreams afterwards. Prediction: Moose and DeAngelo Williams
Andrew Sinclair: This is an interesting one. Obviously the main story of this match has been the beef between Adonis and Moose, but there is an interesting subtext involving Eli Drake. I feel like they're doing the slow build with him, although that may be wishful thinking. I'm self-admittedly a massive Eli Drake fan and if I was booking this (thankfully I'm not), I'd have him and Adonis lose, with Adonis then turning on Drake after the match. That would turn Drake face – imagine the promos! That would then lead to a feud between them and then eventually Drake vs EC3 (spoiler alert) for the world title down the line. Anyway, I'm rambling. The news coverage regarding Williams' debut seemed to get a lot of traction Stateside and I'll be interested to see how he performs. He does seem passionate and that normally leads to a formula for a passable wrestler. I doubt they'd have brought him in just to lose, so I suspect they'll win. Prediction: DeAngelo Williams and Moose
Full Metal Mayhem
Davey Richards and Angelina Love vs. Eddie and Alisha Edwards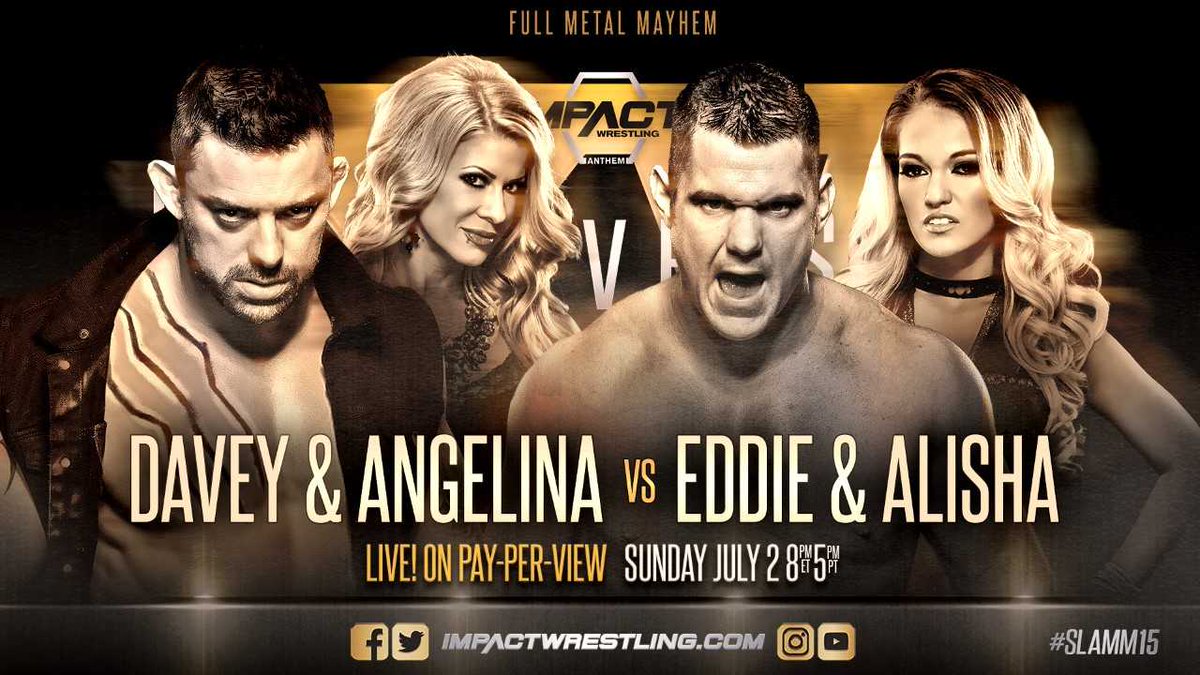 Garrett Kidney: It would easier to say that this would be better as a singles match between Richards and Edwards, probably because that is true, but it's nice to see the women on this show get an opportunity to do a match like this. If it's as emotionally charged as the feud suggests it should be and well laid out this could be a super compelling match. The fact that Richards and Edwards were randomly lumped in an X-Division Gauntlet match last week worries me because Edwards and Richards should be lynchpins of the Impact heavyweight scene right now. I haven't entirely been sucked in by the emotional beats of this but the story has made sense and this is a logical grudge match. Plus Angelina Love has been superb in this role as the evil manipulator. This is a tough match to preview from a quality standpoint but I have no doubt all four will work very hard. Richards should be presented as a major title challenger going forward so him winning here is for the best. Prediction: Davey Richards and Angelina Love
Andrew Sinclair: This match has certainly been a long time coming and although a singles match between Eddie and Davey would be infinitely better, the booking means this match makes sense. The beatdown segments from Davey and Angelina have been effective but I really wish Eddie had had some interviews or promo time to get across his anger, because a lot of this feud has been repetitive, when it had so much potential. This should be entertaining as long as it doesn't go too long and most of the focus is on Eddie and Davey (Alisha is a little rough round the edges, especially on her strikes and Angelina has never impressed me). I feel like the right outcome would be for Eddie and Alisha to leave this match the winners, but I also think this feud isn't over yet. Prediction: Davey Richards and Angelina Love
Strap Match
Ethan Carter III vs. James Storm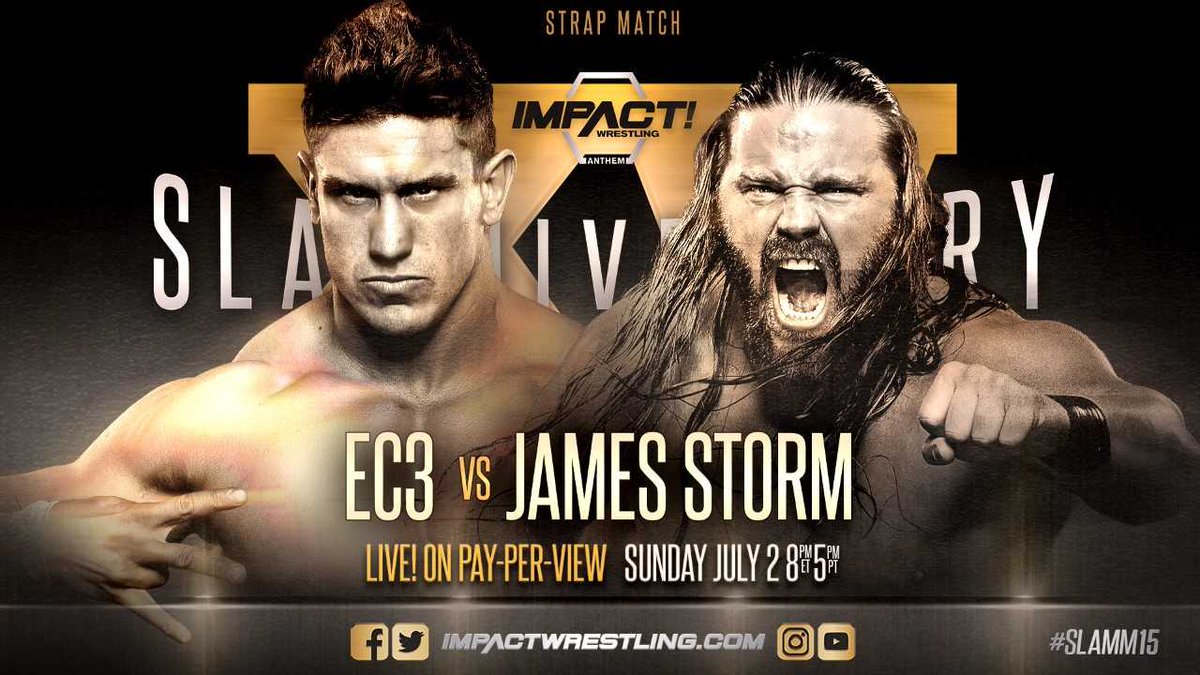 Garrett Kidney: Strap match in TNA has traditionally meant attached at the wrist, win by pinfall or submission. There have been four other strap matches in TNA history and James Storm has been in every single one of them. The highlights were a super fun AMW vs. Diamond and Swinger match in 2003 and a really enjoyable sprint vs. The Guns in 2008. This match is right up Storm's alley. He does bitter, angry brawls better than anybody in the company. EC3 seems to have a pep in his step lately and plunder brawls can help hide some of his bell to bell limitations. I really hope EC3's edge carries over here and he works with a great sense of intent and purpose. Considering I'm fairly sure El Patron is winning the World title in the main event, he'll need heel challengers lined up and EC3 is likely first in line. This show hinges on this, Rosemary/Sienna and Full Metal Mayhem. Dutt/Low Ki and the tag title match will deliver (maybe the main event too) but it's on those three matches above to lift this show. They have the potential too, hopefully they're given the environment to thrive. Prediction: EC3
Andrew Sinclair: I'm actually quite excited for this one, despite the stipulation. Don't get me wrong, they've built to it fairly well, but I've never sat and thought 'Damn, I really want to see a strap match!'. Storm is looking svelte at present and more motivated than he has in a long time (probably because he's not head of a purposeless faction), which means this should be good. EC3 looks like a man rejuvenated following his recent heel turn. My main problem with the former Derrick Bateman is that I've been waiting for him to have a big breakthrough performance since his match with Rockstar Spud and nothing's quite got there. He's had good matches but nothing astounding. This could be that match, especially considering the way Kazarian/Page overdelivered at Best in the World, but I'm not holding my breath. EC3 needs the win more and given my main event prediction, I suspect he wins. Prediction: EC3
Unification Match – TNA World Heavyweight Championship and Global Force Wrestling Heavyweight Championship
Bobby Lashley vs. Alberto El Patron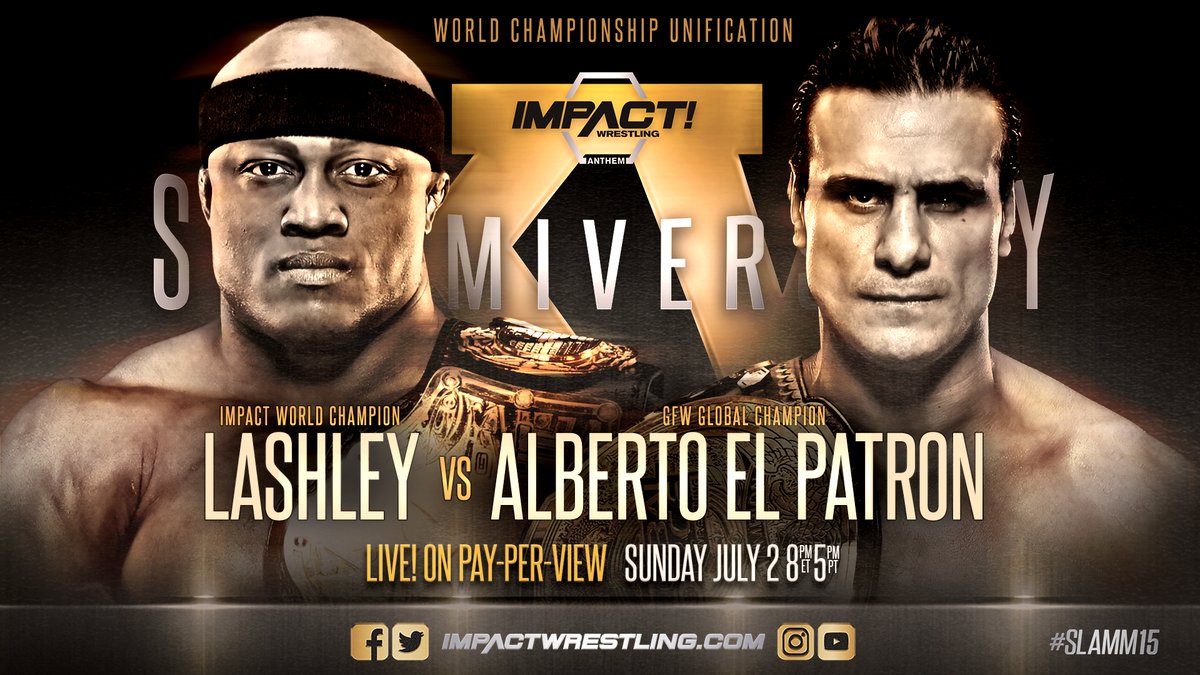 Garrett Kidney: I dunno how I feel about this match. I love Bobby Lashley. I think he's maybe the most compelling heavyweight champion in Impact history. And I've enjoyed a bunch of El Patron's matches in Impact so far. But their match back in March was a dud and the trademark TNA World title formula terrifies me. There is a literal 50/50 chance that TNA World title matches feature interference and a 40% chance of a ref bump. Those are real numbers. Those are worrying odds and they are trends that modern Impact Wrestling desperately leaves behind. Even without nonsense I'm not entirely sure this'll deliver but it certainly will have a better chance. El Patron, personal situation aside, is the right choice to win the belt here. Lashley's current run hasn't had a tonne of oomph and Patron will at least bring something fresh. Hopefully we get the best version of this match but you'd never know. Prediction: Alberto El Patron
Andrew Sinclair: It feels incredibly strange writing this, but I've enjoyed El Patron's run in Impact thus far. I've never really enjoyed his work before and his WWE face run was abysmal, but in Impact he's turned in consistently solid performances and they've managed to make his double stomp look less contrived. Lashley's progression in the last couple of years, both in the ring and on the mic, is one of Impact's success stories. He's become the complete package, although this title reign has run out of steam over the last few weeks. I feel like momentum is with El Patron and that they're moving towards a programme between him and EC3, which is the money feud, but this match has quite a low ceiling. Their first match was abysmal so this one can't be much worse, but I'm not sure their styles mesh to produce a great main event in the way Lashley and Drew Galloway did last year. With Bellator looking to crown a new Heavyweight champion and Lashley on an eight-fight win streak, I suspect he'll have other commitments after Slammiversary XV and therefore will probably be taking time off. Prediction: Alberto El Patron