WWE WrestleMania 33
April 2, 2017
Camping World Stadium
Orlando, Florida
Watch: WWE Network
Meet our reviewers:
Garrett Kidney: Voices of Wrestling's resident Impact Wrestling guy (not TNA, that's dead). Follow Garrett on Twitter @garrettkidney, where he regularly watches old TNA matches that other human beings probably haven't watched in forever.
Warren Taylor: One of VOW's many utility players, Warren focuses on group reviews and EVOLVE previews. Follow him on Twitter @WarrenETaylor for links to his stories on collegiate sports or quotes from The Simpsons.
Rich Kraetsch: The face that runs the place. Managing editor of Voices of Wrestling, co-host of the VOW Flagship. Follow him on Twitter at @voiceswrestling.
WWE CRUISERWEIGHT CHAMPIONSHIP
NEVILLE © DEF. AUSTIN ARIES
Garrett Kidney: This was a little disappointing. Instead of coming flying out of the gate with a fast paced, energetic match this was strangely slow paced. The physicality was there but it never really came together as a whole, it felt too deliberate – which is exactly the wrong sort of match to work on a preshow in front of a crowd like this. And considering the two in the ring and how phenomenal Neville has been lately I was really hoping for more. **3/4
Warren Taylor: I enjoyed the frantic grappling in the beginning, especially Aries springboard headlock—Randy Orton eat your heart out! As any long-time observer of both men will tell you, both men brought their unique blend of crisp execution and physicality to the match. The pace oddly tapered off near the end of the bout, but Neville's assault on Aries injured eye before the decisive Red Arrow more than likely means that this feud will continue and that a higher quality fight is on the horizon. ***
Mojo Rawley Wins the ANDRE THE GIANT MEMORIAL BATTLE ROYAL
Garrett Kidney: Every battle royal ever. Kick, punch. Kick, punch. Good for Mojo. *
Warren Taylor: Eh, all those prayers for Mojo finally paid I guess. Outsides of Gronk laying down a fantastic looking tackle there was not a single fun or memorable moment, which is a shame because the first two were perfectly fine undercard merriment. **
WWE INTERCONTINENTAL CHAMPIONSHIP
DEAN AMBROSE © DEF. BARON CORBIN
Garrett Kidney: This was exactly as it looked on paper – a perfectly enjoyable but ultimately entirely forgettable match. I don't care much for Corbin and Ambrose can be very inconsistent but I don't see how you could really have expected anything other than what we got here anyway. And a preshow win over Corbin is a step up from being squashed by Brock Lesnar so that's a plus for Ambrose at least. **½
AJ STYLES def. Shane McMahon
Garrett Kidney: If you ever doubted AJ Styles' credentials as an all time great hall of fame calibre performer then I present to you this match. Some of the usual Shane short cuts were there but I'll be damned if the straight up wrestling match portion of this wasn't super fun, especially a couple of those super close near falls. Then Shane O'Mac broke out a Shooting Star Press and I believe I totally lost my mind. This was the best possible version of this match. Styles was the heel so I didn't really have much of a problem with him cowering to Shane at times. Last year I went **** for Shane vs. Undertaker. This was even better. AJ Styles is amazing. Shane is wonderfully absurd. ****1/4
Warren Taylor: Listen, I won't like I laughed at loud several times during the opening portions of this match. MMA O'Mac. Delicate flower Mike Chioda needing to be fanned off. The notion that the boss' son could outwrestle AJ Styles. It was all too much. Then the trash cans came out. Shane murdered AJ with a glorious shot with the can and followed it up with the Coast to Coast. I wasn't laughing then. When Shane'O countered a Phenomenal Forearm with a gorgeous DDT counter I smiled. By the time he whiffed on the Shooting Star Press attempt, I nodded my head in respect. Shane is a crazy bastard and always will be, it is why I enjoy him so much as performer. Then to cap it all off, he flung himself all the way across the ring when AJ finally nailed the forearm. At the end of the day, this match is everything I loathe and love about the WWE: mind boggling storytelling and spectacle like no other. Come to think of it, that is why I feel in love with wrestling in the first place. ***3/4
Rich Kraetsch: Who knew #GrappleFuck Shane McMahon was a thing? The early portion of the match saw Shane out-wrestle AJ with a series of reversals and slick holds. Just when you thought Styles would take back the match and show HE was the better wrestler… well, keep waiting, it never happened. The story of the match was Shane legitimately out-wrestling Styles at every step. There were times when Styles was the smarter of the two wrestlers but moments where he was the better "wrestler" were few and far between. Despite that odd in-ring storytelling, the match was bonkers and could set the standard for the rest of the night. Shane went through a table, Shane hit a Shooting Star Press, Shane countered Styles' coast-to-coast attempt. Again, Shane seemingly did everything in the match but in a vacuum, not knowing the story or the background of the two wrestlers, it was a spectacular plunder match and another feather in the cap of Styles who did everything in his power to make Shane look like a million bucks. Credit to Shane as well but being a crazy motherfucker who puts way more effort into his matches than almost any other wrestler in the planet. ****
---
---
United States Championship Match
Kevin Owens def. Chris Jericho ©
Garrett Kidney: WrestleMania is certainly off to a strong start. This was so smartly worked with two people pretending they were never best friends in the first place proving otherwise by knowing each other well enough to counter every single major move of the other. Not only does that make for a super fun match, it's also a satisfying payoff to the story – not to mention Owens breaking out the apron powerbomb to finish things calling back to his early days on NXT and the main roster. It lacked some raw passion to sell the grudge and push it to the next level (and the title felt like a total afterthought) but this was really good stuff. ***3/4
Warren Taylor: One finger, one freakin' finger for a rope break. Stuff like that folks is why Kevin Owens is one of the absolute best in the world at what he does. His former buddy Chris Jericho isn't too shabby either. Together they created a match beholden in the image of Wrestlemania matches from the past. The bout was all about paying off a story that spanned for the better part of a year. Two fighters who spent so much time in one another's company that they knew exactly what the other had planned, right up until Jericho had no answer for the powerbomb on the apron—Owens' ultimate ace in the hole. That kind of storytelling has always appealed to me and I'm glad to see that it still has a place in today's wrestling. ****
Rich Kraetsch: If you didn't follow the story, didn't know that these two were former best friends and don't pop for callbacks or subtly, you probably won't love this match. There wasn't a ton of hot back and forth action, there weren't a ton of peaks and valleys but for those invested in the story, you got rewarded with a great "little things" match. Time and time again Jericho and Owens were able to counter one another's moves so easily because they had been best friends. They knew what was coming. That led to very little in the way of big, impactful moves but more than made up for it with subtle callbacks and heady reversals. This won't be on anyone's Match of the Year lists and it may not even be the best match of this night but both men should be lauded for their ability to tell a story in and out of the ring. I'll dock some points for a feud that featured a man getting his head thrown through a TV, it was wrestled and didn't feel like a hate-fueled brawl, a match style Owens has excelled at in the past. ***1/2
WWE RAW WOMEN'S CHAMPIONSHIP
BAYLEY © DEF. CHARLOTTE, SASHA BANKS, NIA JAX
Garrett Kidney: This would have been better without the elimination stipulation because the whole thing felt like it was on fast forward. The Jax and Banks eliminations felt rushed and Bayley's win felt anticlimactic. Nothing felt like it had any time to breathe and I'll never understand why they didn't save Bayley's title win for here but alas. The action was solid and Charlotte was great but there really wasn't much to this. **3/4
Warren Taylor: Continuing the trend of sticking to the small things, there was a lot to like about this match. Bayley, Charlotte, and Sasha did their best Catch Point impression by teaming together to take down Nia Jax. Sasha Banks failed to put Charlotte away again on pay-per-view: Finally, Bayley did what she does best, fight from underneath to get a huge win by milking a bum knee for all it is worth. With all the participants and limited time of going on third this one failed to live up to last year's three way dance, but it was a solid match that can branch off into multiple storylines if done properly. ***1/4
Rich Kraetsch: The match was great. An awesome showcase for all four of RAW's top women. But why if the results was Bayley retaining, there was so many better ways to book this match and create the always-important WrestleMania moment. If Charlotte still has the title and her PPV win streak alive, a Bayley win at WrestleMania is that moment that gets etched in history. Instead, Bayley retains her title and all the cache you could've build with a monumental moment was lost. Look, I get the importance of getting everyone on the show. It's an honor all the same to see your name in lights at the biggest event of the year. However, I have a hard time believing Sasha or Nia would complain if WWE said we're going to book a match and it's going to be one of the most important moments and visuals in WWE women's wrestling history — which make no mistake, it would have been. Instead, we got yet another good match but one that won't leave the indelible mark a better told story and better constructed match would have. ***3/4
Raw Tag Team Championship Match: The Hardy Boyz def. Anderson & Gallows ©, Enzo & Cass, and Sheamus & Cesaro
Garrett Kidney: Well it would appear Matt and Jeff's expedition for tag team gold has come to a conclusion. The Broken Hardys (am I allowed to say that without Anthem chasing me with a cease and desist, will the owl peck my eyes out) have arrived in WWE. No direct reference to Matt's Broken condition or the seven deities may suggest WWE will shy away from that character so it'll be interesting to see how either the regular Hardys or a watered down version will play. Either way it worked here. The match wasn't among the upper echelon of WrestleMania ladder matches but it didn't have to be – this one was all about the moment. Cesaro and Sheamus were the standouts but at the end of the day it'll be Matt and Jeff raising tag titles that people will remember. ***1/4
Warren Taylor: For all the cynicism we wrestling reviewers are professed to exhibit, there are moments that reduce us to sheer joy. Seeing Matt and Jeff Hardy return home to win the tag titles in their signature match was awesome, awesome, awesome, especially after their war in ROH against the Young Bucks. Jeff picked up right where he left off, taking crazy bumps and delivering another ladder dive for highlight reels to come. Sheamus and Cesaro kicking and slamming the holy hell out of everyone that moved was magic, as was Big Cass booting the other combatants to the moon. Suffice to say, I have a feeling this will end up being my favorite match of the night because you can't discount the feeling of joy in your heart. The Hardys are back, baby! ****
Rich Kraetsch: You know, just like we all predicted in January: The Hardy Boyz won the WWE Raw Tag Team Titles in a Ladder Match at WrestleMania. What do you say about this match? It looked and felt like the classic TLC/Ladder matches the Hardys were apart of in years past. Everyone worked their ass off and while it won't rival peak Hardys/E&C/Dudleyz it was a match and a moment we won't soon forget. ****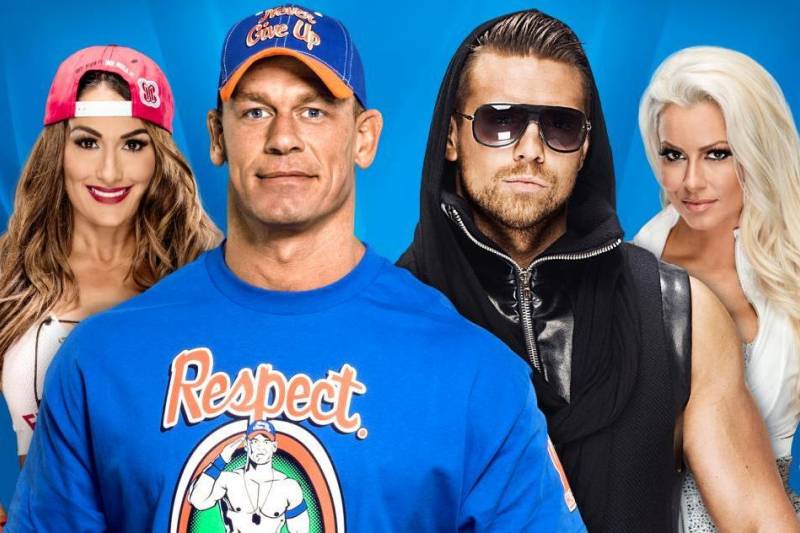 John Cena & Nikki Bella def. The Miz & Maryse
Garrett Kidney: This was exactly what it needed to be. An easy feel good win for Nikki and John and the big proposal. Not much more to say. Miz getting a huge reaction was nice to see considering how hard he's worked in the last year. **1/4
Warren Taylor: This was match for casual fans and the folks that are into the Total Divas. It was nothing offensive or bad, and would have been a perfect television main event. However, I will give John Cena credit, even though we all knew it was coming, that proposal was smooth as glass. **
Rich Kraetsch: It feels disingenuous to rate this match as a pure wrestling match. It wasn't meant to be anything more than a 10-minute preview to the moment many of us expected: John Cena asked Nikki Bella for her hand in marriage. I'm hard pressed to remember any aspect of the match after the emotional moment post-match. **1/2
---
---
NON-SANCTIONED MATCH
SETH ROLLINS DEF. TRIPLE H
Garrett Kidney: I never need to see another Triple H match ever again. The. Painfully. Slow. Methodical. Pace. It's 2017. Get with the times. Rollins did his best to bring some energy to proceedings but Hunter was having none of that. His wife took a bigger bump in this match than any he did. The knee story wasn't even satisfyingly executed. Rollins hurt himself like a dope doing the move he hurt himself doing in the first place and there wasn't really any pay off. It was just another excuse for a large portion of the match to be devoted to HHH beating up a guy half his age. Bleh. **1/4
Warren Taylor: Besides the Pepsi Plunge tease, the finishing stretch, and Seth Rollin's sword, this match sucked the air right out of a solid show. Seth Rollins is a dynamic performer that shouldn't have to carry bloated, bearded Uncle Paul in his yearly ode to 2003. Triple H was never the guy then and he never will be no matter how many times he tries to remind us over a decade later. It is a hard truth for the ironic supporters of HHH to face, but oh well. Go back to Full Sail where you belong, Paul, and take selfies. We will all be much happier for it. *1/2
Rich Kraetsch: Cut 30 minutes off this match and it would've been solid. Unfortunately, this was the template of HHH big time main events. Overly long and masturabtory.  Would we have been able to tell the same story with 5 minutes of knee work? Sure. Instead we got 15. Could we have done with only 100 mentions of Seth Rollins' injured knee? Sure. Instead we got 550. Fundamentally, the match was fine but you'd be hard-pressed to find anyone who didn't look at their watch a few times during it. Way, way too long for a 5+ hour show. *1/2
WWE CHAMPIONSHIP
RANDY ORTON DEF. BRAY WYATT ©
Garrett Kidney: A shit show utterly faithful to its nonsensical thought free build. Irredeemable rubbish on every level. DUD
Warren Taylor: Meh. The opening few was decent, I will give them that. Then we got maggots superimposed on the ring canvas. Yikes. After that I was done with this match. *3/4
Rich Kraetsch: What the fuck was this? I'm extra grumpy because I continue to run a 100+ degree fever and have been puking every 10 minutes or so but did anyone like that? Did anyone really need to see maggots and bugs projected onto the ring nearly six hours into this show? The action was, I can't even call it that. There was an RKO on the outside and I legit don't remember another spot in the entire match. This was awful, awful, awful. DUD
WWE UNIVERSAL CHAMPIONSHIP
BROCK LESNAR DEF. GOLDBERG ©
Garrett Kidney: This was absolutely perfect. For five minutes they threw absolutely everything at each other, spamming Spears and Germans and stealing poor Roman Reigns' barricade spot, and going home before they ran out of ideas/Goldberg crumpled into dust. You couldn't have asked for more out of this. Goldberg's title reign was a farce but it ended on a strong note at least. ***1/2
Warren Taylor: That was a perfect way to cap off the story. Goldberg keeps spearing Brock out of his boots and for once the Beast survives. From then on, Lesnar feasted on the rotting remains of Goldberg's aura of invincibility. Absolutely fantastic and what it needed to be, and a definite shot in the arm for a show that was badly lagging. ***½ for style points.
Rich Kraetsch: YESSSS! This was everything it needed to be: short, explosive and violent. Goldberg got his shine in the early part of the match but then it was all Lesnar and that's exactly how it should have been. I never thought I'd see Goldberg take one belly-to-back suplex. 10? Never in my life. This was amazing and I couldn't have asked for a better match in this spot. Rating this match is going to be tough, was it a classic? No. Was it a clinic in pro wrestling? Not at all, but god damn if it wasn't perfect. ****3/4
WWE SMACKDOWN WOMEN'S CHAMPIONSHIP
NAOMI DEF. ALEXA BLISS ©, BECKY LYNCH, NATALYA, MICKIE JAMES, CARMELLA
Garrett Kidney: A quick sprint with Naomi getting her WrestleMania moment. Not much else going on here other than everything here being well executed and well paced. Likely would've done better than the Raw women with more time. ***
Warren Taylor: The placement of this match on the card does not matter. What does is that it was an energetic spring that allowed all the participants to look good and kept the pace of the show going after the lull of HHH/Rollins and Wyatt Orton. Good stuff and congrats to Naomi for getting a nice moment in her hometown. **3/4
Rich Kraetsch: A 10-minute match condensed into only a few minutes. This was a shame as they seemed to have a lot of really good idea and a decent enough story but there just wasn't the time to tell it. Instead it was everyone getting their shit in as soon as possible and getting out. In the end, the right woman won as Naomi was able to win the title in her hometown. **1/4
ROMAN REIGNS DEF. THE UNDERTAKER
Garrett Kidney: Well this was odd. For a match built around The Undertaker's last stand and Roman needing to put him down ala HBK/Flair at WM 24 and Undertaker/HBK at WM 26 – the whole thing was weirdly devoid of emotion. Part of that is because a large portion of the audience have shifted toward apathy when it comes to Reigns and justifiably. Reigns is impossibly stale as a character. Undertaker's aura has understandably diminished after breaking the streak so his WrestleMania matches inherently feel flat. 'Taker isn't capable of executing big matches anymore either without shortcuts and his matches feel like a parody of his old classics rather than an evolution of them. There's also the fact that the build to this match was the most paint by numbers cut and paste Undertaker build in recent memory, further leaning toward facsimile than innovation. If this is truly the end, Undertaker's legacy has long since been written and will be reverently protected by WWE.
This match was intended as a passing of the torch and it didn't quite get there. Reigns will continue on with his middling smirking baby face act and nothing will change when it comes to how he is received. As a send off for Undertaker this was disappointing, but 'Taker will be defined by his classics of the last decade not this. He delivered more often enough on the big stage to be more than forgiven for being unable to do so at 52 against a dire character. No one can deny he earned milking every single moment of that send off. **1/4
Warren Taylor: The result was what many of us expected. Roman Reigns beat the Undertaker clean in the main event of WrestleMania. The layout of the match was smart and would have worked when Taker' could still function in the ring. The Deadman looked mortal and not like the mighty dragon that many tried in vain to slay. Reigns worked hard like he always does, but the Big Dog is no ring general and can't carry an opponent at this point in his career. It is a sad way to send one of the greatest of all time out, but legends rarely ever go out on the top of their game. **1/4
Rich Kraetsch: It seemed like the right decision to close with this match earlier in the week as people assume it was Undertaker, it was Mania and he would deliver big. What we got was quite the contrary. Undertaker looked about 70 here and Reigns did everything he could to make this match into something but there just wasn't a thing there. This was a perplexing way to end such a long show save for the standing ovation Undertaker received when it was done. He appears done and not a moment too soon. This should have been a passing of the torch moment but in the end it just looked like Roman Reigns beating up his grandpa. DUD
---
---