Over the Hill, Not Over the Thrill is a joint project between Andy Labar (@trillyrobinson) and Brennan Patrick (@bren_patrick).
We're back!
When we first began creating the original "Over the Hill, Not Over the Thrill" list, compiling and ranking the best elder statesmen in Japan wrestling, there were a lot of conversations about who should be included, excluded what our parameters would be.
Early on, we realized that comparing the current work of someone like Tomohiro Ishii or Shuji Ishikawa with Yoshiaki Fujiwara doesn't make a lot of sense. We decided to restrict that list to wrestlers strictly in the 40s, with the idea that we would look at wrestlers aged 50-and-over at a later time. That time is now.
The main thing that sticks out when comparing this list with our previous one is history of the wrestlers. There are obviously a lot more wrestlers going at it in their 40s than those above the age of 50, but when you look at the previous list – you get people like Gentaro, The Bodyguard and Shuhei Taniguchi, not exactly first ballot hall of famers, but dudes who have had a relatively solid, and sometimes great past couple of years.
When you look at this list – you are looking at 15 of the best wrestlers to ever be in the ring in Japan. To be able to wrestle into your 50s, 60s, or 70s, you have to be someone special, someone who was important enough in their prime to still be able to draw fans today. We have some of the most decorated wrestlers in the history of the business, some with hugely positive aggregate star ratings and some whose names are amongst the most synonymous with the sport.
This list was a lot of fun to compile, but we are sure it's not complete. We went back and forth with the number of wrestlers we wanted to include, before settling the very common "15" – and we wanted to ensure that we were focusing on wrestlers who have still been putting out quality matches that WE have seen since 2015. Someone like Tatsumi Fujinami is not on this list, because while his career is rivaled by few, his recent work has left a bit to be desired. As with all lists, this is entirely subjective from the us, doesn't reflect the feelings of the entire VOW staff and could probably be re-worked and argued about for a while. Don't do that, just go out and enjoy these Japanese Grandpas busting their ass in the wrestling ring for our entertainment.
15. Shiro Koshinaka
Shiro Koshinaka is a 58-year old Japanese grandpa who takes his rear-end-based offense very seriously.
While he's slowed down in his later years, primarily wrestling in tag team and multi-man matches for random promotions, he occasionally returns to the home away from home in New Japan. Over thirty years ago Koshinaka became the inaugural IWGP Jr. Heavyweight champion in 1986. The following year, he captured the IWGP Tag Team titles with fellow gramps, Keiji Mutoh. The two would later go on to wrestle one another for Mutoh's IWGP Heavyweight Title in 1995 but Koshinaka would fall short of winning of the championship. He left NJPW in 2003 and wandered around the pro-wrestling landscape, sometimes returning to New Japan, sometimes hamming it up in promotions like HUSTLE and DDT, but also lacing up the work boots on during his time in NOAH and ZERO1. He's one of the more underrated veterans still rasslin' in Japan and he remains a versatile wrestler capable of working any number of styles or match-types. -Brennan
Recommended Match:
Shiro Koshinaka & Shinjiro Ohtani vs. Hideki Suzuki & Kohei Sato (ZERO1, 5/23/15)

14. AKIRA
Even in his heyday, the best of Akira Nogami left a little to be desired. Though not exhaustive in my knowledge of his entire career, AKIRA strikes me as a 2nd or 3rd tier junior during his three decades of work.
AKIRA has had solid matches with Minoru Tanaka (as has anyone it seems), Koji Kanemoto (ditto), Jushin Thunder Liger (the God), and Kaz Hayashi – but he's always been second to those legends. In recent times, AKIRA has worked primarily in the perpetually underwhelming Wrestle-1, mostly in tags—with the now defunct New WILD Order. These matches were rarely highlights on the often dour W-1 shows, but did occasionally feature sparks of brilliance (and let's be frank, somehow Manabu Soya is one of the most consistent workers W-1 had for the last couple of years).
AKIRA is easy to forget in many of these recent matches. He's in tremendous shape for a 50-year old, runs the ropes incredibly well and is still good for a few dives per match, but in his age and with his size, he is mostly used these days as a bumping machine.
Will we ever get another 4-star AKIRA match? It's unlikely, but he's nothing if not a hard worker and having recently declared himself a freelance worker, he's began working a lot less (at least in shows that make tape), but I hope we continue to see him for a few more years – maybe with AJPW's old guys. -Andy
Recommended Match:
AKIRA vs. Manabu Soya (Wrestle-1, 4/24/16)
13. MEN's Teioh
MEN's Teioh is a strange little journeyman who at one time worked an equally strange Terry Funk tribute gimmick. He was one of the founding members of Kai En Tai, working for both WWF and ECW, but he really came into his own as a wrestler with Michinoku Pro—despite being the lesser recognized of the Kai En Tai club.
Teioh is a fun junior heavyweight who really knows how to sell a beating, typically portraying the underdog with a handful of crowd-supported comeback spots. He looks like Danshoku Dino's dad, ran a stable in BJW called "Men's Club" with Daisuke Sekimoto and Ryuji Ito, and has one of the best named finishers in professional wrestling (Miracle Ecstasy). Lately, the 50-year old has been a mainstay in K-DOJO, winning the UWA World Middleweight Title last year and putting on a handful of entertaining defenses against other underrated junior talents like Hiro Tonai and Yuki Sato. -Brennan
Recommended Match:
MEN's Teioh (as Terry Boy) vs. Hiroshi Fukuda (BASARA, 4/10/16)
12. Takuma/Naoki Sano
When Brennan told me semi-recently that Naoki Sano was still wrestling here and there at 52-years of age, I couldn't fucking believe it. Here's a guy who was in the New Japan Dojo with the Three Musketeers, put on a legendary series with Jushin "Thunder" Liger over the IWGP Junior Heavyweight title in the 80s and early 90s, and then bounced around various shoot promotions and Pro Wrestling NOAH forever. He's still a mean mother fucker, who will hit you with ferocious kicks and clotheslines and destroy your neck with his Northern Lights Buster. Since the beginning of 2015, he's only had about 10 televised matches and almost none of them singles affairs, but a match from late 2015 in Heat-Up against Koji Iwamoto stands out as the best proof that mean ol' Sano still exists. He takes the young upstart (and recent AJPW Jr. Battle of Glory winner) and just destroys him. Where many of the guys on this list have lost a lot of their athleticism and ability and get by on their psychology and instincts, Sano would be convincing against just about any junior in the world right now. I can't imagine his schedule getting too much heavier in 2017, but one can hope. -Andy
Recommended Match:
Takuma Sano vs. Koji Iwamoto (Heat-Up, 11/8/15)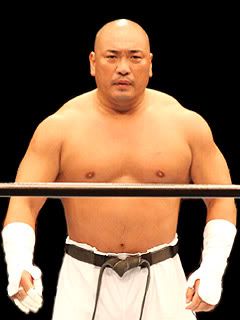 11. Jinsei Shinzaki
Including Jinsei Shinzaki on this list was probably the most complicated thing we had to do during the construction of it. Jinsei Shinzaki was someone that was shouted out as criminal for not being included in our initial ranking of wrestlers in their 40s, and both Brennan and I were quick to admit we weren't very familiar with his current work. According to Cagematch.net, Shinzaki has had only 8 matches make tape since the beginning of 2015 and none of them particularly special. Amongst these matches: a DDT match with Danshoku Dino parodying Jinsei, a quick one against a woman in Sendai Girls and then a half-dozen undercard tags, primarily in Michinoku Pro.
Based on that resume, it's hard to include Shinzaki – but in all of these matches, Shinzaki maintains the fucking unreal aura that made him so special to me 20+ years ago. His is still built like a thick motherfucker. He chops, shoulder blocks and kicks like a 25-year old. He does most of his old spots and looks convincing doing it, we just don't see him. I would LOVE to see Shinzaki get more work, to see him battle it out with some of the AJPW vets, or adopt the freelance style some of his contemporaries that would allow him to work all over. Most of all, I'd love to see him do some bizarro stint in New Japan and feud with Hirooki Goto over the NEVER title. He doesn't need to, and 100% will not – so as fans, let's just relish the couple of dozen of minutes we see of him each year and just KNOW he can still go. -Andy
Recommended Match:
Jinsei Shinzaki & TARU vs. Taiyo Kea & Yuto Aijima (AJPW, 1/31/15)
---
---
10. Keiji Mutoh
Keiji Mutoh is the Great Muta, the White Ninja, the Super Black Ninja, the Space Lone Wolf and the Shining Wizard. He's one of the most influential and charismatic Japanese wrestlers of the last 20 some years as well as one of the most polarizing workers. Years of moonsaulting and blood loss as the Great Muta set the stage for the broken down Keiji Mutoh to reinvigorate himself in the 2000s, finding ways to work around his limitations in a captivating way to once again rise to prominence in Japan.
Unfortunately, switching from the moonsault to the Shining Wizard didn't help with the knee problems and now, at 54-years old, Mutoh isn't quite the performer he once was, relying more on his aura and mannerisms than any dregs of athletic ability. His WRESTLE-1 promotion—the TNA of Japan—is still kicking, despite losing some of its biggest stars. Not surprisingly, Mutoh himself was top champion only two years ago. He's still good for a half dozen dragon screw leg whips and busted Shining Wizards but the showman in Mutoh will never die. -Brennan
Recommended Match:
Keiji Mutoh vs. Manabu Soya (Wrestle-1, 1/30/15)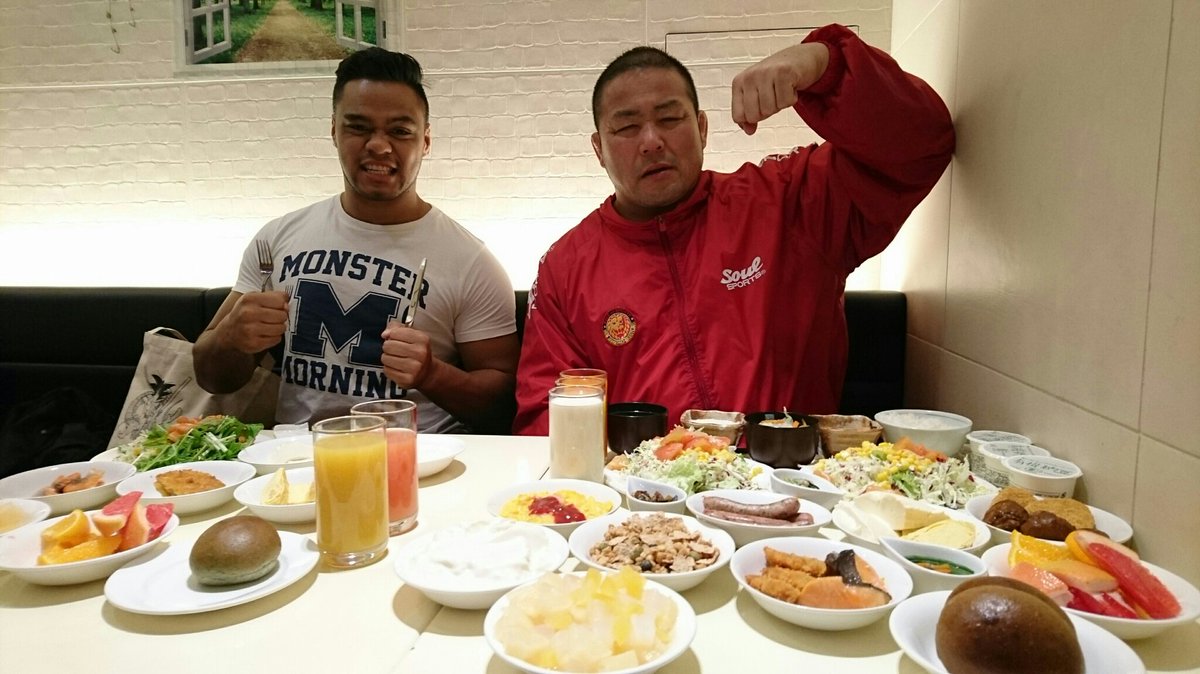 9. Manabu Nakanishi
Hungry? Really hungry? Craving a "Monster Breakfast"? He may not be the most talented of the bunch but the 50-year old Manabu Nakanishi is one of the most loveable. I remember feeling such a monster-sized sense of joy in my heart when Nakanishi beat Hiroshi Tanahashi for the IWGP Heavyweight Championship in 2009. Even now, in the broken down final years of his career, Nakanishi can ghost through much of the year, hobbling into six-mans for the token takedown, but still empty the reserves for the annual good match, as was the case last year with his match against Yuji Nagata. He gave it everything his tired body could muster, including a plancha, a missile dropkick and a monster superplex – not to mention bumping like a man half his age on a top rope Exploder. Sadly, I don't know if we'll get anything like this out of him again but there will always be a soft spot in my heart for Nakanishi. – Brennan
Recommended Match:
Manabu Nakanishi vs. Yuji Nagata (NJPW, 12/17/16)

8. Atsushi Onita
Growing up as someone with a big interest, but little knowledge in Japanese wrestling, I believed Atsushi Onita was the biggest star in the history of the business. Everything he did looked like it attracted a hundred million fans, every one of his matches a 5-star classic, even if the in-ring work was closer to 2, and no one other than Lester Bangs made "Wild Thing" as fucking cool.
Onita is the real deal, and though he's only had about a dozen televised matches in the last couple of years, the near 60-year old is still blowing shit up, going through tables he doesn't need to and delivering terrible DDTs. When Onita is on your screen, the work in the ring doesn't matter, because when Onita is in the ring, he has more shine than the best WWE production you've ever seen. He's rough, looks like an old Terminator villain and his gimmick matches make no sense (Blast Bat?), but you can't help but seek out every instance that Onita makes tape.
At the beginning of 2015, Onita had a match with fellow sloppy old dude Yoshihiro Takayama to crown the first ever Blast King champion and the two dudes missed a ton of spots, were victims of delayed explosions, but they still beat the shit out of each other. I've gone back and watched this match a half dozen times in the last year or so, and there is something so endearing and wacky about it that I just cannot help but love. The two went out, kind of bumbled around the ring and STILL put on a spectacle.
That's what makes Onita so great: the spectacle, no one does it like him. -Andy
Recommended Match:
Atsushi Onita vs. Yoshihiro Takayama (Super Fireworks, 1/23/15)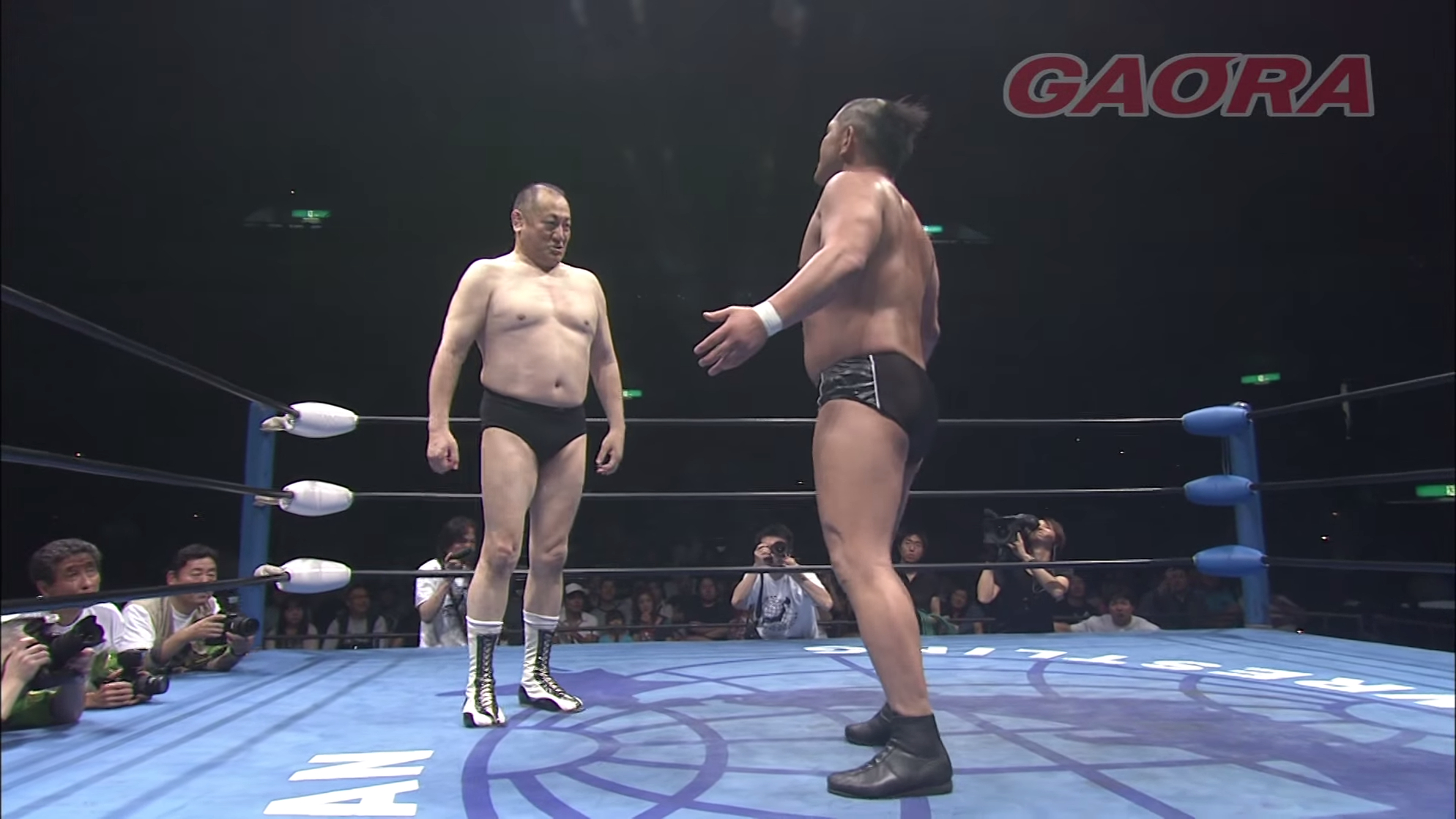 7. Masanobu Fuchi
Masanobu Fuchi was a grumpy old asshole of a man when he was backdropping fools in the mid-nineties for All Japan Pro-Wrestling. He was involved in so many awesome six-man tag matches with the Four Pillars of Heaven and was also frequently attempting to murder Tsuyoshi Kikuchi with backdrops.
At 63-years old, Fuchi hasn't changed much. Sure, he may not be involved in any classic multi-mans but he's still backdropping everyone and still wrestling for AJPW after forty+ loyal years of service. That alone is impressive but to boot, he's one half of the current All Asia Tag Team champions alongside the grandfather of hardcore, Atsushi Onita. One of my favorite matches of late was his 2014 AJPW Jr. Heavyweight title challenge against Atsushi Aoki, where he took Aoki to school for twenty minutes. But you should probably watch the sheer spectacle of his tag title win at Sumo Hall. Never change, Fuchi! -Brennan
Recommended Match:
Masanobu Fuchi & Atsushi Onita vs. Atsushi Aoki & Hikaru Sato (AJPW, 11/27/16)
6. Yoshinari Ogawa
Mitsuharu Misawa's greasy-haired "Rat Boy"—a nickname he received because of sneaky, clever in-ring tactics— remains one of the most underrated guys in Japanese pro-wrestling.
Whether it's getting suplexed around the ring in late 90's AJPW or sneaking his way to a GHC Heavyweight Title reign in NOAH, Ogawa combines his chickenshit antics with technical prowess to bring something unique to the puroresu norm. Ogawa shines in the ring when he can canvas but my favorite match remains his 2003 title challenge against Kenta Kobashi. Despite his size, Ogawa rarely backs down from a fight and will go down with the ship swinging. If only some of his dirty charisma rubbed off on former tag team partner Zack Sabre Jr.
At 50-years old, he's utilized on the undercard as a veteran gatekeeper for a lot of the younger guys, especially Hitoshi Kumano. -Brennan
Recommended Match:
Yoshinari Ogawa vs. Taiji Ishimori (NOAH, 7/5/16)
5. Yoshihiro Takayama
Watching a Yoshihiro Takayama match has never been an easy experience. More often, it's brutal & sloppy, his matches like your own visions of fighting after downing a 12-pack.
In other words, he's one of my favorite wrestlers in the world.
Takayama has never been afraid to bleed or to take a beating, both things that are apparent with one look at the dude. But there is something so endearing about this huge, lumbering dude who misses his strikes as often as he hits them now and still has the ability to knock out any opponent with a single solid blow. Takayama loafs around the ring most of the time these days, but occasionally puts on these outstanding performances. His GHC title challenge against in Minoru Suzuki in July of 2015 was a legitimate 4 and a half star match for me, a 27-minute, hate-filled, brutal beating by Suzuki and his goons for 18 minutes before Takayama gets this insane, weary comeback. If this was in front of a big crowd, they would have been in an uproar, but this was NOAH, so while the heat is easy to see on the screen, it seems to lack with the live audience.
Nevertheless, this is the best Takayama performance in the last few years, at least—a genuinely great match, with hatred oozing off the screen. He had a special singles match against not-so-young Yukio Sakaguchi in DDT in November where he also showed that fire, this time in a more dominant fashion—fending off the pesky, strong-striking Sakaguchi and eventually knocking him out with a sick knee. Takayama uses size to his advantage, lately teaming with future star Kazusada Higuchi. If brawls are your thing—big fists, big knees, falling over yourself and what not —there are few that do any of that as well as Yoshihiro Takayama. There was one thing Takayama could be in this world—a fighter, and he's one of my favorites that have ever done it. -Andy
Recommended Match:
Yoshihiro Takayama vs. Minoru Suzuki (NOAH, 7/18/15)
---
---
4. Yoshiaki Fujiwara
One of my biggest blind spots in pro wrestling are the "shoot" guys. Admittedly, I have only seen a handful (at best) of matches from the "big" names, something I hope to rectify soon. The style resonates really strongly with me, and one of my favorite fighters in this sub-genre is Yoshiaki Fujiwara.
Fujiwara is the oldest wrestler on this list, sitting at a young 67-years old. Unlike a lot of the wrestlers on this list, however, Fujiwara looks every bit his age at this point. His legs look like they can barely support him, his skin hangs down to his waist, he's not running ropes at any point, and yet Fujiwara at 67-years old has been a major part of at least five matches in the past year plus that I have genuinely loved, achieving a sort-of "renaissance" and reinvigoration in fandom.
At the Tenryu Retirement show in November 2015, Fujiwara partook in a heated brawl with Takayama against Minoru Suzuki and Murakami. He slapped the shit out of Suzuki, attempted to break off Murakami's arm and looked like one of the surliest guys in wrestling.
In January 2016, he went to a time limit draw on the mat against Atsushi Aoki in a match that I may be the high man on, but have watched a half dozen times and still get a lot of fun out of.
At last year's Dragon Gate Kobe World show, Fujiwara teamed with Mochizuki to take on Don Fujii and Masakatsu Funaki in an incredibly wild, fun and heated FIGHT of four dudes who love to stiff each their opponents. To this day, Fujiwara is one of the best sellers in the business, still solid on that mat and gives his all in every match he's in. He's obviously not the guy he was 40 years ago, but he's still somehow fantastic, brutal and the master of the arm-bar. You should love Fujiwara. -Andy
Recommended Match:
Yoshiaki Fujiwara & Masaaki Mochizuki vs. Don Fujii & Masakatsu Funaki (Dragon Gate, 7/24/16)
3. Ultimo Dragon
Remember when Ultimo Dragon was the king of juniors in the 90s, walking around with 20 title belts in all his awesome color combinations? Ultimo, along with Jushin Liger, was one of the first Japanese wrestlers I was exposed to when he was working for WCW and I thought he was one of the coolest-looking guys out there. He brought his swanky lucharesu style to the cruiserweight division, putting on the kinds of matches any sugar-saturated middle school kid could only dream of against the likes of Rey Mysterio Jr. and Dean Malenko. When he wasn't wrestling in the states, he was tearing it up in Japan with Liger, Great Sasuke, and Shinjiro Ohtani. And he's responsible for this generation's eye candy wrestling in Dragon Gate, having training little Toryumon babies like CIMA, Don Fujii, and Dragon Kid.
At 50, Dragon's still quite agile and capable of putting out a solid match here and there with his blend of submissions, suplexes, and high-flying shenanigans. He mostly hangs out in All Japan but he doesn't stay in his cave too long, showing up just about anywhere in the world. -Brennan
Recommended Match:
Ultimo Dragon vs. Kotaro Suzuki (AJPW, 8/29/15)
2. Koji Kanemoto
If there is one wrestler that I wish was on my television screen more often, it'd be Koji Kanemoto.
Though he has recently been on a handful of Zero-1 shows that have shown up online, a legendary talent like Kanemoto deserves to be seen a lot more than a half dozen times a year. Kanemoto is one of the best juniors to ever lace up the boots, and now at the age of 50, the dude still employs some of the best kicks in all of Japan. Nowadays, you usually find him teaming up with Tatsuhito Takaiwa, Masato Tanaka or Shinjiro Ohtani (three wrestlers from our previous list!), but the truth is—the dude could STILL be a singles star today.
As this publishes, Kanemoto just wrapped up participation in wXw's 16-carat Gold tournament against some of the best young European and Indie talent in the world. From a pure talent and work-rate point-of-view, Kanemoto could most likely be in the #1 spot if we saw him more often because the dude is really that good. Obviously, any time you look at a wrestler with the highs that Kanemoto had 20-25 years ago, it's hard not to compare his work, but you don't need to. There are still a lot of shades of old Koji there. If you haven't seen any of his recent work, do yourself a favor and just check out some of it when you have a chance, there isn't much to go through, some of it you probably won't be able to find, but there are still some gems. The underseen Kana Produce show that featured Kanemoto and Ohtani taking on Yuko Miyamoto and NOAH badass Katsuhiko Nakajima is one of my favorite hidden matches of the last few years and a breezy, hard-hitting affair you should check out. Here's to hoping that we see some more Kanemoto in 2017. – Andy
Recommended Match:
Koji Kanemoto & Shinjiro Ohtani vs. Katsuhiko Nakajima & Yuko Miyamoto (KANA Produce, 2/25/15

1. Jushin Liger
Jushin "THUNDAH!" Liger will always be one of my favorite wrestlers and arguably the greatest junior heavyweight wrestler of all time. There's nobody in the world quite like him, having been pulled straight from the pages of a wacky Japanese manga to become a hero to young wrestling fans in the 90s. Regardless of size, Liger has the raw strength and agility to go toe-to-toe with the best of them, and his technical proficiency and innovative offense makes him one of the more engaging juniors working, even by today's standards. Nobody has aged quite as well as Liger either. At 52-years old, Liger still rules and he's still better than guys half his age. He put on one of my favorite performances of 2016 with his title challenge against former IWGP Jr. Heavyweight Champion, KUSHIDA. If anything, the older age has given Liger even more of an edge. As much as I'd love to see Liger get one last run with the title, he's settled in nicely with his role as the gruff junior gatekeeper, beating some much-needed sense into the younger generation of high-flyers. -Brennan
Recommended Match:
Jushin Liger vs. KUSHIDA (NJPW, 5/3/16)