WWE Elimination Chamber 2017
February 12, 2017
Talking Stick Resort Arena
Phoenix, Arizona
Watch: WWE Network
Meet our reviewers:
Warren Taylor: Warren is a long-time contributor to VOW and specializes in coverage of the American independent scene. Follow him on Twitter @WarrenETaylor
Sean Sedor: Sean does a little bit of everything for the site, and is excited to see the return of the Elimination Chamber! Follow him on Twitter

@SASedor2994

, and check out his wrestling reviews blog (

http://dxvsnwo1994.blogspot.com

)

Kelly Harrass: Kelly is VOW's resident Tiger Mask W reviewer. Find him on Twitter over at

@comicgeekelly

. Tonight's review will leave behind the tired star ratings of old and will instead compare the quality of the match to a flavor of Pop-Tart. The people have

spoken

.

Pre-show
Mojo Rawley def. Curt Hawkins
Warren Taylor: Eh, this was about as average as you can get. Hawkins and "Pray For" Mojo Rawley are destined to jerk many curtains until their future endeavor day. Curt Hawkins dominated for long stretches until Mojo got his sloppy looking comeback and scored the win; honestly, this wasn't terrible, just boring. *3/4
Kelly Harrass: I feel like a big opportunity was missed when the commentary team didn't note that Mojo's tag partner is the former tag partner of Curt Hawkins. Face the facts, this was just a match. Pop-tart Rating: Unfrosted Strawberry

Becky Lynch def. Mickie James
Warren Taylor: I enjoyed the dynamic in this match. Becky started like she was storming the beaches of Normandy and completely outclassed the former Women's Champion. At one point when Lynch sent the veteran to the floor, Mickey stared up at her with a look that read "Alright, let's do this." James resolved to usurp Lynch's bread and better, working over the arm. It was the move of a cocky veteran, and that's precisely the type of character James should play going forward. Now they completely abandoned that late in the match to trade moves and near falls, disappointing but not enough to kill the vibe of an enjoyable opener. ***
Sean Sedor: This was a solid opener, but at the same time, I thought that the match was worked in an odd manner. Mickie James pretty much dominated the majority of the match, maining targeting the left arm of Becky Lynch (which is ironic since Lynch is the one who usually works on the arm in the lead-up to her finisher). Lynch got in a few moves in here and there, but James was in control for (I would guess) about 70% of the match. Eventually, Lynch seemingly won out of nowhere during a bunch of pin exchanges. Again, this was a fine match, but I would've preferred if Lynch got in a bit more offense. Also, since Lynch didn't definitely beat James here, I'm guessing the feud between these two is far from over.  ***
Kelly Harrass: While being a solid match, I don't think this worked super well as an opener. The pacing was very strange and felt like an inverted Lynch. Usually we see her working over the arm to set up for the arm submission, but this time it was James working the arm. Mickie dominated most of the match and then Becky pulled the win out of nowhere. I really don't have many thoughts on this, maybe my hopes were too high going in. I can't say that this was bad, but there is a better match that these two can have. Pop-tart Rating: Chocolate Mocha

Apollo Crews & Kalisto def. Dolph Ziggler
Warren Taylor: The start of this match was perfect. Ziggler got the jump on Kalisto, headed for the hills, and then Crews caught him and began to whip ass. Then we got an extended rest spot less than three minutes into the contest. Then Kalisto rejoined the match seemingly fresh as a daisy. From there the numbers game caught up with Ziggler, and the faces rode on to glory. This one was disjointed and rushed, which is especially puzzling with the talent involved. **
Sean Sedor: Ziggler attacked Kalisto while he was making his entrance, throwing him into (and breaking part of) the video boards on the entranceway. That was actually a smart strategy by Ziggler, and from a booking perspective, it was probably the best way to handle this match, which was so backwards to begins with. We then got Apollo Crews vs. Dolph Ziggler in a singles match for a few minutes, but Kalisto limped back to the ring and rejoined the match, and shortly thereafter, the babyface side emerged victories. This whole Dolph Ziggler heel turn has just been so odd. He's doing all of these post-match attacks (including after this match, when he Pillman-ized one of Crews' legs), but at the end of the day, he's still losing all of his matches. As a whole, this entire match felt more like something that should've been on SmackDown Live, as opposed to a PPV.  **1/4
Kelly Harrass: The Network was being a real peach so I missed a fair bit of this match. When it came back Ziggler was facing Crews in a singles match, but the Network died again quickly after. It's nice that they figured out how to make their ass backwards handicap match work. When the feed returned Ziggler had lost the match and was killing Crews' ankle with a chair. The crowd chants "thank you Ziggler" as Crews tried to garner sympathy. Pop-Tart Rating: An Orange Crush pack with only one Pop-Tart in it
WWE SmackDown Tag Team Championship
American Alpha © def. Heath Slater & Rhyno, Breezango, The Usos, The Ascension, and The Vaudevillains
Warren Taylor: Like the previous match, this bout had a perfect start. Beauty & the Manbeast took a pounding (well Heath Slater did) from Breezango & the Vaudevillains. Rhyno proved to be the difference in the first few falls and saved rural America's favorite son numerous times. Once the Usos managed to separate the two, it was game over for the former champs. Jimmy & Jey could not slay American Alpha but did enough damage to leave the reigning champions hurting something fierce. AA sold the muggings like it was their lives and set up what could have been an excellent definitive statement for The Ascension.  I have no issue with AA retaining, but the way the match was structured was better suited for a title change. ***1/4
Sean Sedor: You could split this entire thing into two halves. The first part of this match was surprisingly dominated by Heath Slater & Rhyno, who eliminated both Breezango (who were wearing this new white gear that looked amazing) and The Vaudevillains. Slater & Rhyno were then eliminated by The Usos, and kicked off the second half. After a nice little bit between (arguably) the best two teams in the match, American Alpha got the win, but were attacked by The Usos after their match. This seemingly gave The Ascension and extraordinary opportunity, and they almost won the titles, but ultimately, America Alpha prevailed. As a whole, the match was fun for what it was, but similar to the handicap match, it felt more like something that would've fit better on SmackDown Live than on a PPV. I'm totally fine with American Alpha retaining, but it'll be interesting to see where they go from here. My guess will be that we'll (finally) get a title program between American Alpha and The Usos, since it was The Usos who almost cost Gable & Jordan the titles here. ***
Kelly Harrass: The fact that Fandango and Tyler Breeze weren't awarded the tag belts for their amazing gear is the greatest sin of this match. The team of Slater and Rhyno, while I initially enjoyed them, has overstayed their welcome. Luckily, they didn't make it super far into the gauntlet. The American Alpha/Uso section was oddly disappointing, but they can't go all out with AA having another match ahead of them, so it is understandable. The Ascension had this match gift wrapped for them and I was oddly excited about their potential title reign. Soon after I found myself disappointed with the outcome of the match. I like AA well enough, but why not go nuts and give the title belts to two monsters? Eh, they probably made the right choice. Pop-Tart Rating: Wildlicious Wild! Berry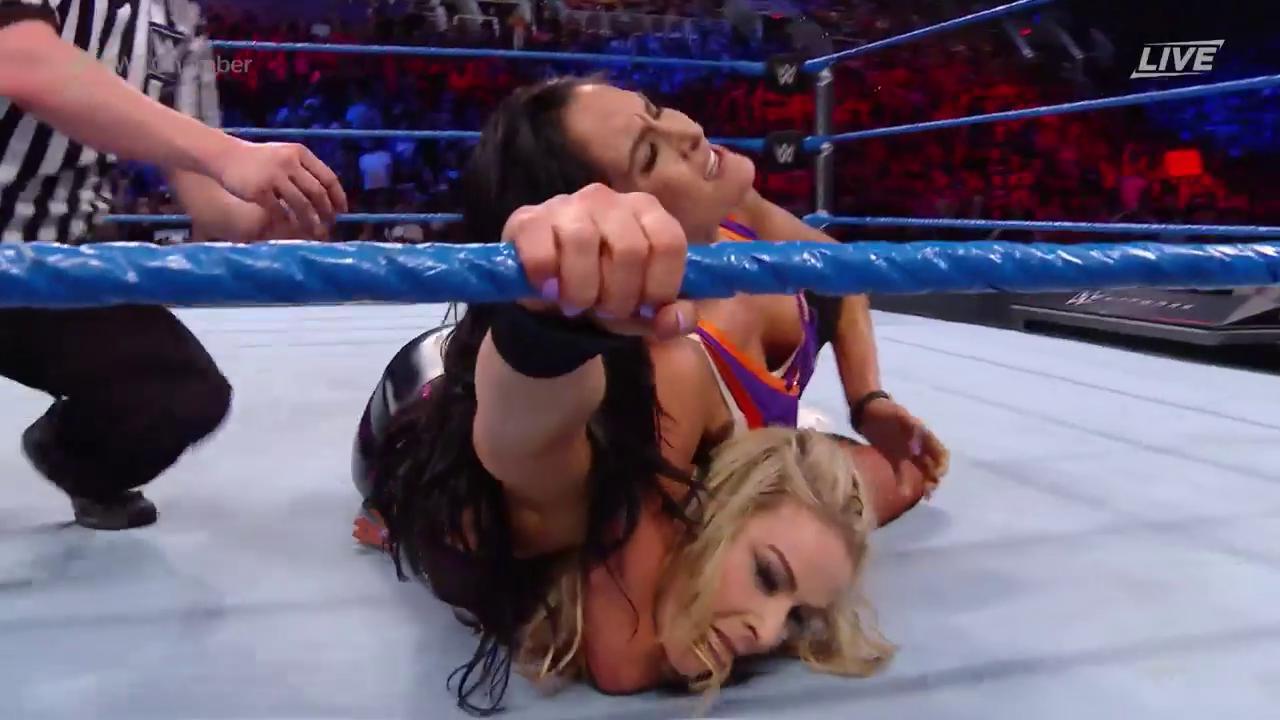 Nikki Bella and Natalya fought to a count-out
Sean Sedor: I completely forgot that Nikki Bella was going to have the homefield advantage here, being from Arizona. This match was going so well until the count out finish. The action was very solid, and both were doing a pretty good job. The second half of the match was particularly exciting. Having the match end on a count out was really puzzling, especially since pretty much everyone thought that Nikki Bella would definitely put away Natalya here so she could move on (presumably) to team up with John Cena against The Miz & Maryse. I guess one argument you could make is that they still have six or seven weeks until WrestleMania, which means you could feasibly keep the feud going for another week or two, but still, why would do a count out? Why not have Natalya get a cheap win to set up a rematch? Did we really need to have a non-finish on a PPV? Even with all of the issues surrounding the finish, this was still the best match on the entire show, up to this point.  ***1/4
Kelly Harrass: This match started off ok, got great, and then had a lame ending. This match actually felt very heated and had some solid nearfalls. I thought that Nikki had the match won with the Fearless Lock, only to have Natalya reach the ropes. Nattie really isn't getting the credit she deserves for being a great heel. She's shockingly great at being a dick heel. Where this match falls apart is the ending, which solely exists to set up a rematch. It makes this match feel like a total waste of time. What are we looking forward? A big blow off at Mania? A main event of Smackdown? Man, they should have just done a women's Chamber match.  Pop-Tart Rating: Brown Sugar Cinnamon
---
---

Randy Orton def. Luke Harper
Warren Taylor: Deep down, Randy Orton has a chin fetish. He must have an insatiable lust to touch them because it is the only way to justify the amount of time he kept Luke Harper in a chin lock during this match. Business picked up when Harper began to fly all over the place like a bearded torpedo. The crowd bought into Harper's mix of agility and brawn, and as the fight went on, he was made to look like Orton's equal. Even in defeat, Harper gained enough credibility as a singles worker that he could fit into the Intercontinental Title picture easily. Also, for as much flack as Orton gets, he sold Harper's offense like a punch drunk boxer. Good stuff from both gentlemen.  ***1/4
Sean Sedor: While this match didn't quite meet my expectations, it was still really good. Things got off to a relatively slow start (highlighted by the infamous Randy Orton chin lock), but it really started to pick up after Harper hit a dive to the outside. From there, we got some very solid back & forth action from both guys. Harper had Orton reeling on a number of occasions, including a pair of superkicks that seemed to turn Orton's leg into jello. There were some particularly hard strikes towards the end from Harper, but ultimately, it took only one RKO for Orton to put Harper away. Despite the sluggish start, the second half proved to be pretty exciting, and even though Orton emerged victorious, Harper had a strong showing, which hopefully bodes well for his future. ***1/2
Kelly Harrass: Everything after the chinlock was great. They really made me believe that Harper had a shot at winning this match. Harper had a shot to put on a good show in this featured singles match and he succeeded. Harper has been great for a long time, but he hasn't really been in the greatest spot to show that off. He really brought the fight to Orton and looked better than he ever has in this company. Orton did great as well, but Harper was really the star. Easily the best match of the show up to this point. Pop-Tart Rating: S'Mores

WWE SmackDown Women's Championship
Naomi def. Alexa Bliss ©
Warren Taylor: I'm sure many of us wizened wrestling observers went into this match expecting a trainwreck. Instead, we got a treat. This was a fun back and forth affair that managed to overcome the limitations of the still green Bliss and the often spotty craftsmanship of Naomi. The closing stretch was the most alive the Phoenix crowd seemed at this point in the show, and to top it off, a new champion ascended to the throne! ***1/4
Sean Sedor: Alexa Bliss seems to wearing gear inspired by Wonder Woman (blue & white with a bit of gold), which is pretty cool. This was a very solid women's match that featured a nice surprise, as Naomi captured the SmackDown Women's Title from Alexa Bliss. I would actually put this above Becky Lynch vs. Mickie James. One of the reasons why this match was so good was that it seemingly didn't have any downtime. It was pretty much all action from start to finish, and it was a lot of fun to watch. Was it rough around the edges? A little bit, but this match was so entertaining that I could forgo some of those moments. As a whole, this was an enjoyable title match with a feed good finish, as Naomi got her first taste of WWE gold. ***1/4
Kelly Harrass: I think we're all shocked that this didn't fall apart. I enjoyed this well enough, but more than anything I was excited to see Naomi win the belt. The genuine emotion she showed when she won was really cool to see. This was a solid match with a strong closing stretch. I don't know if the ending was messed up, but it looked like it would have hurt Bliss a lot when Naomi slammed her knees into Bliss' ribs. Overall, this was a pleasant surprise. Pop-Tart Rating: Hot Fudge Sundae
Elimination Chamber – WWE Championship
Bray Wyatt def. John Cena ©, AJ Styles, Dean Ambrose, The Miz, and Baron Corbin
Warren Taylor: Matches like the Chamber were designed with car crash spectacle in mind. Whether by overexposure by having two a year or just not delivering the spectacle just never seemed to match the billing of the contest as some sort of demonic playground. Honestly, the 2017 chapter in the EC's history was not a car crash. It was a well told story from beginning to end. Rivals John Cena and AJ Style were not able to put each other away. The Miz was a coward who stole more glory than he deserved. Baron Corbin's hot headed nature evolved into, at least one night, a killing machine mentality after Dean Ambrose prematurely ended his run. Then there was the proverbial wildcard, Bray Wyatt, finally capturing the legitimacy long denied him by atrocious booking. Wyatt pinned Cena and Style clean as whistle and earned the most important bout of his career at WrestleMania. Perhaps the Chamber's purpose received an overhaul much like its design. Instead of gore, maybe it will serve as a reminder of the ancient art of self-contained story telling, and plant the seeds for the stories to come at the Showcase of the Immortals. ****1/2
Sean Sedor: Here we have the debut of the redesigned Elimination Chamber. Essentially, the changes appear to be mostly cosmetic, as they altered the shape of both the structure and the pods (going from a more circular shape to a more traditional square shape), in addition to make the structure a bit higher (similar to the changes they made to the Hell In A Cell). It looks a little different, but it was probably due for an upgrade. Plus, the original Elimination Chamber looked more awkward surrounding the ring with its circular shape, so this new structure seems to fix that problem.
Having AJ Styles & John Cena start off the match was an excellent decision. With a match like this, you always need to start off with two guys who can produce a lot of good action right out of the gate, and these two definitely managed to do that in the first five minutes. Having Ambrose come out third was also a great decision, as he made an impact immediately by giving Styles a nasty falling suplex on the chamber floor, and jumped off one of the pods onto Cena. From there, Bray Wyatt, Baron Corbin, and The Miz came out in that order. As a whole, I think this new Elimination Chamber worked out incredibly well. The changes allowed for some really cool moments, which we certainly wouldn't have seen in the old structure. I was initially cautious about the new structure, but it exceeded expectations. The booking surrounding the eliminations was, for the most, pretty good. The first two eliminations set up the next feud over the Intercontinental Title very well, as Ambrose caught Corbin on a rollup, which led to Corbin attacking Ambrose, sending him through one of the pods. This led to The Miz quickly eliminating Ambrose, which fit The Miz's heel character perfectly. The only questionable elimination was Cena taking out The Miz so easily, since those two seem to be heading to a mixed tag at WrestleMania with Nikki Bella & Maryse respectively. I know having Bray Wyatt as WWE Champion isn't exactly a popular move, but they made Wyatt looking incredibly strong, as he eliminated both John Cena & AJ Styles clean in the middle of the ring with absolutely zero shenanigans. When looking back at past chamber matches, I thought this was one of the best in quite some time by a long margin. Everything just worked so well. The action and booking were both great from start to finish, and overall, this was an awesome debut for the new and improved Elimination Chamber. ****1/2
Kelly Harrass: First things first, I'm a fan of the new look for the Chamber. The funny thing about the upgrade is that the metal floor is now padded, oddly making this one of the safest gimmick matches that WWE has. It might actually be safer than a regular match. Secondly, I'm a big fan of the decision to kick off the match with Styles and Cena. They delivered some great action to kick off the match, which was continued with the addition on Dean Ambrose. The match really over delivered in the in-ring and this might be the best Elimination Chamber match. I think a lot of that can be attributed to the added padding. With the wrestlers not having to take gross bumps on metal, they were able to save their bodies and put more effort into the match. The match was well worked and it was well booked, setting up Ambrose for an IC title feud with Corbin and laying the groundwork for the Cena/Miz program. Wyatt won the championship as expected, but even so, it was still a great match. It turns out that by making the less dangerous, it makes the match better. Who would have guessed? Pop-Tart Rating: Frosted Blueberry