The Over the Hill, Not Over the Thrill series is a collaboration between Voices of Wrestling columnist Brennan Patrick and Andy LaBar (@trillyrobinson). 
47, 51, 50, 44, and 46. These are the ages of wrestlers expected to have major matches at WWE's WrestleMania 33. In a company brimming with incredible talent, perhaps the best the WWE has literally ever had, many of these veterans clog up the "Big 4" main event scene, using their "Attitude Era" cachet in hopes of selling tickets, rather than putting on great matches. Occasionally, these veterans surprise us (AJ Styles, 39), but often, we get spectacle or worse, an air of "back then" being better than "now".
Meanwhile, in Japan, 2016 was the year of the young champion. Kazuchika Okada (29), Kento Miyahara (27), Hideyoshi Kamitani (24), Konosuke Takeshita (21), Katsuhiko Nakajima (28) and Daiki Inaba (28). These champions combined with a seemingly endless supply of "new" stars and promising young talent in virtually every Japanese promotion helped make 2016 a truly enjoyable year of wrestling. The new crop of Japanese wrestlers are a sight to behold, whether it is Takuya Nomura's fighting spirit, Kazusada Higuchi's old-school power game, Ben-K's instant star-making offense, or Hiromu Takahashi's undeniable freshness.
Japan is boiling over with amazing new talent, while still retaining an incredible wealth of talent from yesterday, yester-year, and beyond. These Japanese veterans, rather than clog up a main event scene with their own stardom and popularity, use their knowledge, their skills and the respect given them to instead help a business that is about making new stars, not retaining old ones.
Welcome to the first part of "Over the Hill, Not Over the Thrill", a look at who we consider to be the 40 best Japanese wrestlers in their 40s. As a long-time fan of Japanese wrestling, Brennan has been following many of these guys for a decade-plus. As an obsessive fan for the last few years, I (Andy) have little context for many of the past achievements these wrestlers bolster. Regardless, this list looks primarily at the years 2015, 2016 and the outlook for 2017 as a means to rate these men. From small, sleazy indies, to the biggest star in Japan, all wrestlers are graded equally, though with some inherent bias. During the conception, the list was changed a handful of times, but what we present now is something we are happy with. We hope you enjoy reading as much as we enjoyed putting it together.
40. The Great Sasuke
One of the very first Japanese pro-wrestling matches I was exposed to back in high school was the 1994 Super J Cup final between the Great Sasuke and "He Who Must Not Be Named". At the time, it was such a cathartic experience watching these two guys pull off crazy spots I had only ever dreamed of back when I was watching WWF Mania on Saturday mornings as a kid. I haven't watched the match since, probably because I don't want to taint that memory, but I came away from that match believing Sasuke was this awesome high-risk ninja capable of defying gravity. At 47-years old, the Great Sasuke has lost some of his mystique in the ring but he's still capable of pulling out insane, possibly life threatening spots for the sake of the few hundred Michinoku Pro fans in attendance. He's probably been dumped on his head one too many times but that wild abandon and passion for continuing to wow! fans earns him a spot on this list. I mean, Sasuke participating in local government meetings while still wearing his mask is reason enough. -Brennan
39. Yoshinobu Kanemuru
It's really easy to wave off matches that feature Yoshinobu Kanemuru. Since his move to Pro Wrestling NOAH at the beginning of 2016, they typically revolve around headlocks, DDTs, going to the outside and lots of interference from Suzuki-gun. He virtually disappears in tag matches and had been positioned as one of THE defining junior heavyweights in a promotion filled with great juniors. Despite this, occasionally the 40-year old Kanemuru is able to surprise and exceed tempered expectations, even if only a few times a year. In May, he thwarted Hajime Ohara in a very solid match, in August, his Super J Cup loss to KUSHIDA was one of the only matches  worth remembering in an otherwise disappointing tournament, and it seemed to spark three other good matches out of him: with Kenoh and two with Atsushi Kotoge. 85% of his matches are drivel but he's got a really strong 15%! -Andy
38. Maybach/Shuhei Taniguchi
The 9/19 Great Voyage in Osaka show that NOAH put on in 2015 was a "Top 5" show of that year for me and the match that sticks out most is the insane lucha-esque blood massacre between Maybach Taniguchi and Takashi Iizuka, two of the actual worst technical wrestlers of note in all of Japan – which is why this match works so well. Taniguchi is over with the (small) NOAH crowd, and in a company where wrestlers rarely seem to care, he is one that always seems to show emotion. It was refreshing to see a match in Japan featuring weapons and having REAL heat. When he stripped off his mask, all the junk that came with the Maybach gimmick went away and he became someone that NOAH fans could get behind. At 40, Taniguchi has a bizarre charisma around him, and sells exhaustion well. What he lacks is stiffness and technical ability, but he's a bruiser to believe in. -Andy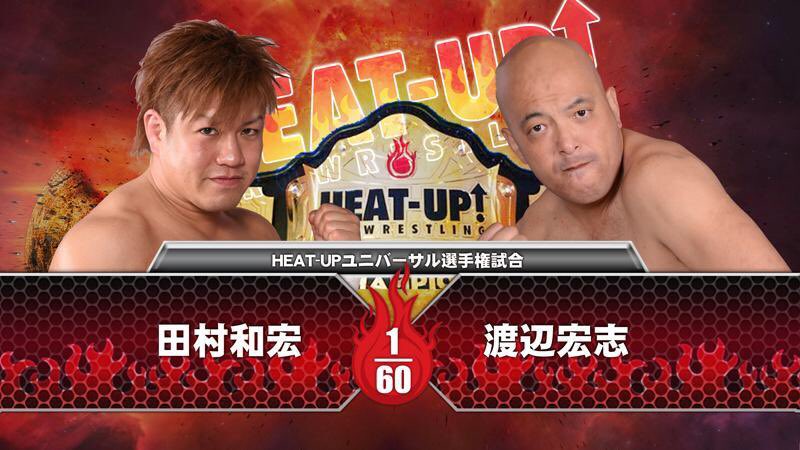 37. Hiroshi Watanabe
If you're asking yourself who the hell Hiroshi Watanabe is, let me point you in the direction of his match with Kazuhiro Tamura from last year's 5/14 "HEAT-UP in Yokohama" show. Perhaps that's the only reason he's on this list but Watanabe is an interesting case. He originally trained at the New Japan Dojo back in 1994 but quit the pro-wrestling game entirely, having only recently returned in 2013 to the small Pro Wrestling HEAT-UP at 42-years of age! Granted, his first couple of years with the promotion were…uh, rough to say the least but last year, it seems Watanabe started going on all cycles, showing a renewed passion for the rasslin' craft, which is admirable this late in his career. It's obvious pro-wrestling isn't Watanabe's calling but the man still seems to be having fun wrestling once or twice a month with a few of his friends while teaching the younger generation a thing or two about the graps. -Brennan
36. Tatsuhito Takaiwa
Tatsuhito Takaiwa was legendary in my mind before I had ever seen a match of his. His "continuous powerbomb/DVD" combo was available in WWF No Mercy and was a move I had never seen before that and one I could hardly believe before searching Lycos. At 44, Takaiwa has lost a step recently, but is still able to believably throw around other juniors and occasionally dominate them. He lacks psychology these days, but he "gets his shit in" as they say, often hitting lariats that would knock you and I out, partaking in the corner "facewash", using Death Valley Drivers as "comeback" spots, and just looking grumpy as hell. He's more believable as an asskicker than a lot of folks his age and size, and though he rarely seems to win anymore, a Takaiwa match is comfort food for me. He's one of the first Japanese wrestlers I took a liking to, because I like insane offense – something that Takaiwa can still provide. -Andy
35. Hiroyoshi Tenzan
At this point in his 26-year wrestling career, Hiroyoshi Tenzan may have trouble lacing up his own boots in the morning but when it's time to turn it up for his annual "big match" or G1 Climax run, he's still capable of putting on an enjoyable if not good performance. As proof, look no further than last year's G1 slugfest with Tomohiro Ishii or his NEVER Openweight title challenge against Katsuyori Shibata. While he's never really been heralded as a "good wrestler", the 45-year old Gruffalo still has that 90's aura about him (along with that abomination of a haircut) and the New Japan fans continue to eat up his charismatic presence, his entrance, and his vocal Mongolian Chops. His tag team with Satoshi Kojima will no doubt remain of the greatest tag teams in pro-wrestling history but as each year passes, the more I want to guys like Tenzan and Manabu Nakanishi retire while they're still capable of standing up. -Brennan
34. The Bodyguard
At 48-years old, the Bodyguard is one of the oldest wrestlers on this entire list, but unlike most, he didn't have to transition his style as he overcame that 40-year incline because the dude's career started when he was 41. The first thing you notice about the Bodyguard is the look: listed at 5'9", looks 5'4". Tattooed all over (pretty rare), bleached blond hair, and unnaturally ripped. He looks like Batista after a trip through a Wonka machine. If you pay attention, it's easy to see that Bodyguard, like his partner Zeus, improved a lot in 2016. He's rarely the star of the match but he holds his own against the strong division of All Japan and Big Japan. Surprisingly, he beat Daisuke Sekimoto AND Jun Akiyama in the Champions Carnival this year, though I cannot tell you what his finishing move is (gotta be a powerslam). AJPW crowds chant his name, he throws a lot of shoulder blocks, clotheslines, and takes some good neck and shoulder bumps for a 48-year old. You get the sense that he just maybe isn't all the way human (perhaps literally). Regardless, I'm all in on the Bodyguard. -Andy
33. GENTARO
Take one look at GENTARO and the first thought that may pop in your head is "Japanese slum indie sleazeball." The greased black hair, the basic black trunks, the taped up wrists and knuckles. He's looks like Daisuke Sasaki's older brother who would buy you and your underage friends beer at the corner market. While you wouldn't necessarily be half-wrong with this assumption, GENTARO is one of the most versatile and underrated of those perpetually indie-level guys. At 42, he's still capable of putting together a slicker-than-catshit technical match or bring the glitz with some higher flying offense. He's worked everywhere in Japan – I mean, everywhere. You name it, GENTARO's probably been there in some form or alter-ego. For the past eight years, he's been killing himself in the low-rent deathmatch playground of Pro Wrestling FREEDOMS, with one of the more brutal match-ups of the last couple of years being his "Strong Style Fusion Death Match" against Masashi Takeda from 2015. Or if you prefer something a little more old-school, his 6/17 GUTS World match against Mr. Gannosuke is a limb-for-limb chess match between two old friends. With GENTARO, there's a gimmick match for everybody. -Brennan
32. Jimmy K-Ness JKS
When it comes to the old, more "serious" generation of wrestlers in Dragon Gate, it's easy to forget about the 42-year old K-Ness. Apart from his turning on Mad Blankey in the summer of 2015, he's been a pretty forgettable dude for the last few years. Don't get it twisted, though – K-Ness is still an elite-level tag team worker, most obviously with Jimmy Susumu, where he is able to play the "face-in-peril" really well to the powerhouse that is Susumu. K-Ness fills a similar role to other masked wrestlers in Dragon Gate, in that he is able to occasionally get these really fired-up, underdog surprise victories. His experience shows in the way that he consistently builds drama, uses flash pin attempts and his Hikari no Wa rolling cradled pin. He never underperforms, knows his place on the card, and shows a "true" fighting spirit and desire to win that many Dragon Gate performers fail to match. -Andy
31. Billy Ken Kid
During his prime, Billy Ken Kid was one of those juniors who had the complete pro-wrestling toolkit to be a major junior heavyweight player in a bigger promotion somewhere. He was trained in Mexico and became a master of the "lucharesu" style, incorporating beautiful aerial maneuvers with a more technical in-ring approach to junior heavyweight wrestling. But he remained loyal to Osaka Pro throughout its existence, only occasionally dipping into other promotional waters for annual tournaments and random matches. After Osaka Pro closed its doors in 2014, Billy Ken Kid worked as a freelancer and most recently, has been competing in AJPW. Billy's still in great shape at 43 and can go nearly full-speed given his age. He even briefly held the oh-so-coveted GAORA TV Title last year, adding another accomplishment to his almost 20 year career. -Brennan
30. Ryuji Ito
Much of Ryuji Ito's ranking here is based on the legend-status of his deathmatches. In the ring, Ito leaves a lot to be desired, often going straight for the weapons (usually fluorescent light tubes) and occasionally bringing out kicks, ranas and decent frog splash (again, usually onto light tubes). He did have a solid 2015 and 2016, though his matches of note were typically with deathmatch workers that are better traditional workers than him like Kankuro Hoshino, Daisuke Sekimoto, and Yuko Miyamoto. That said, anyone who hold a combined title reign length of around 2,000 days has a high amount of swagger that comes with each of his matches. He lacks the character work and look that make people like Abdullah Kobayashi and Jun Kasai connect, lacks the in-ring ability that make people like Kodaka and Takeda work, but there is no doubt that every time he is in the ring, that he is someone that the crowd looks at like a star. How a 40-year old guy like Ito can do deathmatches basically non-stop for 15 years and have hundreds of things stabbed into his skin, fall from tens of feet, and still move relatively well is a hell of an achievement. -Andy.
29. Kankuro Hoshino
The 41-year old Kankuro Hoshino was tasked with following one of the best matches in Japan all year (Kamitani vs. Okabayashi) in the main event of Big Japan's biggest show of 2016 (Sumo Hall 7/24). In the lead-up to the event, I was pissed that the deathmatch division was taking the main event over the strong division again, and when it was announced that it would be a scaffold match, I couldn't imagine how disappointing of a main event it was going to be. Well, it turned out to be probably the best deathmatch of the year, one of the coolest main event title changes in all of independent Japanese wrestling, and a match that shined a light on a dude who was due it. Hoshino is a deathmatch worker that looks a bit less sleazy than most of his peers (if you ignore his entrance attire), and the way in which he puts his body on the line with insane bumps, rather than just strikes, really makes you want to root for the dude. He had great traditional tag team matches with Yankee Two Kenju, and one of the most underrated and dramatic title defenses of the year, against Isami Kodaka in November. Though he is often maligned for working Light Tube matches more than anything else (a style that usually sucks), the more Hoshino you watch, the more endeared to him you find yourself. Hoping he can win his title back in 2017, because he should be the deathmatch "ace". -Andy
28. Masakatsu Funaki
The shoot-style Japanese cousin of Lou Diamond Phillips, Masakatsu Funaki is 47-years old and on most days, he can still outshine the other competitors involved in his match-ups when he's motivated and caffeine-fueled. As an example, he was easily the most memorable competitor in his tag match at DDT's Osaka Octopus 2016 with the uh, less-than-energized Yoshihiro Takayama. He was an innovator of the "shoot-style" of professional wrestling and his rivalry with Minoru Suzuki is legendary. When he's on, he's definitely on, with his combination of deadly kicks and vicious submissions. He wrestled a total 17 matches last year in the most random of places but in that time, he managed to win the RJPW Legend Title (if that means anything to anyone), the Blast King Title (ditto), and is now one half of the KO-D Tag Team champions along with Yukio Sakaguchi. How much longer he plans to wrestle is up to him but you won't find my complaining about having to sit through a Funaki match when he's got his working boots laced tight. -Brennan
27. TAKA Michinoku
Sadly, TAKA Michinoku was one of the most underutilized junior heavyweights in Japan, which is probably do to the five years he spent wrestling abroad. While the most casual fan may only remember him from his comedy days in WWF as part of the culturally-insensitive Kaientai or perhaps recall his crazy six-man spotfests from Michinoku Pro, back in his homegrown promotion of K-DOJO, the 43-year old Michinoku is a masterful technician full of smug charisma and a hairstyle that hasn't changed in 20 years. Recently, he's been slumdogging it up with Suzuki-gun in Pro-Wrestling NOAH and now NJPW, and while you won't find any classic Michinoku matches in his tag team with Taichi, it's his work in K-DOJO that continues to stand out as he wrestles these great little teacher vs. pupil  clinics, like his 2015 shortie-but-goodie against Ayumu Honda. He genuinely seems to treat wrestling as a craft and it shows when he's given the time and the environment to perform. -Brennan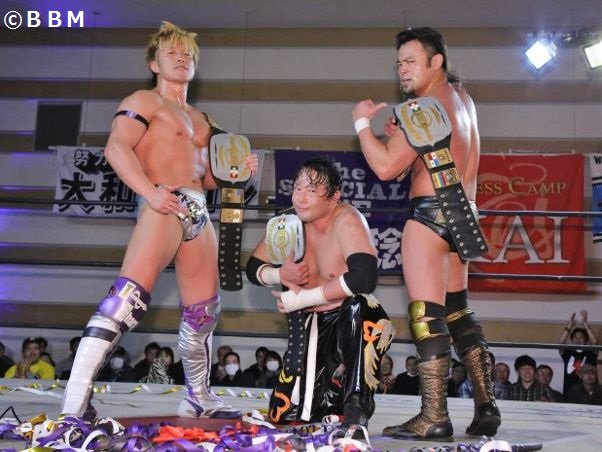 26. Kaz Hayashi
It's hard to imagine a wrestler who has been as consistently good as Kaz Hayashi over the last couple of decades. He's rarely been involved in anything outright "great" in the last handful of years, but when you get a Kaz Hayashi match, you're looking at about a 3-star floor rating. At 43, Kaz Hayashi would still be a believable player in any company's junior division, as he is able to move as well as most people his size and hit all his classic spots – some of the more influential offense in Japan. One issue is his near exclusive working relationship with Wrestle-1 and the lack of challenge that is offered him. Regardless, Kaz has been able to have good matches with Kotaro Suzuki, Minoru Tanaka, KAI, and many others. He is slowly transitioning into someone who primarily works tags and multi-man matches, which serves him well, as quick offense is often the highlight of these. I've been a fan of the guy for near 20 years, so it is a real joy to see him still wrestle quality matches at his age. Here's to hoping he has one more big run in him before he's done. -Andy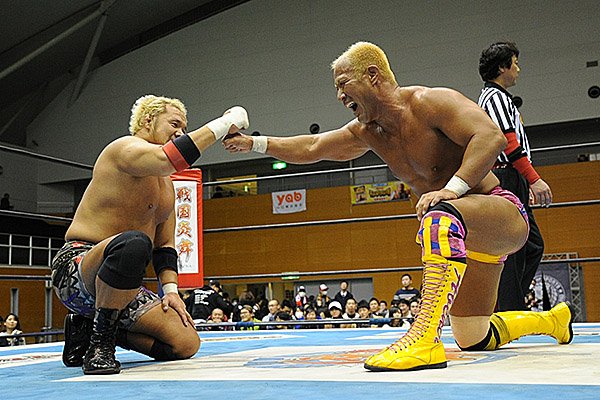 25. Togi Makabe
This seasoned bruiser has had his fair share of pretty good to almost great matches over the span of his near 20-year career with New Japan. While he spends most of his time teaming with Tomoaki Honma as one half of Great Bash Heel, somehow managing to pull decent matches out of the Guerillas of Destiny, there was a time not that long ago when the "Unchained Gorilla" held the IWGP Heavyweight Title.  Crazy, huh? He's mostly a walking gimmick at this point, with his bleached hair, chains, and obscenities, but he's still more than capable of pulling out some entertainingly bloody brawls. For much of 2015, he feuded with Tomohiro Ishii over the NEVER Openweight Title, producing some mindlessly fun back-and-forth battles. Makabe may not be the best wrestler or even the most entertaining but at 44-years old, he's still one of New Japan's toughest.  -Brennan
---
---
24. Buffalo
Another Osaka Pro orphan, Buffalo aka Black Buffalo aka Black Vampire Buffalo is one of the best heel brawlers on the independents but because of the lack of exposure, he's another underrated talent that often gets lost in the shuffle. Buffalo got his start in IWA Japan wrestling hardcore matches under his given name before he joined Osaka Pro in 1999 and remained loyal to the very end. He's another journeyman of promotions, having competed in NJPW, AJPW, and NOAH, but as of late, he's found a niche in GUTS World and it's been there that Buffalo has produced some of his best matches of the past couple years, including his much underappreciated bout with Daisuke from 4/24. He's still going strong at 42, randomly popping up here and there with his baseball bat at the ready, and he's the current Dove Pro Heavyweight Champion, for whatever that's worth…which can't be much. A carton of cigarettes maybe. -Brennan
23. Jun Kasai
You're lying to yourself if you find it easy to look at Jun Kasai. If you saw the 42-year old Jun Kasai walking down the street toward you, you would avoid that situation with little hesitation. His nickname is and has been "Crazy Monkey" and after a decade and a half, he has basically portrayed that nickname perfectly. Before actually starting to watch modern deathmatches a few years back, Jun Kasai was the sole Japanese deathmatch worker from the early 2000s that I was familiar with and as much as I have tried to ignore him and his crazy matches recently, I can't help but watch the guy. Truly, no one can take a beating like Jun Kasai, simply because no one is really willing to do the things that Kasai does on a regular basis. 2015 and 2016 was typical Kasai, primarily working deathmatches in FREEDOMS and basic tag matches in Wrestle-1, but he also managed to end the year as the DDT Extreme champion, adding a little bit of comedy to his brand of weird. You're not going to ever see Jun working in GUTS World or Dradition, he isn't going to trade holds, but he is a master showman with a rabid fanbase and something wholly unique, wherever he wrestles. -Andy
22. Don Fujii
When Don Fujii challenged Shingo Takagi for the Open The Dream Gate title in October 2015, despite logically knowing that he had no shot at winning, there was this genuine emotional feeling that Fujii deserved it, that Fujii would shove Shingo's head into the ground and Don Fujii, grandpa Don Fujii, would be the savior of Dragon Gate. As far as old guys go, I know of no one as universally liked as the 46-year old Don Fujii. He's only 5'9" and 230lbs, but every time he is in the ring, his personality shines through and makes him feel like the biggest, most important person in the world. There is no doubt that Fujii is slower than the other members of the older generation in Dragon Gate, but there is a certain respect given to him that is reserved for no one else – even if he consistently attempts to throw people off of balconies. Don Fujii can portray the role of "grumpy old man", though not in the way Masaaki Mochizuki can, and he doesn't have the actual idolization that CIMA has, but he throws down against all comers in DG, usually chopping their chests raw and dumping them on their heads with chokeslams. He didn't have a particularly impressive "King of Gate" tour, but managed to score a win over eventual winner YAMATO and went to a draw with then-champion Shingo. He's a sly bastard, an old dude who uses his smarts rather than his skill to compete. I love Don Fujii, you love Don Fujii, literally everyone loves Don Fujii. -Andy
21. Mr. Gannosuke
Mr. Gannosuke doesn't look like he can still go. He's the last guy you think would be busting his ass in the ring, putting on mat-wrestling clinics. He's overweight, nearly 50-years old, and still rocking that gross bleached blonde hair from the 1990's. But his weight or sloppy appearance has never held him back from achieving a legendary station in the early Japanese hardcore scene, having been trained and raised in FMW, building his own promotion from FMW's ashes with WMF in 2002, and enjoying a renaissance in his twilight years with his work in GUTS World. While Gannosuke still manages to find time for the occasional deathmatch, it's his more grounded old-school matches I enjoy most, where he can show off that hard-earned rasslin' wisdom and experience with challengers of all ages. His 5/8 GUTS World match with Daisuke was my favorite from the promotion last year, with Gannosuke going above and beyond to show that the fire's still burning, and it's that undying spirit, in the face of all the adversities and heartaches he's endured, that makes Gannosuke a faded star worth admiring..  -Brennan
Look for part two and the continuation of the countdown next week! In the meantime, check out Brennan's puro podcast Burning Spirits below: