Desperate times call for desperate measures, and that is exactly the situation that All Japan Pro Wrestling was facing when 2016 rolled around. When Suwama got injured right after winning the Triple Crown Heavyweight Championship from Jun Akiyama, the promotion found itself at a dead end, needing to find the right person to replace him lest they see themselves sinking further into difficult times.
Enter Kento Miyahara, 26 years old star on the rise, former protégé of Kensuke Sasaki and then Go Shiozaki. A young man on a mission to shift the generational tide of AJPW, Miyahara, though very much a work in progress at the time, faced and defeated Zeus on February 12, 2016 to become the youngest Triple Crown champion in history.
From then on, he had a lot to prove to justify the faith that All Japan put in him.
Miyahara is a curious entity. Although his youth is very much a part of his appeal, he sometimes feels like an old soul, not weary, but wise, and his undeniable charisma is reminiscent of men who have been wrestling for much longer than he has. His outward arrogance never seems misplaced so much as it is slightly amusing: encouraging the fans to clap along to his dizzying theme music with a smug, almost comical expression on his face, has become one of the little joys of watching his matches, and he carries himself in a way very few performers—let alone champions—his age do.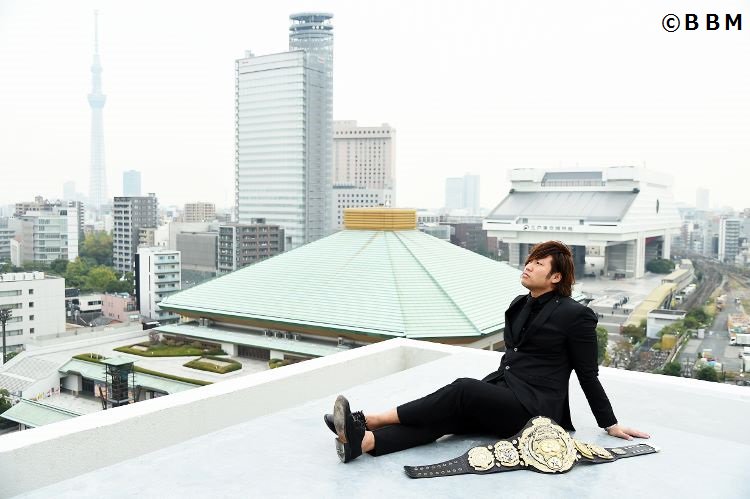 It must not have been easy to pick up the mantle under such dire circumstances, when AJPW was facing a tough time in its storied existence. But Miyahara came through for the company that put its faith in him, and it's indisputable that his reign and high profile matches have contributed to the mini-renaissance that All Japan has been through this year. Looking back on his rapid ascent to the top, it's admirable how quickly he picked up being an ace, even though he sometimes still comes across as the underdog in matches against men who, in any other circumstances, would have wiped the floor with his hopes and dreams.
Defenses against monsters like Big Japan's Daisuke Sekimoto and K-Dojo's Kengo Mashimo helped Miyahara show his strength. His resiliency and pride in being TC champion opened him up to the crowds, who accepted him as their man, and cheered him to victory. Wins over veterans such as Takao Omori and Ryoji Sai demonstrated his resolve, an unending desire to prove himself. And a defense against Jun Akiyama himself helped Miyahara cement his legacy, proving that not only could he talk the talk, he could also walk the walk as the company's leading man.
Wanna be an ace, kids? Watch @KentoMiyahara

Kento Miyahara: Ace in the Hole https://t.co/d7kx86uGrU

— Bren Patrick (@bren_patrick) September 13, 2016
He's not the whipping boy of Kensuke Office/Diamond Ring anymore, crumbling under the pressure of training. He's not playing second fiddle to Go Shiozaki anymore, helplessly looking up.
He's the king in his court, a young, brash, arrogant champion with every reason to be.
Some have compared him to New Japan Pro Wrestling's Hiroshi Tanahashi and Shinsuke Nakamura, perhaps for his outlandish sense of style, his ability to play to a crowd, and his fondness for knee strikes. And what knee strikes. They're probably his most impressive weapon, his entire body launched forward in a seeming desire to take his opponents' heads off. But even with these comparisons, Miyahara is still only a young man, still something of a work in progress, and now more than ever in the past year, his status as the current undisputed ace of All Japan may be in jeopardy, with Suwama lurking on the horizon. They have faced four times in singles matches, with Suwama getting the better of the young man every single time, most notably this September in the first round of AJPW's Odou tournament, making the match that everyone knew was coming, finally official. In a way, he's the immovable object to Miyahara's unstoppable force, ready to stop the champion dead in his tracks and reclaim his throne.
#AJPW pic.twitter.com/YSCCKhj7NZ

— Eyean (@skrongstyle) May 31, 2016
Fans knew almost from the beginning of Miyahara's reign that Suwama's return would be the endgame, that the match was certain to happen even when no one knew exactly when the five-time Triple Crown champion would come back to the ring. But through his performances, Miyahara managed to blaze past the shadow of his rival, build a reign that wasn't about ultimately facing Suwama, but more about growing, about what happens when an unlikely chance presents itself.
Sumo Hall
Now, he faces his biggest challenge, as Suwama is back and looking to regain the title he never lost at All Japan's biggest show in a long time on November 27 in Ryogoku.
It's David versus Goliath, a young champion chasing more success and a veteran unwilling to give up his spot, clashing to determine who is more worthy of the title of champion. The odds say Miyahara loses, as his biggest demon puts him down once again. He'll have time to rebuild, to grow even further, and to one day, climb to the top of All Japan once again. The thrill is in the chase, after all.
If Miyahara retains, then he'll have passed his greatest test of strength and of character, and will continue his path as AJPW's chosen one. It's hard to predict what lies in that version of the future, but there's no doubt that, shall he keep the Triple Crown, Miyahara will continue to deliver until the end.
But whatever happens, no one can deny that he has been the champion All Japan needed to turn the year around, to drive themselves out of a tough situation. He has carried the Triple Crown with poise, grace and strength, and no matter what, he'll have carved a place for himself in the history books.