WWE Survivor Series 2016
November 20, 2016
Air Canada Centre
Toronto, Canada
Watch: WWE Network
Meet our reviewers: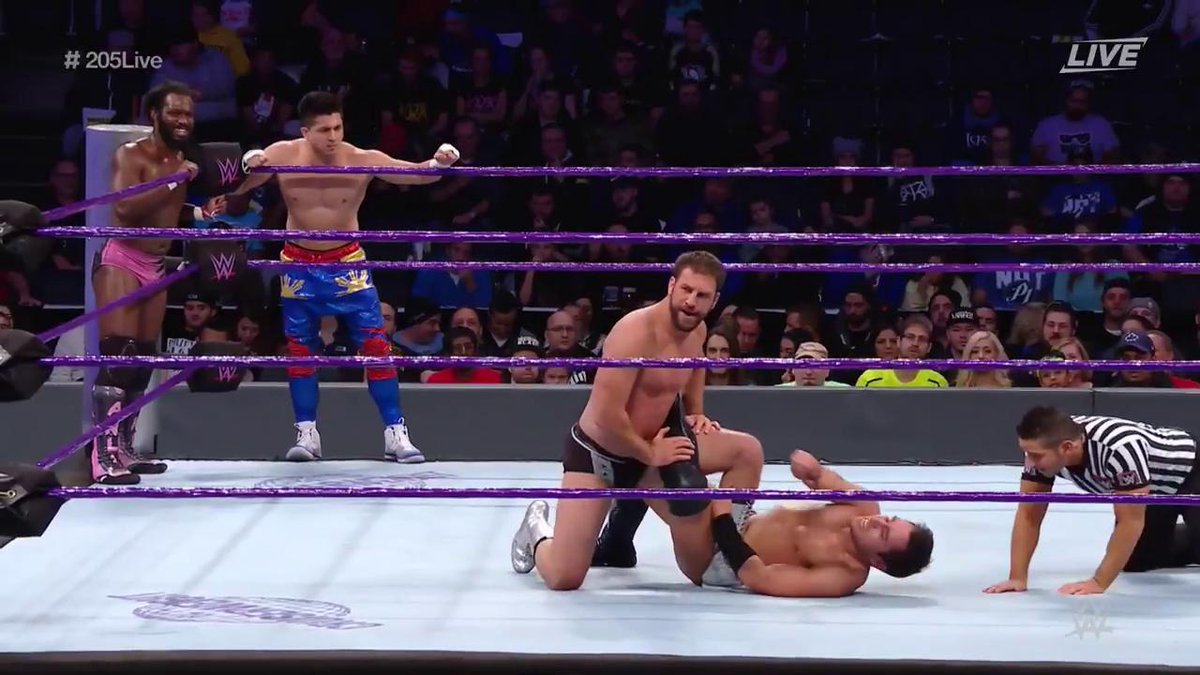 Kickoff Show
TJ Perkins, Rich Swann & Noam Dar def. Drew Gulak, Tony Nese & Ariya Daivari
Sean Sedor: So my analysis of this match isn't going to be the best, because while this match was going on, a massive accident occurred in the NASCAR race in Miami that might have just decided the Sprint Cup Championship. From what I did see, I really enjoyed this match. They had an entertaining six-man tag on the Kickoff Show last month, and they did it again here. Rich Swann got the win for his team, so it's good to see that they're continuing to build up Swann for his eventual title shot. ***1/2
Garrett Kidney: We have basically seen this match 15 times before. It's always good fun. It's always ultimately inessential. It always seems kinda flat at times. The same people (read: Rich Swann) always bring the match to life. It's always the same. **3/4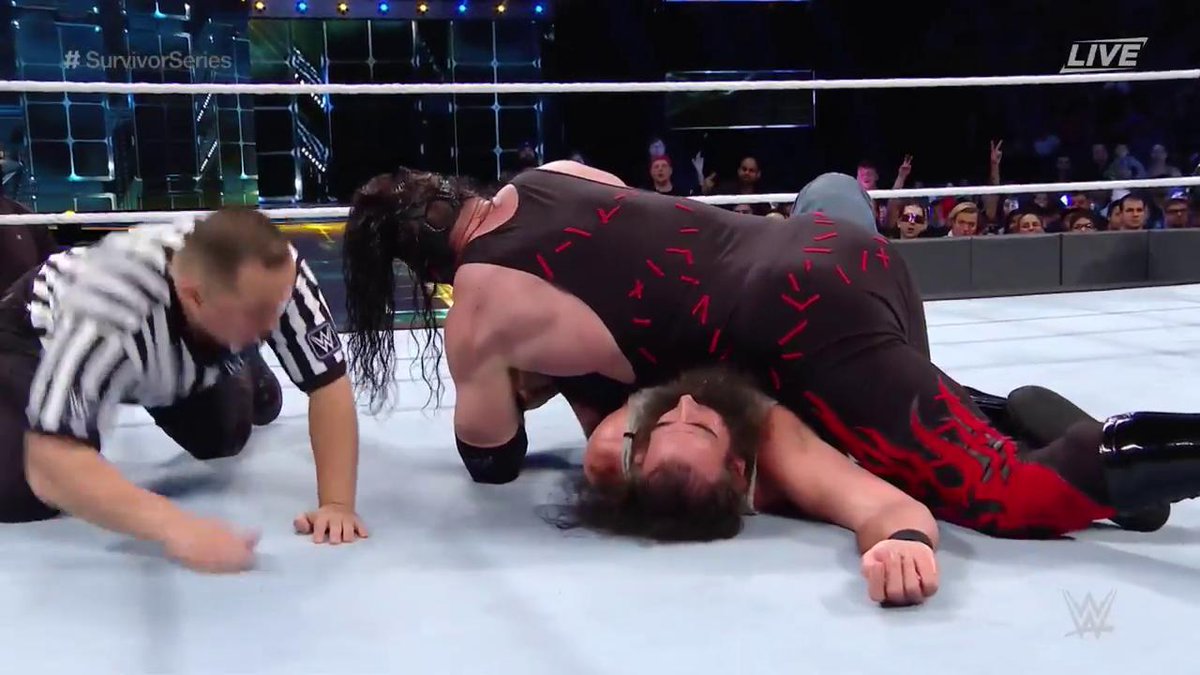 Kane def. Luke Harper
Sean Sedor: So Luke Harper dominates the majority of this match, and then Kane just wins with a chokeslam out of nowhere. Did Kane really need to win this match? It baffles my mind. I just don't get it. That result gave me an actual headache. **1/2
Garrett Kidney: I was totally on board with this match, and then Kane won. Harper worked hard, looked great, created enough movement around Kane to hide the limitations inflicted on Kane by the cruel force of time – and then Luke Harper lost. Why? I know it's a pre-show match. I know at the end of the day it really doesn't matter. But why? It's 2016. Luke Harper is fantastic. Kane is old. Kane won. Why? **½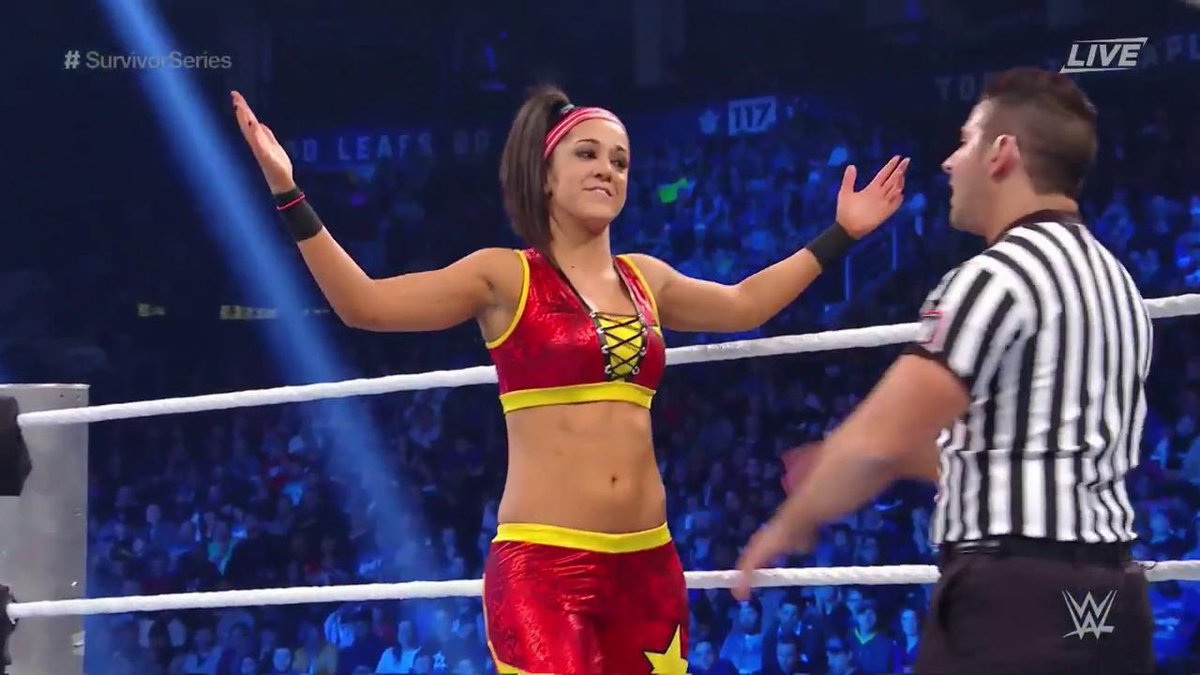 5-on-5 Survivor Series Elimination Match
Team Raw (Charlotte Flair, Bayley, Nia Jax, Alicia Fox and Sasha Banks) (with Dana Brooke) def. Team SmackDown (Nikki Bella, Becky Lynch, Alexa Bliss, Carmella and Naomi)
Sean Sedor: So Nikki Bella was "taken out" backstage, and Natalya ended up taking her place in the match. If I had to guess, Natalya was probably the one who attacked her, since Nikki was the reason Natalya wasn't on the team in the first place. As a whole, I thought the match was fine. They did a solid job of making Nia Jax look like a monster, until their was a botched double DDT from Becky Lynch & Alexa Bliss. I honestly don't mind Nia Jax tapping out to Becky Lynch. I actually think that made Becky look really good. Sasha Banks being eliminated in the middle of the match was weird, but I guess when you get to that point in the match, people need to be eliminated. Obviously the finish of the match, and the post-match attack on Bayley by Charlotte, is setting up a future Charlotte vs. Bayley title match. Again, I thought the match itself was fine. **1/2
Garrett Kidney: I have no idea what to make of this match. Nia Jax had the chance to look like a badass only to be submitted – something that should feel like a much bigger deal for her character. It was messy throughout, the storytelling was off base with Bayley being booked to wrestle at a 2-1 advantage which undercuts the very nature of her character, nevermind setting up a strange final dynamic with Becky Lynch. There were elements that worked, performances that popped and at least they overcame the brand vs. brand thing to set up a Bayley vs. Charlotte programme going forward – but too much of this was just all over the place. **1/4
Rich Kraetsch: What a strange match. At times, it appeared they had a great story laid out — in particular when Nia Jax was bulldozing everyone and looking every bit the monster the WWE women's division needs — then she tapped to Becky Lynch after a botched double DDT. That was the story of this match, a good sequence followed by a botch or perplexing match direction. The final sequence of the match saw Becky Lynch down two-to-one to Team RAW, the perfect story to tell with someone like Becky. Unfortunately, Bayley was one of those two. Bayley being part of a two-on-one Survivor Series team advantage should never, ever happen. That's just a complete misunderstanding of what her character is about and what her character should be. I liked this match more than I thought I would but overall, it was too sloppy to give a positive rating. **
Kelly Harrass: I came into this one late because of my shoot job and things were down to three on three. Maybe I missed some good stuff in the opening minutes, but this wasn't very good. The most damning thing I can say about it is that this was full of tropes from bad Survivor Series matches. You had quick eliminations from non-finishing moves. There was fighting between team members on the Smackdown side. Nia Jax interfered after she was eliminated. I might be missing some other trope, but I'm sure they were all there. The action was solid enough, especially in the closing moments, but it wasn't enough to save this match. I fear that this will start a night of Raw domination as Vince tries to prove what the flagship show is. I don't feel comfortable giving this a star rating because I missed so much of the match, but I honestly couldn't see myself giving this anything higher than two stars NR
---
---
WWE Intercontinental Championship
The Miz © def. Sami Zayn
Sean Sedor: I'm not sure why they took the Intercontinental Title off of Dolph Ziggler, and put it back on The Miz, but whatever. The match was going along nicely until the finish, which was basically another iteration of the screwjob. I mean, it didn't bother me as much because it wasn't exactly the same kind of screwjob as the one from Survivor Series 1997, but still, it's a screwy finish in Canada. Again, it's annoying because the match was going along nicely until the finish. Zayn was great, as he always is, and The Miz continues to have a good in-ring year. ***1/2
Garrett Kidney: This was a screwjob….in Canada…..at Survivor Series. Get it? It's like that match from nearly 20 years ago. How revolutionary! Finish aside this match was great. Zayn is a tremendously compelling babyface, even more so as an underdog fighting valiantly through an injury. Miz is a perfect smarmy arrogant cowardly heel. These two are the perfect foils for each other. The finish makes even less sense when you consider there won't be a return match. Zayn was screwed and now he just has to skulk back to the Raw midcard where he'll continue to meander with nothing to do. All that aside though, the work here was tremendous – as is to be expected from these two. ***3/4
Rich Kraetsch: The screwy finish will sadly overshadow what was a fantastic match. And the finish could work IF (and I use if liberally understanding they are on different brands and it's WWE) they follow it up. Zayn being screwed over and having to scratch and claw until he finally gets the title could be great, it's the Zayn template that has worked for so long. Let's hope they find a way to do it because these two have great chemistry and I think their feud could be as good or even better than Ziggler/Miz. ***3/4
Kelly Harrass: Man, Vince can't help himself, can he? It wouldn't be a Survivor Series in Canada if there wasn't some sort of call back to the Montreal Screwjob. Ugh. Setting aside the dumb finish, this is another match to add to Miz's credits for this year. Has Miz had a better in-ring year than 2016? I don't think so. This match was worked around Miz taking out Zayn's leg, which is smart for two reasons; it weakens Zayn's finisher and helps when Miz locks in the Figure Four. It's an incredibly logical way to structure the match and is the best possible strategy that Miz could have implemented. Zayn was great in here too, really selling the bum leg and being the underdog that you want to see beat the arrogant champion. While I would have much preferred a non-screwed finish, this was still a great match. ***½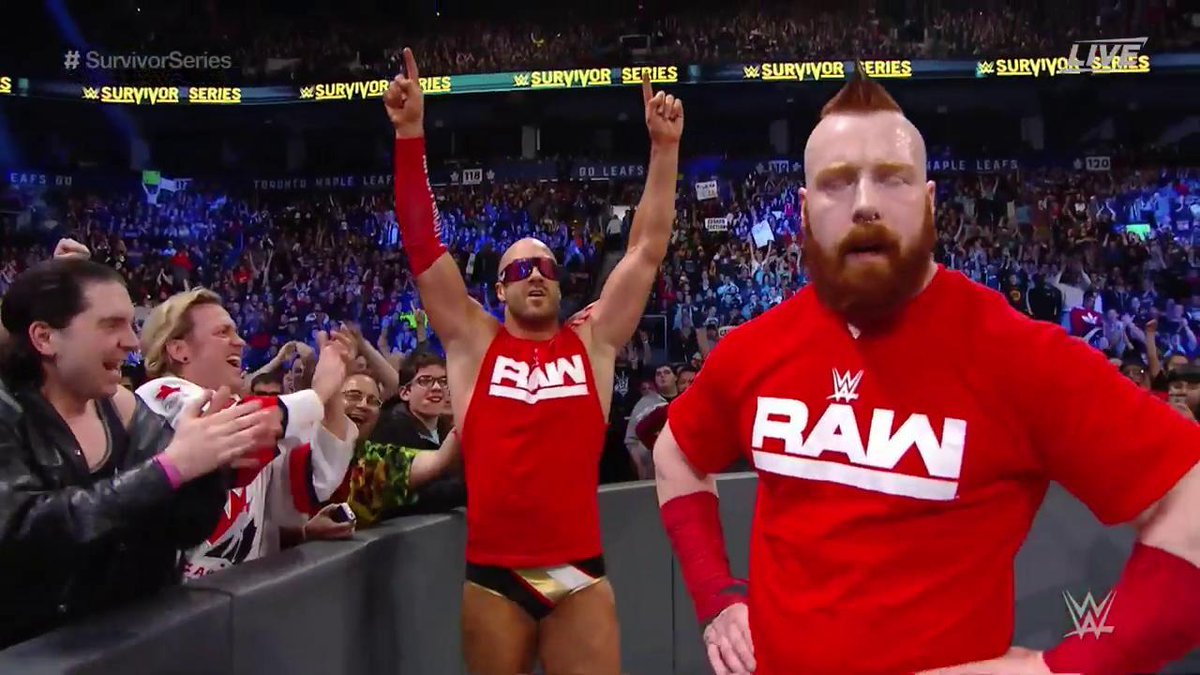 10-on-10 Survivor Series Tag Team Elimination Match
Team Raw (The New Day (Big E and/or Kofi Kingston and/or Xavier Woods), Sheamus and Cesaro, Luke Gallows and Karl Anderson, Enzo Amore and Big Cass and The Shining Stars (Primo and Epico)) def. Team SmackDown (Heath Slater and Rhyno, The Hype Bros (Zack Ryder and Mojo Rawley), American Alpha (Jason Jordan and Chad Gable), The Usos (Jimmy and Jey Uso) and Breezango (Tyler Breeze and Fandango))
Sean Sedor: Breezango being eliminated in the first minute of the match wasn't a real shocker, but The New Day being eliminated that early certainly was. This match had a few "eh" moments, but it had a lot of awesome elements as well. Basically, once teams started getting eliminated, and there were less bodies around the ring, the match got better and better. There was good action throughout, and the dive sequences midway through the match were very cool (especially from American Alpha & Heath Slater). The last sequence with Cesaro & Sheamus vs. The Usos was legitimately great. They could have given the match a little more time (especially on a four hour show), but the second half of the match was great and a number of teams came out of this looking good, so I can't really complain. ****
Garrett Kidney: There were a lot of human beings in this match. And naturally the less human beings in the match as it progressed the better it got. And then the match focused on the likes of The Usos, Cesaro and Sheamus and especially American Alpha and it got even better again. This ruled. This totally ruled. When the pieces came together we got magical, manic, glorious chaos and then the match settled down into a tremendous little Cesaro and Sheamus vs. Usos match to cap it all off. While American Alpha shined bright when in the spotlight here, make no mistake about it – Cesaro was the star of the match. Every time he's in these multi-man matches he always looks like one of the biggest stars in the world. The sequence where he totally ran wild on the Usos was utterly spectacular. He should be one of the most heavily featured acts in the company and yet it always feels like he's buried somewhere in the midcard. Gripes about how certain wrestlers in the match are pushed aside, this was perhaps one of the best Survivor Series elimination matches ever. ****
Rich Kraetsch: Woah boy. I can't believe I'm saying it but this match would've really benefitted from slowing down. These dudes packed a 45-minute match into less than 20. But hey, what we got was spectacular. Everyone busted their ass in this match with a ton of beautiful high-spots, awesome tag team saves and Cesaro working like an absolute madman from jump. Also, Gable & Jordan impressed with Gable in particular standing out. The last two teams—Usos and Sheamus & Cesaro—had an awesome micro match at the end with the former team finally showing some semblance of chemistry with Sheamus saving the victory for Cesaro. Again, I think this match would have been a bit better with some extra time between the crazy spots throughout but that's nit-picky. This ruled. ****
Kelly Harrass: For as miserably as this match started, it turned into something pretty great. Initially, this felt like every other bad elimination match, especially when the Raw team started to bicker among themselves. But then suddenly everything was ok and these men were trying their best to do an impression of a Dragon Gate elimination match, right down to the big dives onto giant piles of wrestlers. The action was fast and furious from this point forward. Cesaro, Sheamus, American Alpha, and the Usos all stood out by working their hardest. I never thought I needed a match between the Uso brothers and Cesaro and Sheamus, but here we are. The closing moments of this match were awesome and might be my single favorite performance from the Usos in their career. This could have used some more time, but I loved the breakneck pace that this had so I can't really complain. ****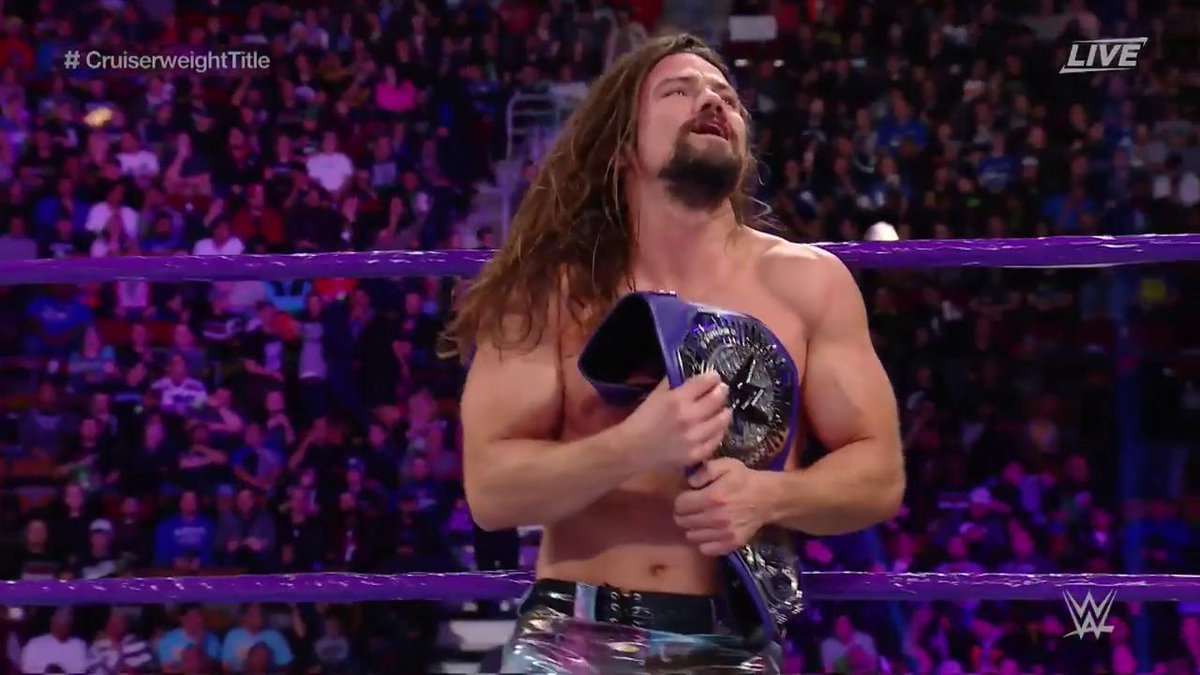 WWE Cruiserweight Championship
Brian Kendrick © def. Kalisto by DQ
Sean Sedor: This match was weird. The crowd seemed like it was quiet, but it's not like Brian Kendrick & Kalisto weren't trying. They were actually having a very solid match (despite a slow start), with some brutal spots (including a Spanish Fly from the apron to the floor and a Captain's Hook from the top rope), but then Baron Corbin runs in and attacks them both, because he apparently doesn't want anymore "little pests" like Kalisto on SmackDown. I was hoping that Kalisto would win so that the Cruiserweight Division would move to SmackDown, since the new "205 Live" show on the WWE Network is going to be taped on Tuesdays, but alas, that didn't come to pass. The Cruiserweight Division has been treated horribly since it came to RAW, and this is just another example of that. **3/4
Garrett Kidney: I'm not sure what I disliked more about this – the big guys shows up and flattens the puny weakling little guys trope or the fact that the anchor weighing down the Cruiserweight division that is Brian Kendrick is still champion. And you might say "But Gar, the match Brian Kendrick had with Kota Ibushi was great!" to which I would respond by saying Kota Ibushi has compelling matches with blow up dolls – everybody has great matches with Ibushi. The common denominator in all of these Cruiserweight matches bombing is Brian Kendrick not being very good. Kalisto brought all the energy and brought the crowd into the match here, Kendrick was grabbing headlocks. Kendrick, in spite of his experience, is from a style perspective (not nearly spectacular and eye catching enough) and from a presentation standpoint (Kendrick is too heavily associated with the past, a fresh new face would be better suited) to be the standard bearer of the division. And for as long as he is champion the division will continue to meander. Kalisto worked hard to overcome the fact that the crowd didn't care about this in the slightest and they were getting there until the interference. The Cruiserweight division is a mess right now. **3/4
Rich Kraetsch: Why does the Cruiserweight division exist? What are we even doing here? Why is WWE even trying if they aren't going to… try? Corbin interferes (ala Big Show destroying the entire WCW cruiserweight division at once) and beats up the two little guys. Before that the little guys had a match centered around side headlocks. Yeah, that's what Kendrick does best but what he does best is not what's best for this division, especially when the match prior saw the heavyweight tag teams busting out spectacular high spot after spectacular high spot. Yet, that seemed like a minor complaint after the finish. This sucked, this division sucks and the Cruiserweight Classic feels like years ago. Why are they even bothering anymore? Just make 205 Live its own self-contained universe and get on with it. **1/2
Kelly Harrass: Remember when we all thought that Kalisto was winning this? I guess we all made a mistake by not factoring… Baron Corbin into things? It's a weird ending to be sure, but it actually makes sense when you see that Corbin is punishing Smackdown for taking him off of their Survivor Series team. The match started off slowly, but picked up as it went on. The Spanish Fly off the apron looked brutal and the action after that was pretty great. It took too long to get to that point though. The slow pace of the opening minutes are a big reason why fans are having trouble connecting to the Cruiserweight Division following the CWC. By the time this match was over, I knew that I'd never think about it again. It had cool moments, but the slow opening and the interference filled ending really hurt this match. **½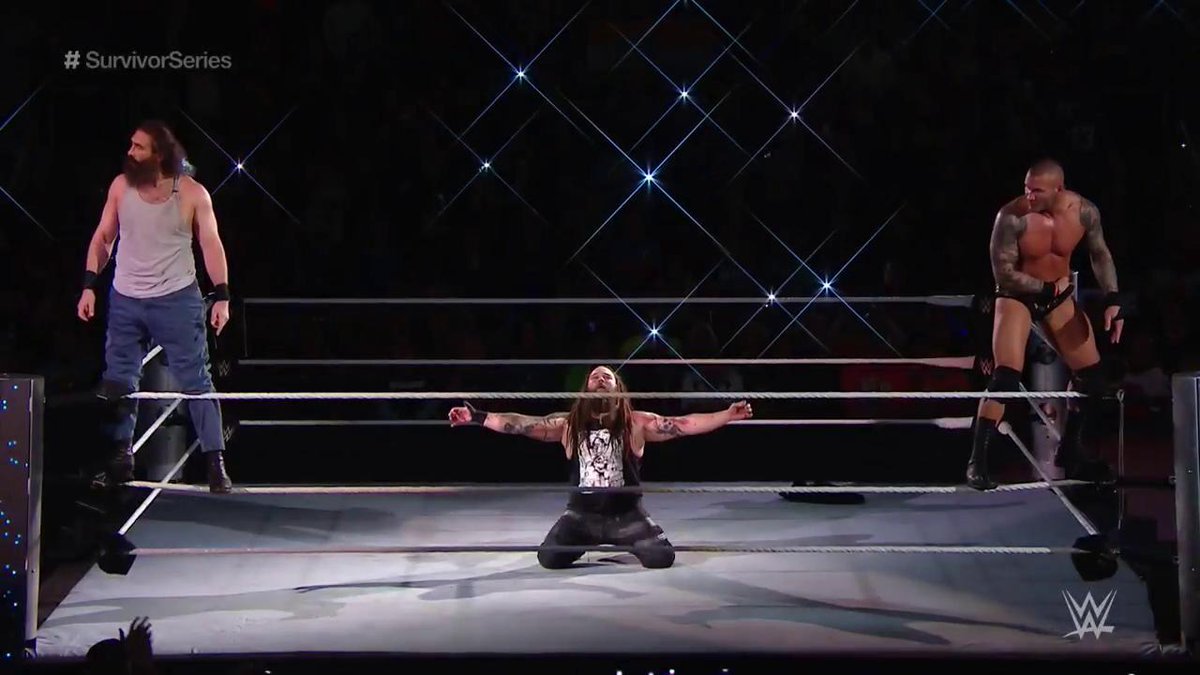 5-on-5 Survivor Series Elimination Match
Team Raw (Kevin Owens, Chris Jericho, Roman Reigns, Braun Strowman and Seth Rollins) vs. Team SmackDown (AJ Styles, Dean Ambrose, Bray Wyatt, Randy Orton and Shane McMahon)
Sean Sedor: This match was looooooooong, but it had a lot of notable highlights/talking points. You had Dean Ambrose getting eliminated first, Shane McMahon doing his requisite diving elbow drop through a table before he himself appeared to get hurt on a crazy spear from Roman Reigns, Braun Strowman killing James Ellsworth, Kevin Owens being eliminated via DQ, and a Shield reunion. Team SmackDown won, which isn't a total shocker, but I was surprised to see that Bray Wyatt & Randy Orton were the sole survivors. There were highlights for sure, but like I said earlier, this match was incredibly long, almost reaching the one hour mark (I think it fell a few minutes short). There are ways to make long elimination matches interesting. ROH has proven that in the past with their Champions vs. All-Stars matches (2013 & 2014 more so than 2015). At the end of the day, I think there was just too much storyline stuff packed into this match. Not only did it take away from the action, but it made the match feel a lot longer than it actually was. I need to take some Tylenol after watching that match. **3/4
Garrett Kidney: This was a very long match. And in it being very long that means there was multiple layers and a variety of stages to it. The opening period up until Strowman was eliminated was tremendous. Briskly paced, full of action and packed with engaging interactions and fun little character moments. After Strowman killed Ellsworth, the match simply grinded to a halt. It felt as if the air was slowly being let out of the match. Any sense of urgency disappeared. Then we had the absolutely comical sequence where 46 year old non-wrestler Shane McMahon made Rollins and Reigns look like buffoons and being sacrificed to the gods by a murderous Spear for his troubles. There were some lame DQ eliminations, an RKO out of nowhere, a contrived Shield reunion spot, and it all culminated in a trite "Can valiant beleaguered underdog Roman Reigns overcome the devious odds presented to him by the Wyatt Family?" finale. That's a lot of stuff in one match. Some of it was good, some of it was great, some of it amateurish, some absurd, some terrible, some head scratching with a teeny bit of the spectacular. This match was really a strange, very broad very long spectrum. I'm not even certain if the individual parts added up to less than the whole – all things considered maybe they added up to exactly what this match was. I almost feel as if this match was a puzzle to be solved. A Rubik's cube that instead of being all pleasant and colour coordinated, it was messy and jumbled about. The order is in there somewhere, maybe, but it was buried in a sea of chaos. I need to get a bunch of storyboards together and connect all the pieces of this match with string to make sense of it, like a detective obsessed with a case in some sort on crime drama. I dunno. ***
Rich Kraetsch: There are WWE "telling stories" matches then there was this elimination match. This never-ending slog had so many storyline twists and turns, in-fighting, cross-brand allegiances and, of course, Shane McMahon nearly dying from a brutal looking spear. Your thoughts on this match will likely depending on what you want out of your wrestling. If you like storyline-heavy, classic WWE/Vince McMahon storytelling, then you may like it. I didn't. I expected all of these talented dudes to get a 40+ minute platform to tell a story through their wrestling. That this was not. If you consider Survivor Series 1998 one of the greatest pay-per-views of all-time, you'll love this. I didn't, sorry. This was too long, too storyline-heavy and a huge waste of the talent in this match. *1/2
Kelly Harrass: I feel like I was born, raised to adulthood, died, and was born again all during the course of this match. Maybe it's still going and we're all trapped in a horrible time loop. Our lives are an eternity of anticipating the end of this match. As I watched my father fall asleep, I wondered why I wasn't playing the new Pokémon game instead of wasting my time with this. Men worked hard and sacrificed their bodies, but if no one cares, does it even matter? Nonsensical booking was the rock and our apathy was the hard place that these wrestlers were stuck between. This was an exercise in making sure that everyone looked strong, whether they won or not. Incredibly boring and longer than it ever needed to be, this match was everything that it shouldn't have been. The Shield reunion was cool though. *
---
---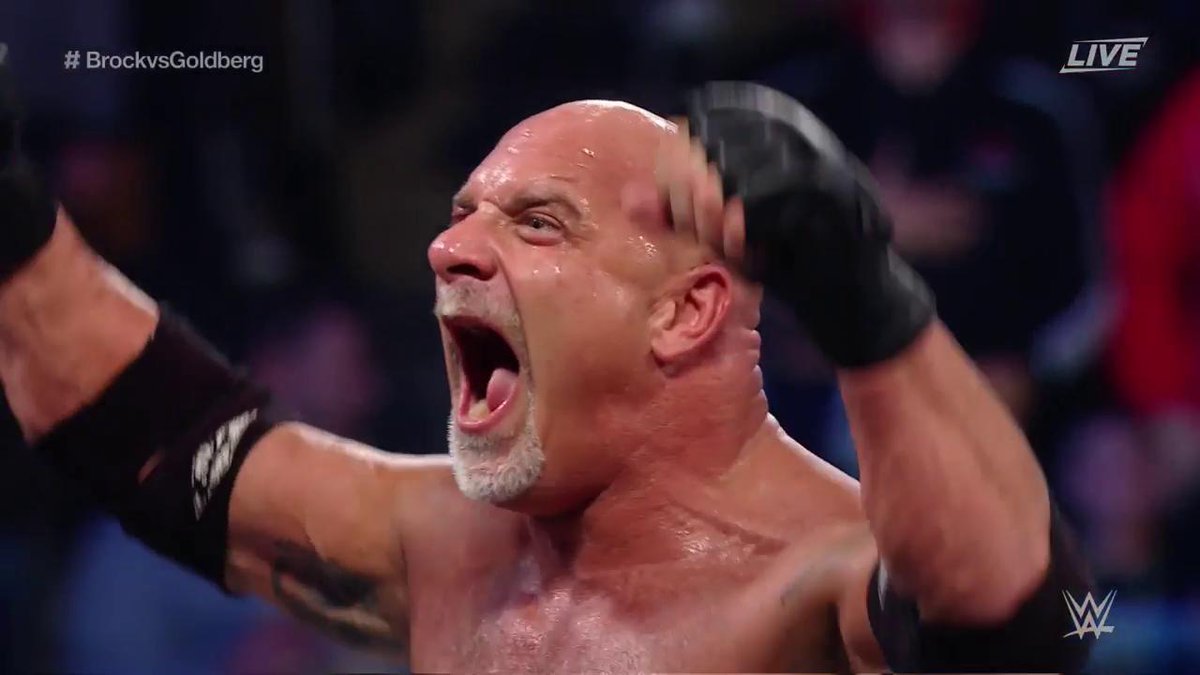 Brock Lesnar vs. Goldberg
Sean Sedor: That was absolutely hilarious!!! Goldberg just completely decimated Brock Lesnar in under ninety seconds. Two spears, a jackhammer, and that's all she wrote. What an absolute hoot!! As an actual match, this gets no rating, but as far as entertainment value is concerned, it gets ***** from me. Never change, WWE….never change. N/R
Garrett Kidney: CM Punk, one of WWE's biggest success stories of the last decade, wrestled Brock Lesnar at SummerSlam 2013 and lost. Roman Reigns, WWE's great big hope for the next generation, went toe to toe with Brock Lesnar at WrestleMania 31 and failed to conquer The Beast. Dean Ambrose, a man who at a number of stages over the last few years looked on the verge of really breaking through, was embarrassed and squashed by Lesnar at WrestleMania 32. Randy Orton, one of WWE's two biggest stars of the last fifteen years, was so utterly smashed by Lesnar at SummerSlam earlier this year that it shattered his credibility. Alberto Del Rio, Rusev, Sheamus, Kofi Kingston, and The Wyatt Family all battled Brock Lesnar on a variety of live events and WWE Network specials over the last four years – they all lost. The Streak – the most revered and valuable achievement in modern WWE, ended by Brock Lesnar. SummerSlam 2014 – Brock Lesnar annihilated John Cena, the biggest and most protected act WWE has going, so conclusively that it was legitimately shocking. So Brock Lesnar is given all those major accolades, all those young hungry talented wrestlers that were fed to Lesnar to establish his aura of invincibility. All of that was built up so a 49 year old relic of a bygone era that continues to haunt modern wrestling who may never wrestle again could saunter in and shatter all of that in seconds.
I don't even know what to say. That is a booking decision so destructive and so counterproductive that I can't even wrap my head around it. WWE has been drinking at the well of nostalgia to the long term detriment of the company and its immensely talented roster of performers ever since WrestleMania became predominantly about what combination of old part timers were going to fill the card five years ago. In the last five years WWE has neglected to promote younger wrestlers in positions that matter as the stars of yesteryear have hogged the spotlight. WCW died because their fixation on the Hulk Hogan's, Ric Flair's, Randy Savage's and Roddy Piper's of the world blinded them to the promise of Mick Foley, Eddie Guerrero, Steve Austin and many others. TNA is floundering because their obsession with the likes of Sting, Hulk Hogan, Kurt Angle, Kevin Nash and Booker T overshadowed the potential of AJ Styles, Samoa Joe, The Motor City Machine Guns and Beer Money. There is a pattern here. And considering what happened to WCW in the end it's only fitting that Bill Goldberg continues to perpetuate it. DUD. DOUBLE DUD. AS DUD AS DUD CAN BE.
Rich Kraetsch: So, my Diet Mountain Dew was obviously laced with something because I just saw the 50-year-old Goldberg, who hasn't wrestled in years, destroy and I mean absolutely destroy Brock Lesnar, who the WWE had just a few years ago break The Undertaker's streak. My trip saw Goldberg hit two spears and a jackhammer, pin Lesnar then bring his shirtless child into the ring to celebrate. NR
Kelly Harrass: I don't even know what to say. This was a disappointment and exactly what it needed to be at the same time. We didn't get the trainwreck we were expecting, but we got to see Goldberg's greatest hits. I said weeks ago that Goldberg would win this match because it was the choice that didn't make sense. Little did I know that the result would be even more insane than I expected. Goldberg killed Lesnar, the unstoppable fucking monster, in three moves. Two spears and a jackhammer. That's all it took for Goldberg to be able to celebrate his victory with his son. That shirtless boy will be written about in the history books as the cause of all of this. What an incredible moment. The match ended and I howled with laughter. Long live Goldberg. I would have left this as an unrated match, but I feel the need to give it a better rating than the previous match. *¼