It was mid August when I returned to my suburban New York hometown for the first time in several months. This was a business trip as I needed to complete work for an older client who rarely left the house he lived in. After finishing up, I realized I still had several hours before I was due back in the city and instead of heading back immediately, I chose to visit a few of my childhood haunts.
After eating at the same pizzeria I has eaten at almost every week as a kid, I walked next door to newsstand I always visited afterwards. Back in the 1980s, the entire length of the store contained a gigantic three-tiered rack of every magazine and newspaper you can think of. In 2016, only a third of that rack remained and those shelves left standing were sparsely filled. This wasn't surprising, but it was depressing nevertheless.
It was in this store and on those racks that my love of professional wrestling blossomed. After seeing my first WWF show on the local MSG Network as an 8- year-old only months before the first Wrestlemania, I spent the first year of my fandom consuming as much WWF as I could. Between the syndicated shows, Saturday Night's Main Event and the various cable programs, it was easy enough to gorge on WWF and WWF alone to satiate my wrestling appetite.
This changed in the summer of 1985 when I first discovered Pro Wrestling Illustrated. Thumbing through its pages was like having fallen in love with a single flavor of ice cream and then discovering that there were literally dozens of other options, each with their own distinct flavor. Names that I had never heard of like Ric Flair, the Von Erichs, Dusty Rhodes and others were being presented as equal if not superior to the Hulk Hogans and Andre the Giants of the world.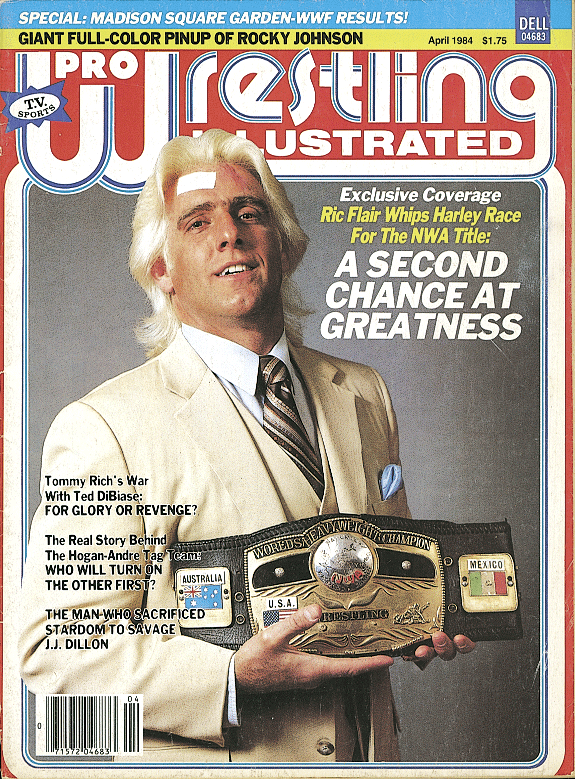 Soon thereafter, I discovered the other magazines in the London Publishing library including The Wrestler, Inside Wrestling and Sports Review Wrestling. Each magazine had it's own distinct features: a roll call of champions, a Thumbs Up/Thumbs Down column and even write-ups on potential dream matches. The constant throughout the magazines were the monthly ratings and the 'news' column written by Bill Apter.
Bill served as the public face of the magazines during the 1980s and appeared on various promotions' television shows. If the commentators didn't formally announce him, he would often be seen at ringside taking pictures. He also was featured regularly on Joe Pedicino's Pro Wrestling This Week television show, a short-term syndication hit which covered every territory and promotion in the Unites States during the late 1980s. Beyond outside promotions, Bill hosted one of the first mass marketed pro wrestling video tapes, Lords of the Ring: Superbouts, a compilation of 1980s wrestling matches from all over the United States with the notable exception of the WWF. There was no doubt that regardless of who was officially in charge, Apter was the face of the magazines.
I began visiting the newsstand weekly and by end of the decade, I had multiple milk crates full of the magazines. Even when I wasn't able to watch wrestling on television, the Apter mags kept my interest piqued with every issue. While away at summer camp each summer, I anxiously awaited packages with the latest issues and immersed myself in them as many of my bunkmates did in comic books and traditional sports magazines.
As the 90s began, being a wrestling fan was becoming less and less cool in mainstream America and in my hometown specifically. As I entered high school, almost no one I knew still followed the sport but me. With the steroid and sex scandals plaguing WWF, wrestling popularity rapidly shrunk everywhere. Everywhere but in the pages of the Apter mags. Unlike modern, "shoot" wrestling journalism, the outside world did not matter in the reality of these magazines. Beyond staying the course, London Publishing added a new weekly newsletter in the early 1990s which began to slowly move away from the strictly kayfabe format that they had employed. In 1991, the first PWI 500 appeared, a list that became an annual talking point amongst wrestling fans. Even today, the list and issue become an annual topic of conversation amongst wrestling fans (often for how ridiculous it is).
In 1994, I began my freshman year in college and wrestling took a back seat to other interests and concerns. I still kept up on what was going on, but wrestling magazines no longer served as my main resource. The internet became a fertile ground for pro wrestling fans through news sites, discussion forums and even online versions of popular newsletters. Wrestling started to heat up again and in short order, the Monday Night Wars completely changed how wrestling was watched and covered.
The Apter mags slowly began changing from straight kayfabed articles to discussions of things like ratings and contracts. Print media began its slow decline and wrestling magazines became one of the first victims. It made perfect sense — why spend time and money on magazine which had months old news when current content was available for free online?
Less than two months before graduating college, I attended the Raw the day after WrestleMania XIV. That night, the new DX was formed and Steve Austin solidified his role as the top star in the industry. A few months later, Bill Apter departed London Publishing and the era of the Apter Mags unofficially ended.
Apter continued to work in the wrestling industry after his departure and continues to be involved today. In an interesting twist, after years of being ignored by the then WWF, Apter and many of the photographs he took for Pro Wrestling Illustrated are  regularly featured in WWE DVD and Network documentaries. In 2015, he published his memoir sharing many tales from his time in the industry.
When thinking of non-wrestlers who have made the biggest impact on professional wrestling, it's very clear to me that Bill Apter is at the top of the list. He helped give news stars such as Lex Luger and Bam Bam Bigelow their first exposure on the national stage. His magazines made regional or local promotions come across as being at the same level as the biggest national ones. Pro Wrestling Illustrated and the other Apter mags memorialized the key moments in wrestling history through memorable photos and stories.
In last week's Wrestling Observer, Dave Meltzer discussed the criteria for the Wrestling Observer Hall of Fame. For a non-wrestler like Apter, the only criteria that is appropriate is their historical importance. As Dave describes it, a candidate would qualify if their historical impact was positive, meaning:
"In the sense the entire narrative history of the business would change without this person, and that narrative in the end would be overall positive." (Wrestling Observer Newsletter, October 10, 2016).
I believe this description fits Bill Apter perfectly. He has been a strong positive advocate for the business for over forty years. Through his work, many promotions outside the WWWF/WWF/WWE gained exposure to people and places that they never would have but for their appearances in the magazines.
On a personal level, my love of wrestling may have never blossomed beyond singular prism of the McMahon family's vision of pro wrestling. My visits to my local newsstand would most certainly not be as memorable.