TNA Bound for Glory 2016
Sunday, October 2
Impact Zone – Orlando, Florida
Watch: FITETV & PPV
TNA's Bound for Glory 2016 opened with Matt Hardy and King Maxel playing pianos as a lead-in to Hardy reading a bedtime story to Maxel featuring an animated cartoon juxtaposed with highlights on the build to Bound for Glory 2016.
This was as major league a presentation as TNA has had in some years. Some may find the animation hokey but it fit the tone of Bound for Glory 2016, "Broken" Matt Hardy and TNA's current creative structure perfectly.
TNA X Division Championship
DJ Z © def. Trevor Lee
The key to any long show or PPV is starting the night off with something exciting. TNA made a great call not only having the X Division Championship match start off the night but putting two experienced, top of the line workers in DJ Z and Trevor Lee in that spot. Another feather in TNA's cap: this wasn't overly crazy, there wasn't 7 guys flying around the ring, it was a simple, well-paced, well thought out, well worked one-on-one match. Simplicity is often the best choice.
What makes both Z and Lee so great—both have had fantastic years on the indies and in TNA—is knowing when to bust out the big moves and when to lull the crowd into the moment. Where you thought an X Division opener would be crazy madness throughout, this was instead worked at a slower but much more poignant pace with Lee and DJ Z choosing to pick their spots. This made a beautiful tope (where Z landed on his feet with hands on the top rail) seem all that more special versus just being another dive to the outside.
The final stretch of the match saw a tremendous sense of urgency from both. DJ Z looked to have the match in hand after a sick reverse hurricanrana but Lee came back at him with a deadlift German. DJ Z looked to finally put Lee away with the ZDT but Lee turned it into a double stomp for another 2.9 near fall. Finally, as the Carolina Caveman was arguing with the referee, DJ Z hit the ZDT and picked up the win. ***½
Drew Galloway was backstage officially announcing that he was not cleared to compete in the Grand Championship finales against Aaron Rex. Galloway referenced Billy Corgan a few times mentioning that if the Smashing Pumpkins were about to go on a big tour no doctor would keep Corgan away but doctors are keeping him off this PPV. Galloway also said "the reason Corgan is buying this company is because he gets Drew Galloway." KAYFABE, BROTHER! Galloway finished by letting everyone know that he's still after the Grand Championship and whoever wins it later tonight isn't the real champ until they go through him.
This was good stuff from Galloway who has become one of the preeminent promos in wrestling.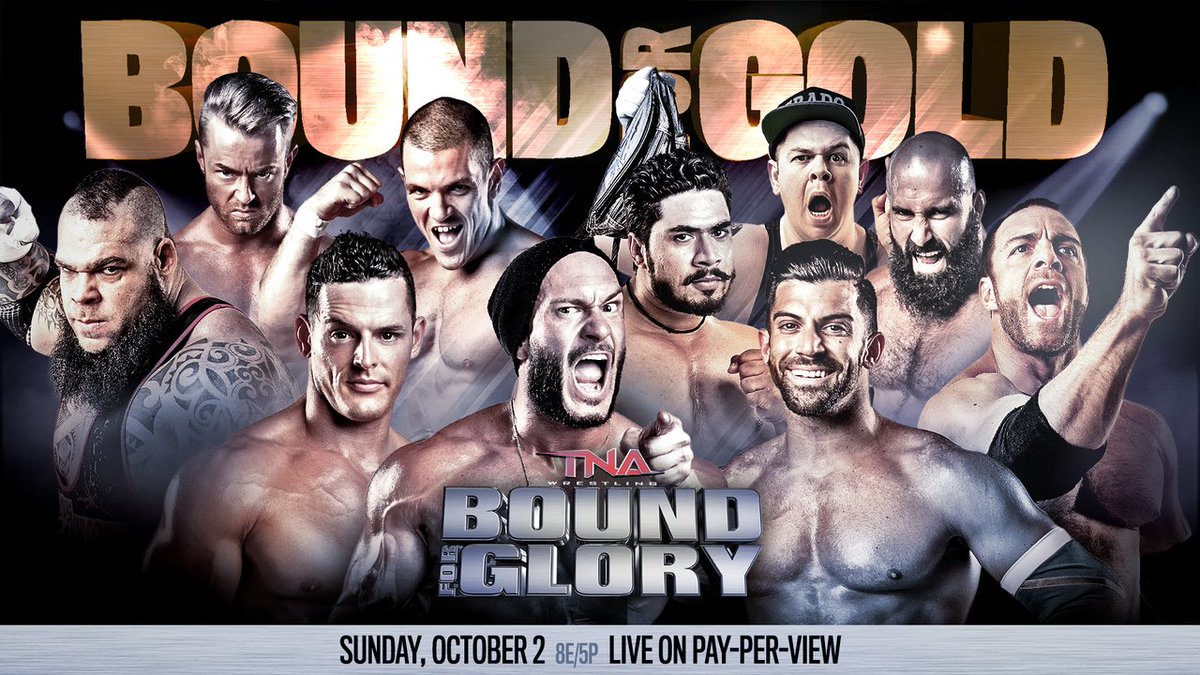 10-Man Bound for Gold Gauntlet Match
Eli Drake Def. Jessie Godderz, Rockstar Spud, Braxton Sutter, Robbie E., Baron Dax, Grado, Basile Baraka, Tyrus, Mahabali Shera
The Bound for Gold Gauntlet is essentially a Royal Rumble with participants going over the top rope to be eliminated. There wasn't much here other than exposing the frightening lack of talent depth on the TNA roster. When Baron Dax and Basile Baraka make up 20% of your "get everyone on the card" match, you have a problem.
TNA made the most of it though as this match never took itself too seriously. The highlight for me was Grado in the Bushwackers Luke role strutting to the ring, immediately being tossed to the outside and jiving to the back with his music still playing. Otherwise this was a nothing match with the goal to simply put Eli Drake over. Drake can now book himself in future match for whichever championship he desires. *½
Moose def. "The Miracle" Mike Bennett
You know, Mike Bennett really missed his calling. Had "The Miracle" been born 20 years earlier, he would've fit right in traveling the country with the New York territory putting in pedestrian efforts on each house show loop. Unfortunately, he's wrestling in 2016 and these types of low-effort performances stick out like sore thumbs. Look, I didn't expect this to be great and I didn't want the guys throwing bombs back and forth but at no point was there any juice to this match. Moose is someone who still hasn't figured out the finer points of crowd heat and match structure and needs a ring technician to make the most of every opportunity. Bennett seemingly was on that path as the beginning of the match saw him controlling the crowd, working over body parts and neutralizing the offense of Moose. Then Moose simply hit a few moves and it was over. For a feud that had actually been built well, this seemed anti-climatic and devoid of any emotion. Both men were equal parts uninspiring here but I put more of this on Bennett who should be a ring general at this point but doesn't seem interested in doing more than the bare minimum.
An aside, the highlight of this match was The Pope who at the commentary booth referred to Mike Bennett as both Mike "Miracle" The Bennett Guy and "Miracle" The Mike Bennett. I haven't figure out just yet which of those two I like better and demand become Bennett's official ring name. Get back to me in a week.
Pope also referred to the collection of high-school aged individuals that came to the ring with Moose as a football "gang." Yes, The Pope's word for a collection of like-aged individuals who play football together as a gang… not a team. **

Impact Grand Championship
Aron Rex def. Eddie Edwards
Eddie Edwards is filling in for tournament finalist Drew Galloway who earlier in the night announced he was not medically cleared. Edwards lost to Galloway in the semifinals after going to a decision so it made sense for him to take this spot.
For those unaware, the Impact Grand Championship was created to replace the "somehow this is still around but why" TNA King of the Mountain Championship. In a move I really like, the Grand Championship and the new Grand Championship divisions takes on different rules than the rest of TNA's titles:
Three 3 minute rounds, with championship matches going 5 minutes
10 point must system
3 judges
Judging categories: Physicality, aggressiveness, controlling the action
Wins can happen anytime via pin or submission
If there is no winner after three rounds, a winner is decided by judge's decision
Much like the former Ring of Honor Pure Championship adding a title with varied rules allows for different flavor throughout a show. Sure, the rules are a little convoluted and they may wear out their welcome but I like TNA taking the chance and trying to do something unique. This division also gives workers a chance to show their versatility as they adapt to new rules and new match structures.
…That's the last nice thing I'll say about this match or the title. This match stunk. A lifeless, meaningless back and forth that seemed more focused on how to get to the eventual draw/judge's decision than adding any sort of drama. Basically midway through Round 3 everyone knew where this match was going. Nearfalls were done to no noise and even Josh Matthews and The Pope struggled to properly express any sense of urgency. Round 1 was scored 30-27 in favor of Edwards, midway through Round 2 the lights faded and TNA production had to quickly find a spotlight to show the action in the ring.
The Impact Zone crowd busted out a  "Pay your light bill" chant, oh little do they know…
I put down the match overall but all the credit in the world Eddie and Aron who didn't change a thing and worked through the technical difficulties like pros. Avoiding a prolonged chinlock sequence while everyone waited for the lights to come back on, the two stuck with their original match, spotlights or not. In a fun visual, the lights finally came back on to a huge ovation just as Edwards came off the top rope.
Round 2 went to Aron Rex 30-27 and for those scoring at home, we're DEAD EVEN going into the 3rd and Final Round — it's amazing how wrestling has a way of working out perfectly like this. Every. Single. Time.
Round 3 as mentioned was lifeless and devoid of urgency or drama. I love the Grand Championship concept and it can work but this was a huge miss for the first title win. **1/4
Gail Kim was inducted into the TNA Hall of Fame. She is the first female entrant and as deserving as anyone in TNA history of the honor. Kim has not only been a constant (outside of a brief, tenuous return to WWE) in the Knockouts division since day one and has produced some of TNA's greatest matches — regardless of gender. The ceremony saw Dixie Carter, a very-pregnant Taryn Terrell as well as Amazing Kong and her fresh haircut all come out to say a few words about Gail. They also played a very well done video package about Gail's career in the company and how important she was to the division and TNA as a whole. This was a super professional presentation, very different from previous TNA Hall of Fame inductions including the hilarious Team 3D/Rent out a Holiday Inn Express Conference Room and Invite 15 People induction we saw some years ago.
TNA World Tag Team Championship – The Great War
The Hardyz def. Decay ©
The Broken Matt Hardy saga started as a laughing stock and another entry for the LOLTNA Wiki but in just a few short months, the angle and gimmick has become one of, if not, the shining light of TNA in 2016.
Matt, now fully aligned with his brother Jeff, has taken TNA by storm and on this night, he and his brother took another step in that direction winning the TNA World Tag Team Titles.
The match, dubbed The Great War, was a plunder brawl throughout not only the arena but the greater Orlando area. The unique production saw half the match wrestled in front of the live crowd with the other half recorded days prior to give it a more cinematic feel akin to the "Broken" Matt Hardy videos. The prior day scenes featured among other things, Matt Hardy and Abyss brawling outside of a Ferris Wheel and the Universal Studios sign, backstage interactions between Jeff Hardy, his fast-talking alter ego Itchweeed and the returning Willow as well as literal pumpkins being smashed.
This was good fun but went far too long for my tastes. Clocking in at a little over 20 minutes, it was hard to keep your interest level for what amounted to nothing more than a backstage segment for that long. Your thoughts on this match will depending heavily on how much you enjoy the "Broken" Matt Hardy production-heavy videos. If you're a huge fan, you'll find this to be one of your favorite matches of the night. If not, you may get bored as I did.
Regardless of your macro opinion, The Great War was great fun and certainly a unique diversion. ***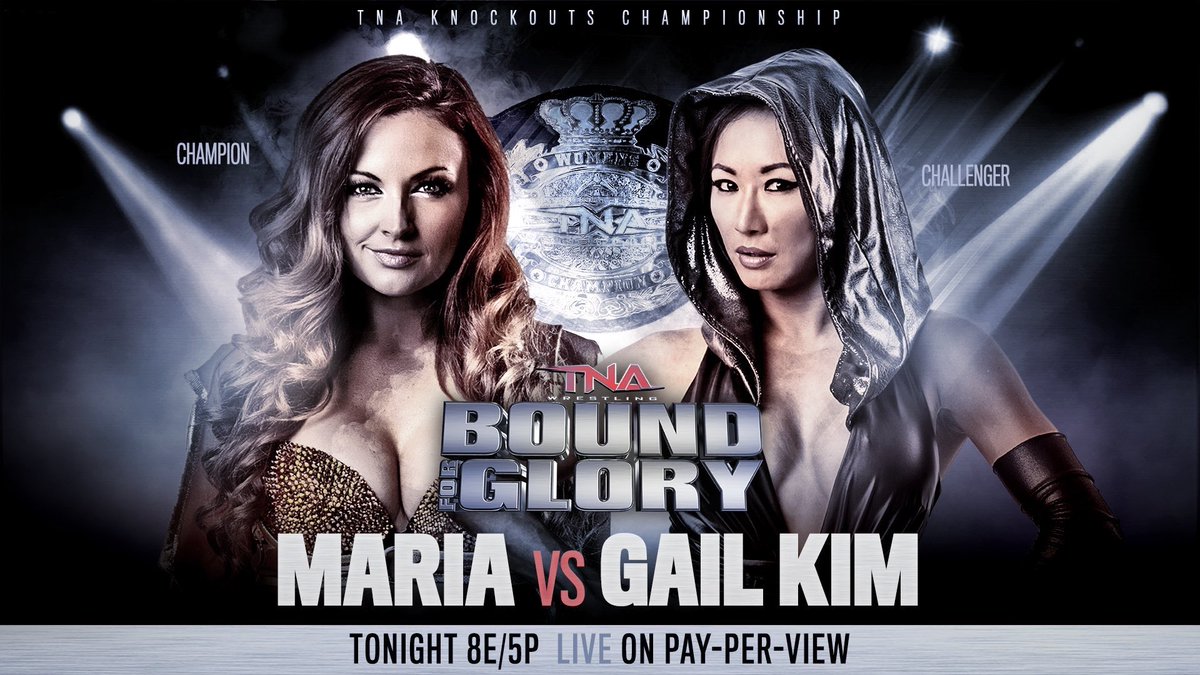 Knockouts Championship
Gail Kim def. Maria (c)
Earlier in the night, TNA honored Gail Kim by recalling some of her greatest moments and matches. This will not join that list anytime soon. The story of the match was Maria attempting to duck out via doctor's note yet again but her assistant Allie being too dumb and revealing that Maria was cleared by the doctors. Mike Bennett (ugh) also interfered, Allie screwed up again and threw Maria's hand brace to Gail instead of Maria, I'm falling asleep just describing this.
Mercifully, Gail hit Eat Defeat to win her 6th Knockouts Championship. DUD
After the match, Bennett (ugh) grabbed the mic and claimed he was shutting Bound for Glory down. Just as Bennett finished speaking the lights dimmed (for realizes this time) as Cody and Brandi Rhodes appeared on the ramp. After a brief staredown, the two couples brawled with Cody and Brandi getting the upper hand.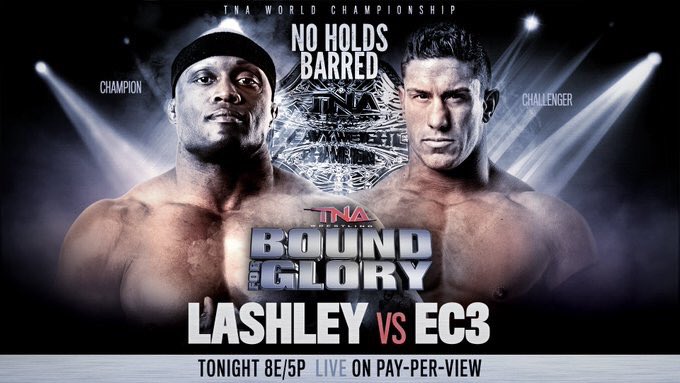 TNA World Heavyweight Championship – No Holds Barred
Bobby Lashley © def. EC3
Bobby Lashley is not only the best champion in wrestling today, he may be one of the best heels in wrestling right now. Everything this man has done lately is gold and this match was no exception. The build to this match had all the makings of EC3 taking Lashley to his absolute limit but the big man prevailing in the end. What occurred was a prolonged beatdown by Lashley with EC3 showing some minor spurts of momentum, usually curtailed by a huge Lashley power move.
Here's an example of how great this man is right now: during the opening introductions Lashley speared EC3 out of his boots. EC3 fell to the outside and Lashley grabbed the darting Jeremy Borash and demanded he still give him a ring introduction. Great man or greatest man? Lashley is the best.
I can see quite a few people being disappointed by this main event. As stated in the lede of this match review, the build made it feel like this would be an epic, all-time great, back and forth match… it wasn't that at all. This never hit that next gear and anyone looking for more than another example of the domination of Lashley will find this match sorely lacking. If you're fine with the continued dominance of big, bully heel champion Bobby Lashley, you'll like this, even if it failed to ever reach epic status. ***1/2
Final Thoughts:
TNA's Bound for Glory 2016 wasn't a spectacular show but given the multitude of turmoil behind the scenes in the week leading up, BFG was a monumental success and an easy-to-consume, fun show all around.