TNA Bound For Glory 2016
Impact Zone
Soundstage 20, Universal Studios
October 2, 2016
Watch: Fite TV/PPV
Comparing this year's Bound For Glory to its previous two incarnations reveals just how much better TNA has been from a creative standpoint for much of 2016.
In 2014, TNA essentially forwent promoting a major show, instead opting for a hastily assembled co-promoted card with Wrestle-1 in Japan. While seeing a TNA show emanate from Korakuen Hall was a treat and that show did feature extremely enjoyable TJP/Minoru Tanaka and Samoa Joe/Low Ki/Kaz Hayashi matches it was hardly befitting the label "biggest event of the year."
Last year, Global Force Wrestling (remember them) vacuumed up the television real estate in the summer months resulting in a haphazardly constructed, poorly promoted Bound For Glory card.
In 2016, however TNA are presenting a card where each of the key matches has a clear story.
Rather than building off a week or two of conflict, many of these matches have disputed that trace back for months. The instability of the television product that plagued the last two years has disappeared. Talent turnover has more or less stopped allowing TNA to take stock of what they have and carefully plan for the year ahead.
Yes, Kurt Angle and Bobby Roode and Austin Aries were gone, but they still had the likes of EC3, Drew Galloway, Lashley and DJZ to build up. The signings of Mike Bennett, Moose, Aron Rex and Cody Rhodes gave the impression of a company on the up. A company experiencing something of a creative renaissance. Characters are dynamic and well defined. Stories are clear and engaging. While you could occasionally accuse Impact of being a little dry, you could very rarely accuse it of being anything less than entertaining.
However in my earnestness to give TNA the credit it's due on the creative side of things, I've rather buried the lede here.
The story of the company's financial strife has been simmering below the surface all year with total catastrophe being averted a number of times as the company sought to claw together the money to fund television tapings. That is the case once more with the added wrinkle of majority shareholder Dixie Carter actively seeking to sell the company, with a number of different parties at the negotiating table. As a result whether or not this Sunday's event and the subsequent television tapings go ahead is in some doubt. How all this plays out still remains to be seen. For the purpose of this preview though, I'll be writing under the assumption that it will business as usual simply because trying to preview this show any other way would be fruitless. TNA's fate is rather uncertain right now, by the time we reach when Bound For Glory should be on the air things should be a lot clearer. For better or for worse.
"The Miracle" Mike Bennett vs. Moose
The story of this one is fairly straightforward. Bennett brought Moose into TNA as his hired heavy. Moose anticipated a more mutually beneficial relationship. When it became clear that Bennett was willing to step on Moose to get what he wanted Moose had enough. The most interesting thing going into this match is how both Moose and Bennett relate to other wrestlers. TNA has made no secret of building toward Lashley vs. Moose so a Moose win seems like the best course of action. However with the impending arrival of Cody Rhodes and the high likelihood that he'll be working with Mike Bennett, a case could be made that it makes sense to keep Bennett strong. At the end of the day though Moose is the better prospect for the company and Bennett is the kind of heel that can easily absorb a loss so Moose winning is for the best. Moose throwing Bennett around should be good fun. This may be the place they choose to introduce Rhodes, with Bennett throwing a post-loss tantrum and Rhodes showing him up. Prediction: Moose
Bound For Gold Gauntlet Match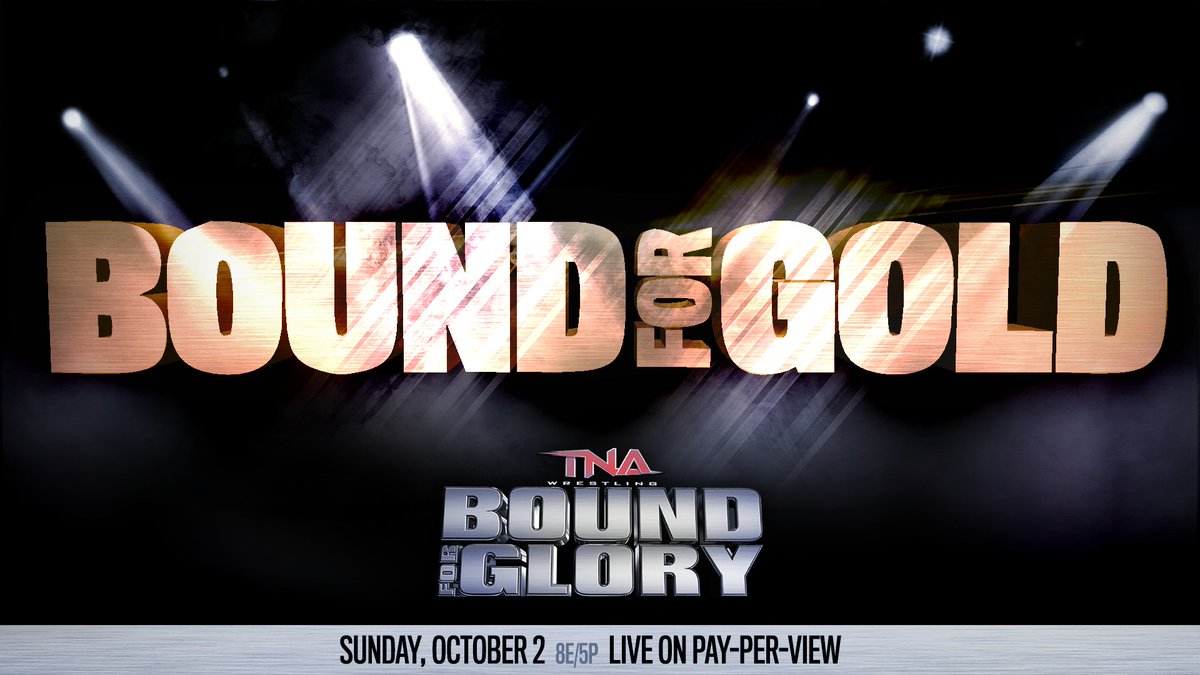 One year ago at Bound For Glory TNA unleashed this monstrosity on the world. A contender for worst match of the year in 2015, TNA inexplicably threw time at it resulting in it single handed lay derailing last years show by utterly deflating the crowd. This year's line up doesn't exactly inspire a great deal of confidence that history won't repeat itself. Nearly every other match on this show would be better served having time thrown at it. Don't waste it here. I'm honestly not sure who should even win here. Tyrus won last year and would otherwise have been favourite. With the potential of an EC3 title reign, maybe a Spud feud would be neat. So let's go with that. Eli Drake is probably more likely though. Prediction: Rockstar Spud
TNA World Tag Team Championships
Decay (Abyss and Crazy Steve w/ Rosemary) © vs. The Broken Hardys (Broken Matt Hardy and Brother Nero)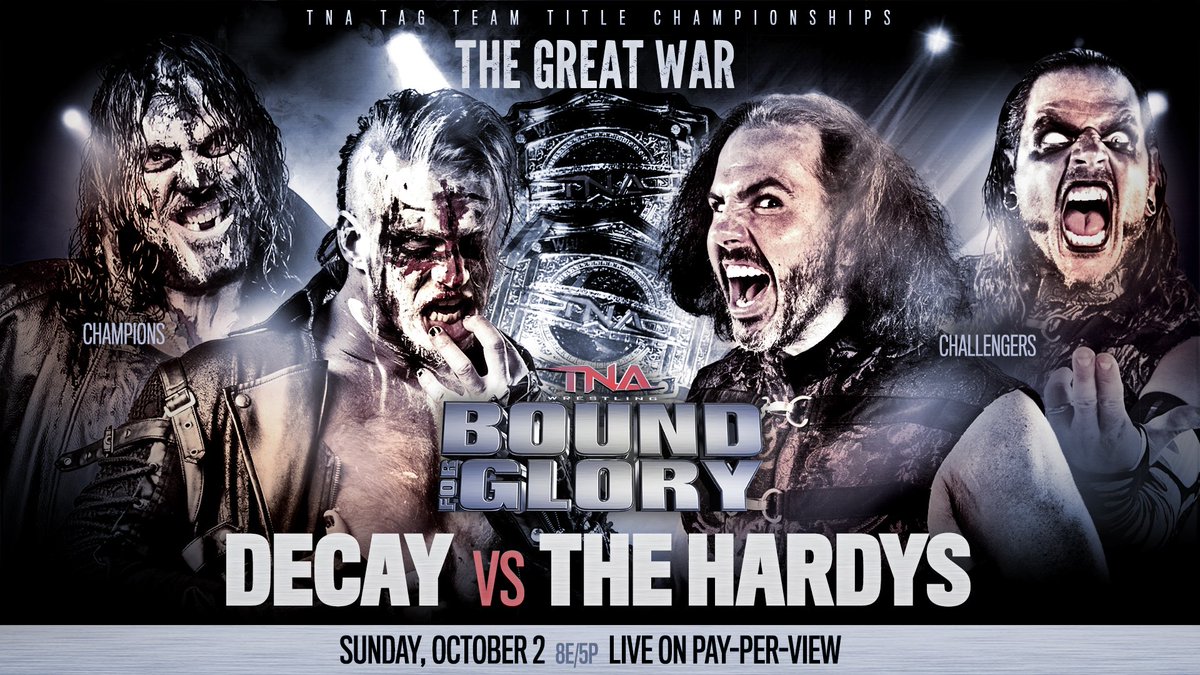 So what is The Great War you ask? Honestly I don't really know. The only thing we know is that the battlefield will be the whole world. Not that that clarifies all that much. It feels like TNA plans to continue to pursue the Broken Matt Hardy act and I'm not a great fan of that. They have told a tremendous story and the natural payoff seems to be The Hardys reclaiming the same titles that having to vacate set them on this strange and bizarre path in the first place. While it's understandable to feel the need to milk a good thing for everything it's worth, I feel the smarter approach is to put a cap on this superb story and then break the Broken Hardys out once a year when the situation calls for it and when it'll actually mean something. Regardless of whether this is the end of the Broken Hardys or not, they should certainly win the titles here and plunder should abound. Fun fact: Eleven years ago Abyss and Jeff Hardy also faced off at Bound For Glory, in Monsters Ball on that occasion. That is also when Jeff Hardy jumped off of the Impact Zone. So it would appear those two are destined to do this forever. Prediction: The Hardys
TNA Knockouts Championship
Maria Kanellis-Bennett © vs. Gail Kim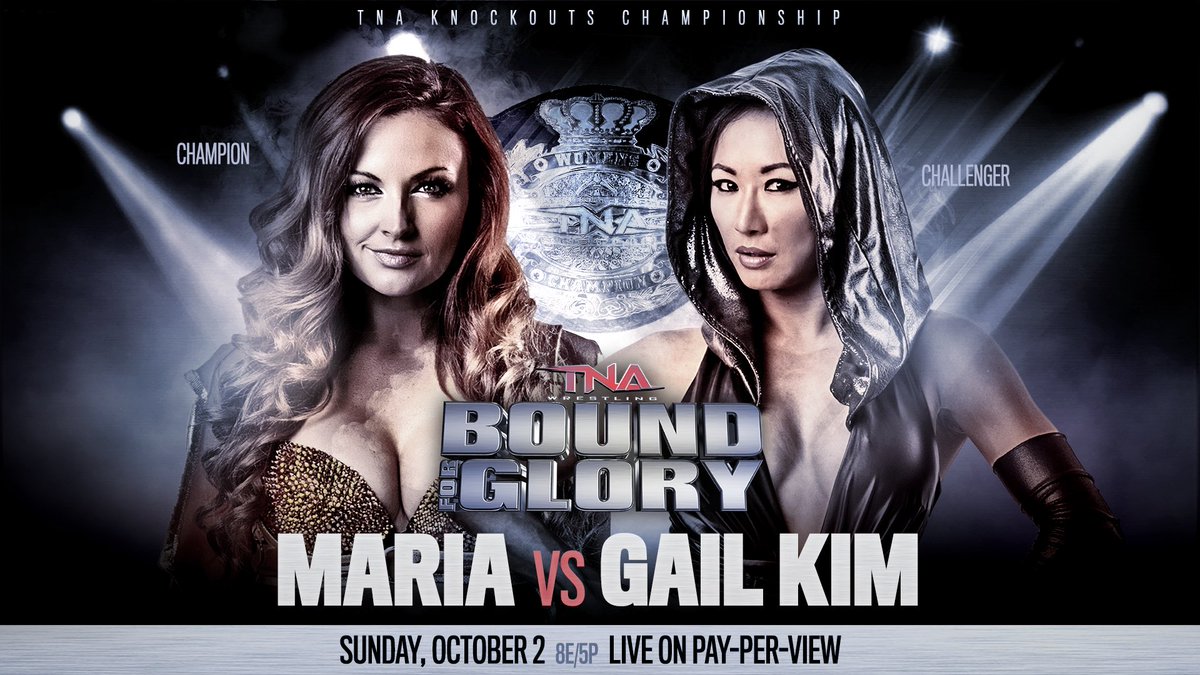 If I were lazy I could simply cut and paste what I wrote for the Slammiversary preview again here. Much of it still applies. That match didn't happen then because Maria broke her hand, so TNA felt it best to hold it off until here. The wildcard at play this time is Allie. Having been constantly undermine and berated by Maria and after having her title stolen, this would be the perfect time for Allie to finally stand up to Maria. They could do a work around with Allie accidentally costing Maria the belt, but that would feel like a cheat. Allie needs to stand as her own character. If the match plays to both Maria and Kim's respective strengths it could work, hopefully they're not overly bogged down with extra shenanigans. Hopefully once this is done and dusted Maria is done with the Knockouts division. Her authority figure has already outstayed it's welcome. Prediction: Gail Kim
Impact Grand Championship
Drew Galloway vs. Aron Rex
This is the biggest test for Rex to date, for him to prove his worth outside of a guy who built up a cult following in WWE and was never allowed to fulfill his true potential. Working with Drew Galloway on PPV should be a sure fire hit every time. It will be interesting to see whether title matches under the Impact Grand Championship rules alter the format to either three five minute rounds or five three minute rounds, giving matches a chance to be more ambitious and feel more epic. While Rex shouldn't be losing this early in his TNA run, Galloway is the perfect choice to carry this new division. His style and sense of credibility will elevate the new title instantly. A match that goes the distance with Galloway snatching it on the judges decision would be ideal to protect Rex from taking a pin while having Galloway win the title. Just avoid going down the "controversial decision" route. That is a valuable tool in a division like this but certainly not one that should be deployed in a match crowning the first ever champion. This is Rex's chance to prove he's on an elite level. Prediction: Drew Galloway
Editor's Note: Drew Galloway has been pulled from this match due to injury, replaced by Eddie Edwards. Garrett's new pick to win the match is Aron Rex. -JL
TNA World Heavyweight Championship
No Holds Barred
Bobby Lashley © vs. Ethan Carter III

March 8th, 2016. That's when TNA began their slow build toward EC3 vs. Bobby Lashley. Lashley beat Angle and started Spearing him to death. EC3 made the save. And from there two men's parallel paths turned inward. Lashley vs. EC3 was less an if and more a when. It is rare in modern wrestling for a company to make their plans so clear and so patiently stick to them. EC3 and Lashley had a handful more confrontations on that path before they finally come face to face at Bound For Glory. TNA has done an excellent job defining and building up these two as strong characters. The question is who should win. The obvious answer is EC3, he may the closest thing the company has to a break out babyface and its worth really trying to make EC3 work in that role. That is a shame though because Lashley has been absolutely tremendous as champion and it feels as if he could really do with a prolonged title run. But having two good things and deciding who to go with is a luxury few wrestling companies can usually afford, and it's one that exists because of just how smart TNA's booking has been this year. Prediction: EC3