New Japan Pro Wrestling
Destruction in Kobe 2016
September 25, 2016
Kobe World Memorial Hall
Watch: NJPW World
Meet our previewers:
Dylan Noah:

That one Brother Yasshi fan away trying desperately to fix his sleep schedule so he can catch Uxie once and for all. Writes for DDT, the promotion he is the most passionate against. Saw Shinobu dressed as a Brahman and almost died. Follow him on Twitter (

@jimmysusumu

) for similar deaths.

Matt MacLean:

 VOW's sole(?) representative from the Great White North can be followed on

Twitter

for random lukewarm takes.

JoJo Remy:

Currently enjoying wrestling and life in Tokyo.

Tweeting

about New Japan, Dragon Gate or National League (mostly Miami) baseball.
Chaos (Beretta, Rocky Romero and Will Ospreay) vs. David Finlay, Henare and Hirai Kawato
Dylan Noah: Roppongi Vice is a fun tag team and their plus one in this event sure is something. But the exciting part of this match is the Young Lions, Henare and Kawato, getting some time in the ring. Rocky Romero is one of the veterans in New Japan who works incredibly well with younger talent and he's had some really fun chemistry with Finlay in the past. I'm always up for seeing what the younger guys can do when they get a chance. Prediction: Roppongi Vice +1
Matt MacLean: The Young Lions getting a little face time is probably the only bright side to Shibata's neck injury, as that caused a minor reshuffling that has given them some chances.  CHAOS is obviously getting the win here, and Kawato is obviously taking the pin.  Should be a fun opener with Ospreay doing something he probably should save for a bigger stage, but we will all be happy he doesn't. Prediction: CHAOS
JoJo Remy: This should be a fun matchup: the CHAOS gaijin junior trio against Finlay and two young lions. I always look forward to Finlay/Rocky interactions since their great opening-night BOSJ match on 5/21. Kawato should take the loss for his team. Prediction: CHAOS
Bullet Club (Chase Owens and Yujiro Takahashi) vs. Hunter Club (Captain New Japan and Yoshitatsu)
Dylan Noah: Yujiro Takahashi has somehow grown into all kinds of handsome and now Gedo is personally punishing me for enjoying that by pairing him with Owens, who continues to really just be that one guy in the room doing things. Like I said last time, Milano putting him over might end up being the highest honor of his New Japan career. Hunter Club is probably going to break up because there's no way CNJ won that fan vote, which is some bullshit, because CNJ deserves better than this. I don't know where you go with Yoshitatsu from here, though. Prediction: Bullet Club
---
---
Matt MacLean: I ….like Owens and Takahashi together?  Makes me feel dirty to admit that, but they are nice & greasy prelim tag tandem.  The real story here is that this should be the final night of the Bullet Hunter Club.  Yoshitatsu should unveil the results of his Twitter poll, and CNJ is going to be down one friend.  I am legitimately curious about where this goes – Yoshi turn, Captain Bullet Club, an unmasking, something even more ridiculous? Prediction: Bullet Club
JoJo Remy: Chase Owens has grown on me quite a bit since he started in New Japan. Unfortunately, the rest of this one's not for me. The post-match will probably be more entertaining than the match itself. Prediction: Bullet Club
Hiroyoshi Tenzan, Teruaki Kanemitsu and Tiger Mask vs. Ryusuke Taguchi, Togi Makabe and Tomoaki Honma
Dylan Noah: Tenzan is here without Kojima, breaking my heart a little in the process because their tag team means the world to me. But Kanemitsu is here, and so is Tiger Mask, so I'm assuming this is all about father-son bonding time. They're up against Ryusuke Taguchi, one of my favorite wrestlers in New Japan, and Great Bash Heel, who are definitely not even close to the bottom of the list. This is unfortunate, because the Young Lion is on the side I want to win. Prediction: Taguchi & Friends
Matt MacLean: The six man's in Hiroshima were mostly pretty fun, so let's hope this keeps that trend going.  Kanemitsu is clearly taking the loss here, likely with Honma continuing his mild rehabilitation on the lower card by getting another pin. Prediction: Taguchi, Makabe, Honma
JoJo Remy: This will be inoffensive, but probably not much more. Kanemitsu will take the loss here, but it's good to see him somewhere other than Shinjuku FACE. Prediction: Ryusuke Taguchi, Togi Makabe and Tomoaki Honma

Manabu Nakanishi and Yuji Nagata vs. reDRagon (Bobby Fish and Kyle O'Reilly)
Dylan Noah: I get burned in one tag match and rewarded in another because Nakanishi and Nagata are here together again, and it's a real, actual tag team match against reDRagon, which I love. Nagata should have a ton of fun with these two while Nakanishi continues to somehow look better than he's looked in years with a little newfound skip to his step. I really want to see Nagata and Kyle head-on, obviously, because they're the better two members of their teams and their styles align in such a way that it should be a great time. Prediction: reDRagon
Matt MacLean: The two junior teams failed against heavyweight teams in Hiroshima.  reDRagon will succeed here.  New Japan has clearly loved Fish and O'Reilly since they debuted, and it seems like them being the first junior team to break through makes sense.  O'Reilly pinning former NEVER champion Nagata as he begins his quest for a shot at Shibata would certainly make sense. Prediction: reDRagon
JoJo Remy: Match #2 wasn't for me, but this one certainly is. This match was originally one of my most anticipated of the tour, but it lost Shibata to injury. It'll probably end up being fun, but losing "The Wrestler" significantly diminishes this match's potential. I'm looking forward to seeing how O'Reilly matches up with Nagata in a traditional 2-on-2 tag setting. Excited to see how this one ends, too. Prediction: reDRagon
NEVER Openweight 6-Man Tag Team Championship
Matt Sydal, Ricochet and Satoshi Kojima (c) vs. Bullet Club (Adam Cole, Matt Jackson and Nick Jackson)
Dylan Noah: I'm going to be completely honest: You can take this six-man belts and have the Elite show them off in ten thousand videos or you can have Kojima & friends be quieter with them, and I will still, without a doubt, forget who is holding them at any given time. These belts are just that much of a non-factor in the bigger scheme of things but hey, they give guys shit to do that they wouldn't get to do otherwise. Adam Cole and the Bucks is an even bigger thorn in my side than Omega and the Bucks, but whatever. It's the six-man belts. Prediction: Bullet Club
Matt MacLean: The NEVER 6-Man titles can changer hands wherever, whenever.  I would guess this really depends on how often Adam Cole will be touring, as the more he is around to defend the more likely the BC wins here.  Outcomes aside, how could this not be fun?  The Bucks were made for these kinds of matches, Sydal and Ricochet are freaks of nature, Cole fits into this mix well, and Kojima fits into this group so badly that it is awesome. Prediction: Bullet Club
JoJo Remy: Adam Cole is featured in another title match, this time as a challenger. Dragon Gate alumni Ricochet and Sydal should be popular with the Kobe crowd. I don't think we'll see Kojima-san join in on triple Shooting Stars, but I'm interested to see how he fits into a Reseda-style SuperFlip Party. Prediction: Bullet Club
Bullet Club (Bad Luck Fale, Kenny Omega, Tama Tonga and Tanga Roa) vs. Hirooki Goto, Jay Briscoe, Mark Briscoe and Tomohiro Ishii
Dylan Noah: There's two guys in this match that I absolutely cannot stand and so I find myself willingly siding with the Bullet Club over Chaos, which is not something I thought I would be saying in the year of our Lord 2016. And yet, here we are. I cannot stand the Briscoes and their continued presence in New Japan vexes and haunts me. That being said, I really love GoD, I love Fale, and I love Kenny Omega. I'd love to see them get more time with the actual Chaos guys here, because I've enjoyed what I've seen so far. Prediction: Bullet Club
Matt MacLean: The existence of GoD makes me happy to be an atheist.  I dislike GoD so much, I cannot be enthusiastic about a match with six guys I actually like.  GoD and the Briscoes should pair off, and Omega and Goto are destined for a match over the Tokyo Dome title shot, which leaves Ishii and Fale as dance partners.  They had a fantastic G1 match, so in the end, this should be pretty fun. Prediction: CHAOS & Associates
JoJo Remy: This match has house show written all over it. We know that Goto and Kenny are great together, though. Tama will probably get the pin over Mark. Prediction: Bullet Club
Hiroshi Tanahashi, Juice Robinson and Kushida vs. Los Ingobernables de Japón (Bushi, Evil and Sanada)
Dylan Noah: Ah yes, finally! Here we go! A match where I like all of the participants a whole lot! Tana and Kushida are a fun heavy/junior team that we don't get to see enough of despite the fact they've roughly been in a similar position in their respective weight classes, and Juice has been absolutely a blast in New Japan. They're against Bushi, Evil, and Sanada here, who should have some fun getting to work on their own without Naito around. I can't wait. Prediction: LOS
Matt MacLean: The existence of GoD makes me happy to be an atheist.  I dislike GoD so much, I cannot be enthusiastic about a match with six guys I actually like.  GoD and the Briscoes should pair off, and Omega and Goto are destined for a match over the Tokyo Dome title shot, which leaves Ishii and Fale as dance partners.  They had a fantastic G1 match, so in the end, this should be pretty fun.  Prediction: Los Ingobernables de Japon
JoJo Remy: One of the downsides of splitting your tour finale over three shows is that a lot of matchups are re-hashed over the course of just a few days. On the positive side, all of these guys are great and will end up having a good match. If the rest of the tour is any indication, I assume Juice will be dropping another pin here. Don't know if they'll pay it off on this show, but I'm looking forward to the potential reveal of the fifth pareja. Prediction: Los Ingobernables de Japón
Chaos (Gedo, Jado, Kazuchika Okada and Yoshi-Hashi) vs. Atsushi Kotoge, Daisuke Harada, Naomichi Marufuji and Toru Yano
Dylan Noah: Hahaha, New Japan who? Prediction: NOAH BOYS
Matt MacLean: They are getting two birds stoned at once on this one – the simmering NJ/NOAH feud is kept on everyone's mind, while the next IWGP challenger gets to face off with the champ.  Given the position on the card, this is going to get plenty of time and this could be really good.  Of course, Yano is in here, so the shenanigans may take it down a notch, but Marufuji face to face with Okada should have everyone salivating for their King of Pro Wrestling match. Prediction: NOAH
---
---
JoJo Remy: Five of the first seven matches are really more house show material than tour-ending PPV material. Thankfully, the last two matches should feel a little more important. The semi-final match sets up two CHAOS/NOAH tag matches on NOAH's 10/8 Korakuen show, and ultimately the main event for October's King of Pro-Wrestling at Ryogoku. I'll be at both of those shows, so I'm looking forward to this. I'm particularly looking forward to Harada/Gedo interactions: Gedo's selling is a perfect complement to Harada's offense. The dynamic here with Yano on the NOAH side should also be interesting. Prediction: Atsushi Kotoge, Daisuke Harada, Naomichi Marufuji and Toru Yano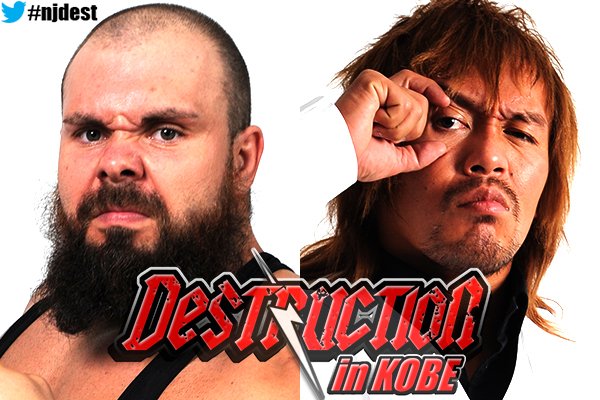 IWGP Intercontinental Championship
Michael Elgin (c) vs. Tetsuya Naito
Dylan Noah: Tetsuya Naito is the hottest act that New Japan has had at all, and this right here is when he needs to actually get the support he deserves with a strong IC push. That whole Okada title situation was bullshit and only served to put Okada over someone who, right now, is much more popular. If the rumors of a fan vote are true, though, we might not even have to worry about Naito not getting to main event the Dome like he obviously deserves to. This moment, right now, needs to belong to Naito. If they really see the need to drop their hottest act from the main title scene to the IC title scene, then really fucking mean it when you do it and give him the belt. He's already selling more merch most of the time than anyone else, so just do it. It's in the best interests of the company, who obviously wants to cash in, and the fans, who want the man they cheer for over almost everyone else in the promotion to finally succeed. Prediction: Naito
Matt MacLean: I have a whole fantasy booking scenario which involves Naito as IC champ main eventing the Tokyo Dome in January.  That starts – obviously – with Naito winning the IC title here, but reality often has a way of trumping fantasy.  Elgin is someone NJ obviously loves and clearly has long term plans for, so continuing his run would also make sense.  However, Elgin comes in to this wounded from LIJ attacking his knee in Hiroshima, and as mentioned before, the spectre of the masked Ingobernable may still be lurking at this time.  It would be very Naito to shortcut his way to a title with a new member of LIJ showing up to cost his opponent the win. Prediction: Naito
JoJo Remy: I saw these two have an excellent match early in the G1 at Korakuen, and I'm looking forward to the sequel here. It may be of little consequence, but Naito has been picking up pins on the "Road to" shows. Elgin's only pinfall win was on 9/22 in Hiroshima. Much is made of Naito's relationship with the Osaka crowd, and many of the same fans will probably be at this show in nearby Kobe. Some may question Naito's absence from the IWGP Heavyweight title scene, but I think he's a great fit for the secondary title in the meantime. I expect Naito to close out the show with confetti and the white belt. Prediction: Tetsuya Naito