DDT's massive summer show Peter Pan at Sumo Hall in Ryogoku is upon us.
If you've noticed the recent slew of DDT reviews I've done for the website, it's all been in preparation for this show. The sheer amount of storytelling that DDT has woven throughout the promotion since their five hour epic Judgment Day culminates in this, a clashing of the men and women of DDT up and down the card. A fallen warrior finally returns, a war for love will be fought, and two titans will stand across the ring from each other with DDT's most prestigious and important title on the line. There are special guests, young men striving to prove their worth, and a match that pits easily half of the roster against each other in search for one of the most elusive titles in DDT.
Let's get started.
DNA Fights— Battle Of Last Summer
Kazusada Higuchi & Daiki Shimomura vs. Kouki Iwasaki & Mizuki Watase
Higuchi is one of the most impressive young talents in DDT and in DNA, his size and strength giving him an advantage over his fellow trainees. In DDT, he's managed to find some success as he won the Right to Challenge battle royal at Judgment Day and was a reigning KO-D six-man champion with Shunma Katsumata and one of his opponents here, Kouki Iwasaki. Shimomura has returned from injury recently and despite this setback early in his career, he's looked good in his returning matches and shows a lot of talent and skill. Kouki Iwasaki has chest-shattering kicks and isn't afraid to dish them out in great intensity and number, plus he and his former partners Tomomitsu Matsunaga and Gota Ihashi have recently reformed their former stable, naming it Pigging 2016. It's good to see Mizuki Watase getting a match, too, instead of just being relegated to an interference in a match further up the card. These four will put on a great show, as the DNA boys nearly always work well together no matter what the teams are, but Higuchi picking up the win seems obvious here, as he'll likely start climbing his way back up the card to close in on where he was just a few short months ago. Prediction: Higuchi & Shimomura
Iron Man Heavymetalweight Title— Battle Royal
Toru Owashi (c) vs. Joey Ryan, Reika Saki, Keisuke Ishii, Saki Akai, Kazuki Hirata, Cherry, Guanchulo, Mad Polly, Kenso, Gota Ihashi, Jun Kasai & Yoshihiko
As of the DramaticDDT preview, Joey Ryan was the current champion. As of this writing, he has been defeated by Guanchulo, who was then defeated by Toru Owashi. By the time this match actually comes, we could very well have had ten more champions by then, so don't take who is champion going into this match too seriously. After Joey Ryan pinned Saki Akai for the title, he took it to America and documented its adventures as different wrestlers, people, and even a cat found themselves winning the title. Above, I mentioned this title being elusive— And that it is, because there's even been confusion about who the current champion is when challengers show up for the belt. This battle royal is going to be madness, and comedy, and Kenso is here, so it's going to be a fun time. Even better, the best deathmatch wrestler in the world JUN KASAI is showing up, and so is YOSHIHIKO. A truly star-studded event, and Joey Ryan. It doesn't really matter who wins, but I'm going to say Kenso because it would be funny to see Sanshiro Takagi's reaction to that. Prediction: Kenso
KUDO Comeback— Yellow Dragon Come Back
Kudo & Masahiro Takanashi vs. Akito & Yasu Urano
It's weird to think about how the last match Kudo participated in before his injury was a NOAH tag where he and Kota Umeda fell to Yoshinari Ogawa and Zack Sabre Jr. It's been a long, long road without him as a member of Shuten-doji and the group has not just felt the same without him there to throw his strikes and kicks by their side. They endeavored to win the six-man titles together in Kudo's honor but failed to do so. Now, Kudo is back and based on what we saw during Beer Garden, he's in great shape. He tags here with Masahiro Takanashi to take on Smile Squash members Yasu Urano and Akito. These four men know each other incredibly well and have an insane amount of chemistry in the ring as they are four of the very best of DDT, and that's saying something considering almost everyone in DDT is amazing at what they do. Not everyone wins their first match back but I feel like Kudo will, just the same. Prediction: Shuten-doji
NωA Road To DDT Fes 2016— Sasadango Teaches The Way To Survive Showbiz: Makoto
Oishi, MAO, Shunma Katsumata & Super Sasadango Machine vs. Antonio Honda, Trans-Am ★ Hiroshi, Ladybeard & Gorgeous Matsuno
What you really need to know about this match is that there's going to be a lot of singing as our fledgling idol group takes on a quartet of incredible vocalists alongside their new manager. After a match on the Danshoku Dino Beer Garden show, Shunma Katsumata was named the leader of the group and so they have some direction going for them. They've also shown incredibly growth as a trio in the short amount of time they have been together, able to execute team maneuvers with ease and fluidity. It's good, because they're going to need it. While their opponents aren't necessarily the most cohesive team in the world, Honda and Hiroshi have powerful voices and have been known to fight out of submission holds with their singing. Ladybeard might seem cute and harmless, but he's a heavy metal vocalist who has wrestling matches between songs during his sets in clubs. And Matsuno has a beautiful crooning voice. The variety that NωA faces here is going to be tough for them, but this is probably where they start to turn things around, defeating their opponents and getting one step closer to that November show. Prediction: NωA w/ SSM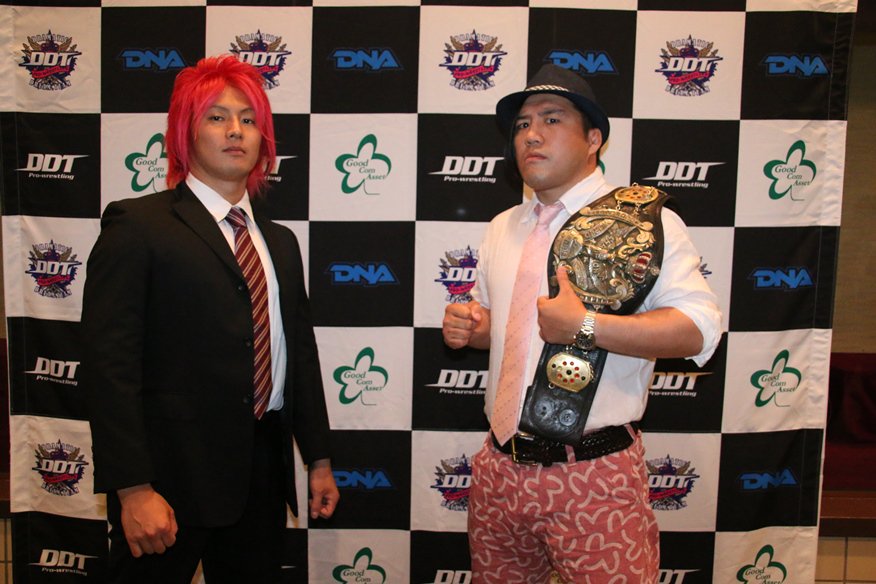 AJPW World Jr. Heavyweight Title
Hikaru Sato (c) vs. Soma Takao
This is where things start to get serious. Soma Takao found himself warring with former partner and stablemate Keisuke Ishii in an effort to get a shot at taking on Hikaru Sato. Ishii had been a former trainee in All Japan who left the company and has been pursuing a title there ever since. Takao was not about to take this challenge laying down and the two of them ended up in a match together to determine who had the right to challenge Sato. Takao won, and the challenge was made. Sato came personally to accept the challenge and schedule it for Peter Pan, and these two have been clashing since then.
Every time they're involved in a match, it ends in a brawl. During Beer Garden, Sato locked in an armbar on Takao and had to be pried off of him by the young boys of DNA because he refused to relinquish the hold. Despite having had a lot of tough luck before coming by this title, Sato is a tough and vicious opponent with a seemingly endless array of counters, reversals, and submission holds that he can tap into at any moment. Takao has been the shining star of Team Dream Futures since the three of them decided to split up, but this is one of his biggest challenges to date. I don't think I see him winning here, though. AJPW clearly put this title on Sato for a reason, and it doesn't feel like it's time for him to lose it just yet. Prediction: Hikaru Sato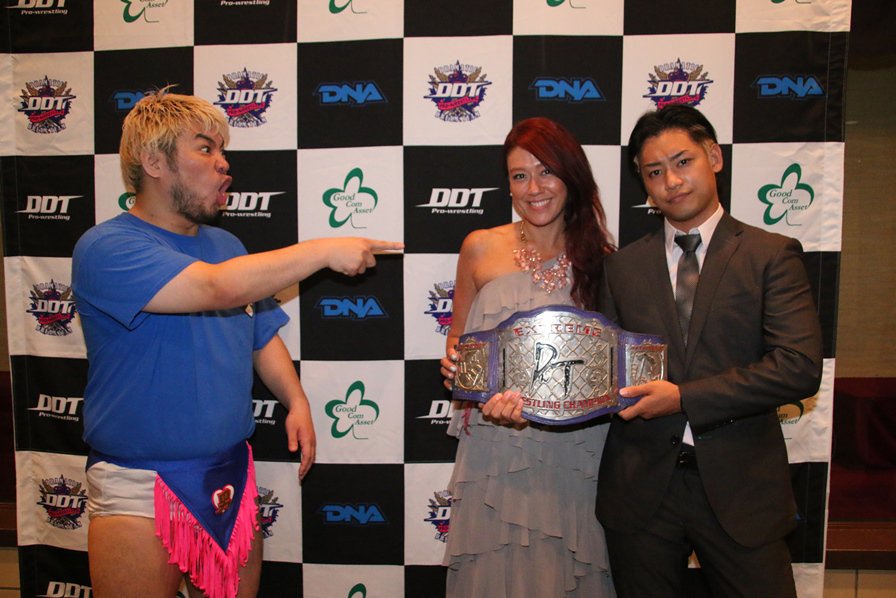 DDT Extreme Title— Watase Contra Watase
LiLiCo (c) vs. Danshoku Dino
When LiLiCo appeared at the New Years show at the beginning of the year and choked Saki Akai out with a chair, nobody could have predicted she would end up defending the Extreme Title on the Peter Pan show. It was her feud with Saki Akai that led her to meeting Mizuki Watase, as she needed teammates for a six-man match with the Kawaii Connection. Ever since then, she and Watase have been inseparable and their connection to each other has been strong. He awoke LiLiCo with a true love's kiss and that led her to challenging then-champion Super Sasadango Machine for this title.
With the help of her love Watase, LiLiCo won the match and has been unstoppable ever since then, crushing first challenger Makoto Oishi beneath her boot. Dino appeared to challenge for the title next, insisting that the relationship between Watase and LiLiCo is a publicity stunt, adding later that he believes Watase is gay and is hiding that by dating LiLiCo. He's allowed to interfere in this match, and whether that means aiding the woman he loves in another title defense or perhaps revealing his true sexuality, we just don't know. It's DDT, and if the past has taught us absolutely anything, it's that anything can happen in DDT. I don't know. My heart says LiLiCo, but my brain, unfortunately, says Dino. This is the one time I hope I'm wrong. Prediction: Danshoku Dino
Special Six-Man Tag Team Match
Sanshiro Takagi, Shiro Koshinaka & Nosawa Rongai vs. Great Kabuki, Yukio Sakaguchi & Kota Umeda
This match was supposed to be a match to go hand-in-hand with the singles match between Nosawa and Terry Funk at the Tokyo Carnival show. Instead, Terry Funk was hit with a hernia and could not make the trip to Japan. He was replaced with the Great Kabuki in what is clearly a challenge to see who can paint their face the most outlandishly between Kabuki and Nosawa. Shiro Koshinaka is also here after having faded out of the picture since his last match in Kaientai Dojo, and he promises to be an entertaining addition to this match. Sanshiro Takagi is here, and since this match will so clearly have comedy in it, I hope this means everyone has to oversell his stunners even if that means including his own partners, too. Nothing is as good as someone overselling his stunners. Yukio and Kota are amazing, there's no other way to describe them, and seeing them tag with Kabuki is going to be a fun time. Prediction: The Great Kabuki, Yukio Sakaguchi & Kota Umeda
Special Tag Match
Dick Togo & Mike Bailey vs. Daisuke Sasaki & Tetsuya Endo
Dick Togo returned to wrestling this year, back and better than ever. His matches have been fun to watch and prove that even though he spent years away from the ring, nothing has really changed and he's as good as he's ever been. In great shape and happy to fight the new wrestlers, he's shown he's incredible working with the DNA boys especially and has adapted easily to find ways around their styles. It was after one of these matches that Daisuke Sasaki, his protege, entered the ring to welcome him back. But Sasaki has changed and gave Togo a low blow, kickstarting their feud.
He brings Tetsuya Endo with him to the table, the former partner of Konosuke Takeshita who turned his back on Takeshita and Happy Motel to join Damnation and try to find the path to the top that has constantly alluded him despite his seemingly best efforts. He's grown an edge to him since that match and looks to unleash it here as he helps his new partner defeat Togo. But Togo hasn't come alone. He brings foreign import Mike "Speedball" Bailey, the Canadian Karate Kid with amazing kicks and the ability to soar through the air as if gravity just doesn't exist. Bailey has been impressing everyone in DDT lately and looks to continue the trend here as he teams with Togo to try to slow Damnation from crashing through everyone and everything in their path. Prediction: Dick Togo & Mike Bailey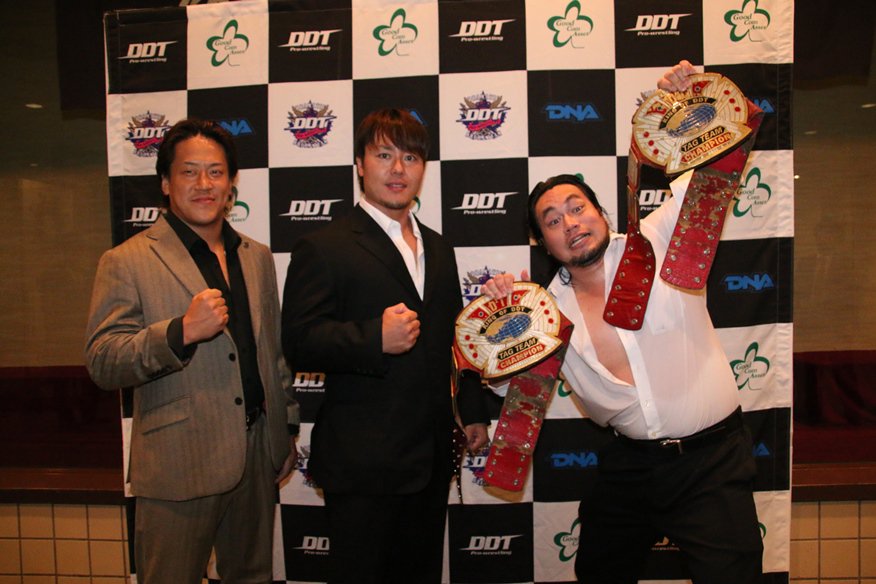 KO-D Tag Team Titles
Ken Ohka & KAI (c) vs. Harashima & Yuko Miyamoto
In a case of oddball tag teams working out to be the best partners ever, we have these two teams. Ken Ohka found himself opposite Harashima earlier this year when he cashed in his Right to Challenge contract for the KO-D title match with then-champion Harashima, and despite his best efforts, he was unable to overcome the ace of DDT. Kai had a great year going for him, winning the KO-D tag team titles while he was still Wrestle-1 champion, but he's since been defeated by Daiki Inaba in what was a shocking turn of events given Inaba is crowned a super rookie (whether that's accurate or not). The two of them are underdogs at heart, and that makes for a great story, but Harashima and Yuko are two of the best wrestlers in DDT. Yuko Miyamoto is a decorated worker who has found himself an amazing partner in Harashima, and despite being so different, the two of them have come together to form Yankee Smile and have had great matches when they're side by side. If they can defeat Bad Comi here, they become KO-D tag team champions together. I want to believe the underdog story so bad because Ohka and Kai are GREAT but Harashima and Yuko deserve their due for being a great team, too. Prediction: Harashima & Yuko Miyamoto (Yankee Smile)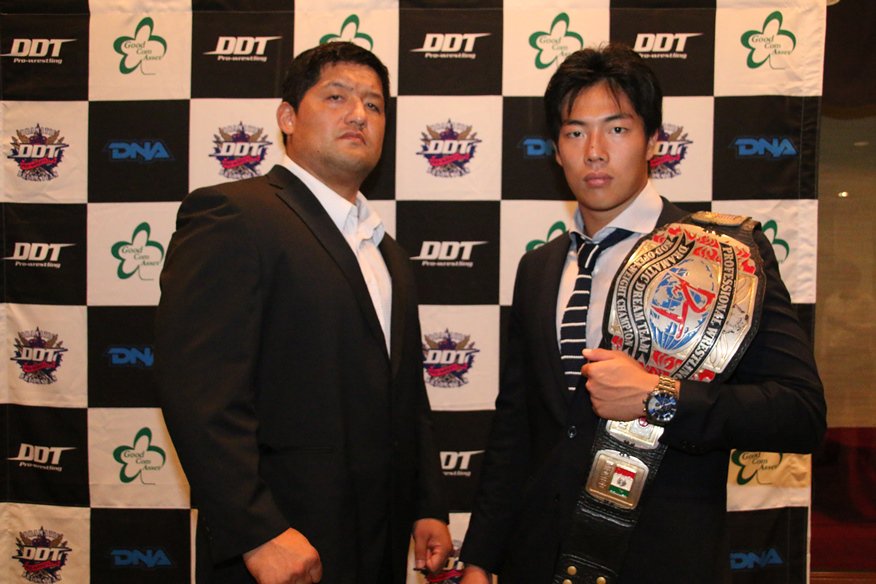 KO-D Openweight Title
Konosuke Takeshita (c) vs. Shuji Ishikawa
Shuji Ishikawa has levelled DDT since he was introduced as Daisuke Sasaki's new tag team partner. After Kota Ibushi sustained an injury and announced he was not returning to DDT, and Suguru Miyatake sustained an injury, Sasaki had been without a partner. Finally, he found one in Shuji Ishikawa, renaming him Adrian and introducing him as his new partner. While there have been some dubious reactions to Sasaki leading Ishikawa to the ring on a leash and collar, there can be no doubt as to how effective Ishikawa has been. He and Sasaki defeated Happy Motel tag team Konosuke Takeshita and Tetsuya Endo for their tag titles, then successfully defended the titles against them when Sasaki defeated Takeshita twice with his crossface submission. When the King of DDT tournament came, Ishikawa entered and destroyed each and every one of his opponent's so he could win the tournament, make Sasaki proud, and, of course, earn a hug. Takeshita holds a 4 minute victory over him that he's likely very eager to avenge, and his loyalty to Sasaki means he will go into this match and leave nothing left on the table.
But Konosuke Takeshita is no one to take lightly. After defeating Sasaki for the KO-D title, he's been a shining example of a young champion stepping comfortably into the spotlight. He's had amazing defenses against Yuko Miyamoto, Toru Owashi, and his own former best friend Tetsuya Endo. With each defense, he's learned a little more and grown a little stronger, and he has refused to back down every time he finds himself facing any adversity. He may be young, and he may still have a lot to learn and some charisma to find along the way, Takeshita has been a hell of a champion and will have a great match here with Ishikawa. The two of them have had great chemistry the last times they've clashed and the intensity between them when they step into the ring is tangible. Takeshita will probably retain here, putting down another member of Damnation in the process and proving that he really is every bit the champion he seems. Prediction: Konosuke Takeshita