The year 2016 has been, shall we say, a rather rocky year for Ring of Honor. Numerous wrestlers have departed while rumors of locker room issues abound, the booking has been questioned, and their relationship with New Japan Pro Wrestling has received a great deal of scrutiny.
While the downsides of their slow transformation into "Bushiroad USA" have been well-covered, the upside is still rather simple: access to a pool of talent that, combined with what remains of the ROH roster, can still produce some absolute blow away shows. It maybe didn't quite work out that way a few months back at War of the Worlds/Global Wars, but last Friday night ROH and New Japan came together to deliver a Death Before Dishonor PPV that blew away the (admittedly modest) expectations of most going in.
Now, following that show and some interesting sounding TV tapings, has ROH finally started to build some momentum for the first time in a while? Perhaps the best answer to that question lies with their next big event, a return to the outdoor MCU Park in Brooklyn, NY for Field of Honor 2016.
ROH Field of Honor 2016
MCU Park- Brooklyn, NY
Saturday, August 27
6:00 pm EST


Women of Honor
Taeler Hendrix vs. Deonna Purrazzo

We start things off with the newest bout just added to the Field of Honor card, as the women's division will get a chance to shine outside in Brooklyn. Taeler Hendrix has been one of ROH's female staples for a while now, as both Jay Lethal's devious valet and an in-ring competitor. But Lethal has been undergoing a de facto babyface turn of late while Taeler looks to remain firmly on the heel side of things, so it remains to be seen whether she'll be continuing in her valet ways (perhaps with someone other than Jay?). In the meantime, she'll keep busy inside the ring against Deonna Purrazzo. Purrazzo has made only a handful of appearances in ROH before (and even then, only one of them that wasn't a dark match) but has been capturing titles all over the place of late; according to Cagematch, she actually holds at least three different women's titles simultaneously at the moment, and she's captured belts everywhere from OVW to NYWC to many others. I can't say I've ever seen her wrestle before but clearly she's making some waves on the smaller independents, so I'm looking forward to seeing her for myself live. All in all, an interesting women's bout and a welcome addition to the card. Prediction: Taeler Hendrix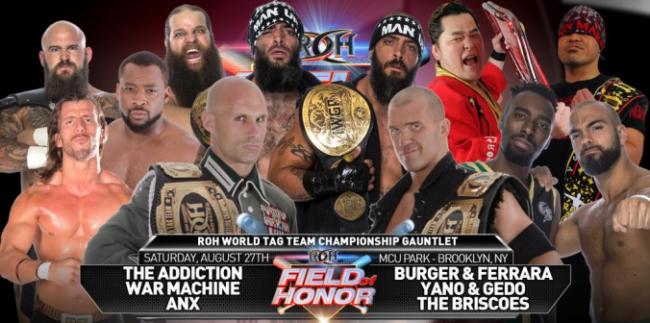 ROH World Tag Team Championship Gauntlet
The Addiction (Daniels & Kazarian)
Mark & Jay Briscoe
War Machine (Hanson & Rowe)
All Night Express (Titus & King)
CHAOS (Yano & Gedo)
Cheeseburger & Will Ferrara
In what I suspect may be the opening contest for the show, the ROH World Tag Team Championship will be on the line in a Gauntlet match.
This match seems a little random, but at least it highlights the fact that there's still some decent depth in the tag team division; it's impressive to see this many regular teams in the match when you consider there's also many missing from it- Young Bucks, reDRagon (though I suspect their days as a team may actually be numbered), Motor City Machine Guns, etc. Anyway, what we're left with here is one extremely good team in the form of the Briscoes, one team that can be very hit-or-miss in War Machine, a couple of teams who I honestly never really need to see again (ANX and, uh, the champions), a team of little dudes with spunk in Cheeseburger & Ferrara, and….Yano and Gedo, for some reason.
Keeping some of these individual "matches" very short could work in the favor of the Gauntlet, but overall I'm mostly just hoping it doesn't drag too much. I don't see a title change happening here, although it will be interesting to see how they get the IWGP Tag Team Champions out of there. Maybe Gedo just doesn't even care at this point, who knows. Prediction: The Addiction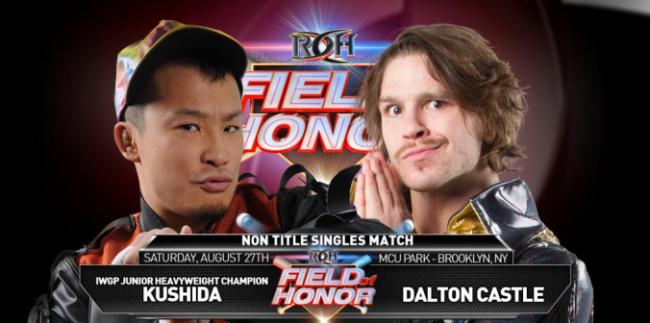 KUSHIDA vs. Dalton Castle
Fresh off of winning the Super J Cup last weekend, the reigning IWGP Jr. Heavyweight Champion (KUSHIDA) will make his way back to Brooklyn. Opposing him will be Dalton Castle, who also had an impressive showing last week when he went toe-to-toe with Kazuchika Okada in a really fun match at Death Before Dishonor.
Of course, Dalton didn't beat Okada, and he's no more likely to beat KUSHIDA here either, but I'm not of the mind that jobbing to two strong New Japan wrestlers is necessarily going to hurt him.
The Party Peacock is a unique sort of fellow, and I tend to think he's the kind of guy in wrestling who is less hurt by losses than most. However, that doesn't mean ROH shouldn't be doing more with him going forward; hopefully another performance like the one he put in against Okada will make it even clearer to the brass that Castle is a guy they can go further with. Anyway, short of the two just not clicking there really isn't any reason why this can't be a phenomenal match. I would call it the dark horse of the card, in fact, given that it's likely overshadowed by the two main events, but don't overlook this one. Prediction: KUSHIDA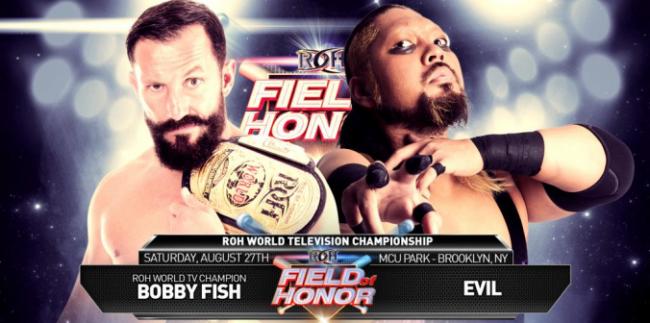 Bobby Fish vs. EVIL
EVIL is, of course, no stranger to ROH fans, having done a mini-excursion (uh, such as it was) before coming back to New Japan and taking on his current KING OF DARKNESS gimmick last year (as an aside, his new t-shirt is awesome, exactly the kind of "not obviously a wrestling shirt" that looks really sharp, with a cool vague 80s sort of vibe to it as well).
He's coming off a solid performance in the tag title 3-way last weekend alongside Naito, but it remains to be seen how the ROH crowd will react to him in a singles match. Meanwhile, Fish had one of the more disappointing matches of the entire last weekend (right up there with Nakamura-Joe, in my opinion anyway), as his TV Title defense against Mark Briscoe was slow and plodding. I'm hopeful he can turn in a better performance here on the mid-card against EVIL, with less pressure to put on a long, "epic" title match. His new, clearly McGregor-inspired character is an interesting turn for him (even if the whole "I'm the real champion around here" thing is a little derivative of the Jay Lethal storyline from not-that-long-ago…) and he clearly seems like he's going in a heelish direction, perhaps with the plan of building to a champion vs. champion match with reDRagon partner Kyle O'Reilly after KOR finally captures his elusive ROH World title.
That makes a match putting him up against a man literally named EVIL a bit of an awkward choice, granted. Either way, I expect Fish to win this. EVIL isn't above doing jobs and (spoiler alert) Fish just got a win over a much bigger NJPW star at the post-DBD TV tapings, defeating Katsuyori Shibata, so I expect him to follow that up with another victory here. It wouldn't make a ton of sense to job Fish to EVIL here, especially with Fish having an upcoming NEVER Openweight Title shot on the next New Japan tour (and yes, these results are all reported in Japan if you weren't aware!). Prediction: Bobby Fish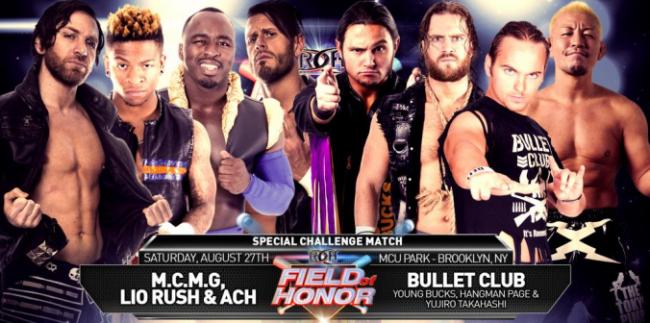 BULLET CLUB (Young Bucks & Yujiro & Page) vs. Motor City Machine Guns & Lio Rush & ACH
This eight-man tag team match is a cool little follow-up to the Super J Cup, where the Young Bucks successfully defended their IWGP Jr. Tag Team Titles against the Machine Guns in a really great match.
Here they'll team up with Yujiro Takahashi, who will hopefully do very little, and Adam Page while the Machine Guns will be joined by ACH (who is also coming off his own awesome Jr. Tag title match at the J-Cup, as he and Taiji Ishimori unsuccessfully challenged Momo no Seishun Tag after the Ishimori/ACH team won NOAH's annual NTV Cup jr. tag league) and Lio Rush. As long as they manage to keep Yujiro out of the ring most of the way, there's really no reason this shouldn't be very good. And special shoutout to HANGMAN PAGE, who put in probably the performance of his life last Friday night against Jay Briscoe.
Hopefully that outstanding, ****1/2-level brawl gets him a little more respect from the fanbase going forward. Anyway, no reason to mess with the Bucks' momentum here, especially heading into an all-ROH showdown with the Briscoes for their heavyweight IWGP tag titles. Prediction: BULLET CLUB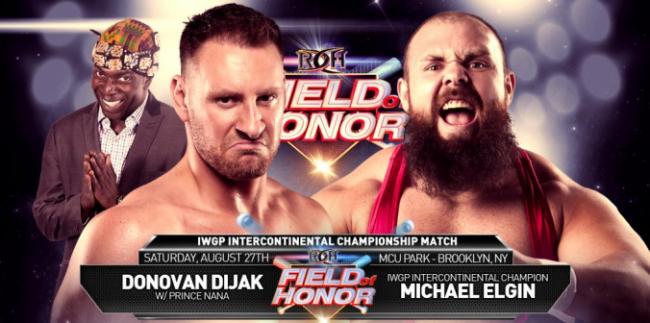 IWGP Intercontinental Title
Michael Elgin vs. Donovan Dijak
Elgin continues his latest ROH homecoming with a major milestone here, as he will be the first man to defend the IWGP Intercontinental Title in the US since Shinsuke Nakamura defeated someone named Oliver John (???) in something called the SWF (????) in California on August 26, 2012 (his very first IC title defense of his very first reign, in fact).
His opponent will be up-and-comer Donovan Dijak, who has certainly been one of the brighter spots for ROH for most of this year, putting in some strong performances since his new push (alongside the wonderful Prince Nana) began.
While the chances of Dijak winning the IC title are, uh, not high, he has a real shot to put in a standout performance in what could be a great old-school power battle. Elgin recently laid down a challenge for the ROH World title and thus is expected to headline their next PPV on September 30th, All Star Extravaganza, so a big win here in a featured spot defending his New Japan title will certainly keep the ball rolling towards that match. Prediction: Michael Elgin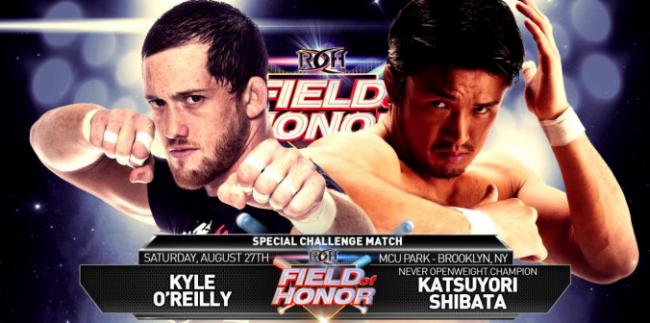 Katsuyori Shibata vs. Kyle O'Reilly
Folks, I'm going to hype this one by telling a simple little personal story: to be quite honest, I wasn't really planning to go to Field of Honor this year. I went last year and was not a huge fan of the venue (I've never been super-into outdoor wrestling shows, for some reason) and the last ROH show I went to (the War of the Worlds NYC show) was just OK at best.
But then ROH announced this match, and my reaction was basically, okay, time to buy the best ticket available immediately, because I literally cannot miss this one. This is close to one of the best possible matches they could have put together on this card: it's fresh and yet also seems like something that should have happened many times over already.
You have two guys who wrestle a very similar style and who will likely be a perfect match for each other in many different ways.
Both Kyle and Shibata can obviously kick awfully hard, but it goes well beyond that too, to a kind of shootstyle-esque grappling (see: Shibata's awesome match with Sakuraba last year) that both have shown a penchant for as well. This match, if it gets anything resembling time- and it had damn well better, second from the top and all- really should be fantastic. And, in a bit of a rarity for a NJPW vs. ROH match, who pulls out the victory really is an open question. O'Reilly is an NJPW semi-regular who is frequently protected in the booking, rarely dropping falls.
A member of reDRagon defeating Shibata would not exactly be unprecedented, and it would possibly set up another future NEVER Openweight title match as well. It also looks like reDRagon vs. Shibata could be a bit of a theme going forward, as they're programmed against each other even beyond the Shibata-Fish NEVER title match; that takes place on 9/17 at the DESTRUCTION in Tokyo show, but they continue against each other through a big Shibata/Nagata-Fish/O'Reilly tag on 9/25 at the last DESTRUCTION show in Kobe.
Could that be leading up to another NEVER title match, Shibata-O'Reilly, at King of Pro Wrestling or maybe even on a show back here in the States? It's very possible…..if O'Reilly wins here. So I'm going to go with KOR getting the duke. It will let him keep building momentum in ROH as he heads toward the inevitable ROH World title win over Adam Cole (probably at Final Battle), set up another Shibata NEVER title defense, and ultimately give "an ROH guy" a big win in one of these dream singles matches (even though KOR is almost just as much of an NJPW guy at this point, which sort of gives away why the ROH/NJPW booking might get less "one-sided" in the future as more and more of this ROH roster is integrated into New Japan; Fish does have wins over Ishii and now Shibata in the past few months, for instance).
Don't get me wrong, though: I could easily see Shibata winning this anyway. I think this match is sort of a coin flip to predict, and that's certainly never a bad thing. Prediction: Kyle O'Reilly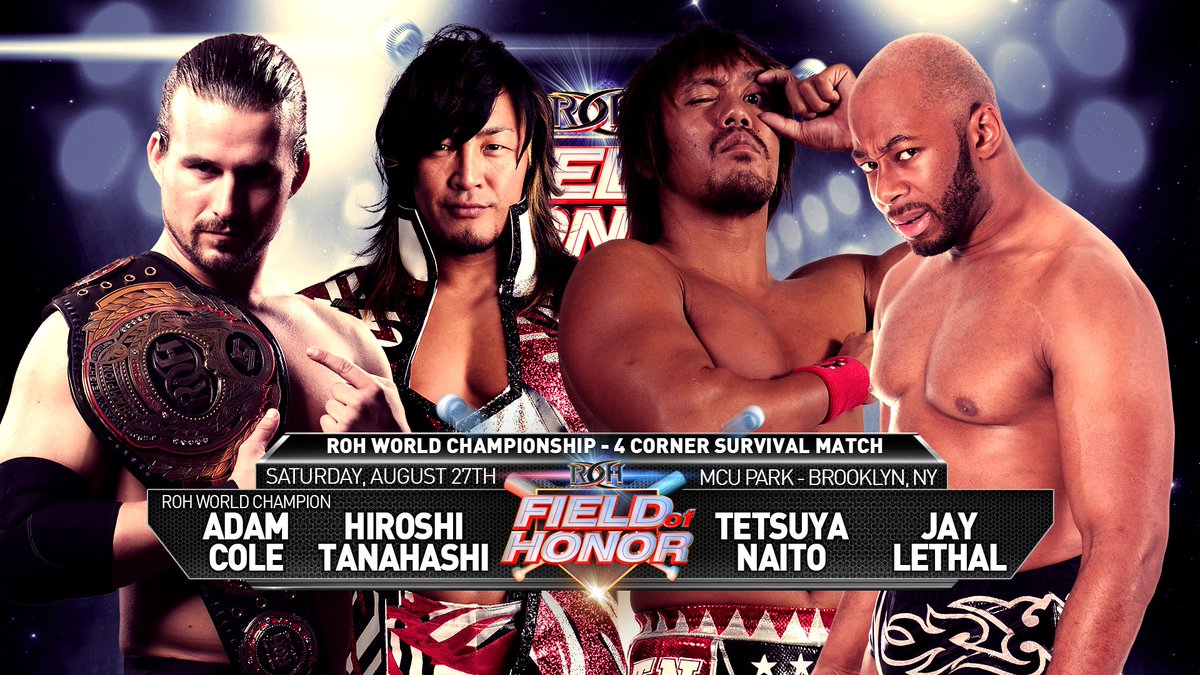 ROH World Title
Adam Cole vs. Jay Lethal vs. Tetsuya Naito vs. Hiroshi Tanahashi
The new ROH World Champion makes his very first defense in a four corner survival match, as he takes on the man he beat for that title plus two of New Japan's top stars in the main event of this year's Field of Honor.
Now, unlike Shibata-KOR there's very little doubt who's winning this or really even who's eating the fall (it is very unlikely to be Naito or Tanahashi), but this match still has a chance to be very good just based on the sheer collection of talent involved. There's also some storyline stuff involved here too, on a couple of different fronts: you have (spoiler alert) Naito & EVIL walking out on former LIJ associate member Jay Lethal during the last TV taping, apparently ending that former partnership and giving Lethal a second person in this match to be rightfully pissed at.
And then, of course, you have the Cole-Lethal dynamic. Adam Cole tortured Jay for many weeks on television before ultimately taking the ROH World championship from him clean as a sheet at Death Before Dishonor, so it would seem likely Lethal will still have revenge on his mind here. That sort of leaves Tanahashi as the odd man out, though his interactions with Naito could be a prelude to a possible match at the Tokyo Dome (maybe for the IC title, should Naito defeat Elgin for it on 9/25 at DESTRUCTION in Kobe in what has already been confirmed to be a title match if Elgin gets through Dijak on this very night).
Altogether, this is a very interesting main event to cap off what really has the potential to be a great show. Of course, as mentioned earlier, there's basically zero chance Cole isn't walking out with the title, but that's okay. There aren't very many first defenses that have much uncertainty in the result anyway. Prediction: Adam Cole
---
So that's Field of Honor, on paper a very strong card overall.
Is ROH turning a corner or was last week's Death Before Dishonor just a one-off fluke? I think Ring of Honor has already set themselves up well to have a very interesting second-half of the year, with Cole-Elgin, Cole-O'Reilly, and Cole-Lethal II as a strong list of possible World title matches, not to mention a new relationship with CMLL to factor in as well.
Is an international triage of sorts with CMLL and New Japan enough to keep them fresh and competitive against WWE talent raids and EVOLVE's interpromotional relationships?
That remains to be seen. But in the meantime, this Saturday has the potential to be a really fun show. Hope you enjoy it!