July was another month loaded with volume when it came to great matches. Just another example of the great pro wrestling happening all over the world. There were a couple of matches that will end up on MOTY lists, but nothing that will be consensus favorites to do well in the 2016 VOW MOTY Top Ten List.
The point of this project is to highlight the best matches happening in the world of pro wrestling. It acts as a guide for everyone to have when compiling their own lists, or just want to make sure they aren't missing anything great.
The Top Five here were compiled with a series of voting, using the Head-to-Head system put in place by, Josh Engleman (@JoshEngleman). Any match that received two nominations was put into the voting pool, and then they were voted on and here are the results!
Match of the Month:
NJPW – G1 Climax 26 Night 1
Kazuchika Okada vs. Naomichi Marufuji
7/18/2016 – Won H2H Voting 82.1%
The Build: There wasn't much build for this match in particular, as it is merely a tournament bout. It is, however, a first time matchup between New Japan's current ACE vs. the man that has been a mainstay in Pro Wrestling Noah for the entirety of his career. In the fans' eyes this was an interesting match up that surely peaked interest in watching the opening night of the G1 Climax.
The Match: Okada continues to put together an extensive catalog of great matches against a variety of opponents all with unique stories. Okada had a tremendous series with stablemate Shinsuke Nakamura, became the new ACE of New Japan after a seven match series with the former top guy, Hiroshi Tanahashi, had the torch passed to him from legendary Genichiro Tenryu in Tenryu's retirement match, and then here he had another classic. This time with Pro Wrestling Noah's mainstay, Marufuji.
Marufuji walked into the G1 Climax with a lot of detractors saying he was past his prime and that his recent work in Pro Wrestling Noah has left a lot to be desired. Whether this even reached Marufuji's ears or not, it was apparent that Marufuji was going to take this larger stage to prove that he could hang with the best Japanese talents wrestling today. Marufuji spent this match lighting Okada's chest on fire with some of the stiffest chops you'll ever hear and also breaking down Okada's arm. It's an interesting dynamic that you see in Okada's opponents. Typically a wrestler will work over their opponent's limb in order to set them up for their own signature submission hold. Okada's opponents respect how dangerous his Rain Maker finisher is to the point that they will work over his arm in order to weaken that finish. If Okada doesn't have his biggest weapon then he can't beat you right? Well, that strategy worked for Marufuji here has he upset the ACE of New Japan on the grand stage to earn himself an inevitable shot at the IWGP Heavyweight Championship.
The Voting: This match stuck to the number one spot throughout the voting period. July was a month chock full of great matches, but didn't have a stand out MOTYC. This could make some lists in the VOW MOTY lists, but it more than likely will be lost in the shuffle of other G1 matches.
The rest of the Top Five: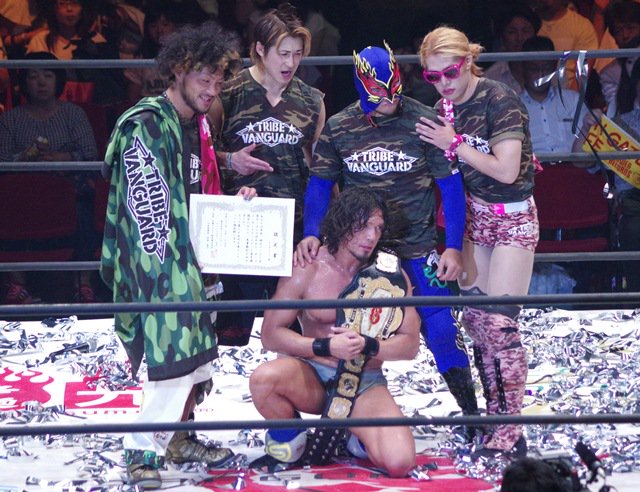 Dragon Gate – Kobe World Wrestling Festival 2016
Open the Dream Gate Championship
Shingo Takagi © vs. YAMATO
7/24/2016 – Won H2H Voting 78.7%
The Build: The main event of Dragon Gate's biggest annual event had the best build up of any match this month. Dragon Gate is known for their dense storylines and this was no exception. Shingo vs. YAMATO has happened 7 times previous to this match. Yamato lead the series 4-3 with a 2-0 advantage in matches involved the Open the Dream Gate Championship. Those are the numbers behind the match, the emotion was entrenched in YAMATO's babyface turn this past May. As a member of VerserK and one half of the Open the Twin Gate Champions with Naruki Doi, YAMATO was in the midst of a run with Dragon Gate's token heel unit. That was until YAMATO lost the Open the Twin Gate Championship in May and the whole VerserK unit turned on him.
YAMATO then went on to start a new unit, Tribe Vanguard, with BXB Hulk, Kzy, and Yosuke❤️ Santa Maria. This in turn made YAMATO the hottest babyface in all of Dragon Gate, setting him up to take on the dominant heel champion, Shingo.
The Match: In order for someone to dethrone Shingo his opponent had to wrestle a perfect match. YAMATO knew this going in and immediately started working over Shingo's arm to set him up for the Cross Armbreaker. The same move that helped him earn this title shot by winning the King of Gate Tournament. Shingo was fighting blow for blow with YAMATO, but YAMATO was always one step ahead of Shingo. Something Shingo hasn't dealt with during most of his championship defenses during this dominant reign.
YAMATO putting Shingo away with the Galleria was an emotional moment for Dragon Gate fans that have watched this entire feud unfold. It was the kind of feeling I had when I watched Okada finally put Tanahashi away at Wrestle Kingdom 10. That is when wrestling is at its best. When they have you so emotionally invested in a match that you can't stop thinking about it for months because it hit on every emotional nerve you have. That is performance art at its finest.
The Voting: The highest ranking Dragon Gate bout for any Match of the Month list in 2016. Dragon Gate usually stands as a polarizing promotion when it comes to voting on their product, but this match was a nice gateway to non-Dragon Gate fans enjoying the product.
NJPW – G1 Climax 26 Night 1
Hiroshi Tanahashi vs. SANADA
7/18/2016 – Won H2H Voting 77.7%
The Build: Both Tanahashi and SANADA were trained by The Great Muta. (SANADA even took this a step further by adopting The Great Sanada as his persona in TNA) Besides that similarity, these two have never wrestled each other prior to the G1. Tanahashi is eleven years older than SANADA as he continues to break down any talk about his career reaching its twilight. SANADA debuted in NJPW this last April by attacking the man who dethroned Tanahashi as the ACE of New Japan, Okada.
The Match: Both men walked into this match with a lot to prove. Tanahashi is still proving during yet another G1 season that he is still one of the best workers in the entire world, while SANADA is proving that he belongs in the most elite pro wrestling company in Japan. At 28 years old SANADA has a lot of mileage left to prove that he belongs in the IWGP Heavyweight Championship picture, and that likely won't happen for a number of years, but this win over the former ACE Tanahashi will stand as a crowning moment in his career.
The Voting: Going up against the main event match of the same event, Okada vs. Marufuji, and a match filled with emotion and high stakes, Shingo vs.YAMATO, this match was going to finish behind those two no matter what. Sitting at third place though isn't bad, consider this match's competition for the month of July.
WWE Battleground 2016
Sami Zayn vs. Kevin Owens
7/24/2016 – Won H2H Voting 76.8%
The Build: Books can be written about the back history and feud between these men. As far as their WWE careers go Zayn lead the one on one match series 11-10 as they headed into Battleground. (This doesn't include house shows in which Zayn is 19-0 vs. Owens) The specific build to this match was quite poor. This was originally booked as the "final match" between these two, the "War to Settle the Score" so-to-speak. That had people hyped. Until the Tuesday prior to this match when not only were both men drafted to the same brand, presumably putting the kibosh on the idea that these men would be kept separated, but they were also both laid out by Demon Kane for no reason. Except maybe to make Zayn the punch line of a Jerry Lawler joke.
The Match: Zayn and Owens are known weaving call back spots throughout all of their matches to reward their longtime fans that have been riding along their journey with them. This match kicked off with a call back spot of their last PPV match with Zayn going immediately for the Helluva Kick. Owens was able to duck out of the way this time and the rest of the match was off and running from there.
At the end of the bout, Zayn proved that he can be cerebral and shouldn't be taken lightly. After two Half-and-Half Suplexes and one Helluva Kick Owens collapsed in Zayn's arms. In what people would presume would be a moment of sympathetic weakness, Zayn threw Owens back into the corner to hit him with a Helluva Kick marking the end of the feud and the end of the weak/sympathetic Zayn. No matter how dastardly Owens could be towards Zayn there was still a part of him that was clinging to their past days of being tag team partners/best friends. Not anymore. Not after this match. Through NXT and WWE we have now watch Zayn growing into a true competitor right before our eyes.
The Voting: I was actually quite surprised that this match didn't finish higher. It's hard to tell who our voting base is, but one would automatically assume that this was one of the more watched matches of the month consider its platform. I do think that the lackluster build to this match forced it to take a hit as it couldn't tap into the emotional side of people's wrestling fandom as much as it should have.
NJPW G1 Climax 26 Night 4
Michael Elgin vs. Tetsuya Naito
7/24/2016 – Won H2H Voting 73.8%
The Build: The only other time these two had wrestled each other was at ROH's War of the Worlds event in 2015. That was almost a whole career ago for both of these men. After a hyped career, 2015 saw Elgin floundering on the indie circuit and rumors started circulating that he was contemplating quitting the industry to play baseball. Naito, floundering himself, was being passed up on the roster in NJPW by other stars as he was an momentum he had from winning the 2013 edition of the G1.
After that match in May of 2015, Naito would begin another excursion in Mexico's CMLL promotion. This is where Naito would join and adopt the Los Ingobernables persona that he would debut at last year's G1 tournament. Elgin would also go to to make his lifelong dream of wrestling in Japan come true by competing in the G1 as a representative of ROH. The G1 Climax 25 was a revitalization of both men's careers and they would meet again 14 months after their first match, but seemingly a lifetime later.
The Match: Elgin walks into his NJPW matches with a sense of desperation and urgency that most don't have. This is contrary to his opponent, Naito who walks in as laid back and smug as can be. When you watch Naito's matches you always get a sense that he is in control 100% of the time. No matter how many times Elgin would try to mock Naito or goad him into wrestling a serious match in the way Elgin wants, Naito stayed "tranquilo.", he stayed in control of the situation much to the detriment of the ultra competitive, Elgin. This threw Elgin off his game as Naito spent the match trolling Elgin and then forcing him into bad situations like destroying his legs to take away the base of his power. Naito was then able to finish Elgin off with the Destino after some ill-fated attempts.
These two play such good foils to each other that I hope to see more matches between the two in the future.
The Voting: Elgin and Naito have both quietly been building solid match résumés in 2016, as neither have been accredited for being the "Best in the World" this year. When this year is over people will look back at the 2016 each of these men had with fondness and regret that they didn't appreciate it enough.
July's MVP: Michael Elgin
Elgin has been quietly building a Most Outstanding Wrestler resume all year long. This was his best month in terms of volume. Elgin had three matches make it into the voting pool that spanned two continents and had three distinct opponents that received their training in three different countries (Naito – Japan, Omega – Canada/USA, and Volador Jr. – Mexico). This proves that Elgin can work his style of match with any type of opponent and do it better than just about anyone.
Hidden Gem:
I am adding a new section to this monthly column. The whole point of this project is to open people's eyes to the best wrestling in the world. A lot of times this means that companies like WWE and NJPW will swallow the majority of the top five spots. Every month I am going to highlight a match or two from company's that I feel more people should check out.
AJPW Summer Action Series Night 5
Triple Crown Championship
Kento Miyahara © vs. Jun Akiyama
7/23/2016 – Won H2H 68.9%
Miyahara has had a run with the Triple Crown Championship that is creating a lot of a buzz around AJPW that the company hasn't seen in years. This buzz is still entrenched within the "wrestling twitter bubble", but that is exactly my point here. The young Miyahara is trying to prove he can carry AJPW as the ACE of the company and in this match he took on the longtime veteran Akiyama. This was a fantastic match of young vs. old that anyone who is a wrestling fan should check out!