NEW JAPAN PRO WRESTLING
G1 CLIMAX 26 NIGHT 15
AUGUST 8, 2016
YOKOHAMA CULTURAL GYMNASIUM – YOKOHAMA, JAPAN
Watch: NJPW World
The penultimate A Block show presents a five way tie at the top heading into the final night. We're just a week away from the G1 Climax 26 finals, who's going to pull away from the crowd and represent Block A?
---
For spoiler-free recommendations of the top matches from the tournament, head over to http://bit.ly/VOWG126-Recommended. Those taking part in the VOW G1 Climax 26 Pick'Em can find updated standings at http://bit.ly/VOWG126-PickEmStandings.
Exclusive offer: VOW readers can take 25% off (excluding PuroBoxes) your next order at IVPVideos.com using coupon code "VOICES"
New to New Japan Pro Wrestling? We suggest checking out our NJPW 2015 Year in Review eBook (available for download onPayhip or Amazon.com) as well as our Beginner's Guide to New Japan Pro Wrestling.
---
Naomichi Marufuji (8) def. Tama Tonga (6)
Tama Tonga has managed to turn around his non existent crowd reaction into three or four cheers every time he comes out for a block match. This tournament was going to be crucial for getting his push back on track, as an impressive performance would likely restore faith in him after the Guerrillas of Destiny disaster. He's been… mediocre, at best. I think he's proved himself to be a phenomenal enhancement guy, with good control over an audience, but doesn't offer much beyond that. It's hard to say where he'll go next. On the flip side we have Marufuji, who few predicted to sit atop the block with a victory over the IWGP Heavyweight Champion, turning out great matches in the process. This wasn't one of those great matches, but as with a majority of this year's tournament, it was an easy watch. A bit of comedy thrown in with smooth work made for a decent opener. Marufuji hit Shiranui for the finish. **3/4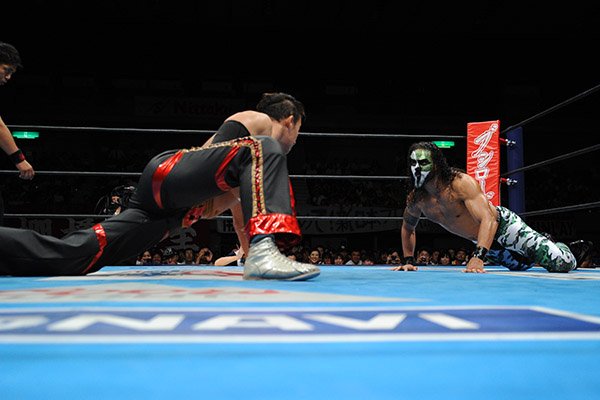 SANADA (4) def. Tomohiro Ishii (6)
SANADA's shock win over Tanahashi way back on Night 1 seems to have completely overshadowed his poor win record. Not only was it a huge upset, but one of the best matches of the tournament. Ishii may have usurped it as THE best match when he went against Okada on Night 13. I really enjoyed these two clashing for the first time, watching SANADA struggle to wrap his body scissors around Ishii's wide frame before fully locking in Skull End and making him tap. It goes without saying that Ishii was on fire, one of the best workers in the world without a doubt. Both of these guys may be eliminated, but you wouldn't have guessed it watching how they fight. Ishii always fights like you've personally insulted him and his whole family, and he'll die before letting you get away with it. Best match of the night. ***1/2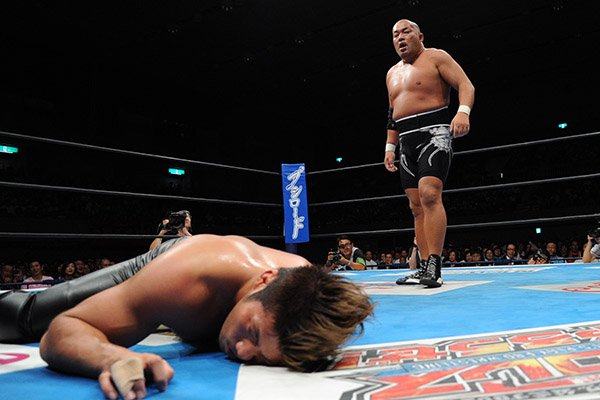 Hiroshi Tanahashi (8) def. Hiroyoshi Tenzan (4)
If you think that Tenzan being out of the runnings in anyway ruins his performances, you're lost. This was never going to be a miracle run that lead to one last G1 victory, but it had the chance to turn out some good matches, and it did! Sure it petered out as Tenzan's years and years of physical exertion caught up with him halfway through, but he's given it everything he's got. Tanahashi, arguably the current ace was not happy hearing the overwhelming reaction for Tenzan, as his chants drown out the ace of the century. A jealous, almost callous Tanahashi is a glorious sight to behold, soaking in the boos as he goes for Tenzan's signature chops, only to receive a brutal headbutt. Tanahashi was able to continue his comeback story and overcome the ace of NJPW past, finishing him off with a High Fly Flow. Tanahashi now joins Okada, Marufuji, Goto and Fale at the top, and stands a good chance of leaving the other four in the dust. ***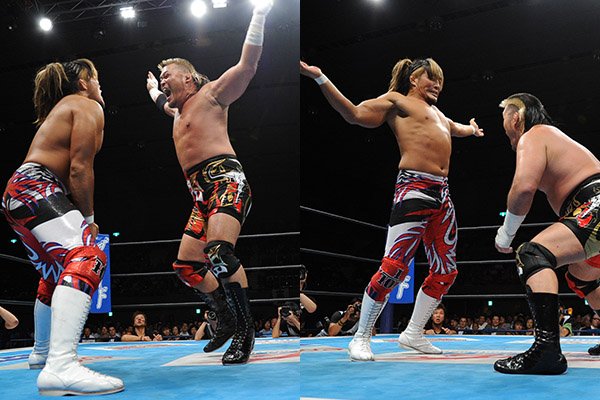 Kazuchika Okada (10) vs Bad Luck Fale (8)
Even though Okada has been able to triumph over Fale before, it's never an easy match for him. Fale has been surprisingly entertaining this year, he's probably not anybody's favourite guy but his presence on the roster is valuable and interesting in this kind of context. He can, and has, beaten top guys, has a finisher that's never been kicked out of, and gives a considerable boost in momentum to those that are able to slay the giant. Okada didn't get the happy ending to David vs Goliath this time. This means that Okada will be fighting for his chance to go on to the finals against Tanahashi, also on ten points. Fale, also now at ten points, will proceed to the final unless either he loses to Tama Tonga or Tanahashi defeats Okada. The Bad Luck Fall claims another victim, and Fale looks suitably imposing heading into the final night. **3/4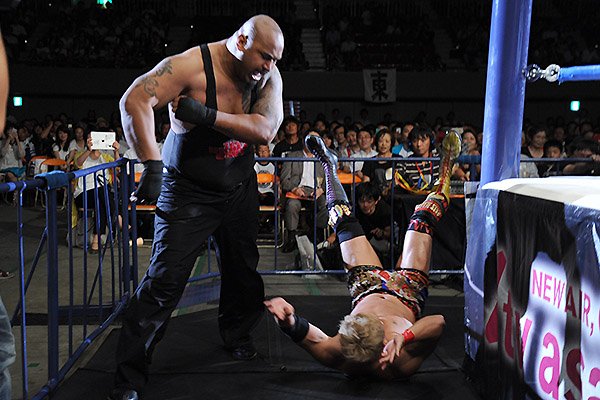 Hirooki Goto (8) vs Togi Makabe (8)
Feel free to correct me if I'm wrong, but I'm fairly certain Makabe has giving us a nice collection of incredibly average matches. Getting placed in long, boring main events and winning most of them, Makabe is the most skippable wrestler this year. Luckily, he's been separated from the conversation when it comes to winning the block thanks to Goto. This was presumably selected as the main event for this show as both competitors are tied on points, giving this match the intrigue and gravitas that it would have lacked previously. Goto goes against Marufuji on the final night, but since he's lost to both Tanahashi and Okada, he'd have to pray for a draw to stand a chance of progressing to the finals. Personally I'm fine with this result. This match was slow and had very little drama considering how important it was supposed to be. It only really picked up in the last twenty seconds, with Goto hitting Shouten Kai, but failing to put away Makabe. He immediately goes into the far inferior finisher: GTR, which was enough to seal the win. **1/4 
Your G1 26 Standings as of Night 15:
Block A
Kazuchika Okada – 10
Naomichi Marufuji – 10
Hiroshi Tanahashi – 10
Hirooki Goto – 10
Bad Luck Fale – 10
Togi Makabe – 8
Tomohiro Ishii – 6
Tama Tonga – 6
SANADA – 6
Hiroyoshi Tenzan – 4
Block B
Tetsuya Naito – 10
Michael Elgin – 8
Katsuyori Shibata – 8
Katsuhiko Nakajima – 8
Toru Yano – 8
Kenny Omega – 8
Yuji Nagata – 6
YOSHI-HASHI – 6
EVIL – 4
Tomoaki Honma – 4