NXTs favourite underdog has her biggest match to date this week as she climbs into the ring with NXT women's champion, Sasha Banks, at NXT Takeover: Brooklyn. NXT's super fan favourite didn't come from nowhere, her battle on Saturday will be the culmination of a long, inspired journey.
Humble Beginnings 
Born Pamela Rose Martinez, the future Bayley started out as many wrestlers do, by watching wrestling with her brother. She enjoyed the work of The Rock
, The Hardy Boys
and The "Macho Man" Randy Savage
, as well as looked up to WWE's fierce female talent such as Molly Holly, Lita and Ivory for inspiration. Martinez said in an interview with ArtOfWrestling.cz back in 2010 that Ivory would be a dream match of hers.
"If I had to choose one right now I would love to have a match with Ivory… I think it would be a great learning experience, very high energy and super competitive."
From there she branched out by going to see live shows run by Big Time Wrestling, the local promotion run by promoter Kirk White. She was immediately  sucked in and with BTW being located close to her Newark home, she had the access to make her dream of becoming a professional wrestler a possibility.
As soon as she turned 18, Martinez began training under the watchful eye of Big Time Wrestling's head trainer Jason Styles, who was a big factor in Martinez choosing Big Time as her training base.
@mynameisamandaj @BTWrestlingCA Ask for Jason Styles 🙂

— Bayley (@itsBayleyWWE) May 2, 2014
Styles told the Miami Herald in an interview in February 2015 that "it's actually a good feeling as a teacher, when you're teaching people something that they're that passionate about wanting to learn. From the get-go, she always talked about how she was a wrestling fan since she was a kid, and that really came through, when she started training."
A mere five months after training under Jason and others at Big Time, Martinez would make her in-ring debut for BTW in September of 2008.
The future Bayley first worked under the name of Davina Rose, teaming with Shane Ballard in a losing effort against Melissa Coates and Shannon Ballard. It wasn't long before she was locking up with some more accomplished women of the independent wrestling scene such as Daffney and Buggy Nova. Martinez was learning fast and she was slowly making a name for herself, but a chance meeting with a former WWE diva that would change her fortunes dramatically.
Straight Edge Tutor
On Big Time's 14th anniversary show in October 2010, Davina was paired with veteran women's wrestler, Serena Deeb, and the two hit it off with Serena taking a shine to the young female grappler. The two teamed together to take on Jessica James and Buggy Nova that night and a friendship was born. From that point Serena took her under her wing and it wasn't long before Serena's influence took effect.
It's a crying shame that Serena will most likely be remembered as the bald chick in CM Punk's Straight Edge Society during her short run on the WWE main roster, a role in which she never got actually wrestle much (she wrestled once on TV, I believe), rather than her in-ring work, as she is a very accomplished wrestler.
Many who don't know about the bond between Serena and Bayley seem to mention that the young hugger has shades of Serena Deeb and it's no surprise since the former straight edge follower was a huge influence on Bayley's career. When they first met, Serena had just finished her WWE run and was settling back into the independent scene. The veteran was able to pass on her knowledge and guidance to Martinez and, to this day, her in-ring style is still very reminiscent of Deeb.
From giving her in-ring pointers and tips to preaching to promoters about her work, Serena went to bat for Davina and would be a great mentor to the young starlet. Martinez stated in a 2012 interview with The Pro Wrestling Is Art Blog that Serena was her go to elder for advice:
"Everyone has been helpful but, of course, I'm closest to Serena. I feel very comfortable to email her whenever I have a question about anything and she's been so helpful not only on the wrestling itself but how to handle certain situations or bookings."
Martinez continued to learn and build her resume by wrestling the likes of Sara Del Rey, Candice LeRae and Allison Danger before Dave Prazak of SHIMMER listened to Deeb and booked Martinez as Davina Rose to one of his SHIMMER tapings. Over the week of SHIMMER tapings, Davina Rose would be booked in four matches,  and did herself plenty of favours by holding her own against accomplished performers like Portia Perez and Mercedes Martinez. She received praise for her ability and work rate in her outings and soon she would become a SHIMMER regular.
Though she was far from the finished product, Davina Rose soon gathered momentum and built a decent reputation among the indie scene as a girl who could let her in-ring abilities do the talking rather than have much of a character or gimmick, much like her Mentor, Serena. She had that likable girl next door charm and the wrestling chops to be a great underdog competitor.
Though she didn't win many matches in SHIMMER, and she wasn't a huge draw there, Davina Rose was a dependable hand on the SHIMMER ship and quietly went about her business by having good outings against the likes of Saraya Knight and Rhia O'Reilly as well as battles with Cheerleader Melissa and MsChief on the indie scene.
She soon got a quiet tryout for WWE and turned it into a successful one as Martinez was signed to a WWE developmental contract in December 2012. Dave Prazak of SHIMMER and her friend/mentor Serena had nothing but kind and encouraging words as she left for WWE. As with many SHIMMER fans, they were happy that Martinez got her break, but many fans and internet pundits feared that she would be mishandled by WWE in the long run, in similar fashion to Serena.
While at this stage it was totally unclear what WWE would do with Davina Rose, one thing was for sure though and that was WWE was getting quite the athlete and a performer, with a drive and passion to better herself.
Squeezing Out a Personality 
When Martinez arrived in NXT, WWE's developmental territory in Florida, many speculated whether she would keep her look or her name. She uncharacteristically debuted under a mask while wearing dark coloured tights, a far cry from the multi-colourful attire Davina Rose sported, looking more like a female El Generico.
Luckily, this was a one time deal and she quickly reappeared as herself on the next show with a new name:  Bayley. She would continue to wrestle on these live events before making her NXT taping debut in a losing effort against Paige in March 2013. However, it wasn't until June that year that she finally got a character.
She soon began being presented as a wide-eyed, overly-happy sweetheart who had a huge zest for life. With bright colours splashed all over her ring attire and a smile plastered on her face, Bayley was NXT's new happy-go-lucky girl.
Many immediately compared it to AJ Lee's naive, head in the clouds character she had in her early WWE days, but over the coming weeks Bayley would develop her persona to one of a super-sweet cutie pie and one that was yarning to just make friends with the rest of the female locker room, using hugs as a means to accomplish this.
I, for one, assumed she was some sort of sweet ultra fan with a few nods to the Eugene gimmick of Nick Dinsmore minus the bad taste, but she's much more than that. Bayley was a girl living her dream, with the caring nature and empathy of a Walt Disney woodland creature who is just happy to be a part of WWE, which isn't too far from her real life mindset. She would always be full of smiles and whimsy anytime she was on screen and never disappointed fans at NXT meet and greets by being always open for a hug.
Her character seems to be more of an over the top version of her own personality and it's certainly working for her. From segments of her early work on NXT television, she was easy to warm to and she has the ability to make any opponent or personality who is mean or cruel to her in anyway a heat magnet, and in turn make herself a firm fan favourite with the Full Sail University crowd.
Overlooked!
Bayley has been a breath of fresh air in NXT, but you sometimes get the impression she was being overlooked. Other superstars seemed to be getting more of a chance to shine and she, while not an afterthought, was left lurking in the shadows of other NXT females.
If it seems like Bayley has been in the same position in NXT up until recently, it's because she was. While the likes of Paige, Summer Rae and Emma have made it to the main roster, many felt that Bayley would be called up soon after these girls, but it was not to be.
In hindsight, it was probably a blessing in disguise as Paige hasn't set the division on fire, Summer Rae has been rarely used as an in-ring performer and Emma was saddled with Santino since day one and left to rot, many wondered if Bayley would ever get promoted.
Bayley has been in NXT now for nearly three years and only now is she been the top contender. Contrast this to Sasha Banks and Charlotte who were signed around the same time and have already made a splash on the main roster.
Even Becky Lynch, who arguably was more skilled when arriving although was more or less retired before being signed for five years, has arrived on the main roster before Bayley despite arriving at NXT eight months after Bayley.
While she wasn't doing too badly in the NXT matches and she was still improving, she wasn't being taken seriously by fans and never got a chance in a serious feud. With Becky, Sasha and Charlotte looking like serious contenders, Bayley was in danger of being left behind and suffering.
It wasn't until she decided to not be pushed around anymore that Bayley began to break out and make her own statement, both character wise and in the ring. Bayley was about to make people take herself seriously.
No More Ms. Nicegirl
Following an attack by Becky Lynch and Sasha, Bayley took time off to sell the injury and when she returned she showed a fire in her that was missing previously. She came back to scare away Lynch and Banks from attacking Charlotte, an ally in the battle against the two mean girls of NXT, and went one further by attacking the then-NXT champion as well showing that she was out to prove a point: Bayley wasn't being overlooked anymore.
She had an impressive display in the fatal four-way that followed at Takeover: Rival showing that she could go in the ring too. Despite not winning the gold that night, she looked impressive in between the ropes and proved she could keep up with the other girls.
Since then she has slowly risen up the ranks with good matches against Becky, Charlotte and Emma and the fans have taken to her.
Similar to her SHIMMER days, she still has those underdog qualities and her loveable character only enhances them. Her colourful attire makes her stand out and she appeals to young kids. That, coupled with said underdog persona and her fantastic wrestling abilities, gives her a great chance to be a hit when she makes it to the main roster, similar to Rey Mysterio Jr.
This Friday she faces Sasha Banks and the match has the potential to steal the show, even with a Finn Balor and Kevin Owens booked for a ladder match on the same card. Bayley's road to glory has been a great story thus far and she's an easy fan favourite to root for.
Bigger Challenges
While Bayley can hold her own in between the ropes, her biggest challenge is still ahead.
With Sasha and friends being promoted to the main roster, a huge hole will be left in the middle of the NXT roster and it will be up to Bayley to carry the division. While I assume Bayley will take the belt off of Sasha and give NXT Takeover it's huge feel good moment on Saturday, it is asking a lot of Bayley to be the main gal.
Bayley may very well be better when chasing the title and she is being used perfectly in the underdog role thus far, but that will all change if she wins the gold and she may not work out as a champion, and she may also suffer like Mysterio did when he became top dog.
Without Sasha and others around to compete with, she will have to bring the best out of newly-heel Emma, an inexperienced Dana Brooke and perhaps Alexa Bliss. Given how WWE has an urge to push her, Bayley might even be paired with Eva Marie in the near future.
That being said, NXT have done wonders with the division over the last three years and it wouldn't surprise me if they got the best out of this new crop of girls. Bayley can be the catalyst if used correctly.
If and when she is promoted to the main roster, it's a coin toss as to whether she will be used correctly. Many shining lights in NXT have fallen by the wayside once promoted, just look at Adam Rose, Bo Dallas and The Ascension. The most notable comparison would be Emma, who had a fan friendly gimmick, and was totally underutilised and mishandled. She's back in NXT trying to build herself up and I'm hoping Bayley doesn't suffer similar circumstances.
Bayley has more potential to make it than Emma as Bayley's gimmick will easily appeal to the younger members of the WWE Universe. It would be a huge mistake for WWE not to capitalise on her marketability to a young female audience as she could easily be, if used correctly, a modern Rey Mysterio.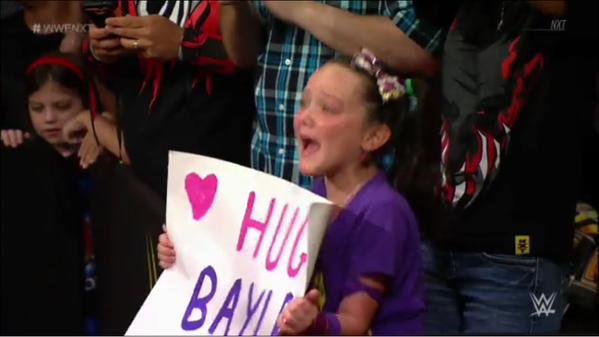 She has the Macho Man inspired technicolor ring gear, she has the ever likeable personality and she knows how to work the underdog gimmick just as well as those before her, she's a perfect fit in WWE's PG environment. She would be a great role model to a younger generation of fans and she could sell a ton of merchandise in the process.
Many will be rooting for her at NXT Takeover, but the true hope is that she makes it, not only as a focal point of the NXT division, but hopefully someday we will see her on the main roster dishing out hugs and seeing her whacky Al Harrington's Wacky Waving Inflatable Arm-Flailing Tubeman Emporium entrance on a bigger scale.