Grab your tissues, sports entertainment-themed unscripted television fans. This week's episode of "Total Divas" is a weeper. If you're still all tore up over Daniel Bryan having to forfeit the championship, as a matter of fact, maybe invest in some handkerchiefs, because this season is all about going back into those dark days. No one escapes this episode unscathed.
Except for possibly John Cena, who is a man whose visage knows not the disfiguring twists of emotion. Botox, maybe?
Speaking of the Face of the Company: When we left off last time, John had just confronted Nikki Bella with a handful of hypodermic needles. And at the start of this week's episode she, of course, does what a person with nothing to hide would do: She not-at-all-defensively asks where he found them.
She then breaks down and tells him the truth about the hormones she's taking in preparation to freeze her eggs (in case she stays with him and then ends up a withered old hag of 40 with no children of which to speak, longing for her "30-year-old eggs").
"Fair enough," says John, visibly relieved that his lady friend isn't juicing. If you're surprised by his nonchalance, you probably didn't watch Season 1, when John invited Nikki to move in with him and then basically sprang a prenup on her before she could get her shoes unpacked.
Out with the girls, Nikki tells Natalya and Eva Marie about John finding her secret baby-freezing hormones.
"You almost feel like a little kid that got caught and yelled at," Nattie says. Which effectively sums up John and Nikki's entire relationship as depicted on "Divas."
In Phoenix, Brie Bella and her new husband Bryan "Daniel Bryan" Danielson are packing up to move into the dream home they've just purchased. "Total Divas" gives us an unprecedented look into the unique challenges of packing up the personal possessions of two professional wrestlers as Daniel/Bryan emerges from the bedroom with a massive armload of protective gear.
"Here's another set of these," he says.
"Oh my gosh," Brie says. "You're like a kickpad whore."
"I'm what? As if I have sex for kickpads?"
Sex talk leads immediately to baby talk, during which we learn that Brie wants "two babies out of (her) vagina" by age 35.
This is neither the first nor the last intimate discussion of female reproductive anatomy in this week's episode, and I'm warning you now that it appears to be a primary theme of the season, so get used to it.
Some highlights of this episode that have nothing to do with human biology:
A charming backstage sighting of Santino Marella. Can that guy keep kayfabe or what?
A spot-on Bad News Barrett reference used in conjunction with Mark the WWE Corporate Suit, whose entire role on the show is to make people cry and/or roll their eyes.
A close-up shot of Bo Dallas' rear end.
Jon Uso and Trinity/Cameron doing impersonations of one another's entrances.
John Cena and Nikki Bella have perhaps the first-ever conversation about bursting ovaries ever held at a CrossFit box.
(Oops. Yeah, that last one totally had to do with biology. What can I say? It's inescapable.)
Also on the menu this week: The seeds of the Funkadactyls breakup are planted when Bad News Mark tells Cameron/Ariane that she'll be valeting Naomi/Trinity for a solo match because — well, because Trinity is an awesome wrestler and Ariane is… um… a pretty good dancer. Trinity tries to give Ariane a pep talk, but Ariane instead seeks solace with Nattie and Eva Marie, the latter of whom is appropriately horrified considering being sidelined for being a too-green wrestler is something she should be worried about every single second of her professional existence.
Nattie, reliably, is ready to dish out some straight talk.
"This isn't for everyone," says Nattie. Her Royal Highness the Queen of Tough Love, that one.
Back in Arizona, the Braniels have just taken possession of their dream home, and Brie immediately begins changing everything. The contractors asks them to list their five top priorities.
Daniel: "Solar panels."
Brie: "Cabinets."
Bryan: "Graywater system"
Brie: "Flooring."
Daniel: "Gym."
Brie: "And then three things — gym?"
Bryan: "And this flooring already is nice."
"I love how my husband wants to save the planet, but I definitely think Bryan should let me have what I want," Brie says in a talking head. "Happy wife, happy life."
The still-World Heavyweight Champion, though, is ready for a fight.
"This is exactly what Nikki would do," Bryan says. It stings because it's true. Which is pretty much what Brie says to Nikki later when they go furniture shopping. Nikki stops examining an ugly ceramic dog long enough to complain that she's been "double dissed" (once because Bryan Daniel Bryan said it and again because Brie was offended by it) and then lectures her sister about compromise.
Later, over lunch, John and Nikki have their 875th conversation in which John lectures Nikki about their relationship. In a talking head, Nikki gushes about how John is really opening up and making himself vulnerable. It's good that she translates for us, since vulnerable John Cena is virtually indistinguishable from angry John Cena, surprised John Cena, sad John Cena, thoughtful John Cena, romantic John Cena, and all the other John Cenas we've come to know over the first two seasons.
Then the Bellas go out for coffee, and Brie lectures Nikki about how selfish John is. (Yes. There is an incredible amount of lecturing on this show. They should have called it "Totally Didactic.")
"If John wanted to freeze his eggs, do you think he would do it without your permission?" Brie asks Nikki.
The argument then devolves into which sister is the nice twin, then which is the "good pixie," and then there are apologies. Nikki wraps up the drama with some Nattie-style sensibility:
"Well, since neither of us are pregnant, why don't we go get a drink?"
Brie goes home to find Bryan kickin' it on the couch with a book. When she asks why he isn't packing, he reveals what we all already know: He's in bad shape and needs neck surgery pretty much immediately.
"Are they gonna take the titles off you?" she asks.
"I don't know," he answers. But we know, which is our signal that this episode is about to leave behind the petty fighting and take a sharp turn into Sadsville, U.S.A., population: us. In a conversation with a WWE doctor later, we learn that two nerves in Bryan Daniel Bryan's neck had to be decompressed instead of one, which is what pushed back his (still ongoing) recovery time.
After the Bellas go to visit some cousins with small children, leaving Nikki wondering if staying with John will mean she'll be "the world's greatest aunt" for the rest of her life, we join the Divas backstage, where they watch Daniel Bryan deliver his farewell speech. Oh, hey, guess what? It's still sad, no many how many times you watch it.
Meanwhile, we get some glimpses of Trinity's first solo match against Paige, and it turns out Ariane's ringside affect, which we all thought was just part of the storyline, maybe wasn't acting. Later on, she expresses her unhappiness to Corporate Mark (he of the bad news) and tells him she wants to go back to NXT so she can get more ring time.
"That's a little problematic," Mark says. Which is corporate-speak for if she goes back down, there's no guarantee she'll move back up. There are tears. Commendably, Ariane insists that she wants to be taken seriously as a wrestler, not a valet, and she's adamant that going back to NXT is the right thing to do.
When Ariane reveals to Trinity that she wants to go back to developmental, Trin is pissed that her tag team partner is bailing on her. Everyone uses the word "selfish," and there's a lot of gesturing.
"When you come back, it will not be no more Cameron and Naomi," Trinity warns. "Go do you, and I'mma do me."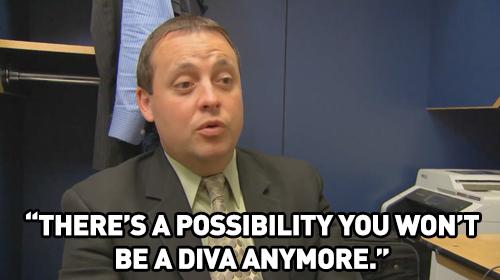 This is not only dramatic but gives Ariane the opportunity to throw in a "Girl, bye."
We close at John and Nikki's beach house, where Nikki is preparing to reveal to John that she definitely, definitely wants to get her eggs frozen in case their weirdly one-sided, scold-heavy relationship doesn't pan out within her fertile years.
"I opened a bottle of wine, kind of trying to do something romantic," John says. "What are you doing, taking a dump? It's cool if you are. It's what the body does."
"Well, my body doesn't," Nikki says. I actually kind of believe this.
They go over possible dates for her procedures, which will require Nikki to sit out work for at least ten days.
In a not-that-grand-for-any-other-adults-in-a-serious-relationship gesture, John then promises to take care of her. It's bizarrely romantic when he generously offers to do things that would be considered par for the course in a normal relationship.
"It makes me excited for this egg-freezing process," Nikki says in a talking head.
And then, as though the E! Network heard me wondering whether Robo-Cena is capable of expressing any human emotion at all, it happens.
Nikki starts talking about how Brie was peeping at her lady parts during the pre-egg-freezing ultrasound. "By the way, hers looks exactly the same," Nikki says. "I'm just kidding. Well, no, I'm not. We're identical twins…"
"Stop. Stop talking."
Turns out John Cena's chiseled face does visibly register one emotion: disgust.
Here's to anticipating next week's episode, which promises the return of Summer Rae, a nasty roadside fight, and Eva Marie wearing some kind of ridiculous head chain.
This show needs a drinking game.
Featured Video: