7. Was he a good worker before his prime? Was he a good worker after his prime?
Let's start this question by trying to define what a wrestler's prime is. I offered this question on Twitter and had a number of interesting responses but an age range that continued to come up is mid-to-late 30s (34-39 seemed to be a popular range). I'm okay with that distinction. I think it's so hard to attribute a prime to wrestlers since there are so many different aspects that come into a wrestler's "prime" versus that of the most common use of the term in sports. In baseball, it's easy to define a prime, we have years of data to back up that mid-to-late 20s is a baseball player's prime. It's when physically they are the best at performing their job. They may get craftier and smarter in their 30s but their body can't keep up. Wrestling is very different, most of these guys physical primes are probably similar to that of football and baseball (20s) yet, the psychology of the sport, how to adapt to different styles and just understanding the business seemed to take a lot more time.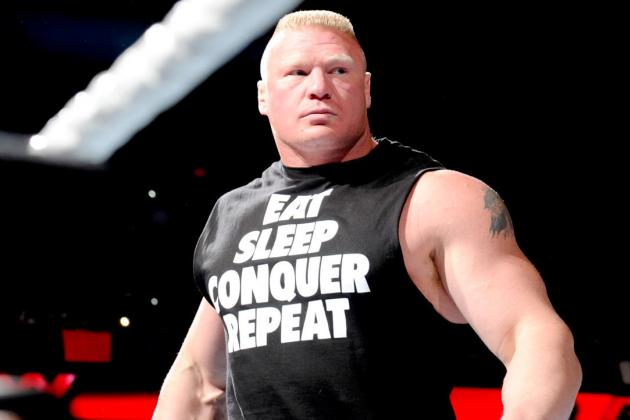 You have an issue with wrestlers starting later than baseball, football or basketball players. Very few wrestlers are ready to go on a main stage at age 19 or 20, like is commonplace in basketball and is becoming more so in baseball.
This is probably a larger discussion for another day so for the purposes of this study, let's say mid-to-late 30s are a wrestler's prime. What does that mean for this question and Brock? Well, first off, if we use this age range, Brock's career matches up quite nicely. Pre-prime would be his first WWE run and post-prime this most recent run. Pre-prime, it's hard to say Brock was a good worker. He was adequate, he was fine, he was okay… good, I'm not sure. When given the right opponent and in the right context, Brock's matches were a lot of fun and some were even great. Would that be enough to call him a good worker? I don't think so.
Post-prime, absolutely. Brock has come back with a renewed sense of how to work and has really harnessed all his character is and can be. It's been a joy to watch, especially so because his matches feel and look different. It's been quite remarkable. He's also had great matches with a number of different competitors — John Cena, Triple H, CM Punk.
This one is an easy answer. Pre-prime, no, Brock was not a great worker. Post-prime, absolutely.
8. Did he have a large body of excellent matches? Did he have a excellent matches against a variety of opponents?
Lesnar has 10 singles matches that registered above 4* according to Dave Meltzer, the highest being a two-way tie between his Extreme Rules 2012 match against John Cena and SummerSlam 2013's matchup with CM Punk. Both clock in at ****½ and that may tell us all we need to know about this question. Sure, Brock has a great track record of solid, main-event matches but excellent? And a large body of excellent? I'm not sure. The variety of opponents in these 4* or better matches are stark: John Cena (x2), CM Punk, Kurt Angle (x3), Chris Benoit, The Undertaker, Eddie Guerrero and Triple H.
There's one thing that immediately sticks out to me with this list — pretty much everyone on there is an exceptional, all-time great worker. Cena and The Undertaker need the right opponents, and Brock clearly was that right opponent, but it's telling that there's not a match in that list where I can safely say Brock was the best worker. That hurts a bit. The variety of opponents speaks for itself, CM Punk and Kurt Angle couldn't be more different yet they were both able to have a great match with Brock. The list goes from some of the top stars in the industry, some of the best workers and a few in-between.
Did Brock have excellent matches? Yes. Large body? I'm not sure. Looking at a contemporary like CM Punk, Brock can't hang with his 18 4* or over matches. Add in Punk's wide array of independent work and it's a no-brainer who has the larger body of great matches.
Lesnar falls into a weird category here because he doesn't have the body of excellent work that most great in-ring guys do but he's a step above many others, including guys relative to his size. I guess to get an answer here I'll say he doesn't have a large body of excellent matches but he certainly has many excellent matches and many of those excellent matches came against a variety of opponents.
9. Did he ever anchor his promotion(s)?
This one shouldn't take long — UFC, yes. He was their best PPV draw ever and brought more eyes to the company than ever before. He used his fame in wrestling to convert members of the wrestling audience to UFC. Many of which have never looked back. In WWE, no, he was never the anchor. He had runs at the top of Smackdown and was a big star in the summer of 2002 but in no way was he ever the anchor. In this most recent run, he's been far and away their best special attraction but never an anchor.
10. Was he effective when pushed at the top of cards?
As evidenced by Brock's drawing power during his first run, he was not effective at the box-office or in PPV but he did a great job of getting to that level in a short period of time and staying at that level. His work improved throughout his first run and he seemed like a bonafide star, even if the buys don't reflect that.
During this most recent run, not only has he become one of the most consistent big match performers, he was for a time, a notable draw. That has since waned as he become less of a special attraction but it's undeniable how well he's played his role and how effective his character and presence is.
11. Was he valuable to his promotion before his prime? Was he still valuable to his promotion after his prime?
This is a yes all around. Even if in Brock's first WWE run he didn't draw the whole way through his run, he popped a big number as the foe to The Rock at SummerSlam 2002 and reinvigorated the upper card of WWE at the time. He burst onto the scene and was presented as something fans had never seen before. He excelled at that role and was a vital part of the main event scene from then on.
His UFC value, c'mon, we don't need to cover that again. The guy helped UFC reach heights it had never reached before and converted wrestling fans into MMA fans — that's wholly important.
Now his most recent WWE run, value may be up for debate. Do we merely define value as being a solid piece on-hand or we define value financially. If it's the latter, then there'd be real questions about Brock's true value compared to what he's being paid. Chris Harrington wrote a great piece about Lesnar's value some weeks back that I'd definitely suggest you read:
"According to my analysis, he's valuable—just not "$15 million for nine matches" valuable."
Harrington estimated Brock's currently value at roughly $1M+ per show on average, find anyone else in the wrestling not named Dwayne Johnson that's can tout that.
So do we credit Brock for being valuable because he's worth more than anyone but The Rock or we do look at what he's being paid and wonder if he's worth all that much? There's where this question and the definition of value becomes tricky.
12. Did he have an impact on a number of strong promotional runs?
Absolutely, UFC run and this current WWE run are testaments to that. You'd like to see more out of his initial WWE run and perhaps you did in the summer of 2002 but there's not much else there. This is another question where Lesnar's longevity and inability to stay in one place for more than a few years really hurts.
13. Was he involved in a number of memorable rivalries, feuds or storylines?
I'd say yes, I could be bias here but I was a big fan of his work throughout the first WWE run including a series of great feuds with The Undertaker, Kurt Angle and Big Show.
Since his return, he's had a number of memorable feuds and moments including his return and beatdown of John Cena, his feuds with CM Punk and Triple H but more than anything, he was booked to beat The Undertaker's streak. That's about all the ammo you need for this question. In one of the most memorable moments in pro wrestling history, Brock beat The Undertaker at WrestleMania, a completely unthinkable scenario.
Once you count his rivalries in UFC, it's a no doubter. Brock Lesnar has been in a number of memorable rivalries and feuds.
14. Was he effective working on the mic, working storylines or working angles?
I don't think there's many guys in today's WWE better at working storylines and angles within a match than Brock Lesnar. The dude (or maybe it's Paul Heyman, who cares) gets it. He knows how to react to each and every move, he knows how to play to the crowd, he just gets it, in every way you can.
The biggest problem is and always has been his mic skills. They aren't good, at all. He has a horrible voice that was covered up initially by the mic work of Paul Heyman. When he transitioned into the top babyface for WWE, this became glaring, he just couldn't hang. Thankfully, WWE has smartened up to this and he barely talks anymore. What's actually funny though is WWE's recent trend of putting Brock in pre-taped segments has worked wonders for him. It's become evident, in that environment, Brock is a great talker. Regardless, it doesn't mask the fact that Lesnar is not a good talker, despite being a great in-ring storyteller.
15. Did he play his role(s) effectively during his career?
Hmm, did Brock Lesnar play an unstoppable killing machine effectively? Yeah, it'd say so. He tailed off a bit during his goofy babyface run with the Smackdown brand in 2003 but for the most part, Brock played his role perfectly.
As long as he's a heel and doesn't have to cut 20 minute promos, Brock is as effective a character as anyone in wrestling history. He's a guy that absolutely could stand out in any era, even the 'roided up craziness of 80s WWF, Brock would still stand out with his combination of athleticism and raw power. Brock as a character has never been in doubt.
16. What titles and tournaments did he win? What was the importance of the reigns?
Brock may only spend a few years in a spot but there's no doubt it rains gold. Lesnar was a Big Ten wrestling champion in 1999 and 2000, NCAA Runner-up in 1999 and NCAA Champion in 2000. He's a 4-time WWE Heavyweight Champion, winner of the 2002 King of the Ring, the 2003 Royal Rumble, IWGP Heavyweight Champion and a UFC Heavyweight Champion.
Unlike many of his contemporaries, these reigns are fairly significant. Sure, not everyone of the WWE Title reigns was a big deal but his first win over The Rock was seen as the culmination of a summer-long run to the championship and his current run could be a changing of the guard as far as how business is conducted in WWE. His UFC run is most significant, as has been mentioned already, he played a huge part in the newfound fame of UFC, converting disenchanting wrestling fans into MMA fans en route to becoming one of the most successful and highest drawing UFC fighters ever.
17. Did he win many honors and awards?
I was really surprised by this, but Brock has not received a ton of awards throughout both his wrestling and MMA career. Lesnar does have 11 Wrestling Observer Awards which seems small but is still fairly significant. He took home the 2002 Best Wrestling Manuever for his F-5 finish as well as Most Improved Wrestler. He followed this up with yet another Most Improved Wrestler award in 2003, a Best Brawler award and a Feud of the Year away with Kurt Angle.
On the MMA side, Brock took home Best Box Office Draw and MMA Most Valuable Fighter three straight years (2008-2010). Somehow this still seems like award wise which speaks to his longevity issues.
Sports Illustrated named Brock Top Newcomer of the Year in 2008 while Pro Wrestling Illustrated showered him with love in both 2002 and 2003 taking home Most Improved Wrestler of the Year and Wrestler of the Year in 2002, while grabbing the top spot in the PWI 500 in 2003 along with Feud of the Year, Match of the Year awards.
All told, it's a pretty impressive resume that still seems to be lacking some major in-ring awards. It's tough to argue with three years as Best Box Office draw but I'd like to see a bit more out of this current run.
18. Did he get mainstream exposure due to his wrestling fame? Did he get a heavily featured by the wrestling media?
Brock Lesnar received a ton of exposure due to his wrestling fame, unfortunately for WWE, most of it came with UFC. He was a sensation in the sporting world due in large part to his successful run with WWE. The narrative surronding him was this fake sport wrestler would be taking on legitimate fighters. It was an uneducated narrative for most, since Lesnar was an NCAA Champion wrestler but it was a fun narrative none-the-less. I can recall going to sports bars during this time to watch UFC and the MMA crowd HATING Brock Lesnar. By proxy, standing up for my 'rasslin, I defended him, mentioned his credentials but it didn't matter. What's better, Brock embraced the heel role and became one of the most effective draws in MMA history.
Brock was heavily, heavily featured in both mainstream sports media and wrestling media alike throughout his career. He's an interesting character, liable to fly off the handle at any moment, give you a juicy bit of information and more than that, he's just a weird but interesting dude. Boring at times, but no-nonsense. If you catch him at the right time, you'll get a great quote and he's such an ominous figure, he jumps off the page of any website or magazine.
Brock was also a search engine magnet, in some year's being searched far more than John Cena and The Rock while destroying most average numbers. Much like the story of Brock's career, Cena and The Rock both have higher averages over a longer period of time but neither could touch Brock's impressive spurts.
19. Was he a top tag team wrestler?
Lesnar did some great work with Shelton Benjamin in OVW but that was the extent of his major tag team work. There were a few matches here and there but for the most part, Lesnar was a singles worker through and through.
20. Was he innovative?
I said earlier that Lesnar could fit into any era and I think that speaks to his innovation. No other wrestler seems to fit the comp of Brock Lesnar who is the perfect combination of size, strength, athleticism and tenacity.
That's not to say, he blew the doors off of modern wrestling, he certainly did not do that but it's hard not to see him as an innovator, a wrestler different from his peers even if you can't point to a single move, technique or even style. I'll answer this one a bit more with the next question but he was absolutely an innovative worker.
21. Was he influential?
I think this question may become more clear in 10-15 years because it's hard to call anything Brock does influential on today's wrestling scene. The other problem too, not many people can do what Brock can because they aren't gigantic freaks of nature like Lesnar is. I don't think a 5'8 indy guy with some bulk can work the same style, use the same mannerisms or even take anything from Brock and apply it to his own craft.
Maybe in 10-15 years we see a bunch of people who worked like Brock, but I'm not sure his style or how he conducts himself will result in influence. People watch him for their jaws to drop, not to learn anything. I could be wrong, I don't know. Either way, I don't think it's fair to judge Brock's influence at this point in his career but I'm guessing things won't change in the years to come.
22. Did he make the people and workers around him better?
This is always an interesting subject with Brock in that, I'm not sure he made guys better, but they brought the most out of themselves when they were with Brock. Does that make sense? John Cena seems to dig deep down in his matches with Lesnar but I'm not sure anything Brock does makes Cena a better worker, I just think guys realize how special Lesnar is and give their top effort. Guys like the aforementioned Cena, Kurt Angle and The Undertaker (Hell in a Cell not WrestleMania) had some of their best performances with Brock. Was that Brock's doing? I don't think I can say that, but there's something in the formula.
This obviously isn't a Ric Flair situation, where he's bumping all over the ring making your offense look like a million bucks. Lesnar is on offense a majority of the time he wrestles, so if anything, it's the OTHER guys that are making Brock better and not vice versa.
Regardless, he still gets the best out of guys but I can't honestly say he makes THEM better.
23. Did he do what was best for the promotion? Did he show a commitment to wrestling?
Hmm… do I even have to answer this one? In the midst of a main event run, Brock cited burnout and left WWE to try his hand in the NFL. When the NFL didn't work out, he went to NJPW causing WWE to sue on the grounds of his non-compete. He then ventured into the world of UFC where he played a huge role in the exploding popularity of the sport by attracting wrestling fans to MMA. Once he was done being a draw in MMA, he went back to WWE on a huge money contract that he had no way of living up to (totally not his fault though).
This question would've been a lot different two years ago. Remember, WWE had John Cena beat Lesnar at Extreme Rules 2012 because they were still worried Lesnar would bolt at any moment. He's stuck around and is having the best run of his career but money talks. There's no other option out there. When there was other options — be it the NFL or UFC — Brock bolted as soon as he could. Lesnar gave totally legit reasons for leaving WWE in the first place but it's impossible to say the man is committed, he's the antithesis of that.
He's since re-embraced professional wrestling and seems genuinely excited about the business these days but it's impossible to answer these questions with anything but a resounding no.
24. Is there any reason to believe that he was better or worse than he appeared?
Nope. What you see is what you get with Lesnar. I think he's exactly as he appears. I've rewatched Lesnar's 2002-2003 stuff from WWE and it's exactly how I remembered it. It's gritty, sometimes weird but always exciting and passionate. His current work is nothing short of amazing, if anything for the big match feel, fight feel that doesn't come across anywhere else in major American professional wrestling. I don't think there's anyone who will go back years from now and say Brock was over or underrated.
Hell, I don't hear that stuff now. I think we all get what Lesnar is all about, what he does and know how to process and rate him properly. He's one of the few guys I see very little debate on. Sure, there are some people that dislike him and his style but most will agree he's an entertaining specim, a beast of a man and a great professional wrestler.
So, is Brock Lesnar a Wrestling Observer Hall of Famer? 
I assumed my thoughts on Lesnar as a true candidate would have been more clear after doing this list but I have some of the same questions. Obviously, we know Lesnar was a huge draw in UFC, their best ever. When Lesnar returned to WWE he erased some of the doubts of his drawing power during his early tenure with the company relaying some of that popularity from UFC into tangible WWE PPV buys. Over time, even that drawing ability waned leaving us with some doubt as to Brock's overall drawing ability. He works as a special attraction which is fine and dandy but it pales in comparison to the type of special attraction numbers someone like The Rock generates for WWE. He doesn't work a consistent enough schedule to be the anchor or even what we could consider a top star in WWE making him a very odd case for a Hall of Fame. He's in a rare middle ground that is hard to define and without many comps.
His body of work is quite impressive but very small, a factor that could play huge in his HOF candidacy. Without running the numbers myself, I'm hard pressed to see any of the current crop of Hall of Famers having less matches than Brock's 363. The closest that comes to mind, was the aforementioned Kazushi Sakuraba, who only has 91 matches to his name. Sakuraba got in no questions asked because of his tremendous drawing ability in an MMA/wrestling hybrid promotion — Brock Lesnar is the prototypical North American MMA/wrestling hybrid. Is it enough? Is three years of drawing tremendously well for UFC, a few shows drawing for WWE and an impressive but small body of work enough for The Beast Incarnate?
In my mind, it is. With the new Observer Hall of Fame rules however, specifically the new 15 years – 50% rule (read about it here / listen to an explanation here), Brock will have to wait his turn on my hypothetical ballot.
He'll get in one day, it may be next year if returns are strong for both SummerSlam 2014 and the inevitable WrestleMania XXI main event but with a number of deserving candidates in danger of falling off the list, Brock will need to get in line.