One of the great debates for the Wrestling Observer Hall of Fame is how voters should account for success/drawing power in Mixed Martial Arts (MMA) when deciding whether or not to include someone in this illustrious Hall of Fame. One of my primary criticisms with the Wrestling Observer year-end awards is the melding of MMA and pro wrestling — most charismatic, best booker, Feud of the Year, etc. can be won by MMA representatives. This inevitably leads to some questions about the awards, what the awards stand for and the ultimate need for separate awards since the two have similarities, but are entirely different entities in North America.
Perhaps the most interesting case of the great unknown of MMA's place in Hall of Fame voting is that of The Beast Incarnate himself, former UFC World Heavyweight Champion, current WWE World Heavyweight Champion and since 2012, a member of the Wrestling Observer Hall of Fame ballot: Brock Lesnar.
I don't have to give you Brock's history to know what we're talking about here but let's do a quick primer. Brock broke onto the WWE scene in 2002, took the organization by storm becoming their world champion within a few months of his debut. A few years later, Brock Lesnar called it quits after WrestleMania XX to pursue dreams of playing in the NFL. After spending training camp and preseason with the Minnesota Vikings, an unbelievable feat for someone who hadn't played football in years, he was cut from the team. Declining an opportunity to play in NFL Europa, Lesnar pursued other options in the wrestling industry including a stint with New Japan Pro Wrestling, where he won the IWGP World Heavyweight Championship. Lesnar also participated in Antonio Inoki's Inoki Genome Federation (IGF) defending his IWGP Heavyweight Championship against current TNA World Heavyweight Champion Kurt Angle. This put Lesnar in a class all to himself as the only person to hold both the IWGP and WWE Heavyweight Championships.
Of course, this depends how we handle Antonio Inoki's defeat of then-WWF Champion Bob Backlund in 1979. Inoki won the title, then lost a rematch to Backlund a few days later. WWF president Hisashi Shinma declared the rematch a no-contest but Inoki refused the title and thus it was declared vacant.  In the WWE canon, this title reign is not recognized.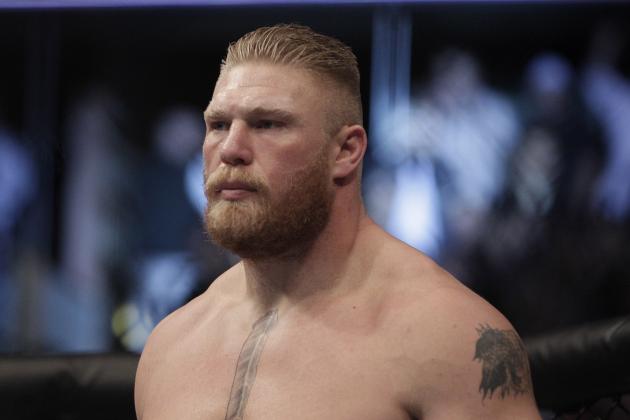 Back to Brock, Lesnar then turned his attention to the world of MMA, participating and winning his first official match at K-1's Dynamite!! USA before reaching a deal with Ultimate Fighting Championship (UFC). While in UFC, Lesnar was a tremendous box office sensation, taking part in five of the highest-selling pay-per-views in UFC history (main eventing three of them) while also drawing 97% more than the average fighter (CagePotato.com). After back-to-back losses in UFC, Lesnar retired from the Octagon and returned to WWE and popped some huge PPV numbers at both Extreme Rules 2012 and SummerSlam. A few weeks ago, at SummerSlam 2014, Brock Lesnar won the WWE World Heavyweight Championship nearly 10 years since his last reign — a rare feat in WWE.
Lesnar made his debut on the Wrestling Observer Hall of Fame ballot in 2012 but only received 24% of the vote. Lesnar rose quite a bit in 2013, all the way up to 47% but not enough to gain entry into the hallowed digital halls. I'm not a voter (YET!) but Lesnar on his face seems like an obvious entrant into the WON Hall of Fame. The resume speaks for itself: IWGP Heavyweight Champion, WWE Champion, UFC Champion as well as one of, if not their greatest PPV draw ever — that's only good for 47%?!
Lesnar is an interesting case as you research a bit more and even more so if you look at the recent history of WON Hall of Fame inductions. If you remove Lesnar's MMA credentials, it's hard to make a case for him as an induction, he didn't have prolonged success in WWE due to leaving only a few years into his tenure. Lesnar's not helping that slight now as his current contract allows for a part-time schedule. Brock comes across as a big star because he comes in for only the biggest events, but it's a serious dent to his longevity.
But it begs the question — SHOULD we remove Lesnar's MMA credentials? I know next to nothing about MMA, UFC, Price, etc. so when I look at the WON Hall of Fame and who I would presumably vote for, I like to forget any aspect of MMA. I don't follow the sport, so how can I be a judge. But when someone like Lesnar, who seems to have the success in both wrestling and MMA, still on the outside looking in, I start to wonder.
Dave Meltzer, editor of the Wrestling Observer Newsletter, tackled like the idea of MMA as a credential in last year's Hall of Fame issue of the Observer:
"Balloters have clearly included MMA credentials in voting in the past for Kazushi Sakuraba and Masakatsu Funaki. But pro wrestling and MMA are more closely intertwined in Japan. Funaki's MMA, when he was doing it, was considered pro wrestling at the time, just non-worked, and to categorize it differently today would show a complete lack of understanding of the situation as it was when he was in his prime. That is not the case for Lesnar.
But there is something to be said for the fact that Lesnar's PPV drawing figures came largely from an audience that never bought UFC before. You'd have to have your head in the sand to argue they were amateur wrestling fans of the University of Minnesota or fans of late cut NFL football players that made up those hundreds of thousands of fresh new buyers. I'm not sure Lesnar's strongest argument is that to pro wrestling fans from 2008 to 2010, there is little doubt that more were buying his PPVs than anyone elses, which is actually amazing when you think about it.
It was not pro wrestling, but that was the same thing that put Sakuraba in, in the sense he was the pro wrestling hero of his era, the biggest draw among pro wrestling fans of his time, but it was MMA that he was competing in. Japan is a different culture, but there is the argument that Lesnar was the one person to where from 2008 to 2010, at least for his fights, the U.S. culture and who was the backbone of the big show numbers weren't as different as many would like to think."
Meltzer tackles something very important in these paragraphs, past WON Hall of Fame inductees Kazushi Sakuraba and Masakatsu Funaki. For the purposes of this piece, let's focus on Sakuraba. Again, as someone who knows next to nothing about MMA, I can't with any confidence argue Sakuraba's induction into the Hall of Fame. In Meltzer's very next paragraph, he tackles this issue and the problems with comparing Japanese MMA to North American:
"That is a very divisive argument in the U.S., where in Japan, where Sakuraba went in at record levels and Funaki also went in, the argument isn't nearly as divisive. In fact, with Sakuraba the argument wasn't even there. In the sense of Funaki, when he did go in, we got zero arguments or negativity of it from Japan either although it wasn't the landslide that Sakuraba going in got, but Funaki was also not the MMA star nor national hero Sakuraba was. If he had beaten Rickson Gracie, that may have been different, but he lost that fight."
So as we see, there was little to no objection for Sakuraba gaining entry in the Hall of Fame through the Japanese category voters. Again, I won't argue for or against Sakuraba but I will wonder if there's precedent with Sakuraba's entrance, especially if we use that precedent with Brock Lesnar.
I'm in no way comparing Sakuraba's cultural impact in Japan or his tremendous success in putting Pride on the worldwide map but as Dave even says, Sakuraba's success came outside of pro wrestling, and there wasn't any sort of fight put up for his entrance. Sure, MMA in Japan and America are completely different animals but I think it's still important.
Lesnar didn't exactly rally a nation of people behind him, but again, he was one of the top draws in UFC history and as we'll investigate later, played a huge part in migrating former wrestling fans to the sport. That should account for something, right? Like Sakuraba, Lesnar can tout a modicum of success in professional wrestling but also boost that with tremendous success in the MMA realm. Sakuraba has the benefit of the blending of MMA/pro wrestling in Japan but as I stated and Dave stated, MMA and pro wrestling were never as intertwined as they were during Lesnar's run at the top of UFC.
So what do we do about Lesnar? Is short but somewhat significant success in WWE, a blip of success in New Japan Pro Wrestling and tremendous success in UFC enough to be a Wrestling Observer Hall of Famer?
This is all jumbled, as is customary when trying to discuss the Wrestling Observer Hall of Fame, so let's try to add some order to this. If you've followed this site for any amount of time you'll know Joe Lanza and I are huge baseball fans and you'll hopefully know out admiration for pioneer baseball statistician Bill James. If you consider yourself a fan of baseball and haven't read something by Bill James, you're doing yourself a disservice — he's the man. One of my favorite James' books is Whatever Happened to the Hall of Fame? A riveting investigation into the Baseball Hall of Fame, why certain people were voted in and others not, the politics behind voting and much more. In that book, James discusses the Hall of Fame merits of Ken Keltner, the famous third basemen who's slick defensive play ended Joe DiMaggio's hit streak at 56. Keltner was also a solid hitter, a seven-time All Star and around the time of the book's publishing, a movement started to see if he was Hall of Fame worthy. To see if Keltner could stack up, James dusted off a list that made its debut in his 1985 Baseball Abstract — the Keltner list was born. The list uses a number of questions to investigate the merit of a potential Hall of Fame inductee.
I've used the Keltner list for years to settle or kickstart baseball arguments and it's been one of my favorite tools for one of my favorite portions of the baseball season (HOF election season). The list doesn't yield any answers, if Player X has 8 questions answered Yes, it doesn't mean he SHOULD be in the Hall, instead, it's used as a frame of reference for discussion. If you end up saying yes for most of the questions, well, you may have yourself a Hall of Famer. If you say No for all, you can't hold off on registering a domain for their rally, they probably don't deserve it.
Now you can only imagine my delight when I was informed earlier this year that someone (JDW on the WrestlingClassics message board) has devised a Keltner list for Wrestling Observer Hall of Fame discussions: The Gordy List! If you can't imagine it, it went something like this:
Needless to say, I was excited but couldn't wait to get to work — well, life gets in the way but I think this is the perfect time to do my very first Gordy list, with a wrestling who, I believe SHOULD be in the Wrestling Observer Hall of Fame: Brock Lesnar. Let's do this.
1. Was he ever regarded as the best draw in the world? Was he ever regarded as the best draw in his country or his promotion?
Brock as a draw is a fascinating question. My initial answer to both questions is yes. Granted, both of these high drawing periods came in MMA but we've already tackled that conundrum, the WON Hall of Fame voters clearly account for MMA success, so we're going to do the same, even if it was in Japan and not America.
Let's break these questions down a bit more. First off, regarding Brock as the best draw in the world. As I mentioned, the only time you can make a justification for Brock being the best draw in the world is his run atop UFC in 2008-2009. From 2007-2012, Lesnar drew better than 97% of the average fighters with each of his six main card appearances drawing an average of 1,036,667 buys. The next closest was George St. Pierre whose 8 main card appearances averaged 862,500 buys, good enough for 64% above average. Brock was the man. Let's also not forget that during this period UFC outdrew WWE on PPV with an average of 220,000 additional PPV buys. So Lesnar was the top draw on the most-successful PPV organization. I can't get into attendance numbers now, but that's significant enough for me to say he was at, at a point, the top draw in the world.
The second question gets a bit tricky. We know Lesnar was a hell of a draw in UFC, but what about WWE? I'll present two charts to give an idea of Lesnar's impact on PPV buys in WWE. The first chart is his first run with the company (2002-2004) and the 2nd is his most recent run (however, we're only going up to SummerSlam 2013). I should also note WrestleMania is omitted from the dataset.
This chart looks at Brock's first run with WWE and it's hard to argue he was a substantial draw in WWE. You'll notice a few blips here and there, most notably his SummerSlam 2002 main event against The Rock. However, without a strong follow-up, that PPV number looks to be more a by-product of The Rock as well as the glitz and glamour of SummerSlam. Without digging too far into the data and just looking at the chart, you could even make the argument Brock was a negative draw in his first run. Through this entire period (2002-2004), non-WrestleMania PPV buys averaged 397,000 — those with Lesnar main eventing averaged 362,777.
This second WWE run tells a much different story for Lesnar but does leave this first question open. For one, he's definitely a stronger PPV draw than his first run, especially when looking at the Extreme Rules 2012 buyrate (first dot). During this time period (2012-2013), WWE PPVs averaged 263,00 total buys — those with Lesnar main eventing averaged 301,000. This shows a strong evidence that Brock WAS a draw in his second run with WWE but was he their top draw? He was significant but his work was overshadowed by that of The Rock who returned at a similar time, also on a part time basis and popped some crazy big numbers, including a huge Royal Rumble number alongside CM Punk.
His New Japan Pro Wrestling numbers aren't very striking either. He didn't negatively influence attendance, as NJPW was going through a downslope at the time, but he certainly didn't pop them. Here's a quick graph looking at his impact on January 4 Tokyo Dome attendance (Brock successfully defended his IWGP Heavyweight Championship in the main event of Toukon Shidou Chapter 1 against Shinsuke Nakamura)

Let's reel this back in. Was Brock Lesnar ever regarded as the best draw in the world? In my opinion, yes, during his UFC run, he was the best PPV draw from the best-drawing PPV entity in the world. Of course, this would also make him the best draw in his country and promotion (United States & UFC). This however, only takes into account his MMA work as there is no evidence he was either the best pro wrestling draw in the United States, WWE or New Japan Pro Wrestling.
2. Was he an international draw, national draw and/or regional draw?
Hey, this one is easy! Lesnar was only a national draw, with UFC's lack of substantial international success at the time of his run and inconclusive evidence of his drawing ability anywhere but UFC.
Revisiting Lesnar's NJPW run — his IWGP Title defense against Shinsuke Nakamura drew 31,000 to the Tokyo Dome on January 4, 2006 which is significant only because they drew 18,000, 20,000 and 27,500 in subsequent years. This becomes less impressive when you look at the previous three Tokyo Dome shows which were 36,000, 27,500 and 30,000 respectively. Lesnar certainly wasn't a negative draw in Japan but there's no evidence he was a positive influence.
3. How many years did he have as a top draw?
Longevity is always going to be an issue with Brock as he can't seem to stay in one place for more than a few years. His drawing power is no different. His most significant run in UFC was very short lived — after being a top draw in 2008, 2009 and 2010, he was insignificant in 2011 and a complete non-factor after that. On one hand, that's a pretty good track record, especially in MMA but when it's your only real claim to being a top draw, it may not be enough. Brock has periods of being a top draw in WWE but they were only for a few scant months and arguments could be made they were due in large part to others.
4. Was he ever regarded as the best worker in the world? Was he ever regarded as the best worker in his country or in his promotion?
Brock is a great worker and I've always been a huge fan of his matches but I'd be hard pressed to make any argument about him being either the best worker in the world, the best worker in the United States or his promotion. I think he brings a unique approach to his in-ring game and I don't think there's anyone better at presenting their matches as a "big fight" feel but he's not what you'd ever consider a top worker. His early WWE run was alongside perhaps the best in-ring period in WWE history with the Smackdown six. Recently he was overshadowed by the likes of CM Punk and Daniel Bryan. Is he a really good wrestler? Does he have 10 4*+ ratings from Dave Meltzer? Sure! Has he ever been regarded as the best worker in the world? Never. His 10 North American 4* matches put him with the likes of Arn Anderson (11), Matt Hardy (11), Alex Shelley (10) and James Storm (10). Decent company but certainly not a guy who will join the Hall of Fame on work alone.
5. Was he ever the best worker in his class (sex or weight)? Was he ever one of the top workers in his class?
In MMA, he was one of the best fighter in his sex/weight for a number of years, there are obviously questions about his favorable matchups, issues with opponents, etc. (again, I don't know a thing about MMA) but as far as I know, Lesnar was the UFC champ. That's good enough for me. There's also an interesting debate as to how MMA success should translate into being a good worker for this particular question. For the purposes of this, let's admit it exists but ignore it going forward.
As far as WWE, I'm not sure what we can count as weight. If we're putting him in the super heavyweight class, he's maybe the best 280+ lb. worker ever (allow me to duck tomatoes being thrown from Andre, Big Show and Mark Henry fans). Others have done the "big man" wrestler better but few have matched the tenacity, athleticism and pure strength of Lesnar. He gives off an aura unlike any other super heavyweight and generates heat not from fear of him sitting on a guy but for people scared of his brute strength. He's always been presented as one of, if not, the strongest guys on the roster. To this question, I say undoubtedly Brock was the best worker in what we can call the super heavyweight division during his time with WWE.
6. How many years did he have as a top worker?
This is a tough one to answer, in the previous question I stated that I thought Brock was the best in his "class" during his time with WWE. However, I would be nuts to call him a top worker. During his first run with Vince McMahon, Brock's contemporaries read like a who's who of all-time great in-ring workers: Shawn Michaels, Chris Benoit, Chris Jericho, Kurt Angle, Rey Mysterio, Eddie Guerrero, Ric Flair, Triple H, The Undertaker and even the last portion of Steve Austin's career. Perhaps if Brock stuck with WWE, he could have emerged as a top worker during the 2004-2008 lull, but even that's not likely. Brock's great at what he does, but top worker is a whole different animal and a distinction I just don't feel comfortable giving him. If we want to attribute any level of "worker" to MMA, he was a top star there for a couple of years, but again, I'm not comfortable attributing "worker" to MMA, so I'm going to leave that out.
Since his return to WWE in early 2012, Brock has been a top competitor, participating in some of the biggest, most high-profile, entertaining matches in WWE but he's still far away from being a top worker. Let's not forget he's a part-time worker, I have a lot of issues and trouble calling any part-timer a top worker, or giving them the distinction as the best in-ring competitors in a company.
Again, Brock is spectacular at what he does, how he works, his facials, honing in on his character but I'd be hard-pressed to say Brock was EVER a top worker in WWE.