With the crazy days of the 2012 and 2013 loaded supershows firmly in the rear view, New Japan presented what on paper certainly looked like a mixed bag at the Fukuoka International Center.
Underdog hero Tomohiro Ishii facing (even bigger) underdog hero Tomoaki Honma looked great.
Satoshi Kojima vs Wes Brisco? Not so much.
Kazuchika Okada, who didn't even have a title defense at Invasion Attack, taking on a fresh, exciting opponent in newly signed former TNA star AJ Styles? Awesome.
Shinsuke Nakamura teaming with washed up MMA star Kazushi Sakuraba to take on two members of the Gracie C-team? Welp.
With the perceived quality of people like Brisco, Sakuraba, and the Gracie's aside, the reality is that these are the types of shows you are going to see moving forward. Three or four incredible looking bouts, and three or four matches that'll be hard to get excited about. The plan seems to be to elevate each title to the point that they can rotate each major star in and out of the featured matches, which in New Japan are always expected to be physical and worked at a hard pace.
The Intercontinental title, once an afterthought held by undercard guys like Masato Tanaka and MVP, is now nearly on par with the IWGP Heavyweight title. The NEVER Openweight title, which was meant to be a developmental title of sorts and regarded even lower than the IC title ever was, has been built up as a legitimate semi main event belt thanks to the great series of bouts between Tomohiro Ishii & Tetsuya Naito. The IWGP Junior Heavyweight title, basically forgotten about while held by Prince Devitt, is now around the waste of & being frequently defended by Kota Ibushi, a man the company clearly has long term plans for. The IWGP Tag titles have been positioned as the semifinal on multiple major shows this year, which hadn't been the case in years.
Will fans accept this? We don't know yet. What we do know, is the roster was simply not going to hold up physically if the 2012-2013 pace was maintained. There has been no noticeable change at the gate, but trends take time. The champions & titles are all over, but will the fans continue to accept shows like Invasion Attack where the IWGP champion was in a mid card tag bout? Time will tell, but if the main events of those shows continue to be matches the caliber of Shinsuke Nakamura vs Hiroshi Tanahashi, I think fans will adjust to the new pattern.
The other forgotten aspect of this, is the potential brand split that Tanahashi hinted about in January, and that the company teased in February with two "New Beginning" PPV's held two days apart. Both shows did strong business, with each show splitting up the major bouts that normally all would have occupied one mega show. It's hard to argue with that from a business perspective, as they effectively doubled their revenue without burning a single potential future money match.
0. Hiroyoshi Tenzan, Tiger Mask, KUSHIDA, Yohei Komatsu vs. Captain New Japan, El Desperado, BUSHI, Mascara Dorada – Tenzan is in bad physical condition, and aside from NWA tag title defenses, this might end up being a familiar home for him in terms of card placement. He's had one hell of a career, but age and injury have finally tracked him down. I'd have like to have seen Dorada in a higher profile spot. Why couldn't he have gotten a shot at Ibushi? Taguchi isn't going anywhere, his shot could have come anytime. This was one hell of a dark match once it got going. The stars were Dorada with his great flying, and Komatsu, who was a house of fire and was getting near falls all over the place on Desperado, including a great looking Greman supex that popped the crowd. Desperado blocked a small package attempt by Komatsu, hit a brainbuster, and that was the beginning of the end. Desperado pinned the young lion, but this was another stand out performance by Komatsu, who looks like he's going to be a star someday. ***
1. IWGP Jr. Heavyweight Tag Team Title: Matt Jackson & Nick Jackson (c) vs. Rocky Romero & Alex Koslov – The Bucks were coming off their best New Japan match yet at Invasion Attack. Romero & Kozlov defeated Tiger Mask & Jushin Liger in Taiwan to earn the shot here. This was given plenty of time, but they had trouble holding my attention. Everybody worked hard, but there wasn't much of a story or flow. Hooligans hit a springboard Doomsday Device for two. Bucks came back with a springboard spike tombstone, and then the More Bang For Your Buck on Romero for the win. Just ok. **3/4
2. Special Tag Match: Toru Yano & Takashi Iizuka vs. Minoru Suzuki & Shelton Benjamin – The endless Yano/Suzuki feud. Shelton ambushed Iizuka before he could get to Nogami. Suzuki was in no mood for games, and went right after Yano as well. TAKA Michinoku, who announced in January that he was leaving New Japan, still appears on nearly every show. This was boring and uneventful until Yano pulled out the handcuffs. Taichi made the save with a chair, which allowed Suzuki to to turn the tables and handcuff Yano to the ropes. Suzuki beat Yano down, pushed the ref, and got disqualified. This was bad. Somehow Suzuki ended up handcuffed to the ropes postmatch. When he broke free, he killed poor Komatsu (who was wearing a Hello Kitty t-shirt) with chairshots until the chair broke. This feud needs to end. DUD
3. NWA World Heavyweight Title: Satoshi Kojima (c) vs. Wes Brisco – Brisco, likely hired as a favor to his family, is coming off a really bad TNA run. This after being similarly unimpressive in WWE developmental and the Florida indie scene. I've talked to people who think Brisco was the worst major league pro wrestler in the world during his time with TNA, so Kojima had his work cut out for him here. Bruce Tharpe was wearing the best jacket, a glorious shimmering green number with sequins: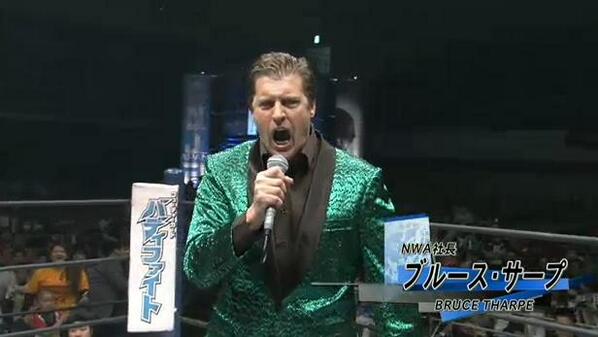 That added a half star to the match before it even started. He announced Wes Brisco as "the master of the figure four leglock" and "the most dangerous member of the Brisco family". Oh Bruce, you card. This ended up shockingly inoffensive, with the master of the figure four working the leg over for most of the match. Kojima limped around and didn't get much in until the end, when he survived a big powerbomb and hit his big lariat for the win. They kept it simple and it was fine. **1/4
4. Special Tag Match: Yuji Nagata & Manabu Nakanishi vs. Katsuyori Shibata & Hirooki Goto – Nagata is the reigning NOAH GHC Heavyweight champion. Goto sold most of the way. Shibata hot tagged and had some nice exchanges with Nagata after cleaning house. There is a real buzz when Shibata is doing his thing, it's a shame New Japan seems to be scared to go all the way with him. Nakanishi was the star here, believe it or not. He hit a top rope dropkick on Goto, and then had him up in the Argentine Backbreaker which many bought as the finish. He was doing all sorts of stuff that he'll probably regret tomorrow morning, or a few years from now.
Goto couldn't get Nakanishi all the way up for the Shouten, and they botched it. Instead of going for the cover, he quickly grabbed a scorpion deathlock, and they improvised for the tap. This was better than it had any right to be until the botch. ***
5. IWGP Jr. Heavyweight Title: Kota Ibushi (c) vs. Ryusuke Taguchi – Taguchi sent Prince Devitt packing at Invasion Attack, which earned him a title shot here. These guys worked their asses off and did some innovative stuff, but the crowd, which to this point was pretty lousy all night, was doing them no favors. This was a classic case of a crowd hurting a match and taking it down a level. Ibushi won with the Phoenix Splash, and I bet this match comes off a million times better with the sound muted. ***
Intermission
6. NEVER Openweight Title: Tomohiro Ishii (c) vs Tomoaki Honma – Even with a fresh, highly anticipated main event where most people were expecting a title change, this was probably the most anticipated match on the show. Ishii, a crowd favorite who has finally gotten a well deserved push after many years of great undercard performances, was facing perhaps the only wrestler in the world this side of Daniel Bryan who possesses more underdog charisma than he does. Honma is basically in the same place Ishii was a couple of years ago, and hopefully a push is in the cards for him as well. They went right at it at the bell with a chop battle, and then basically killed each other for 12 minutes. The crowd finally woke up (sort of) for this. Honma nailed a release German that sent Ishii to the outside, then hit his diving headbutt from the top to the floor, followed up by another top rope diving headbutt inside the ring. Two count.
Honma was getting near falls left & right, popping me off my couch. This was everything you would think it would be, with Honma showing some incredible heart, and Ishii surviving near fall after near fall. While the crowd was better for this, they still took the match down a notch, and this would easily be a quarter star higher at minimum in a hot Korakuen. Ishii took control with one of his sick headbutts, an enziguri, & sliding lariat to the side of the neck (ouch), and then hit the brainbuster for the win. Great match. Ibushi challenged Ishii in the post match (this was teased originally during G1). I'd prefer to see a rematch with Honma, but can you really complain about Ishii/Ibushi? ****1/4
7. Special Elimination Match: Hiroshi Tanahashi, Togi Makabe, Tetsuya Naito & Jushin Thunder Liger vs. Karl Anderson, Doc Gallows, Bad Luck Fale & Tama Tonga – Is it Thanksgiving already? Survivor Series action, with the added New Japan twist of over-the-top eliminations. The muzak overdub of Liger's music was quite the delightful little jingle. Tanahashi worked the bulk of the early going as the face in peril. Fale was eliminated first when his grenade attempt on Naito turned into a small package. Tonga then tossed Naito over the top. Liger eliminated Tonga with a Thesz Press. Anderson hit Liger with a Gun Stun to eliminate him. Makabe used a lariat to knock Anderson over the top. This left Makabe & Tanahashi vs Doc. Tanahashi used his sling blade, Makabe came off the top with the King Kong Knee Drop, and Tanahashi finished him with the High Fly Flow. This sets up Tanahashi & Makabe to challenge Anderson & Gallows. Goto & Shibata came out to then step up to Tanahashi & Makabe. Shibata challenged Tanahashi to a singles match. So as expected, it looks like Tanahashi & Makabe will eventually feud with Goto & Shibata over the tag belts, which should be bananas. Fun little match. ***
8. Wrestling vs. Jiu-jitsu MMA Fight: Shinsuke Nakamura & Kazushi Sakuraba vs. Daniel Gracie & Rolles Gracie – The Gracie's were far less offensive at Invasion Attack as they were at Wrestle Kingdom. This was a hybrid match, and I think everybody would have been OK with it if it was anything short of a disaster. The problem for me, is it was four dudes wearing gi's doing fake grappling. Look, I like MMA, but I watch pro wrestling to see exciting highspots and fake fantasy fights. Not worked MMA, which is the most boring form of pro wrestling imaginable. So this was not my bag, and there was zero chance I was going to like it. If I want to see grappling, I'll watch the real stuff, which isn't hard to do since UFC runs shows roughly every 17 seconds these days. Saku tapped to one of the Gracie C-team guys. I couldn't possibly care less about any of  this. NR
9. IWGP Heavyweight Title: Kazuchika Okada (c) vs. AJ Styles – All of the booking pointed to a Styles win heading into the ROH shows. In fact, I was tipped off months ago that the plan was for Styles to win the title, long before this match was ever announced or Styles was ever even officially on the roster. The Bucks & Anderson coming to the ring with Styles was not a good sign for people hoping for a shenanigans free match. AJ got no reaction when he entered. As in, literally nothing. Bullet Club put the boots to Okada the first chance they had, and Red Shoes immediately ejected them. Before they left, Okada did a dive onto all four of them, which popped the comatose crowd. Back in the ring, Styles worked over the leg. This was a long setup for a great spot where he reversed a Rainmaker attempt into a calf killer. Okada sold this like death as he fought like hell to make the ropes.
The match picked up from here, and the crowd woke up. This developed into your typical awesome Okada title match, with Okada eventually going through his usual finishing paces…and then the Bullet Club ran back out for the save. With the ref distracted, a hooded man attacked Okada, and revealed himself as Yujiro. So Yujiro joined the Bullet Club, and hit the Tokyo Pimps on Okada. Styles used an implant DDT, followed by a Styles Clash for good measure, and won the title. A good match, but completely ruined by North American style bullshit, which is not what you're looking for when you settle in for an IWGP Heavyweight Title match. Live the fans were not all that hot for this either, after the work got them back into it. If you ignore the idea that it goes against what the fan base wants, the angle was well done. But nobody wants to see this shit in New Japan. And based on the embarrassing, try hard post match Bullet Club promo, it sure feels like there are plenty more of these types of finishes to come. Oh boy. ****
After several years of flat out brilliant booking, Gedo & Jado are playing a dangerous game. The undercard is one thing, but i'm not sure North American style fuck finishes are going to fly when it comes to IWGP title matches. It's definitely not what this reviewer wants. With that said, if it works for business, that's all that matters. But I have my doubts that the Japanese fan base will be too excited by this. It's a gamble. But did they need to gamble at this point?
Special thanks to the great @SenorLARIATO for the gifs.