If you weren't following this website months back, I started a series looking back at professional wrestling's biggest busts. The first two profiles focused on ex-WCW prospect and very brief WWE act Sean O'Haire. He's one of the first names that comes to mind when I think of a guy who had it all and ultimately ended up not making it big for both personal reasons and those beyond his control. The second feature focused on Art Barr, former tag partner of Eddie Guerrero and one of the top lucha acts in the mid-90s. Barr tragically passed away in 1994 leaving much doubt about where he would've ended up. Both of these men had totally different stories and different paths towards bust-dom. That's one of the pleasures of doing this series and why today's featured performer, Tiger Ali Singh, is one I've wanted to do for quite some time.
Before we look at Singh lets review the criteria I'm using for bust:
1. Did Wrestler X have at the very least two of the three the following attributes?
Above average to good promo skills
Above average to good in-ring ability
Above average to good "look" (in shape, tall, muscular, etc.)
To be considered a bust, you must have had at least two of these attributes. The most profound busts will likely have all three but there are far too many who only had two of these and frankly, I don't consider Brakkus a bust since he was really just a muscle-head and had no other discernible skills. I'm looking at guys that should've been a huge deal but that never got there.
2. Did Wrestler X ever make it big in a major American wrestling promotion?
Very well, let's get into Tiger Ali Singh, the next man to be featured on Wrestling's Biggest Busts!
Like most second or third generation wrestlers, Tiger Ali Singh came into the business with unreachable expectations. He didn't have quite the hurdle to climb the Ted DiBiase Jr or Curtis Axel's of the world did, but things were never going to be easy for the son of famed Indiana-Canadian star Tiger Jeet Singh (Jag Jeet Singh Hans) .
Jag Jeet began his professional wrestling career with $6 in his pocket training with Fred Atkins before eventually signing with Toronto wrestling promoter Frank Tunney. Jag Jeet was a staple at Maple Leaf Gardens tagging with his trainer Fred Atkins and eventually winning the International Tag Titles from Whipper Billy Watson and Bulldog Brower in July 1966. Singh and Atkins remained near the top of the card in the Toronto territory for much of the next few years.
During this same time, Jag Jeet made his way stateside highlighted by a defeat of Gene Kiniski for the NWA World Heavyweight Championship in 1967. Singh also challenged (unsuccessfully of course) Bruno Sammartino for WWWF Championship.
Singh's biggest success came in Japan when he kickstarted a feud with the legendary Antonio Inoki after a brawl with one of Inoki's wife's bodyguards in a Japanese shopping center. Singh slapped Inoki's wife (a popular actress in Japan) propelling him to nuclear heat levels. This of course was all an angle used to build a string of hugely popular matches. This makes the belief that wrestling just recently embraced a "Reality Era" that blurs line between fictions and reality ridiculous.
Anyway, Inoki avenged his wife by breaking Singh's arm in 1974 only to lose his NWF World Title to Singh in 1975. Three months later, Inoki returned the favor, taking back his NWF Title as the two moved onto other feuds including his 1976 defeat of Seiji Sakaguchi to win the NWF Asian Title, a title he held until his jump to All Japan Pro Wrestling in 1981.
Singh continued to wrestle in Japan throughout the 90s including perhaps his most well-remembered match in 1990 when he teamed with Inoki to defeat Big Van Vader and Animal Hamaguchi in the main event of the Inoki 30th anniversary show in Yokohama.
He dabbled in FMW during the early 90s teaming with a young Sabu, feuding with Atsushi Onita and participating in the IWA-Japan King of the Death Matches tournament.
It was during this time, Singh started teaming with his son, then-dubbed Tiger Jeet Singh Jr. (real name Gurjit Singh Hans). The two initially teamed together in FMW's Street Fight Tag Team Tournament facing names like Horace Boulder, The Gladitor (Mike Awesome), Big Titan (Razor Ramon) and Japanese stars like Tarzan Goto.
The younger Singh, only 21-year-old at the time, eventually branches off into singles matches through much of 1992 and 1993 before taking a hiatus in July of that year to train at the New Japan Dojo. Singh Jr. reemerged in early 1995 alongside his father at NJPW's Battle 7 show to defeated Michiyoshi Ohara & Shiro Koshinaka.
Months later, Singh participated in All Japan Wrestling's 1995 Grand Prix finals losing to Little Frankie and Mr. Buddha Man in a "Two on One Handicap Death Match."
It would be almost two years until Singh returned to the public eye, but he did so in a big-way — an in-ring contract signing with Vince McMahon and World Wrestling Entertainment. The signing, which took place during a WWE show in Toronto included many WWE officials including former figurehead President and Chairman of the Board of New Japan Hisashi Shinma, Ryuma Go of the Samuri Project promotion in Japan, McMahon, Bruce Prichard and one of Singh's biggest supporters, Bret "The Hitman" Hart:
There was a time when Vince McMahon (WWE chairman) was looking for a good wrestler, Bret Hart put my name forward to McMahan and introduced me as 'Asian Hulk Hogan'.
The "Asian Hulk Hogan" isn't Singh blowing smoke up his own ass, the idea of the singing from the very beginning was for McMahon and the WWE to develop Singh, now assuming the name Tiger Ali Singh, into a superstar. With a growing market in India and Asia and a plummeting market in America, it made sense for McMahon to cultivate a truly international star. Still only 26-years-old with years of training and a top-notch pedigree, the plan was in place.
To kickstart his charge to the top, Singh participated and won WWE's second annual Kuwait Cup Tournament defeating Leif Cassidy (Al Snow), Billy Gunn, Mankind and Owen Hart to take home the crown.
Singh made his WWE Raw is War debut a few days later defeating Salvatore. He wrestled a number of inconspicuous jobber matches on Shotgun Saturday Night including a sloppy victory over Dan Ackerman at Chicago's Rosemont Horizon, a show famous for being the first-ever live wrestling event I attended. Tiger made his WWE PPV (of sorts) debut on WWE's One Night Only card defeating Leif Cassidy. Singh's character had evolved into a mean but supremely talented foreign star around this time as he was accompanied to the ring by both the Iron Shiek and his father Tiger Jeet Singh. Though he was a heel, the commentary team was clearly directed to pump up his accomplishments, his background, Jim Ross' patented sports reference "Singh was recruited by the University of Notre Dame to play basketball!" He may have been a heel, but the ultimate plan was for this guy to be an international babyface superstar.
Tiger Ali disappeared shortly after the One Night Only PPV only to re-emerge (this seems to be a trend with him) in mid-1998 no longer as the foriegn star but now as an arrogant foreign aristocrat in the vein of Ted DiBiase.
Similar to DiBiase, Singh would come to the ring alongside his manservant Babu (Pablo Marquez) and force a member of the crowd to do humiliating acts. These included making out with Babu after he ate Tuna, licking Singh's toes and other disgusting acts. He'd eventually dodge giving the participant money or throw the money on the ground and make them pick it up. The character was interesting, but there were obvious hesitations about Singh in the ring because he never wrestled on TV. Ever.
When he did wrestle, most matches were 4-5 minute Attitude-era suckfests against the likes of The Godfather, Al Snow and Val Venis. In late 1998, Singh challenged for X-Pac's European Title on Sunday Night Heat, losing in under two minutes.
Singh toiled on the Sunday Night Heat and Shotgun Saturday Night's of the world through the first half of 1999, participating briefly (4:02) in the Royal Rumble, but still having trouble finding his footing in ring. For someone with so many years of training, it wasn't showing. Singh was sloppy, uncoordinated and lacked the necessary timing. The WWE agreed and in June of 1999, Singh was sent to Puerto Rico to work on his in-ring skills.
Singh's career was finally at a crossroads, no longer a bright-eyed youngster, people wanted to see some growth and talent out of Tiger Ali. Sure, he was still only 28-year-olds but he had been in the ring for seven years now, three of which with WWE and there didn't seem to be much there. He was a great promo, honestly one of the better ones in that era WWE, but in-ring… nothing much to write home about. With that said, he's 6'5 and 275 pounds, McMahon had done a lot more with worse in-ring talents, yet there was never much confidence in Singh's abilities.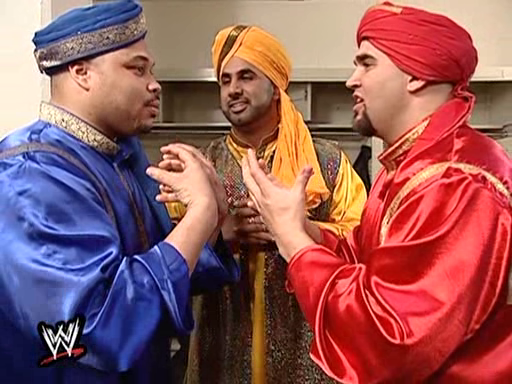 When he returned from his Puerto Rican excursion, he was transitioned away from an in-ring competitor and solely into a managerial role to accentuate his tremendous promo ability. Unfortuantely, he was the manager of one of the most thrown-together, random tag teams of all time — Lo Down! You remember Lo Down, right? Yeah, probably not. Lo Down was the combination of D'Lo Brown, a man who had lost all confidence in his in-ring abilities after his in-ring accident which paralyzed Darren Drozdof and the former Headbanger Mosh, Beaver Cleaver and now smiley-face boxer wearing Chaz. The team was initially put together with little-to-no identity but upon being teamed with Tiger Ali Singh, they started embracing a racism gimmick claiming they were being held down as a result of their ethnicities. This transition was coupled with Lo Down now wearing turbans and sashes, because of course.
Believe it or not, Lo Down wasn't very successful and after losing their spot in the 2001 Royal Rumble to Drew Carey, all three were sent to Puerto Rico.
While working for International Wrestling Association, Singh suffered three concussions in a short period of time putting his career in jeopardy. He went back to Toronto to recover but never made it back into a WWE ring as he was released in July of 2002.
Less than a month later, Singh filed a $7 million harassment lawsuit against WWE. Singh claimed he was harassed by wrestlers and WWE personnel because WWE was attempting to get him out of his contract. Some of the harassment included wrestlers filling one of his turbans with garbage and referring to him as a "taxi driver":
"Another turban belonging to Gurjit Singh Hans was torn into pieces backstage and placed on the head of a mentally disturbed person for the 'amusement' of the WWE personnel present."
Singh also claimed his career-ending concussion was a result of WWF forcing him to perform in an outdoor match while it was raining. This, of course occurred in Puerto Rico, which WWE lawyer Jerry McDevitt pointed out stating that he had happened while he was wrestling with a different company and thus it was not WWE's responsibility.
The two settled out of court for an undisclosed amount and the tenuous run of Tiger Ali Singh in WWE had officially come to end. Five years after being signed at a public press conference in his hometown of Toronto, five years after being targeted as the next big star, the "Asian Hulk Hogan", Singh was out of the WWE, barely registering a whimper.
Singh dusted the boots off in 2008, reprising his role as Tiger Jeet Singh Jr. teaming with his father against Genichiro Tenryu and Shiro Koshinaka in Japan's HUSTLE promotion. Singh now wrestlers once a year at Brampton, Ontario's annual "Tigerfest" show.
Let's review our criteria and see how it relates to Singh.
1. Did Wrestler X have at the very least two of the three the following attributes?
Above average to good promo skills: Absolutely, I wouldn't even say above-average or good, I'd say great. I remember his promos speficially standing out to me as a young impressionable Attitude-Era viewer. He was a hated character largely on the heels of his promo ability, lord knows he didn't do anything in the ring to warrant it.
Above average to good in-ring ability: Not at all. Singh was pretty awful in the ring, he was stiff, sloppy and lacked any sort of natural ability. Worse yet, this isn't someone who was rushed to television or rushed to the spotlight quickly. He trained for years, trained in the New Japan Dojo, trained by Sweet Daddy Siki and Ron Hutchinson. Sure, he was rushed into the spotlight at the beginning of his career but he took numerous hiatuses in-between to refine his in-ring. It's nothing against the guy, some people are good at it, others aren't. Tiger Ali Singh was not.
Above average to good "look" (in shape, tall, muscular, etc.): You could go down the checklist with Singh, he had it all. He was 6'5, he was 275 pounds, attractive looking guy, good head of hair, dark skin, it was all there. He absolutely had the look to be a pro wrestling star.
So Singh meets our two out of three requirements, now the last question.
2. Did Wrestler X ever make it big in a major American wrestling promotion?
I've always struggled with how to define making it big. If I limited this to world title reigns or main events, this Wrestling's Biggest Busts list would never end. It needs to be below that but also has some amount of standards so I've agreed on at the very least a prolonged run with a major company (NWA, WCW, WWE) and at the very least a few somewhat notable title reigns (Hardcore Title need not apply). With that definition in mind, Tiger Ali Singh absolutely did not make it big. He didn't have a prolonged run, instead three truncated runs that saw him re-develop and re-tool his character in hopes of something clicking. He challenged for the European and Hardcore Titles during his career but never came close to being a contender for a major title let alone secondary titles.
Singh, like many second-generation superstars may have been doomed from the beginning. They enter the business with expectations of bettering or advancing the career of their fathers, but that rarely happens. As I mentioned during Singh's in-ring blurb, you can train all you want, all across the world, with some of wrestling's best trainers and it still never clicks. Ted DiBiase Jr. immediately comes to mind, another guy with seemingly all the tools in the world to make it big, but once that bell rang, something was missing, something not quite there.
It's nothing against the individual, Singh didn't seem to have an attitude about learning or trying to get better in the ring, he just reached his peak relatively early and didn't have the capacity to get better.
With that being said, the man had all the tools to be a superstar in professional wrestling, the international superstar Vince McMahon envisioned. In the end, he was a slight blip on the radar making Tiger Ali Singh one of wrestling's biggest busts.