This study began with a simple question posed by user csm101 on the Wrestling Observer/Figure Four Online Board, "What State/Area has Produced the Most Top Wrestlers?" I had been thinking about doing something similar for some time so this was a nice kick in the ass to get going on it.
The issue with doing a study such as this is parameters, specifically how do I determine what a "Top Wrestler" is and how to I determine what state/area they represent. I tackled this two ways, to determine "Top Wrestler" I used current members of the Wrestling Observer Hall of Fame, this includes the Class of 2014 which was just inducted a few months ago.
This helps me set a standard and makes it easier to clearly define a "Top Wrestler" without me using personal bias of what I think is a great worker. The Wrestling Observer Hall of Fame began in 1996 when Dave Meltzer hand-picked 122 inaugural inductees, since then, wrestlers, journalists and historians selected by Meltzer have cast secret ballots to determine the years inductees.
Using this criteria does have its fair share of issues. For one, the Observer Hall of Fame voting criteria includes longevity in the business, historical significance, ability to draw money and attract viewers and wrestling ability. Some may not be happy with that as a definition of a "Top Wrestler" but I feel it's the best way to do it without having a whole new much longer, much more annoying discussion of top wrestlers while taking into account different eras and what not. We're using the Observer Hall of Fame list, deal with it!
The hardest part and the biggest decision I made with this study is how to figure out what state/area each wrestler represents. This was extremely difficult because I wrestled (pun somewhat intended) with the idea of gimmicked hometowns but that's pretty ridiculous. I also thought about looking at where guys trained but that's not an exact science either, it becomes almost a different study of who trained the best wrestlers.
What I settled on was birthplace. I'll admit this isn't perfect, some guys that are synonymous with a certain area aren't counted as such if we go by birthplace. Most notably, the Funks represent Hammond, Indiana and not Texas. Shawn Michaels represents Chandler, Arizona and not San Antonio, Mick Foley is Bloomington, Indiana's finest not Upstate New York. I had an issue with it too but there's not a great way around it. It would be unfair to go through each guy's history, determine what state/area they are most synonymous and go from there. Maybe one day but for now, we're going to use birthplace.
So let's get to it. What state/area produced the most Hall of Famers?
The World
The United States predictably gets top-billing among the world with 77 Wrestling Observer Hall of Famers. The US created the sport so it stands to reason they'd have the most representation and a majority of the voters and Meltzer himself live in the United States, so it stands to reason they would lead the pack.
Coming in second is Japan with 28 and third is Mexico with 21. I expected both of those to be a little bit closer to the United States but they are clearly second and third beating out number four Canada (13) by over 10 inductees.
Doubly impressive for Canada with a population hovering around 35 million is at least able to hang with some of the big boys like Japan and Mexico with populations above 115 million and the United States at 317 million. This isn't breaking news, Canada loves their wrestlers and they've produced some of the best.
The remaining countries barely register, mostly consisting of European countries, South Korea (2), Australia (1), India (1), New Zealand (1) and Cuba (1). The breakdown in Europe is pretty interesting:
Europe
Italy leads the way with four inductees (Al Costello, Antonino Rocca, Bruno Sammartino and Lou Albano) followed very closely by France of all places with three (Henri Deglane, Edouard Carpentier and Andre the Giant) and the United Kingdom who also have three (Billy Robinson, Mick McManus and Dynamite Kid). Poland boasts two  Zbyszko's with Stanislaus and Wladek. Belgium, Greece and Russia all make appearances as well but with only one inductee apiece.
Nothing too exciting with the world, so let's move onto the United States and look at the state-by-state breakdown:
United States
Despite a criteria that looked like it would oppress the great state of Texas, they still come out on top but they aren't alone! Texas brings six Observer Hall of Famers (Stan Hansen, Dusty Rhodes, Fritz Von Erich, "Stone Cold" Steve Austin, The Undertaker and Eddie Guerrero). Surprisingly though, Texas isn't alone at the top as New York ties them with 6 thanks to Chris Jericho, Paul Heyman, Ricky Steamboat and some old-timers like Ed Don George, Billy Sandow and William Muldoon.
Texas is perhaps the most star-studded state with the only real argument coming from Tennessee (Ric Flair, Jerry Lawler, Terry Gordy and Eddie Graham), which is tied for fourth with Oklahoma, Nebraska, Michigan and California.
As I mentioned in the opening, Indiana ranks high, in this case #3, due to the influence of the Funk's, all of whom (Dory, Dory Jr. and Terry) were born in Hammond, Indiana. Foley also represents Indiana having been born in Bloomington, Indiana and not Truth and Consequences, New Mexico or The Boiler Room.
Arizona, Illinois, Iowa, Minnesota and Wisconsin come in at #5 tied with three. Arkansas, Colorado, Florida, Kansas, Missouri, Utah and Washington are all tied with two and Georgia, Hawaii, Louisiana, Massachusetts, New Hampshire, New Jersey, North Carolina, Ohio, Pennsylvania, South Dakota and West Virginia round us out with one apiece.
A few odd names show up in unfamiliar places, most notably Hulk Hogan who was born in Augusta, Georgia and is the only representative from Georgia. His long-time colleague, Randy "Macho Man" Savage was born in Columbus, Ohio of all places, despite being synonymous with Florida throughout his career.
Washington has perhaps the most polarizing representatives with Johnny Valentine and japanese wrestling star Masahiro Chono.
There were a few states surprisingly left off the list including Oregon, who you would assume on the back of a strong territory under Don Owen, would have some representation but are still on the outside looking in. Kentucky is another notable one, given Louisville and a number of territories that operated in and around the state for so long.
The Cities
The most surprisingly aspect of this study is the incredible diversity in birthplaces. Very few towns were repeated leading to a few headscratchers at the top of the list. Before I get into American cities, we'll quickly go back to the rest of the world to see where these cities rank.
Perhaps predictably number one in the world was Mexico City, Mexico boasting five total inductees. Three cities tied for 2nd place with Guadalajara, Montreal and Tokyo with three inductees a piece.
Back to the United States, as mentioned, there are a few oddities at the top of this list and no clear number one. Chicago and Hammond tie for the top spot with three apiece. What's even more interesting is the proximity of these two cities, only 23 or so miles between them. Chicago has the benefit of both Road Warriors (Hawk and Animal) as well as legendary manager Bobby "The Brain" Heenan. Hammond is, of course, a Funk town. 2nd place is a tie of one obvious city in Memphis, Tennessee (home of Jerry Lawler and Ric Flair) and a not-so-obvious one Little Rock, Arkansas (Bobo Brazil and Danny McShane).
You're probably asking where Robbinsdale, Minnesota is and I asked the same question. Well, it's near the bottom with only one inductee (Verne Gagne). Robbinsdale is regarded as a hub of great professional wrestlers including: Barry Darsow, Curt Hennig, Nikita Koloff, "Mean" Gene Okerlund and "Ravishing" Rick Rude. Unfortunately at the time of this writing they have only one Wrestling Observer Hall of Famer.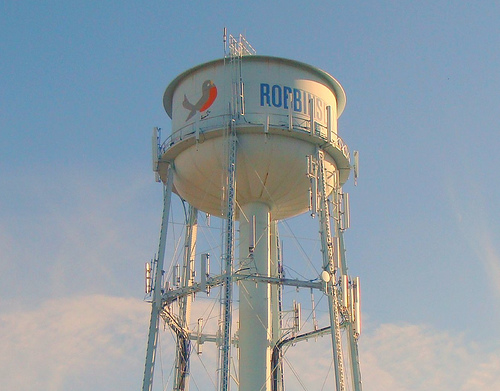 If I were going to use personal bias in this piece, Robbinsdale is your answer for the best city/area for professional wrestlers as a few of my favorites call it home, but they don't fit into this criteria. Oh well.
To answer the original question — Texas, Indiana, New York in the United States stand out above the rest although Indiana has a distinct lack of diversity comparatively. City-wise, Chicago and Hammond take the cake although again, Hammond is proped up by one great wrestling family.
Internationally the countries of Japan and Mexico predictabily take top-billing though some of the European countries including France have a fair claim. City-wise the answer is much clearer: Tokyo and Mexico City with an honorable mention for Guadalajara and Montreal.