Origins
The first Voices of Wrestling Match of the Year poll was conducted at the end of 2012, with a modest four man panel (I guess you can call us the "Orginial 4"), consisting of three VoW contributers (myself, Rich Kraetsch, & "Larry"), plus Billy Carpenter of (then) #HashtagWrestling. We each selected our ten best matches of the year, wrote short blurbs on why we selected what we did, and combined the lists to come up with a collaborative top ten. The first ever VoW Match of the Year list ended up looking like this:
1. Davey Richards vs Michael Elgin, 3/31 (ROH)
2. Hiroshi Tanahashi vs Minoru Suzuki, 8/8 (NJPW)
3. Hiroshi Tanahashi vs Kazuchika Okada, 6/16 (NJPW)
4. Johnny Gargano vs Akira Tozawa vs AR Fox vs Ricochet, 11/4 (DGUSA)
5. El Generico vs Kevin Steen, 3/30 (ROH)
6. CM Punk vs Daniel Bryan, 5/20 (WWE)
7. Hiroshi Tanahashi vs Kazuchika Okada, 2/12 (NJPW)
8. The Undertaker vs Triple H, 4/1 (WWE)
9. Kota Ibushi vs Kenny Omega, 8/18 (DDT)
10. Kota Ibushi vs El Generico, 10/21 (DDT)
A fine list of matches, but a list that was the product of four voters who for the most part have very similar tastes in wrestling. There was a ton of crossover in the four lists, and while an impressive variety of five different promotions ultimately ended up represented in the top ten, we were basically dealing with a small pool of voters that essentially watched the same pool of matches over the course of the year.
This year, we decided to branch out and seek the input of a wider range of voters. We sent ballots to dozens of journalists, bloggers (promotion specific & otherwise), radio hosts, podcasters, experts, friends of the site, and pretty much anybody else we could think of who we knew loved wrestling, had a reputation for having a solid base of knowledge & strong opinions, and had quality endeavors that we could help expose to our readers in exchange for participating.
We were quite ambitious in who we invited, which included a who's who of major names in the wrestling media from literally all over the world. We knew not everybody would respond, but we were quite pleased with who did, and we feel like the results bear out the variety of matches & wrestling styles that we were seeking. 25 voters voted for over 90 matches, from 23 different promotions. To me, the 23 promotions represented is the most impressive stat in the poll, when you consider that the two most high profile promotions in the world, WWE & New Japan, were so outstanding bell to bell this year that many people feel that each promotion may have had their best in ring year ever. And despite those two promotions having so many great matches that ended up eating a large chunk of spots on many of the ballots, 21 other promotions still managed to receive some love.
Here are the 23 promotions that had at least one match represented in the poll:
2CW
AAA
AIW
All Japan
Big Japan
Chikara
Chilanga Mask
CMLL
DDT
Dragon Gate
Dragon Gate USA
Michinoku Pro
Monterrey
New Japan
NOAH
PWG
Pro Wrestling Syndicate
ROH
Revolution Pro
TNA
TXT
WSU
WWE (includes NXT)
We're going to keep doing this every year, and we hope it continues to grow. We received feedback from many potential voters who chose not to submit ballots this year, simply because they weren't prepared and didn't feel as though they had the time to put in the work and re-watch enough matches. In a way, that is a high compliment, and we hope those people are ready for the next invite and jump on board next year. In addition, we're already working on expanding the list of voters, and plan on sending out almost double the amount of ballots that we sent this year. We hope to look back at our 2013 pool of 25 voters as too small a sample, as we now do at our original pool of four. The more diversity, the better.
The long term goal is to become the most comprehensive and inclusive MOTY poll in all of wrestling, cross promote a bunch of cool ventures, and expose people to some matches that they otherwise would have never discovered (to that point, one match that ended up doing very well in the final voting nearly ended up on my own list, after checking it out based on the early support it was receiving). Hopefully we succeed on all counts.
How The Poll Works
Each voter was sent a ballot and asked to vote for their ten best matches of the year, ranking them from 1-10. We used the same weighted balloting system used by Major League Baseball for their Most Valuable Player voting, with a first place vote worth 14 points, and a descending 9-8-7… scale from there.
The points for each match are then added, with any ties broken in the following order:
1.) Most total votes
2.) Match which received the highest singular vote on any ballot
As an example, if two matches are tied in points, with one match appearing on more total ballots, it will not require the second step tie breaker. The match appearing on more total ballots would place higher.
If two matches are tied in points, and remain tied by appearing on the same number of ballots, the match with the highest singular vote will win the tiebreaker.
Each voter was also encouraged to add short blurbs explaining why they voted for each match. These blurbs are what will give our articles flavor as we release the results.
Any worked match on earth during the Observer calendar (December 1 2012 – November 30 2013) was eligible. We chose to use the Observer calendar because we knew many potential voters work very hard all year compiling lists of their favorite matches based on that time frame. We are considering changing the voting period moving forward to the "real" calendar, with a one year 13-month calendar that would run December 1 2013 – December 31 2014 for next year's poll to set things back on pace. But we have a year to figure that out. We'll announce any changes to the calendar by the summer so voters have time to prepare.
The Voters
Here are the list of voters (with their credentials), all of whom worked very hard, re-watched dozens of matches, and took their ballots very seriously. We thank them for their hard work. We're proud of who who chose to participate, and we believe this impressive list of names helps give the poll instant credibility. In no particular order:
Joe Lanza (@voiceswrestling) – That's me. One of the "Original 4". Voices of Wrestling Podcast co-host, columnist, puro & independent show reviews. My archive is here.
Rich Kraetsch (@richkraetsch) – One of the "Original 4". Voices of Wrestling Podcast co-host, columnist, and show reviews. His archive is here.
Rob from ProWresBlog – Rob reviews a little bit of everything at www.prowresblog.blogspot.com
Lee Goodfellow (@HellionLee) – PWPonderings, Calling Spots, one of the top Dragon Gate reviewers on the internet.
Bryan Rose (@br26) – Cubed Circle Newsletter, Wrestling Rambles , specializing in New Japan reviews
yottsume (@puro_yottsume) – English translations of Japanese press conferences, shows, and more here. yottsume also does popular live promo/announcing translations during iPPV's on his twitter feed.
Dave Hatton (@ThatDaveGuy) – That Wrestling Blog, Voices of Wrestling columnist specializing in WWE, TNA, & ROH
Kevin David (@KevinADavid) – Voices of Wrestling live show correspondent based in Orlando, Florida
Chad Campbell (@chaddie151) – One of the founders of www.placetobenation.com
Ryan Clingman (@RyanClingman) – Editor, Cubed Circle Newsletter
Thomas Holzerman (@tholzerman) – The Wrestling Blog
Eamon Paton (@Eamon2Please) – Play by play announcer, Inspire Pro Wrestling, and even though he was too humble to plug it, co-host of The Wrestling Mayhem Show
Billy Carpenter (@4CR_Billy) – One of the "Original 4". www.4CRwrestling.com, 4 Corners Radio
Sam DiMascio (@concrete1992) – www.4CRwrestling.com, 4 Corners Radio. Loves Negro Casas, hates La Sombra.
Dylan Hales – The infamous DylanWaco, the bizarro world answer to Joe Lanza, as you will never find two people with more opposite tastes in wrestling. Probably watches more pro wrestling than any person on the planet, famous maker of lists, Co-host of The Wrestling Culture Podcast, ProWrestlingOnly.com. The first person I thought of when we decided to expand the voter pool.
Dave Musgrave (@puropotsy) – Tolerates Dylan as the co-host of The Wrestling Culture Podcast.
Larry – One of the "Original 4". Voices of Wrestling PWG reviewer, and author of the popular "Best of" series year end wrap up articles. Miami Hurricanes homer. His archive can be found here.
Ant (@hailmegatron) – 4CRwrestling.com contributor
RobViper (@RobViper) – Top lucha expert. http://luchareviews.blogspot.com/
Jon Solomon (@JonTheEmpire) – Voices of Wrestling contributor, authored the "Evolution of Sting" series that is still one of our most popular series of articles of all time. Has also contributed to 411Mania.com/MMA, and @MMAFlash.
Joe Gagne (@joegagne) – Joe vs The World Show, Funtime Arcade
Alan4L (@Alan4L) – Puro expert/superfan, moderator at www.f4wonline.com, host of the Dr Keith Presents show.
Chris Bacon (@cbacon87) – PWPonderings.com contributor
Jamie O'Doherty (@JamieOD/@DramaticDDT) – Dramatic DDT English language DDT blog & twitter feed
thecubsfan (@luchablog) – The man who needs no introduction, the world renowned thecubsfan of luchablog
Honorable Mention
In a series of articles that will follow over the next week or so, we will reveal the matches that finished 26-50, 16-25, and 1-15. There will also be a wrap up article with all sorts of wacky stats, like number of matches per promotion, a ranking of wrestlers with the most total points, months with the most matches, and whatever else we can coax Chris Harrington into doing.
Here are the bouts that failed to crack the Top 50:
5 points:
| | | | |
| --- | --- | --- | --- |
| Ophidian vs Amasis | June 2, 2013 | Never Compromise | Chikara |
| The Colony vs Devastation Corporation | June 2, 2013 | Never Compromise | Chikara |
| Rush vs Shinsuke Nakamura | June 9, 2013 | Domingos De Coliseo | CMLL |
| Blue Panther vs Averno | September 13, 2013 | 80th Anniversary | CMLL |
| Rich Swann & Ricochet vs Samuray Del Sol & AR Fox | March 22, 2013 | All Star Weekend Night 1 | PWG |
| The Shield vs. Team Hell No/John Cena | May 13, 2013 | Raw | WWE |
"The more I think about this match, the more I feel it is my favorite indie match of the year to date. They called back to Ophidian's obsession with collecting masks at the end of the match, while Amasis' babyface fire was almost as hot as the sweltering, poorly-cooled building in the beginning of an oppressive summer. My favorite part of the match, however, was that both combatants actually tried to block each other's volleys. On a scene where wrestlers are too eager to offer their faces to damage in some sort of macho bullshit bravado, a sense of strategy was well-appreciated."
– Thomas Holzerman on Ophidian vs. Amasis
"A match forgotten about because of the shenanigans Chikara got up to at the end of the show. The idea of Luchador ants fighting Demolition knock-offs may sound too silly to take seriously, but it was a chaotic trios match that spread all over ringside and delivered more than anybody expected."
– JamieOD on Colony vs. Devastation Corporation
"The only time of the year Rush got a tecnico reaction as he faces the evil foreigner in a match with stiff strikes and one of the best finishes of the year as Rush just kills Nakamura dead with a dropkick and then drops him on his head to the delight of the crowd. An incredible match to watch live."
– RobViper on Rush vs. Shinsuke Nakamura
"An excellent technical battle enhanced by a first time ever CMLL stipulation. They used the submission rule to tell a match which might have not worked as well without it. Panther breaking out the multiple tope spot worked better here than the last time, and the finish was fitting for these two characters. Time is catching up to Blue Panther, but he was able to hold it of for one more match. Averno remains a great scheming heel who could work well with anyone."
– thecubsfan on Blue Panther vs. Averno
4 points:
| | | | |
| --- | --- | --- | --- |
| Mascara Dorada, Titan and La Sombra vs Mr. Aguila, Psicosis II and Volador Jr. | January 25, 2013 | CMLL on Televisa | CMLL |
| La Sombra vs Volador Jr | June 28, 2013 | CMLL on FOX Sports | CMLL |
| YAMATO vs Masato Yoshino | October 10, 2013 | Dragon Gate Infinity 312 | Dragon Gate |
| Michael Elgin vs Jay Lethal | April 5, 2013 | Supercard of Honor VII | ROH |
| John Cena vs. Alberto Del Rio | October 27, 2013 | Hell in a Cell | WWE |
| Antonio Cesaro vs Sheamus | June 5, 2013 | Main Event | WWE |
| The Shield vs John Cena, Ryback, Sheamus | February 17, 2013 | Elimination Chamber | WWE |
"This match was awesome. Super sick dives, some stiff moves and a great pace. This is the kind of lucha libre I love!"
– Rob from ProWresBlog on Dorada/Titan/Sombra vs. Aguila/Psicosis/Volador Jr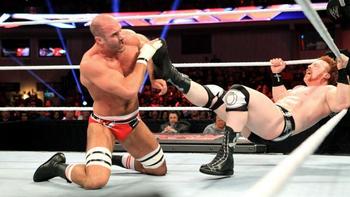 "Probably the most unheralded great match of the year. This was from the (relatively) brief period when Cesaro was consistently getting time to showcase his skills in fifteen-twenty minute matches on the companies C-Show, often times against bigger stars.
On paper this looks like something that would be hard hitting, but this delivered much more than that, as it was a match built around escalating spots, both guys busting out everything they had, and Sheamus desperately trying to get a kill shot in, in the face of a massive, varied, bomb throwing, onslaught. A truly excellent TV match, with a finish that left both guys looking strong."
– Dylan Hales on Cesaro vs. Sheamus
"I still think this is the perfect Shield match, and oddly enough it didn't involve their best opponent – Daniel Bryan. But Cena, Ryback and Sheamus all play their roles perfectly here."
– Alan4L on Shield vs. Cena/Ryback/Sheamus
3 points:
| | | | |
| --- | --- | --- | --- |
| Aero Star/Jack Evans/Angelico vs Pentagon Jr/Soul Rocker/Machine Rocker | August 16, 2013 | AAA on Televisa | AAA |
| Eddie Kingston vs Green Ant | May 3, 2013 | Battle Not With Monsters | Chikara |
| Sami Callihan vs Jessicka Havok | May 11, 2013 | Queen and King of the Ring | WSU |
| Alberto Del Rio vs Dolph Ziggler | February 13, 2013 | Main Event | WWE |
"So this ruled. First match was great. This was even better. I will never get old of Kingston selling his leg. It is always something that gets me to think the other person has a shot even though I know they really don't. Its just super grand.
Green Ant was willing to kill himself on that nutty bump from the top rope to the apron which doesn't hurt. Kingston is the bestest really. The best independent match of the year in my eyes perfectly showing what makes Kingston one of the best on the scene and Green Ant on the brink of becoming an independent stud."
– Sam DiMascio on Kingston vs. Green Ant
"The real life boyfriend/girlfriend combo held nothing back and worked one of the chippiest, most hate-filled matches of the year. The funny thing was that they weren't really feuding to go into this match, per se. Both the Callihan and Havok personae are so intense that anything short of annihilation would have been a disappointment. This match delivered on all fronts. Spit was swapped (non-romantically), the barricades were shaken, and nothing was off-limits. It was a fitting part of Callihan's farewell to the indies and Havok's ascension to hardcore icon, regardless of gender."
– Thomas Holzerman on Callihan vs. Havok
2 points:
| | | | |
| --- | --- | --- | --- |
| Daisuke Sekimoto vs Ryuichi Kawakami | June 30, 2013 | | BJW |
| Belial vs Ricky Marvin | November 17, 2013 | | Chilanga Mask |
| Shinsuke Nakamura vs. Naomichi Marufuji | October 14, 2013 | King of Pro Wrestling | NJPW |
| Prince Devitt vs Kota Ibushi vs Low Ki | January 4, 2013 | WrestleKingdom | NJPW |
| Kobashi, Mutoh, Akiyama, Sasaki vs KENTA, MAYBACH, Shiozaki, Kanemaru | May 11, 2013 | Final Burning | NOAH |
| Jushin Liger vs Tony Nese vs Davey Richards | April 4, 2013 | Super Card Night 1 | PWS |
| The Shield vs Cody Rhodes & Goldust | October 14, 2013 | RAW | WWE |
"The defining Daisuke performance of the year. Kawakami brings it hard. Contains one of the sickest bumps of the year."
– Alan4L on Sekimoto vs. Kawakami
"Classic veteran versus an up and comer match. NOAH's loss has been indy Mexico's gain, with an always slightly annoyed Marvin having quality matches every time he turns up. Marvin is great as always here, but this is just as much a breakthru performance for the obscure Belial. He made a name for himself here by taking the international superstar father than anyone expected him to go, having his best match every at the best time."
– thecubsfan on Belial vs. Marvin
"The three top Jr. Heavyweights all against each other on one of the biggest shows of the year. Devitt and Ibushi previously had a great match at the 2011 Tokyo Dome show. Say what you want about Low Ki but him added to the mix turned this match into something a little more spectacular. Plus Ki looked pretty dapper in his Agent 47 cosplay (still can't believe Low Ki out of all people on that show was the one to do cosplay)."
– JamieOD on Devitt vs. Ibushi vs Low Ki
"One of the greatest wrestlers to ever enter the squared circle, Kenta Kobashi, was having one send off in a company he carried on his back for the longest time: Pro Wrestling NOAH. Kenta Kobashi will be forever remembered as the master of the Burning Hammer and the man who throws the hardest chops in the business. Watching this match, you will feel as though it's the first time you saw a Kenta Kobashi match. The magic is still there and one of the greatest to ever do it left with a bang. Thank you, Kobashi."
– Ant on Kobashi Final Burning
"Every year the WWE has one or two "Attitude Era" style matches that really hit on all cylinders, and this was the best of that bunch (by far) from 2013. On top of the fact that these are the best two tag teams in the world, it included a great Goldust face in peril segment, and the match had great heat, the finishing run here was maybe the best of any match in the world this year. Rather than near falls and false finishes purely for their own sake, the teases here were brilliant and all entirely believable. By the time Big Show came out the drama was at it's peak and the finish was probably the "feel good" moment of the year in the WWE."
– Dylan Hales on The Shield vs. Rhodes Boys
1 point:
| | | | |
| --- | --- | --- | --- |
| Young Bucks vs Eddie Edwards & Roderick Strong | November 23, 2013 | 99 Problems | 2CW |
| Jun Akiyama vs KAI | April 29, 2013 | Champion Carnival Finals | AJPW |
| Mistico/Mascara Dorado/Valiente vs Rey Escorpion/Dragon Rojo Jr/Polvora | September 13, 2013 | 80th Anniversary | CMLL |
| Kenny Omega vs Shigehiro Irie | March 20, 2013 | Judgement 2013 | DDT |
| Masaaki Mochizuki, K-ness & Jimmy Susumu vs Naruki Doi, Shachihoko BOY & Rich Swann | June 5, 2013 | Infinity #300 | Dragon Gate |
| KENTA vs. Daisuke Sekimoto | October 19, 2013 | Global League | NOAH |
| KENTA vs Takashi Sugiura | May 12, 2013 | Ark New Chapter | NOAH |
| Michael Elgin vs Tommaso Ciampa | June 22, 2013 | Best in the World | ROH |
| reDRagon vs American Wolves | April 5, 2013 | Supercard of Honor VII | ROH |
| Hiroshi Tanahashi vs. Marty Scurll | October 16, 2013 | Uprising | RPW |
| Taryn Terrell vs Gail Kim | June 2, 2013 | Slammiversary | TNA |
"I like the occasional PWG style crazy spotfest, and this was the best of that style that I saw this year. The Young Bucks had a great year in about a hundred different promotions, and this was my favorite match of theirs all year."
– Joe Lanza on Young Bucks vs. Dojo Brothers
"This is the finals to AJPW's Championship Carnival. Jun Akiyama puts on a masterful performance here and makes KAI look like a warrior for taking the beating of a lifetime."
– Sam DiMascio on Akiyama vs. KAI
"Kenny Omega was on fire in DDT for the first quarter of 2013 while Shigehiro Irie was being groomed for a shot at being the top guy for the company. Irie was just a young rookie when I began watching DDT so it was pretty cool to see him grow over the years. I enjoyed the KO-D Title bout between the two just as much for the passing of the torch as I did for the match itself."
– JamieOD on Omega vs. Irie
"Ring Of Honor has had a rough 2013. From the iPPV issues to lessened popularity but ROH always finds a way to put on spectacular matches. This match is definitely, for me, their stand out match this year. reDRagon (Bobby Fish and Kyle O'Reilly) faced The American Wolves (Eddie Edwards and Davey Richards) in a tag team classic. Both teams never wanted to give up and it shows. I personally believe this was the match that put reDRagon on the map as one of the best tag teams in North America and it definitely shows in this match."
– Ant on reDRagon vs. American Wolves
"This was great. Taryn won after a BULLDOG OFF THE STAGE. Holy crap. So much good stuff here. Gail speared a chair and made a huge smacking sound. Taryn went splat twice on the stage and then the finish happened. Really strong match here that got a "This is Awesome" chant. This was even better than expected and I thought this would be good. This is a must see match. "
– Rob from ProWresBlog on Kim vs. Terrell
Follow the 2013 Match of the Year project at https://www.voicesofwrestling.com/category/columns-2/2013-match-of-the-year/