New Japan's 'Destruction', emanating from Kobe World Hall, had the look coming in of a holding pattern type show as we gear up for the build to WrestleKingdom.
With Kazuchika Okada, Tetsuya Naito, & Shinsuke Nakamura virtual locks to win their respective matches, the only real intrigue among the major matchups was whether Jushin Liger could upset Rob Conway for the NWA World Title, and what kind of wacky shenanigans would take place in the LUMBERJACK DEATH MATCH between Hiroshi Tanahashi & Prince Devitt.
With that said, New Japan has delivered big over the last year or so on just about every iPPV offering. So despite the predictable outcomes, I still had decent expectations for this show. And coming off a fantastic performance in the G1, I was fully confident coming in that Satoshi Kojima would deliver in the main event. Especially since Kazuchika Okada has quickly become one of the best big match performers in the world, carrying on the main event legacy of Hiroshi Tanahashi. Okada has been nothing short of brilliant since his rise to the top that began in early 2012.
Note – I logged on to the stream a few minutes late and missed the pre show match. Apologies.
1. Alex Shelley & KUSHIDA vs. TAKA Michinoku & Taichi – I was pulling for the heels here, because i'm sick of the Splitters facing the Forever Hooligans, and the winners would likely get the next title shot. This got a ton of time. Basic RAW style tag until the closing stretch, where things picked up. TAKA in particular worked very hard. Taichi must still be nursing that bad knee, as he didn't do much. Splitters won it with the moonsault/neckbreaker combo they call "Out of Time". This was good, but nothing special. ***
2. NWA World Heavyweight Title: Rob Conway (c) vs. Jushin Thunder Liger – Conway was dressed like Apollo Creed, and flexing all over the place. Liger was disgusted by this. Bruce Tharpe was barking in to the mic during the entrance, being awesome as usual. This was Conway's third defense in Japan, having previously defeated Kojima & Nakanishi. This was basically the same match Conway has every time. American style work, with lots of heeling it up. Liger got near falls with the palm thrust and a brainbuster. He climbed to the top, but Tharpe distracted him. This got lots of heat. Tharpe took a bump as Liger shoved him down. This gave Conway time to recover and hit the Ego Trip for the win. New Japan hardcores hate these matches, but I love them. It's something different and a nice change of pace to break up the shows. Conway & Tharpe are great in their roles, especially Tharpe. **1/2
3. Togi Makabe, Tomoaki Honma, Captain New Japan & Mascara Dorada vs. Karl Anderson, Tama Tonga, Rey Bucanero & Bad Luck Fale – Makabe started things off and tossed people around. That was it for him until the finish. Hey, he's a veteran. Honma & Anderson had an exchange that made me want to see a singles match. Loooooong heat spot on Capt New Japan. Ugh. We were well into the match and Dorada still hadn't tagged in. CNJ's hot tag wasn't even to Dorada. He finally got in when things broke down. It was worth the wait. Dorada was the star of the match. Great stuff with Bucanero. Dorada pinned Bucanero with something I can't describe after a great sequence of flying. I really enjoyed him here. Fun little match. **3/4
4. Toru Yano vs. Minoru Suzuki – The story here, is Yano is an annoying prick, and Suzuki wants to kill him. Yano also eliminated Suzuki from G1 on the final night. Yano threw water on Suzuki during the introductions, then dumped more water on him later. They ended up handcuffed together. Suzuki put on a sleeper, and they tumbled to the outside. Suzuki poured water on Yano for "revenge", but Yano spit it back in his face. While Suzuki was distracted by the water spit, Yano quickly uncuffed himself, then cuffed Suzuki to the guard rail. He then beat the 20 count as Suzuki went nuts on the outside. Clever finish to keep this going. Fans died in the middle but popped for the finish. **1/2
5. Yuji Nagata & Manabu Nakanishi vs. Kazushi Sakuraba & Katsuyori Shibata – I would totally love the Laughter 7 team if Sakuraba never tagged in. Sak & Nagata did some grappling, and Zzzzzzzzz. I can't think of many pro wrestlers I want to watch less than Sakuraba. This match was such a waste of Shibata, who was in with three guys who are probably the three guys I want to watch least these days on the entire roster. This match was designed to advance the Nagata/Sak feud that got derailed when Sak injured his arm some months back. Very, very boring. Crowd was asleep. I mean, they were beyond dead for this. Nagata & Sak at one point had a weird slap fight where nothing connected. Awkward stuff. Sak reversed an arm bar and scored a pin out of nowhere that nobody popped for. Then they did a pull apart. That is one singles match I have less than zero interest in. **
Intermission.
6. LUMBERJACK DEATH MATCH: Hiroshi Tanahashi vs. Prince Devitt – This was a standard lumberjack match. The lumberjacks were the Bullet Club (including Bucanero), Capt New Japan, Tiger Mask, Makabe, & Honma. This wildly exceeded my low expectations. Shame on me for doubting Tanahashi. All of the usual lumberjack spots early, which the crowd ate up since it was new to them. At one point, Devitt tried to escape but Makabe carried him back to the ring. Match was great when it broke down. Everybody got involved. CNJ took out Tonga. Anderson Stun Gunned everybody in sight. Tiger Mask took out Bucanero. Just too many cool spots to describe. Tanahashi kicked out of a double stomp after Devitt took out the babyface LJ's with a dive. He also survived a Bloody Sunday. He hit a Styles Clash followed by a High Fly Flow for the win. Tons of fun. This had no right to be this good. Tanahashi over delivers as usual. He's so good, and everybody chipped in. ****
7. NEVER Openweight Title vs. Tokyo Dome IWGP Heavyweight Title Contendership: Masato Tanaka (c) vs. Tetsuya Naito – Since the G1 guaranteed title shot was on the line, there was no way in hell Tanaka could win. Plus, Tanaka already pinned Naito the last time they faced off. I've been very critical of Naito since he returned from injury, but this was his most focused performance since the comeback. He's much, much better when the match isn't built around selling a body part. He's just not in the same league as an overall performer as Tanahashi or Okada in my opinion. Anyway, he took a savage beating here, including going through a table on the outside & surviving a Sliding D, and the story was his big comeback. He reversed a second Sliding D into his Puma Blanca submission hold, and as usual, it killed the crowd dead. That move is so not over, but God bless the guy, he's determined to make it work. Naito won with the Stardust Press. Tanaka is criminally underrated. Yujiro challenged Naito for the #1 contendership post match. I guess that will keep Naito busy until Dome. ****
8. IWGP Intercontinental Title: Shinsuke Nakamura (c) vs. Shelton Benjamin – I've loved this feud. Shelton had three recent wins over Nak to set up this title rematch. The first title match ended with the botched finish when Nak slipped off the ropes on a springboard Boma Ye attempt, hurting what was otherwise a pretty cool match. This time, Nak sold forever, and sold like he was on the verge of death. He was pretty damn great here, especially selling the back. He made the ropes on a ankle lock attempt, and also survived a blockbuster & T-bone suplex. Nak hit a Boma Ye kind of out of nowhere for the win. Good, not great. Post match, Naomichi Marufuji, looking like whatever the opposite of tough is in an outfit that a guy who makes a living fake fighting should never be caught dead in, came to the ring to challenge Nakamura. Nak accepted. ***1/2
9. IWGP Heavyweight Title: Kazuchika Okada (c) vs. Satoshi Kojima – Either somebody forgot to hit mute, or New Japan shelled out some cash, because they played Kojima's entrance theme for the first time on iPPV. Tenzan came to the ring with Kojima. Back & forth match early on, with the biggest pop coming when Kojima used the Mongolian cops & the Anaconda Vice as a nod to his partner. That was really cool. Kojima worked a very intense in this match, noticeably different intensity than usual. Okada too control with a dropkick to send Kojima to the outside, then an elevated DDT & Red Ink. Kojima reversed a tombstone, and hit a brainbuster. Ko-Jee-Ma chants at this point. Great finishing sequence, as Okada misses two Rainmakers, and eats a huge lariat for two. Kojima winds up for another lariat, but Okada counters with a gorgeous high drop kick. Rainmaker lands this time, and that's that. The Rainmaker is the best finisher in wrestling. It lends itself to great reversals, it lands with great impact, and it's super over as instant death when he hits it. Very good match. Tanahashi came from the back as the next challenger. This seems too soon. They stand 2-2-1 against each other, if you count the G1 draw. ****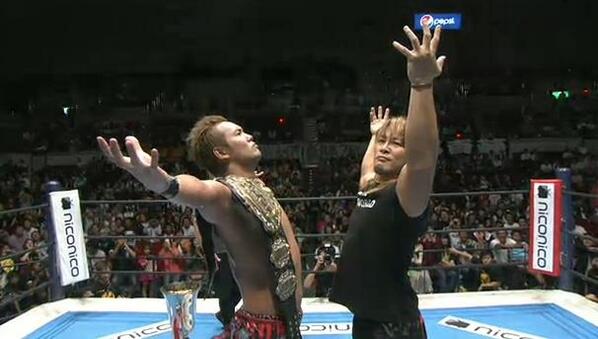 Overall, a good show with a skippable first half. One of the weaker major New Japan iPPV's, but I would still recommend it for hardcores, and some of the stuff in the second half is worth seeking out for everybody else. I'm not sure how I feel about Tanahashi/Okada VI coming this soon, but if any promotion has earned "let it play out" status with their booking, it's New Japan.